Celery Root Mash (paleo, GF)
This Celery Root Mash reminds me of a French dish called "celri remoulade". Celri remoulade is a salad of grated celery root which is seasoned in a wonderful dijon mustard and mayonnaise sauce. Yuuum! I am always happy to see it on the menu at French Restaurants and can't help myself from ordering it.
I was inspired by celri remoulade when I came up with this Celery Root Mash. It differs from celeri remoulade, however,  in that there is no mayonnaise. I used coconut milk and mustard seed to create a similar flavor and to keep it paleo. I also mashed the celery root rather than grate it. The end result is a refreshing celery root mash which tastes really great cold and pairs well with chicken.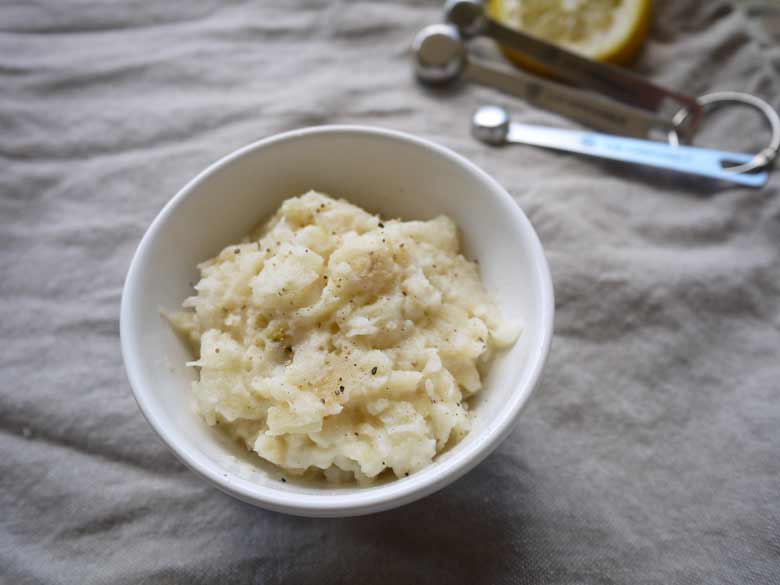 I actually had never cooked celery root before. The odd-shapped rather large celery root looks a bit intimidating to manage, but it was easier to cook than expected! You just peel the celery root by cutting the outer layer off. Then, you dice it and boil it in water for 25 minutes. Not too shabby. Now that I know how to cook it, I look forward to using it in other recipes. Yay for more celery root recipes!
Celery Root has always been a conundrum to me. I love celery root (as you can probably tell), but I hate celery stalk. This seems strange to me. Especially because there are so few foods that I dislike. I've recently become curious as to why celery stalk has such a strong unappealing flavor to some (me!) and a light delicious flavor to others.
Most people that really likes celery actually say that it barley has any taste and that they like the crunch of it. Someone that I met not too long ago mentioned that those who do not like celery stalk tend to not like cilantro as well. This certainly was interesting because I dislike cilantro!
I wonder if this is just the two of us or if other people who do not like celery stalk also do not like cilantro and if those two food flavors are linked. Hmmmm….I'd be curious to hear if this is the case for anyone else.
No matter how you feel about celery stalk though, you should try this Celery Root Mash. Especially if you like root vegetables. Celery root flavor is unique, delicious, earthy and differs from what one would think of when they think of celery. It is also a great low calorie, low carb side dish option. I'm all about adding a variety of healthy side dishes to my life. Yum!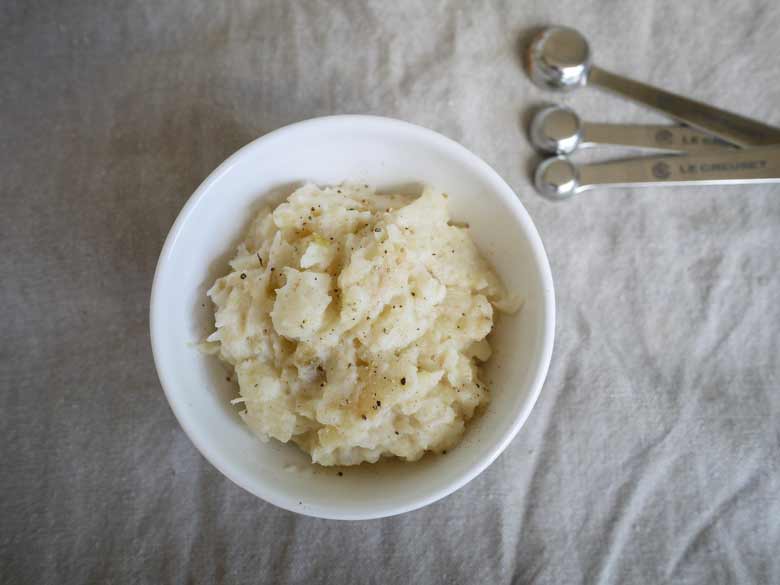 One thing that is worth mentioning is to maybe start off slow with the mustard seed seasoning. I like a lot of mustard flavor in my celery root (it tastes more like celri remoulade that way), so if you are not sure, maybe start with 1/4 tsp of mustard seed and work up to 3/4 to see how you like the flavor. You can also add onion or nutmeg or anything to mashed celery root, it is totally up to you!
This recipe was shared at the AIP roundtable.   
Celery Root Mash (paleo)
A dairy-free celery root mash made with spices and non dairy milk.
Ingredients
one 2 pound celery root
1/2 cup of 100% coconut milk (the thick kind)
1 tsp salt
pepper to taste
3/4 tsp ground mustard seed
1/2 tsp garlic powder
1 tsp lemon juice
Instructions
Heat a big pot of water over high heat.

Peel the celery root by cutting off the outer layer of it with a knife.

Then dice the celery root into small-medium sized pieces.

Once the water is boiling, place the diced celery root into the pot.

Let it cook in the boiling water for 25 minutes.

Drain the celery root and put it into an empty pot.

Add the coconut milk to the pot.

Using a masher, mash the celery root well, making sure to mix it with the coconut milk.

Add the salt, pepper, ground mustard seed, garlic powder, and lemon juice to the mashed celery root.

Note: I like a lot of mustard flavor in my celery root, so if you are not sure, maybe start with 1/4 tsp of mustard seed and work up to 3/4 to see how you like the flavor.

Chill or eat warm. I prefer it cold.
Nutrition
Calories: 103kcalCarbohydrates: 15gProtein: 3gFat: 5gSaturated Fat: 4gPolyunsaturated Fat: 0.3gMonounsaturated Fat: 0.3gSodium: 541mgPotassium: 501mgFiber: 3gSugar: 2gVitamin A: 0.1IUVitamin C: 13mgCalcium: 70mgIron: 2mg
Disclosure: This post contains Amazon affiliate links. This means that if you click on a link and make a purchase, I will receive a small commission at no cost to you.