Toasted Coconut Chocolate Cookies (Paleo, GF)
If you love coconut and if you love chocolate, these Toasted Coconut Chocolate Cookies are for you! Seriously! They have the perfect balance of chocolate and coconut flavors, without one flavor taking over the other.
The trick to this balancing act is toasting the unsweetened shredded coconut. Yum!
When coconut and chocolate combine, it really is magical.
But like I said, it's a balancing act getting the coconut and chocolate flavors to compliment each other.
Especially when using non-processed ingredients.
I learned this through trial and error.
The first batch that I made had chocolate chips in them and this was ultimately TOO much chocolate ( I never thought I would say anything had too much chocolate in it) haha. But, you couldn't even taste the coconut! Which seemed like a waste.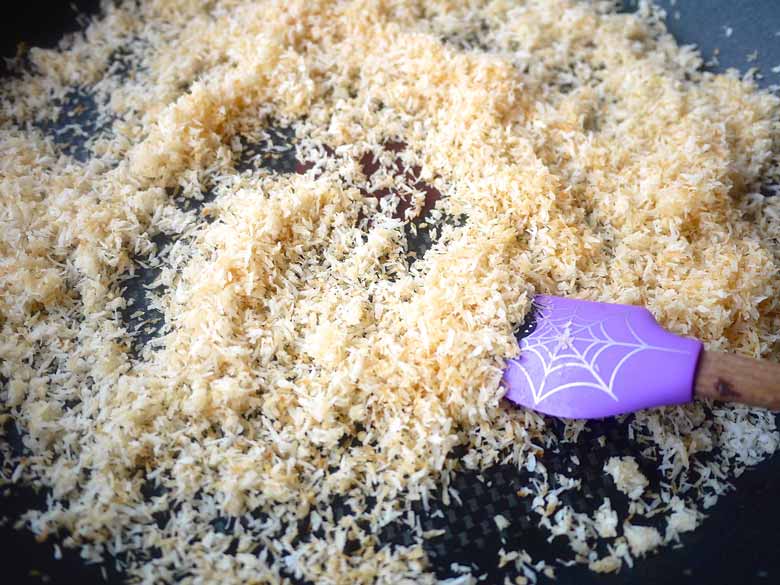 Then, I lowered the amount of chocolate, but found that the coconut flavor was limited.
You could feel the coconut in every bite, but the taste was lost. HUMPF.
I realized that I had to enhance the coconut flavor. Which to me only means one thing. TOASTING IT!
There's no better natural way to add sweetness and texture to it.
So I toasted some organic fine shredded coconut with a little bit of maple syrup and threw it into the chocolate cookie batter. Problem solved!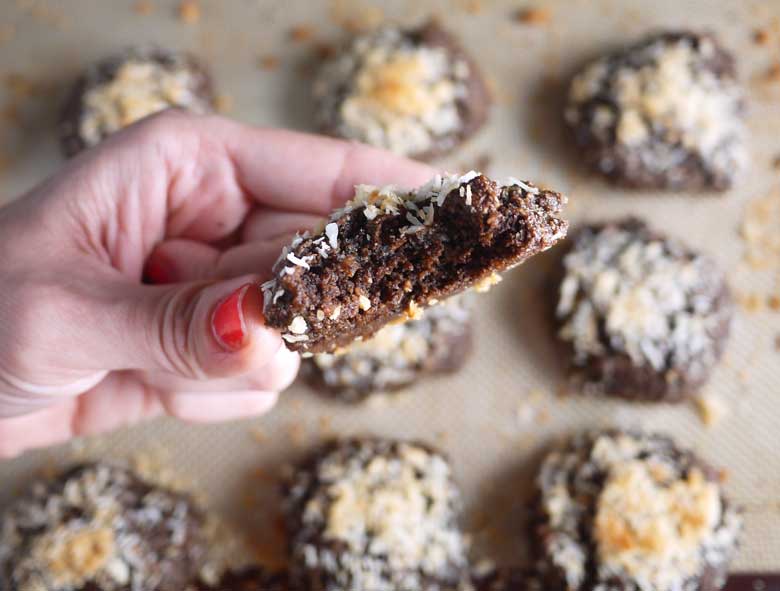 But this created another problem… Can't-Stop syndrome.
I CAN'T stop eating these Toasted Coconut Chocolate Cookies! They are just tooo good.
Soft cake textured chocolate cookies full of toasted coconut flavor. I really can't get enough, and if you make these, I think you'll agree. 🙂
Enjoy!
Toasted Coconut Chocolate Cookies (Paleo, GF)
A healthy chocolate cookie with coconut that's gluten free and suitable for a paleo diet.
Instructions
Preheat the oven to 350 degrees.

Spread out the shredded coconut in a large frying pan. Sprinkle with 2 tsp of maple syrup, mix, and spread the shredded coconut out across the pan again. Heat the pan over medium heat and let the coconut sit for about 4 minutes. Then, start to mix the coconut and mix regularly while letting it cook for another 4 minutes. ( it cooks for 8 minutes total) You'll notice that the coconut will become fragrant, will turn a light brown color, and will become harder in texture. Remove the pan from heat, and set the toasted coconut aside.

In a large bowl, mix the almond flour, 1/2 cup of the toasted coconut, the cocoa powder, coconut flour, salt, and baking soda together.

In another large bowl, whisk the egg, vanilla, a scant 1/2 cup of maple syrup, and the coconut oil together until the mixture looks cloudy and becomes thicker.

Pour the bowl of dry ingredients into the bowl of wet ingredients and mix well.

Cover a cookie sheet with a silicone cookie sheet liner or wax paper.

Scoop out 1 Tbs sized balls of the batter and place onto the cookie sheet. Lightly pat each ball of cookie dough down and top with the remaining toasted coconut. This recipe yields about 18 cookies.

Cook at 350 degrees for 8-10 minutes. Until the outer edges of the cookies have hardened.
Nutrition
Calories: 117kcalCarbohydrates: 9gProtein: 2gFat: 9gSaturated Fat: 5gPolyunsaturated Fat: 0.1gMonounsaturated Fat: 0.4gTrans Fat: 0.001gCholesterol: 9mgSodium: 102mgPotassium: 56mgFiber: 2gSugar: 6gVitamin A: 13IUVitamin C: 0.1mgCalcium: 26mgIron: 1mg
Disclosure: This post contains Amazon affiliate links. This means that if you click on a link and make a purchase, I will receive a small commission at no cost to you.