Sweet Potato Salad Niçoise (paleo, GF)
I've always love, love, loved Salad Niçoise. It's fresh, it's filling and it's delicious. It reminds me of so many nice things… France, gardens, and my family.
My mom makes an amazing version of this salad, much like this one, but made with white potatoes and it's fantastically delicious. I had not attempted to paleo-ize her salad until recently and I loved the result so much that I ate it three times in one week!
This Sweet Potato Salad Niçoise is easy to make, which is great, especially because I've been pretty tired lately.
The culprit is Downton Abbey. I've been watching it like it's my job and so I haven't been sleeping as much as I should. (I'm shaking a finger at myself as I type this)…
But why have I never watched this show before? I'm obsessed!
Anyways…what's great about this salad is that you can totally customize it to your tastes. You like beets? Great! Feel like some green peppers? Add them in!
As you can see, I didn't add anchovies, olives, or green beans, which traditionally are in a Salad Niçoise.
I did add red pepper, orange pepper, broccoli slaw, salad, tomatoes, hard boiled eggs, pomegranate and cucumbers though. 🙂
The sweet potato tuna salad part of this Salad Niçoise really makes the whole dish.
It tastes great warm or cold. I tend to like it warm for dinner and cold for lunch. Yuuuum!
I just love taking a bite (or two or three) right after the sweet potatoes, tuna, onions, and dressing have been mixed together. Can't get enough.
Raw white onions might seem harsh for a salad, but they really makes the salad come together and taste delicious.
Healthy dinner for two?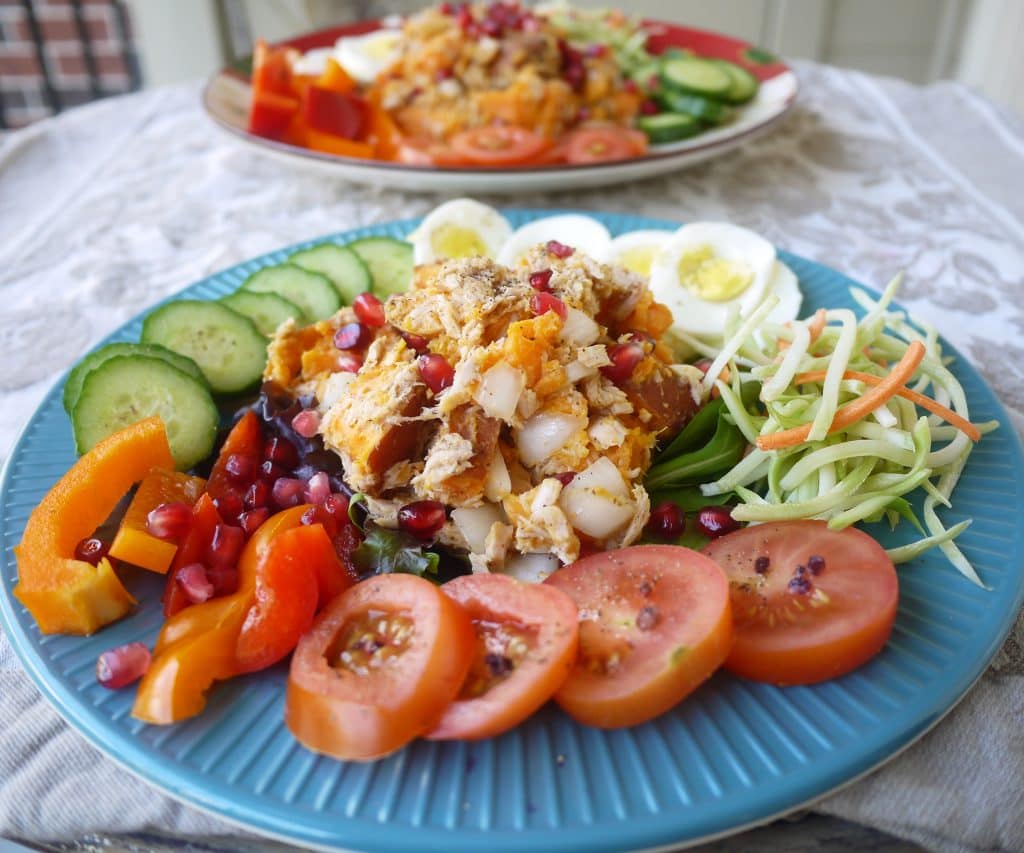 Note: you may need more or less dressing depending on how many potatoes you use, so start with some and test out the flavor until you like it.
Also, if you only want to make this salad for 2 people, cut all the proportions in half.
Sweet Potato Salad Niçoise (paleo, GF)
Ingredients
4 large sweet potatoes, , sliced into ½ inch slices
1 cup of diced white onion
14 ounces canned tuna, , flaked with a fork to separate
¼ cup olive oil
¼ cup apple cider vinegar
2 Tbs mustard, (I used Kroger Horseradish Mustard because it's Paleo)
½ tsp salt
½ tsp ground pepper
½ tsp garlic powder
1 large cucumber, , sliced
1 red pepper, , sliced
1 orange pepper, , sliced
4 small tomatoes, , sliced
a handful of broccoli slaw, (I got mine at Trader Joes)
4 hard boiled eggs, , sliced
a handful of pomegranate seeds
Instructions
Fill a big pot with water and a dash of salt and heat over high heat until it boils. Reduce the heat to medium-high and put the sliced sweet potatoes inside. Let the sweet potatoes cook for 18 minutes.

While the sweet potatoes cook, make the dressing by mixing the olive oil, apple cider vinegar, mustard, salt, ground pepper, and garlic powder together in a bowl. Set the dressing aside.

Drain the sweet potatoes using a strainer.

Cut each slice of sweet potato into 4 cubes and put into a large bowl.

Cover the sweet potatoes with the tuna, diced onion, and the dressing and then mix with two large spoons until everything is mixed. Let the sweet potato tuna salad sit.

While the sweet potato tuna salad sits, prepare each plate with some cucumbers, peppers, tomatoes, broccoli slaw, hard boiled eggs and pomegranates (or any vegetable or salad companion of your choice!)

Then top it all with some of the Sweet Potato Tuna Salad.

Add salt and pepper to your liking and Enjoy!
Disclosure: This post contains Amazon affiliate links. This means that if you click on a link and make a purchase, I will receive a small commission at no cost to you.