Soft Olive Oil Sugar Cookies (Dairy-free)
A dairy-free sugar cookies recipe that uses olive oil and apple sauce instead of butter. In less than 30 minutes, you can have the most delicious soft and chewy no butter sugar cookies ready to and waiting. They are sure to be a crowd pleaser !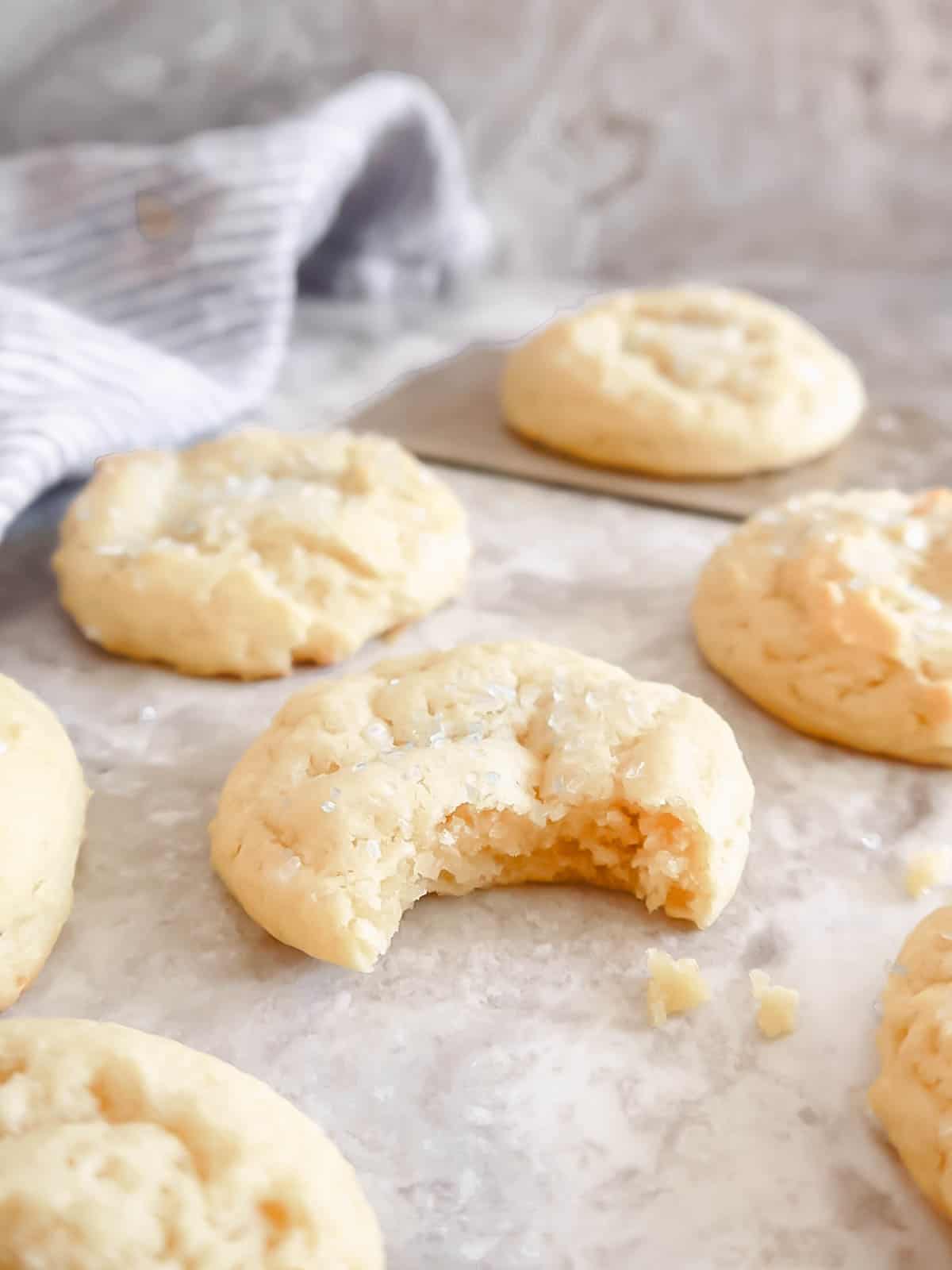 These soft olive oil sugar cookies are my newest homemade sugar cookie obsession. They are pillowy, light, and chewy.
They taste just like regular soft sugar cookies but with a lightened-up air to them. And they are simple and quick to make. They take less than 30 minutes to make!
I have a feeling I will be making these dairy-free sugar cookies over and over and over.
My favorite sugar cookie recipe without butter
These are hands down my favorite sugar cookies of all time because they are soft and chewy.
They are also sugary, in the way that sugar cookies should be BUT they don't have the heaviness that butter can add to cookies.
They are light and airy and yet perfectly satisfying. They are dairy-free sugar cookies that taste like regular sugar cookies.
That is why I love making cookies with olive oil instead of butter. You get great taste and texture but without having to use butter.
For example, these Olive Oil Chocolate Chip Cookies are the ultimate gooey, melt-in-your mouth cookie. And they taste better when made with oil than with butter in my opinion.
Ingredient notes
flour– unbleached all purpose flour is best for this recipe.
baking soda AND baking powder– you need both in this recipe and they are used to help the cookies rise.
olive oil– extra virgin olive oil is my go-to for this recipe.
apple sauce– make sure it has no added flavors or sugars.
sugar– organic cane sugar is my favorite to use for sugar cookie recipes.
coarse sugar– to dunk the cookie dough into before baking (optional)
To get a full list of the ingredients, check out the recipe card at the end of the post.
Substitutions and Variations
Make sure you are using a light flavored olive oil, that is lighter in color. You could also use avocado oil instead of olive oil if you have that on hand.
Feel free to add sprinkles to the dough before baking to turn these into sprinkle cookies.
If you don't have apple sauce, you can use pear sauce instead.
Step by Step Cookie Instructions
I love that this recipe is a no chill sugar cookie recipe, which makes things much quicker!
Step 1: Mix all of the dry ingredients together in a bowl. This includes the flour, baking powder, baking soda, and salt in one bowl.
Step 2: Mix the wet ingredients with a hand-held mixer. This includes the olive oil, sugar, egg and vanilla. Then mix the wet and dry ingredients together until a dough forms.
Step 3: Use a small cookie scoop to gather the dough.
A small cookie scoop grabs about 1 Tablespoon worth of dough. Put the dough onto a cookie sheet OR you could grab some coarse sugar and dunk your cookie dough balls into it before putting them onto a cookie sheet.
Step 4: Bake.
How to decorate your cookies:
You can dunk the cookie dough in coarse sugar before baking.
You can sprinkle the dough with sprinkles.
You can frost them.

If you want to keep the cookies totally dairy-free, you could use a dairy-free frosting like one from Mrs Jones.
You could also use regular frosting if that works for you. Store bought or homemade frosting works great.
Recipe FAQs
Can you use olive oil in sugar cookies?

YES! As the whole recipe suggests, olive oil is a great fat replacement for butter here. Sugar cookies work great without butter.

Can you make these sugar cookies gluten-free?

Yes, just make sure to use a 1-1 gluten-free baking flour.

Do you have to use apple sauce here?

Yes, it helps with the texture of everything. However, if you can't have apple sauce, you can try pear sauce.
Other olive oil baking recipes that you'll love:
If you love chocolate, then you will love these Chocolate Chocolate Chip Sea Salt Cookies. It's not for the faint of chocolate heart!
These Paleo Almond Flour Brownies with Olive Oil are delicious brownies with a gluten-free and dairy-free twist.
These Banana Oatmeal Muffins Made with Olive Oil are the ultimate breakfast muffin that tastes amazing with some almond butter on top.
Did you try this recipe? Please leave me a ⭐ review below!
Soft Olive Oil Sugar Cookies (Dairy-free)
A dairy-free sugar cookies recipe that uses olive oil and apple sauce instead of butter. 
Ingredients
2 cups all purpose flour
1 teaspoon baking powder
1/2 teaspoon baking soda
1/4 teaspoon salt
1/2 cup olive oil
1/4 cup apple sauce
1 cup sugar
1 egg
1 teaspoon vanilla extract
Optional- coarse sugar to roll the dough in before baking
Instructions
Preheat oven to 350 degrees F.

In a large bowl, mix the flour, baking powder, baking soda and salt together with a fork.

In another bowl, mix the olive oil, sugar, egg, apple sauce and vanilla with a hand held mixer.

Pour half of the dry ingredients into the bowl of the wet ingredients and mix with your hand-held mixer. Add the other half of the dry ingredients and mix again. You may need to scrape the sides of the bowl as you do this.

Using a small cookie scoop, or a spoon, scoop out 1 Tbs sized balls of the dough and place on a cookie sheet.

Note: if you want to roll the dough in coarse sugar, do this prior to placing the balls of dough on a cookie sheet.

Bake for 10-12 minutes, then remove the cookies from the oven and let them sit on the cookie sheet for 5 minutes before moving them to cool on a cookie rack.
Notes
*Use a light colored and flavored olive oil. You can also use avocado oil. *You can use pear sauce instead of apple sauce *If adding sprinkles, add to the dough before scooping. *If dunking your cookies into course sugar, scoop them out first then dunk them. *Make sure not to overbake!
Nutrition
Calories: 109kcalCarbohydrates: 16.5gProtein: 1.3gFat: 4.5g
Disclosure: This post contains Amazon affiliate links. This means that if you click on a link and make a purchase, I will receive a small commission at no cost to you.