Pumpkin Pot Pie (paleo, GF)
Paleo Pumpkin Pot Pie. That's right… A creamy chicken pot pie made from a rich pumpkin sauce base. My mouth waters just thinking about it!
This Pumpkin Pot Pie is overflowing with shredded rosemary chicken, sweet potato, carrot, broccoli and cauliflower… and is topped with an almond flour, flax seed crust. Healthy comfort food at its best.

I don't know why I never thought to do this before. I love chicken pot pie. I love pumpkin alfredo. I love vegetables in cream sauces. Why not somehow combine these loves into a pumpkin pot pie!?
I had the idea to make this at work. And let me tell you, it was torture having to focus on other tasks when all I wanted to do was plan ingredients, steps, and just get to cooking!
I finally got to test out my Pumpkin Pot Pie idea over the weekend and was thrilled when it turned out so well.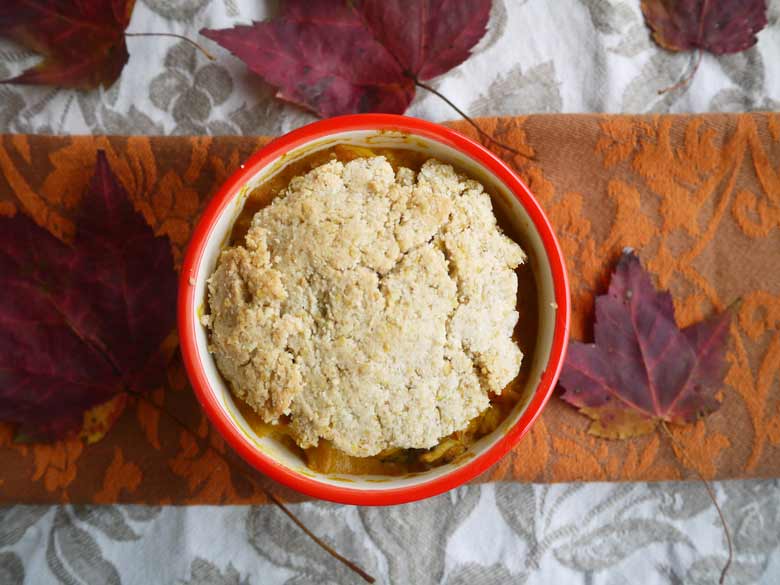 Each bite is a comforting burst of creamy pumpkin flavor, marked by chicken, sweet potato, carrot, broccoli and cauliflower.
Broccoli has always been my favorite thing to put in chicken pot pie. But you can put more or less of whatever vegetables that you want inside.
The crust is great too. It absorbs the flavors and compliments the dish without being overpowering.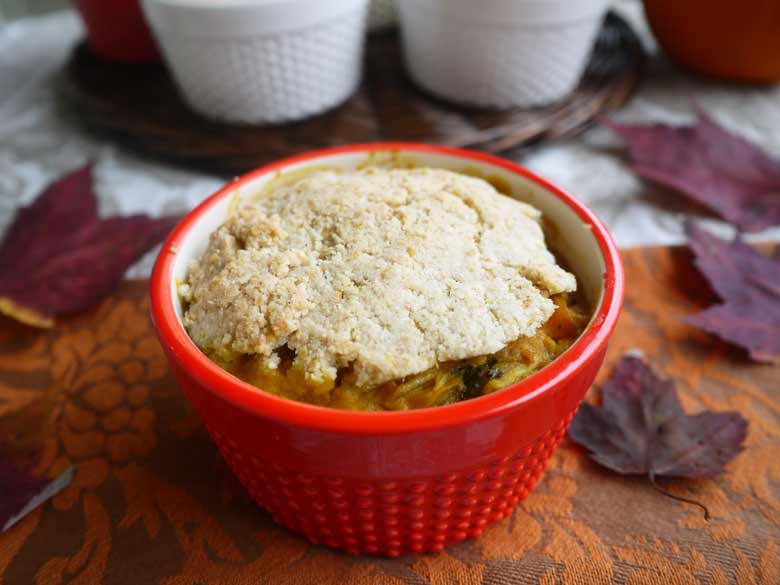 This recipe fits into either 6 (1 cup) ramekins or one 8X8 square pan. I liked putting it into ramekins for portion control and because it's just fun to have cute individual pumpkin pot pies at your fingertips. 🙂
Happy Fall!
Pumpkin Chicken Pot Pie (paleo, GF)
A creamy chicken pot pie made from a rich pumpkin sauce base.
Ingredients
For the pumpkin pot pie filling:
1 lb chicken breast
1 tsp rosemary
2 Tbs olive oil (divided)
1 Tbs minced garlic (this was 4 cloves for me)
3/4 cup minced yellow onion (1 small onion)
6 baby bella mushrooms , minced
1.5 tsp salt
1 can (15 ounce) pumpkin puree
1 cup canned coconut milk (this will have a heavy cream consistency)
1 cup all natural chicken stock
½ tsp nutmeg
1/2 tsp pepper
1 cup diced sweet potato
1 cup diced carrots
1 cup small broccoli florets
1 cup small cauliflower florets
Instructions
Preheat the oven to 400 degrees.

Boil a big pot of water on the stove top over high heat. Put the chicken into the water and let it boil over medium heat for 30 minutes.

While the chicken is boiling in the water, cover a baking sheet in aluminum foil. Put the sweet potato, diced carrots, broccoli and cauliflower into a large boil and coat in 1 Tbs of olive oil. Mix the vegetables together and then pour them onto the lined baking sheet, making sure each vegetable is touching the bottom of the cookie sheet. Put in the oven for 20 minutes. Once the 20 minutes is up, let the veggies cool.

Remove the chicken from the water and place onto a plate. Shred the chicken using two forks. Top the chicken with 1 tsp of rosemary and mix around. Set the chicken aside.

Then start making the pumpkin sauce. Put 1 tbs of olive oil in a pan. Set the stove top to medium- high heat. Put the minced garlic and onion into the pan and mix into the oil with a spatula. Let the mixture cook for 2 minutes.

Add the minced mushrooms and mix well and let the mixture cook for 3 minutes, or until the onions are "clear".

Add 1.5 tsp of salt and 1/2 tsp pepper.

Add one 15 ounce can of pure pumpkin puree and mix into the garlic, onion and mushrooms.

Immediately add 1 cup of pure coconut milk and 1 cup of natural chicken stock.

Add ½ tsp of nutmeg and mix the sauce thoroughly.

Increase the heat to high until the sauce boils.

Then lower the sauce to a simmer and let it cook for 15 minutes.

Then add all of the roasted veggies and shredded chicken to the sauce. Divide the pot pie filling into 6 large (1 cup) ramekins.

Now make the crust. Mix the almond flour, flax seeds, nutmeg and 1/2 tsp of salt in a small bowl. Then whisk the maple syrup, coconut oil, and coconut milk together in another small bowl. Combine both bowls and mix with a fork. Take 1/4 cup worth of the crust batter and form into a ball in your hands, then mash the ball down flat and cover the top of one of the ramekins. Repeat until all of the ramekins have a crust on top.

Bake for 30 minutes. Let cool a bit and enjoy!
Nutrition
Calories: 589kcalCarbohydrates: 34gProtein: 29gFat: 41gSaturated Fat: 14gPolyunsaturated Fat: 2gMonounsaturated Fat: 5gTrans Fat: 0.01gCholesterol: 50mgSodium: 969mgPotassium: 875mgFiber: 9gSugar: 15gVitamin A: 6855IUVitamin C: 27mgCalcium: 154mgIron: 3mg
Disclosure: This post contains Amazon affiliate links. This means that if you click on a link and make a purchase, I will receive a small commission at no cost to you.