Paleo Pumpkin Chia Banana Bread
Paleo Pumpkin Chia Banana Bread recipe. This paleo, gluten-free, grain-free recipe is made with pumpkin, banana, almond flour, coconut flour, and chia seeds.
I did not mean to make this Paleo Pumpkin Chia Banana Bread. The thought hadn't even crossed my mind! But, I had a few ripe bananas in the kitchen, reaching the point of no return.
I asked my husband if I should make banana bread with them or if I should toss them. He said to make banana bread… which I should have expected because he is always pro-banana bread. haha
However I didn't want to make our usual banana bread… I wanted to add pumpkin, and chia seeds (because they are the best), and so one thing lead to another and this Paleo Pumpkin Chia Banana Bread with Pumpkin Coconut Cream frosting was born.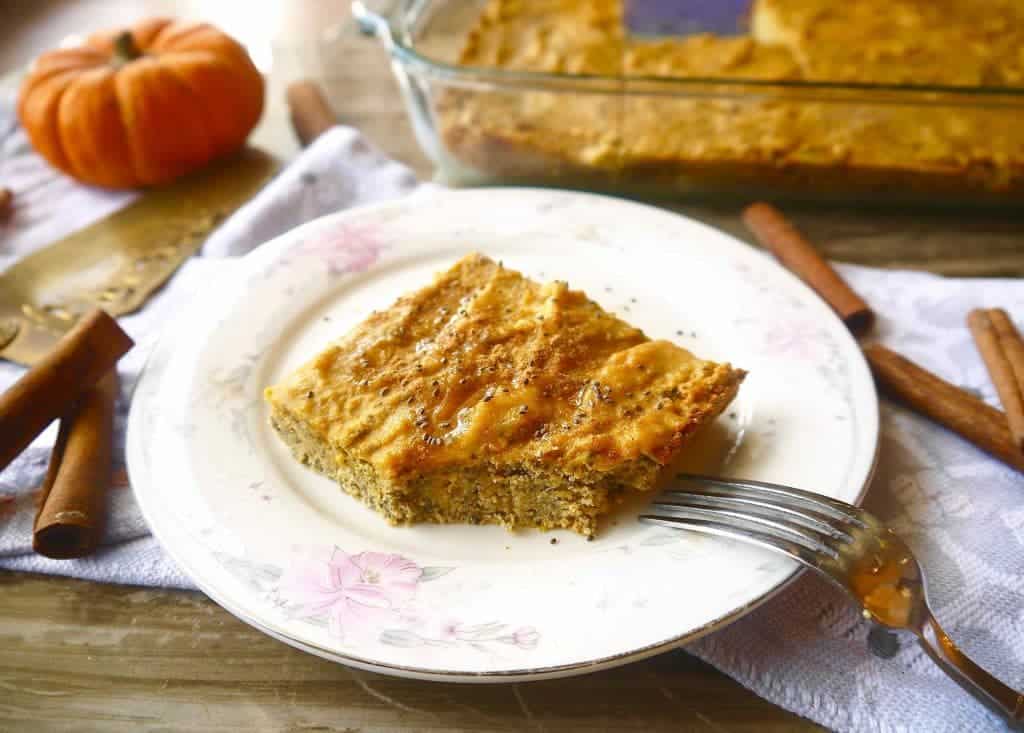 Before talking about this recipe, can I just say that chia seeds should always be a part of the equation when banana bread is involved?! It's just meant to be added to banana bread.
I started adding chia seeds to my banana breads to add extra protein, fiber, and omega-3s to my baked goods, but then the taste and the extra crunch was so fabulous, that I began using them for purely selfish non-healthy reasons. And no one can stop me from continuing!
Muhahaha! Thats my evil scientist on Halloween laugh. 🙂
Anyways, I made this Paleo Pumpkin Chia Banana Bread with the intent to make the bread a bit more dry than usual so that I could poke holes in it and slather it with pumpkin coconut cream frosting and maple syrup.
I don't know why, but I thought it was a good idea at the time… AND it was!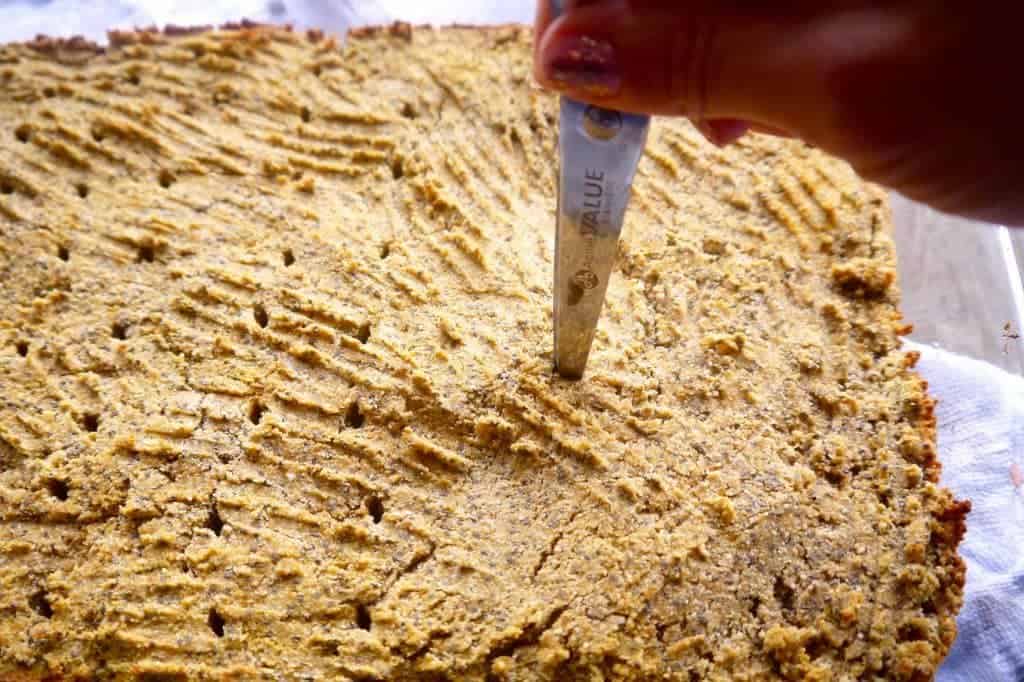 I made the Paleo Pumpkin Chia Banana Bread part, let it cool for a bit, and then poked holes in it with the end of a pair of scissors.
Then, I made the pumpkin frosting and slathered it all over the top of the banana bread.
Lastly, I topped each slice with a drizzle of maple syrup, a pinch of cinnamon, and a dash of chia seeds… please do this! It's delightful. Especially with a cup of tea. 🙂
I honestly wasn't expecting to post this recipe because it was just a spur-of-the-moment recipe.
Buuuutttt it was so delicious, and I was asked by so many people for the recipe, that I decided it needed to be posted, and what better day to post it than on Halloween!
Happy Halloween!
Paleo Pumpkin Chia Banana Bread (GF)
A simple and healthy pumpkin bread recipe.
Ingredients
Pumpkin Chia Banana Bread Ingredients:
Pumpkin Coconut Cream Ingredients:
Instructions
Preheat the oven to 350 degrees.

In a large bowl, mix the almond flour, coconut flour, chia seeds, baking soda, salt, nutmeg, cinnamon, ground cloves, and ground ginger with a fork. Set the bowl aside.

In another large bowl, mix the eggs and maple syrup until thick. Add the pumpkin puree and mashed banana to the bowl and mix well.

Pour the dry ingredients into the wet ingredients and mix.

Pour the batter into a greased 8.9 x 13.2 inch glass baking pan. Pat down the batter to even and smooth it out.

Bake for 35 minutes.

Once you remove the banana bread from the oven, and let it cool a bit, poke large holes into it, so that it can absorb the frosting better. (I used the end of a pair of scissors to do this)

Then, mix 2 1/2 Tbs of cold coconut cream, 2 1/2 Tbs pumpkin puree, 2 Tbs maple syrup, and 1/4 tsp of cinnamon together with a fork.

Top the banana bread in the frosting, while evenly spreading it with a spatula.

Serve each slice of banana bread with an extra splash of maple syrup, a pinch of cinnamon, and dash of chia seeds on top.
Nutrition
Calories: 209kcalCarbohydrates: 24gProtein: 7gFat: 11gSaturated Fat: 3gPolyunsaturated Fat: 2gMonounsaturated Fat: 1gTrans Fat: 0.01gCholesterol: 41mgSodium: 229mgPotassium: 198mgFiber: 8gSugar: 10gVitamin A: 3740IUVitamin C: 3mgCalcium: 91mgIron: 2mg
Disclosure: This post contains Amazon affiliate links. This means that if you click on a link and make a purchase, I will receive a small commission at no cost to you.