Paleo Champ (GF) + the Antrim Coast
It's a bit strange to think that I wasn't able to cook for over a month. In this time, I had far too many sandwiches, dreamt much too often about my old kitchen, and spent many hours planning the meals that I would finally make when I had a kitchen to call my own.
This was not an ideal situation, but I did learn a few things from this experience: 1) Change is good. It may not always be easy, but I've found that often times the easy solution isn't always the right solution. 2) Being out of your comfort zone can connect you to who you are. Learning and figuring things out in a completely different setting can teach you a lot about yourself and your limits. Which is one of the reasons that I love traveling so much! 3) It can be easy to take what you have or had for granted. And 4) I think about meat sauce… a lot.
In fact, the first meal that I made after moving into my new place, unpacking my bags, buying new apartment essentials, and grocery shopping, was meat sauce! Man did it feel good to eat a warm healthy meal… and to have leftovers for work. It's the little things. 🙂
In the process of cooking this meal, I made a rather scary discovery. The oven symbols of my stove had rubbed off! I kind of had an internal freakout because I live for following recipes carefully and creating recipes that can be followed carefully. What on earth would my life, and my blog be like now?! I kept having to tell myself it would be ok and having this kitchen was better than no kitchen. I had the oven manual so I could see what the buttons meant, but it just wouldn't be precise enough.
Luckily my fiancé is a "jump to action" type of person and he suggested looking for replacement stickers, which they actually do have online. Who knew?
Since my oven currently seems like a scary place to create recipes, I decided to make a stove top dish. And I came up with a paleo version of a Northern Irish recipe called "champ". Which is basically a mashed potato type dish made with scallions.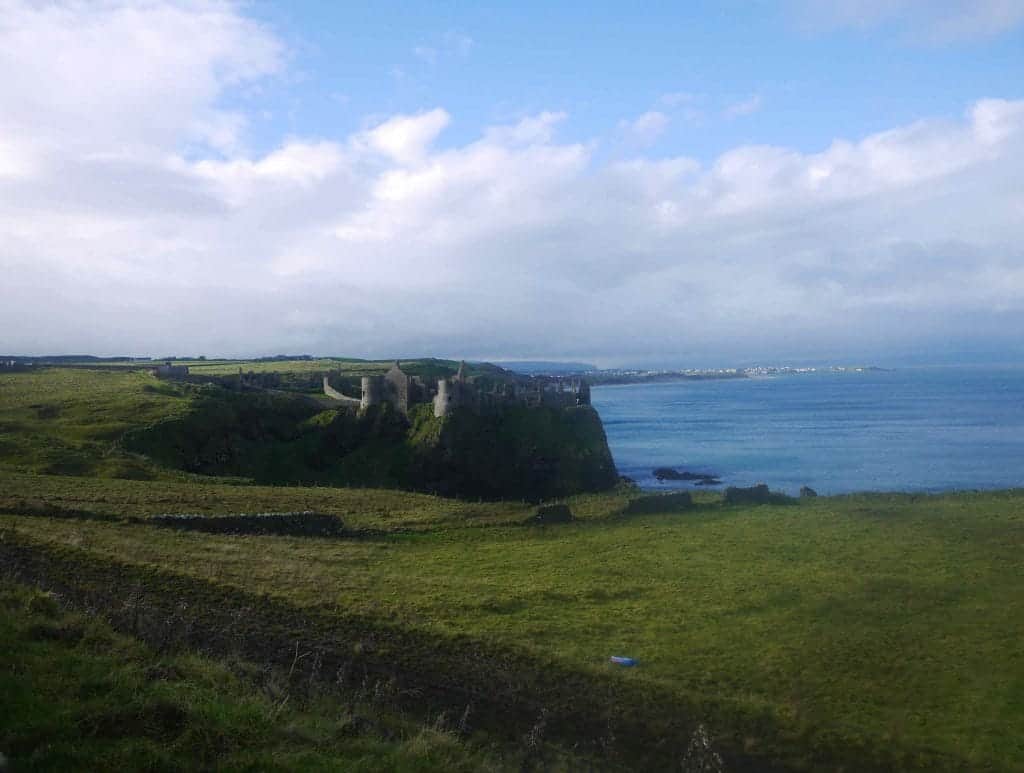 I heard about "champ" during a tour of the giants causeway and the Antrim coast that I went on with my fiancé. During this tour, we kept hearing about "champ" and how delicious it was.
Note: If you are ever in Northern Ireland, I highly recommend going on this tour or checking out the Antrim coast. There are miles and miles of untouched natural beauty, coasts, seaside towns, and amazing sites like the Giant's causeway… where there are these really cool rock structures that are the result of a volcanic eruption.
Anyways, back to the champ!
When I found out that this dish was like mashed potatoes, and that the trick was to heat milk and scallions together prior to mixing it into the potatoes, I was intrigued.
And naturally decided to paleoize it.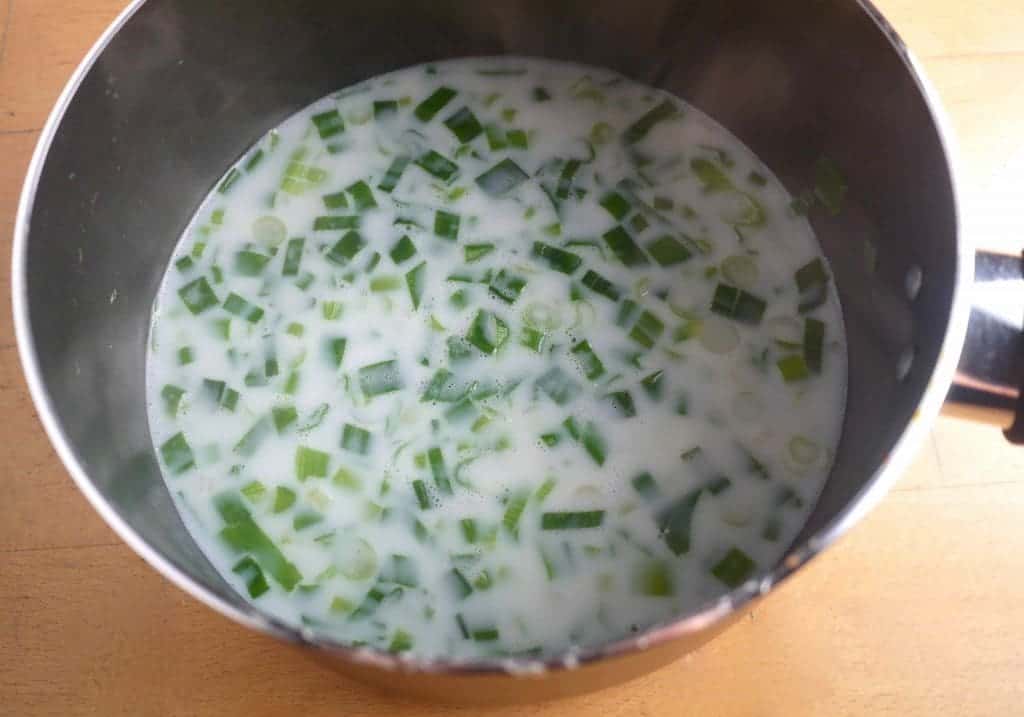 So, instead of milk, I used coconut milk. And instead of potatoes, I used sweet potatoes. I boiled the scallions in coconut milk, and mixed that into boiled sweet potatoes. The result was really darn good!
Who knew scallions and potatoes were so great together?
Plus, don't we all need more ways to eat mashed sweet potatoes?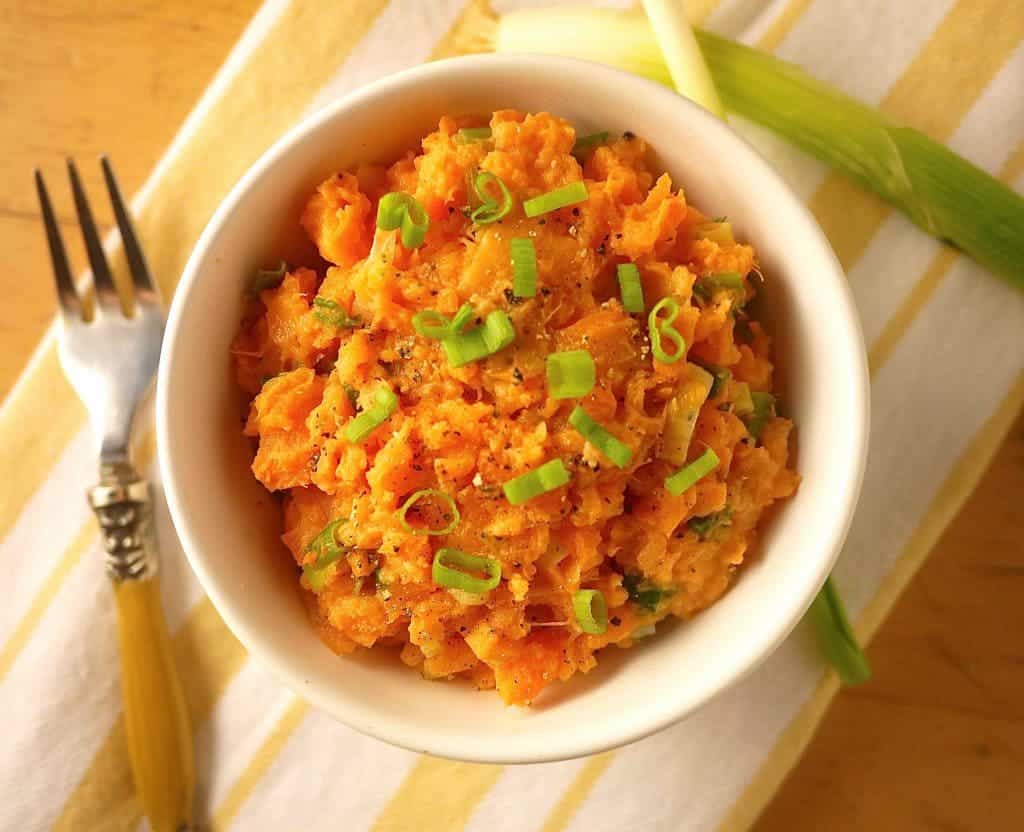 If you are using a more liquidy type of coconut milk, I would suggest using a bit less milk in the recipe. I also highly suggest adding salt and pepper to your heart's desire. 🙂
Side note: I'm sorry these photos aren't the best, I had a hard time finding the right lightbulbs over here for taking indoor photos. I ordered some on amazon, phewww!
But seriously, thank you for all your patience. It's almost comical all the hoops that I've had to jump through to do normal things like see a Dr. ( it took me a month and I had prescriptions that desperately needed to be filled), open a bank account (I'm still waiting on my debit card to come in the mail…), or use my oven (I mean, no sticker identifications!?). But I know that it's all part of the adventure, and I'll be laughing about it one day… one day lol
In the meantime, I'm preparing more travel posts… so stay tuned!
Paleo Champ (GF) + the Antrim Coast
An Irish inspired mashed potato recipe made with sweet potatoes, milk, and scallions.
Ingredients
2 lbs sweet potatoes (peeled before or after boiling them)
1 cup coconut milk ( use a bit less if you are using a more liquidy type of coconut milk)
1.5 cups thinly sliced scallions (this was one bunch of scallions for me)
salt and pepper to taste
Instructions
Heat a large pot of water with some salt in it until the water is boiling.

Slice the sweet potatoes into inch wide pieces and put them into the boiling water. Cook for 25 minutes (or until you can slide a knife easily into the sweet potato slices). Note: you can peel them before or after boiling them. I like to do it after because the peel just falls off.

Once the potatoes are cooked, peel them, mash them, mix in some salt and pepper, and set them aside. (Feel free to put butter into the potatoes if you'd like, regular champ recipes require it. However, I made this without any butter and really liked it that way).

Then, put the milk and sliced scallions into another pot and heat over medium-high heat for 5 minutes (make sure the milk doesn't boil over or burn). The key to this dish is mixing the milk into the potatoes when the milk is hot.

Then, stir the hot coconut milk/scallion mixture into the mashed potatoes until the milk is absorbed. Add more salt and pepper if you'd like. Eat warm.
Nutrition
Calories: 318kcalCarbohydrates: 50gProtein: 5gFat: 12gSaturated Fat: 11gPolyunsaturated Fat: 0.2gMonounsaturated Fat: 1gSodium: 138mgPotassium: 992mgFiber: 8gSugar: 10gVitamin A: 32549IUVitamin C: 13mgCalcium: 105mgIron: 4mg
Disclosure: This post contains Amazon affiliate links. This means that if you click on a link and make a purchase, I will receive a small commission at no cost to you.