Paleo Caesar Salad-like Dressing (GF)
I've been tasting, trying, and comparing different caesar salad dressings for the past few weeks now. My taste buds have been searching for the key to the distinct tangy flavor of caesar salad dressing. I thought that I'd figure it out rigghhht quick, but then I realized that maybe there is no "key"…
Despite the garlicy, lemony, and creamy flavors that unite most caesar salad dressings, they can still all taste SO different.
Traditionally, anchovy paste is used in making caesar salad dressing. But I didn't really want to use anchovy paste in mine. I know I should be more adventurous, and I'm not totally opposed to trying it.
But I really wanted to figure out an easy way to make paleo caesar salad dressing at home, with ingredients that I normally have on hand.
So, I played around with some recipes. I found that the key to the flavor, for me, can be found in the dijon mustard, lemon, and garlic. I personally like the extra tang that 3 tsp of minced garlic results in. But you may want to use 2 tsp if that's too much for you. 🙂
I also played around with making this Paleo Caesar Salad Dressing with coconut cream, and mixing it with a handheld electric mixer. The texture with coconut cream is nice and thick and the electric mixer makes the dressing quite airy… which can be seen below.
I also tried making this dressing with coconut milk and mixing it with a food processor. This resulted in a more liquidy, smoother version of the dressing. Like so.
Both taste great, but I have to say that I liked the thicker dressing made of coconut cream.
I personally don't think that the manner in which it is mixed (handheld electric mixer vs. food processor) made that big of a difference. Especially when you're eating the caesar dressing with other foods.
Liiiiike in a salad full of greens, carrots, bacon and rosemary lemon chicken ( oh and shredded parmesan! shhh).
Or in a simple kale salad. Which is an amazing way to eat kale, if I do say so myself.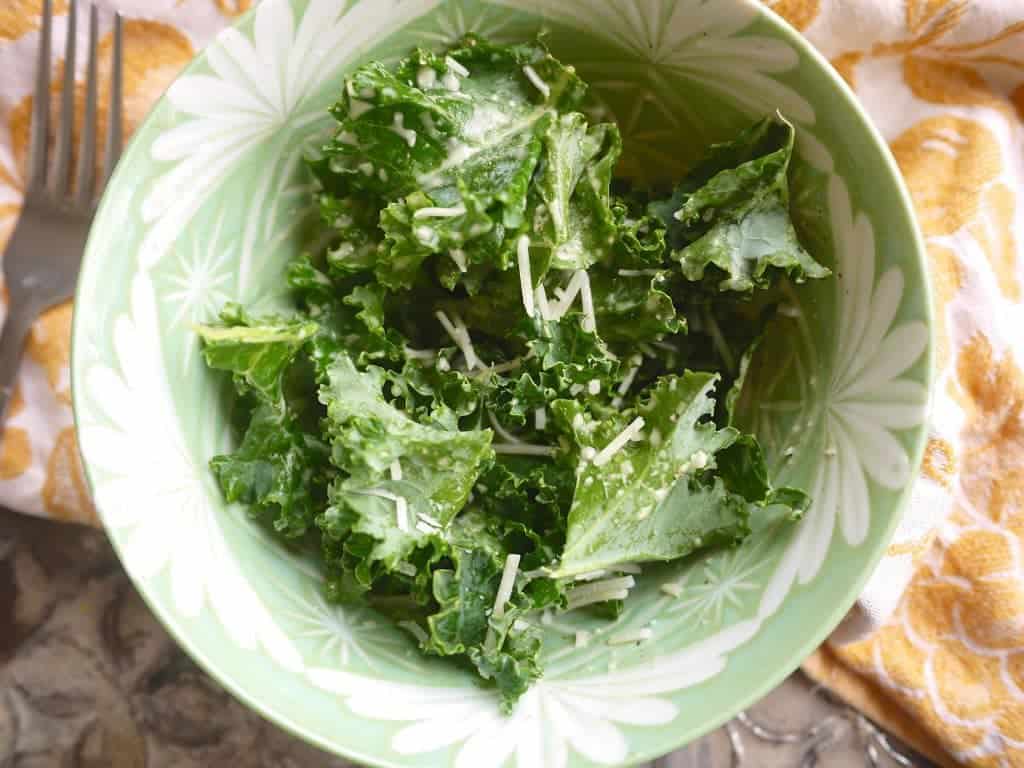 Now, I don't know if my taste buds have been burned by all the raw garlic involved in the process of recipe developing… but I think that this dressing is delicious. 🙂
I decided to call it Paleo Caesar Salad-like Dressing because it tastes so much like caesar salad to me and yet it has it's own unique taste to it. You'll see what I mean.
Let me know what you think, if you suggest anchovy paste, or how you make paleo caesar dressing at home!
Paleo Caesar Salad-Like Dressing (GF)
A creamy garlicky dressing that's a great swap for a paleo caesar salad.
Ingredients
2-3 tsp minced garlic (I used 3 and really enjoy the tang!) (this was 3 cloves of garlic for me)
3 Tbs lemon juice
2 tsp dijon mustard
1/4 tsp salt
1/4 tsp pepper
1 Tbs apple cider vinegar
3 Tbs canned coconut cream (coconut milk works too, but is more watery)
1 tsp honey
a pinch of ground nutmeg
1 Tbs olive oil
Instructions
Mix all of the ingredients in a bowl with a hand-held electric mixer. OR mix all of the ingredients in a food processor.

This recipe should yield about 1/2 cup of dressing (which is good for a salad serving 4-6 people)
Nutrition
Calories: 82kcalCarbohydrates: 4gProtein: 1gFat: 8gSaturated Fat: 4gPolyunsaturated Fat: 0.4gMonounsaturated Fat: 3gSodium: 174mgPotassium: 64mgFiber: 1gSugar: 2gVitamin A: 4IUVitamin C: 5mgCalcium: 8mgIron: 0.4mg
Disclosure: This post contains Amazon affiliate links. This means that if you click on a link and make a purchase, I will receive a small commission at no cost to you.