Northern Ireland County Antrim- Part I, The Antrim Coast
Has it really been 7 months since I moved to Northern Ireland?! I have been wanting to write several posts sharing my favorite experiences and foods that I have encountered since moving here for so long now. But it wasn't until I started being asked for recommendations by family and friends who are coming to my wedding in Ireland (which is less than 4 weeks away 🙂 ), that I was able to really organize my thoughts.
And though my thoughts may be a bit scattered, at the end of the day it is very clear that Northern Ireland is a place full of lovely people and breathtakingly beautiful wild and green landscapes. The food here is incredibly fresh and the days are often marked by 'cuddle up with a cup of tea in front of the fire' weather. Which can be incredibly romantic.

That said, one of the best parts about living in Northern Ireland, for me, is being so close to the Antrim Coast. It's an untouched coastline where the mere sight of it takes your breathe away, and it's hard to think of anything except, WOW.
I can see why they film many Game of Thrones episodes here.
My sister, brother-in-law, and nephew recently visited and we arrived at Dunluce Castle, my brother-in-law said, "Now THIS is what I think of when I think of Ireland." And that is pretty much the best way to describe the Antrim Coast.
That, and windy… very windy. 🙂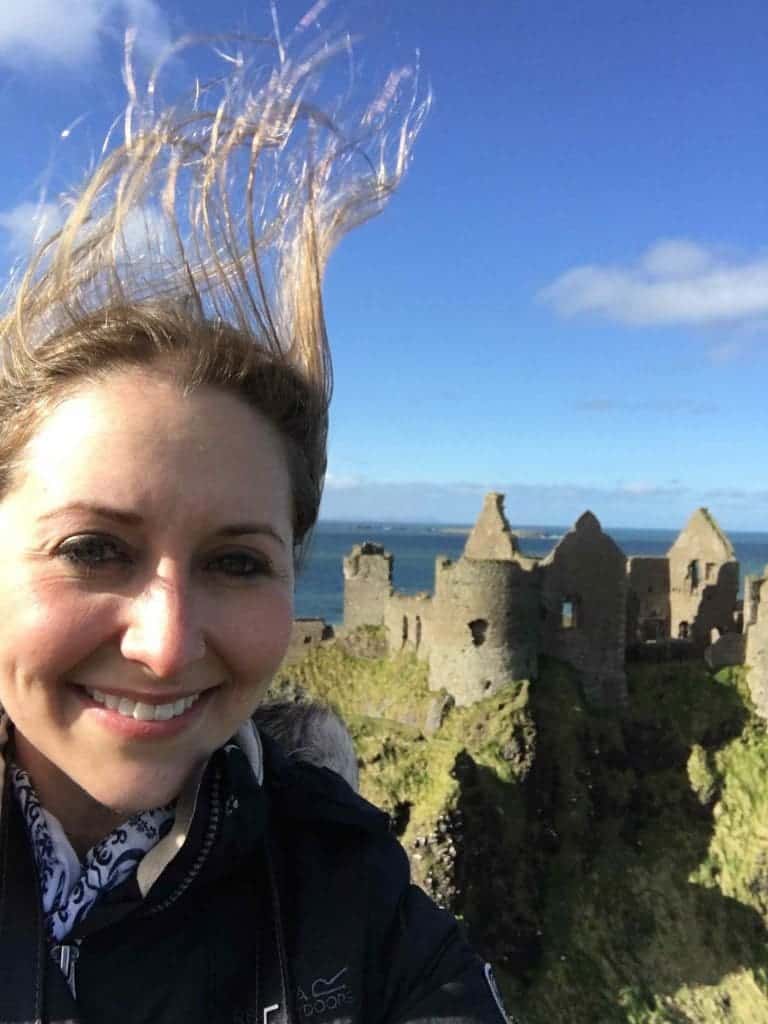 It's kind of hard to drive by Dunluce Castle without stopping. It is that remarkable… and almost magnetic… you can feel it's grandeur despite it being in ruins.
During a tour that I did with my fiancé, we were told that Dunluce Castle is said to be haunted. Apparently a part of the castle fell into the ocean, taking several people into the ocean with it.
Fun facts like that are what made doing a tour really worthwhile to me. I highly recommend taking a tour if you do not want to drive. I did the Odyssey Coaches Giants Causeway Tour with my fiancé and we loved it. That tour in particular goes in the opposite route as most of the other tours, which means you avoid crowds and get to spend more time at the sites.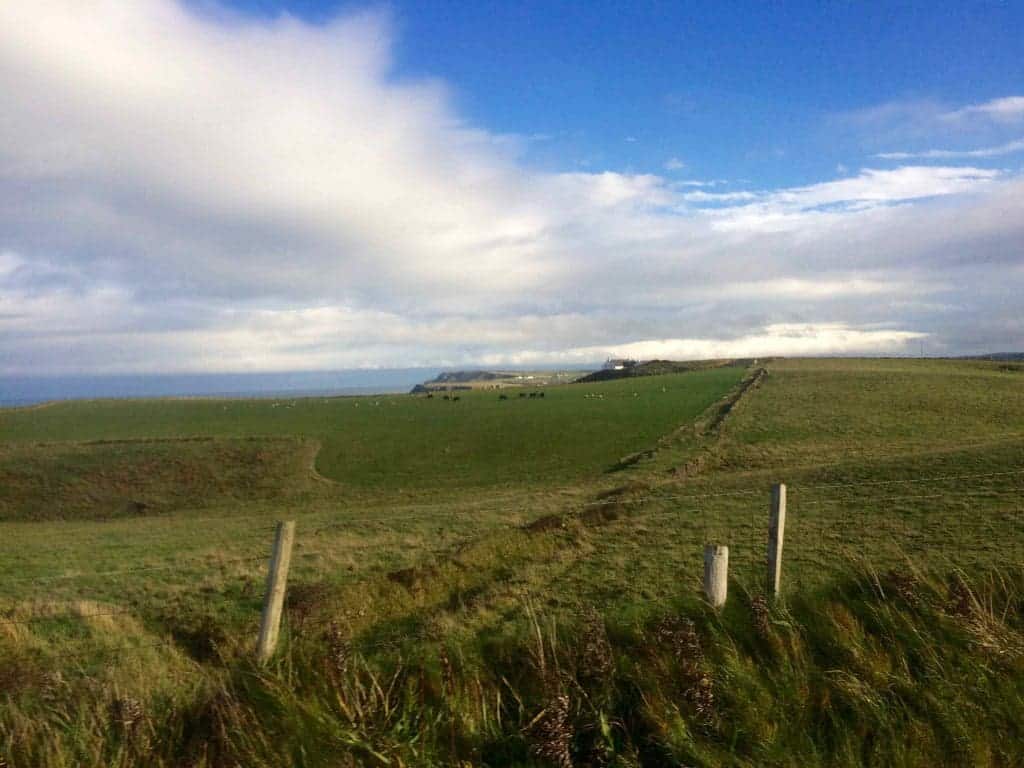 But, you can also create your own tour and drive yourself. I did this with my sister, brother-in-law and nephew and we were able to create a baby-friendly tour, that everyone really enjoyed. And since it is a 1.5 hour drive from Belfast, we were able to spend as much or as little time as we saw fit at the sites we chose, and still made it home for dinner.
Just driving along the coast alone is worth it…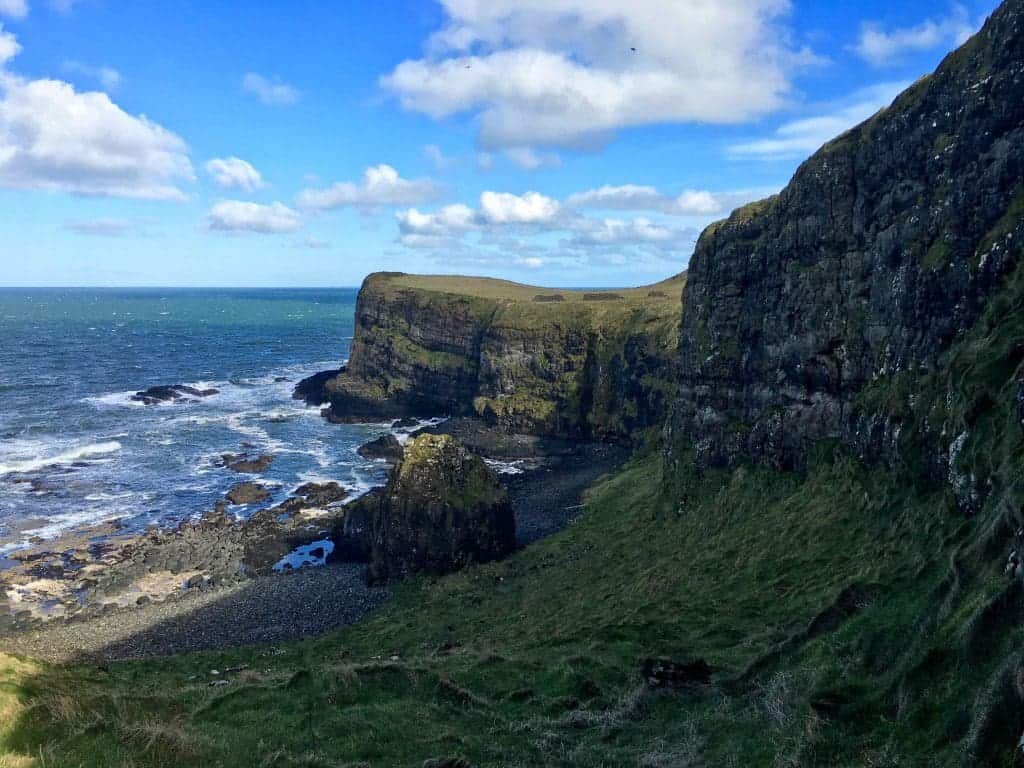 If you love Game of Thrones, driving through the Dark Hedges, which is the "Kings Road" in the show, is a treat… and a perfect part of any self-guided "tour", as it is on the way up to the coast. 🙂
It's almost like time hasn't stopped in the 200 years since these beech trees had been planted.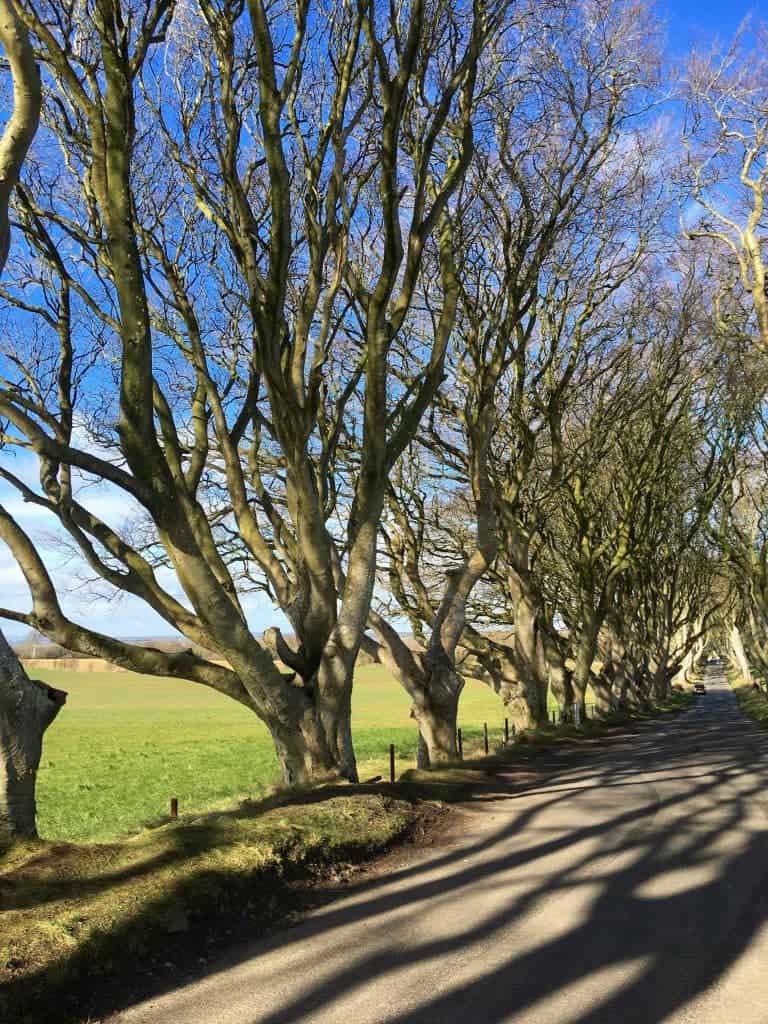 Even this little guy loved the Dark Hedges! 🙂
The Old Bushmills Distillery is also on the way to the coastline. It is actually right near Dunluce castle, which is convenient. The Old Bushmills Distillery offers tours and/or tastings. We didn't have time to do the tour, but we did do a tasting!
Now, I normally don't like whisky, but when I was told that they sell a 12 year old bottle of whisky here that you can ONLY get in this distillery, I had to try it. And it was actually incredibly delicious and smooth. It was so smooth that a non-whisky drinker (me), actually really liked it. Which is a first.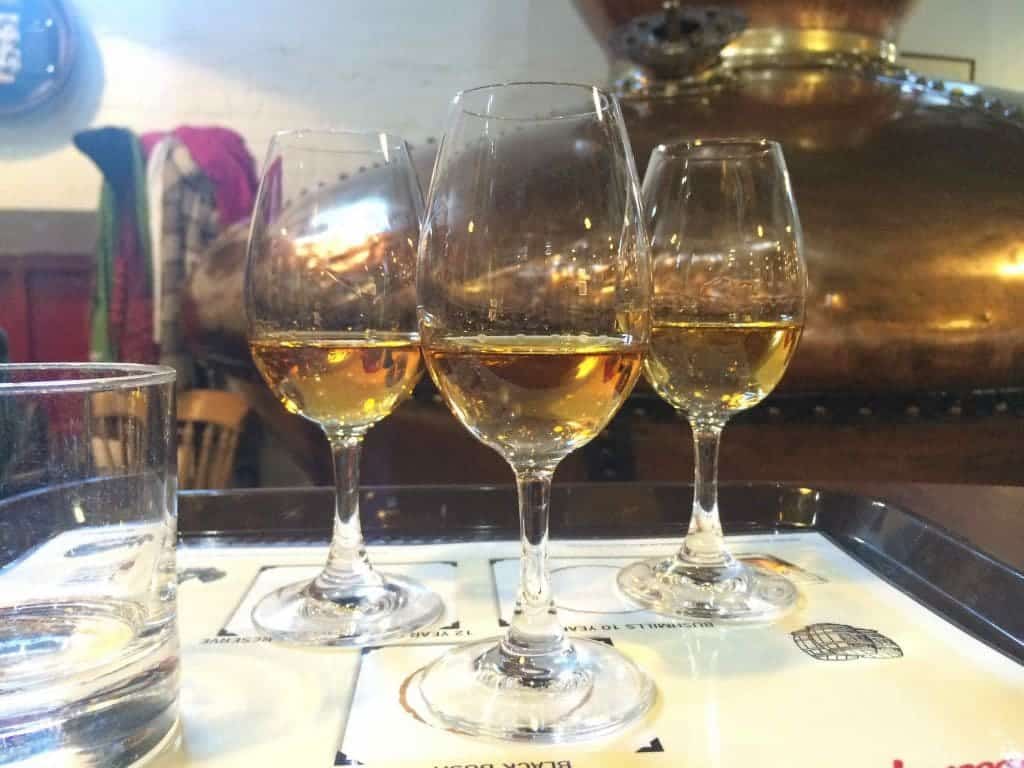 If you continue down the coast, past the Old Bushmills Distillery and Dunluce Castle, you'll reach the Giant's Causeway, a magnificent natural wonder where columns of rocks in unique long formations overlook the ocean.
The way in which these rocks fit together, and the symmetricalness of them is not something you get to see everyday.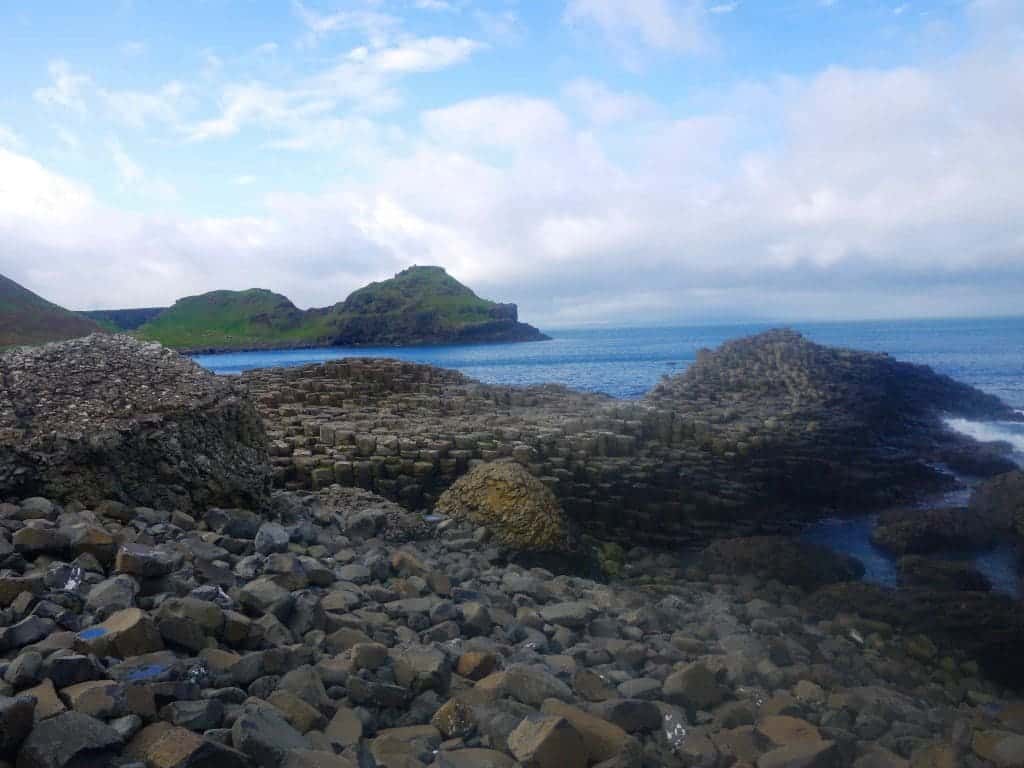 Legend has it that the columns were built by a giant in his attempt to get to Scotland to fight another giant.
And funny enough, similar formations can be seen in Scotland (though volcanic activity may be the real reason for these unique rocks 🙂 ).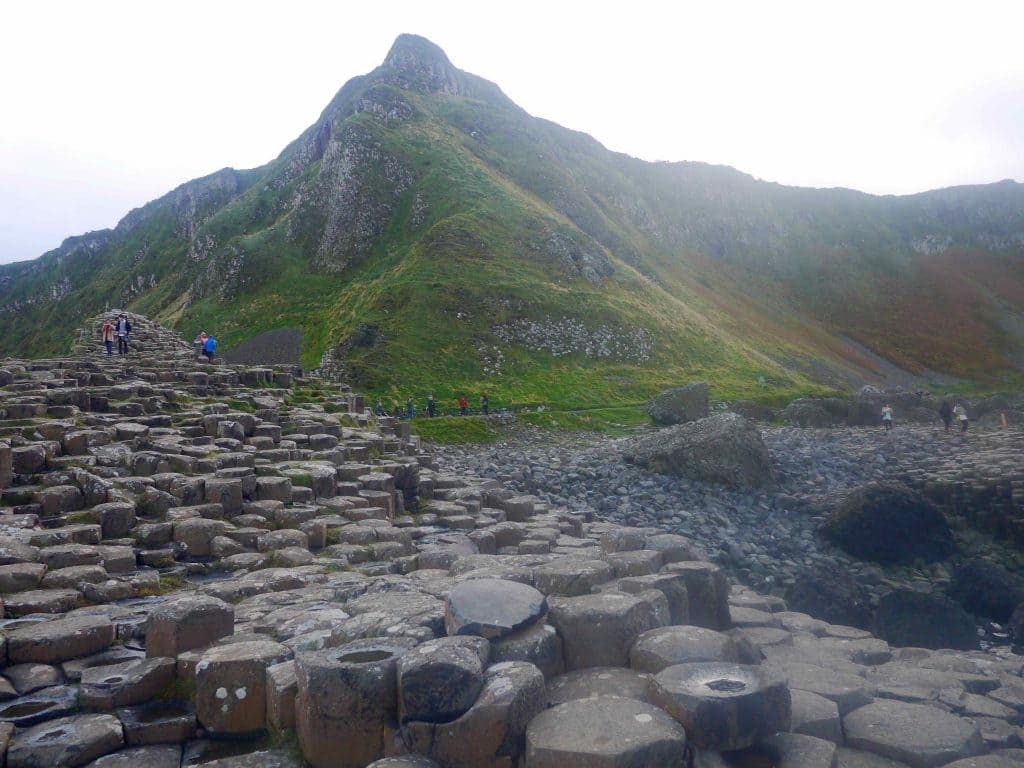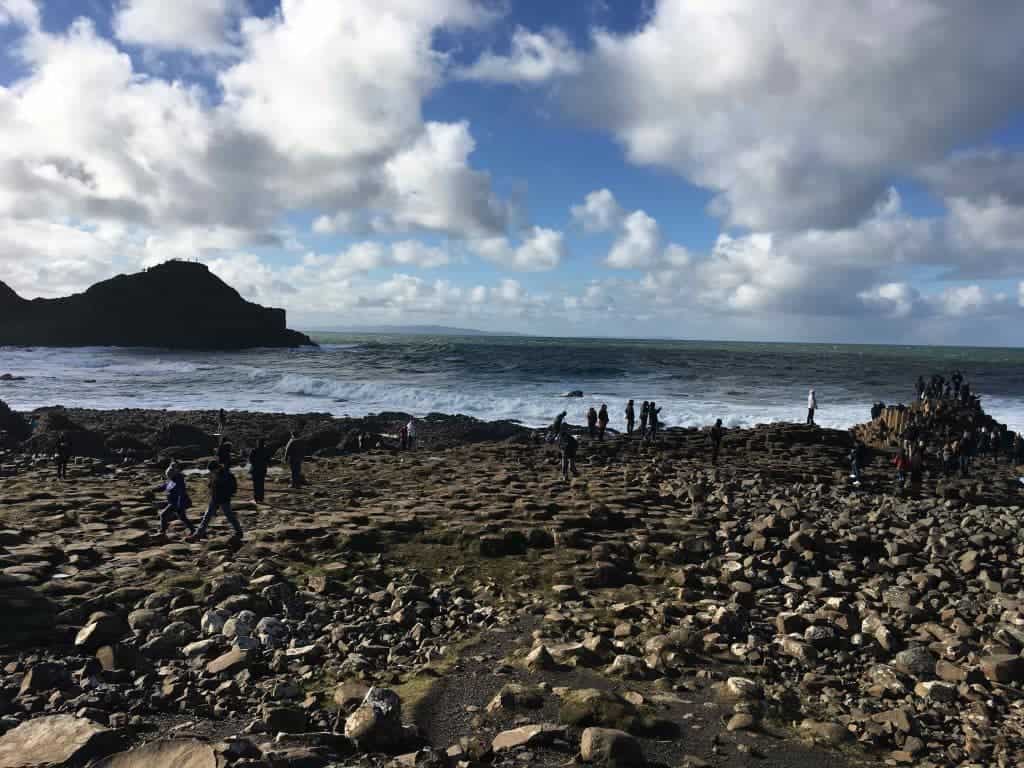 I know I keep using this word, but the scenery here was truly breathtaking. Being surrounded by strong rocks, and a vast ocean makes you realize how powerful nature really is.
You can park at the Giant's Causeway site itself, but I found that that isn't necessary.  The way it is all set up makes you think that you have to pay and visit the visitor's center, and you do not. You can if you want to listen to history and facts about the area, but it isn't required.
If you are part of am Antrim Coast tour, you will probably just be dropped off, and then you can walk all the way down to the rock formations yourself or pay 1 pound for a quick bus ride down.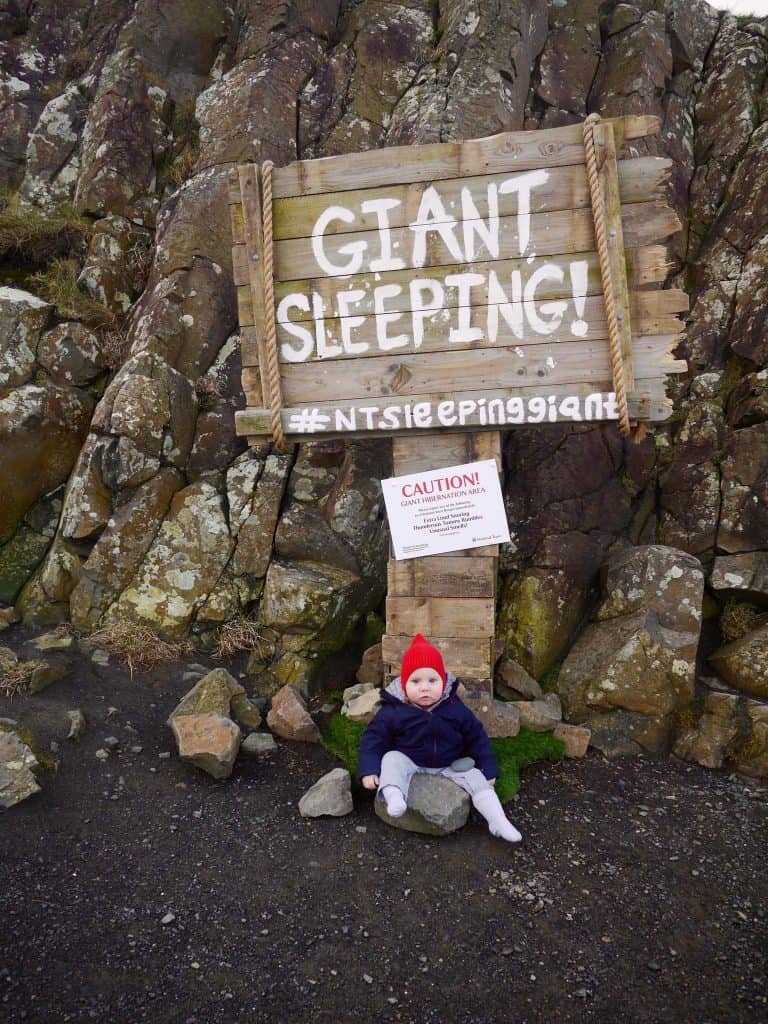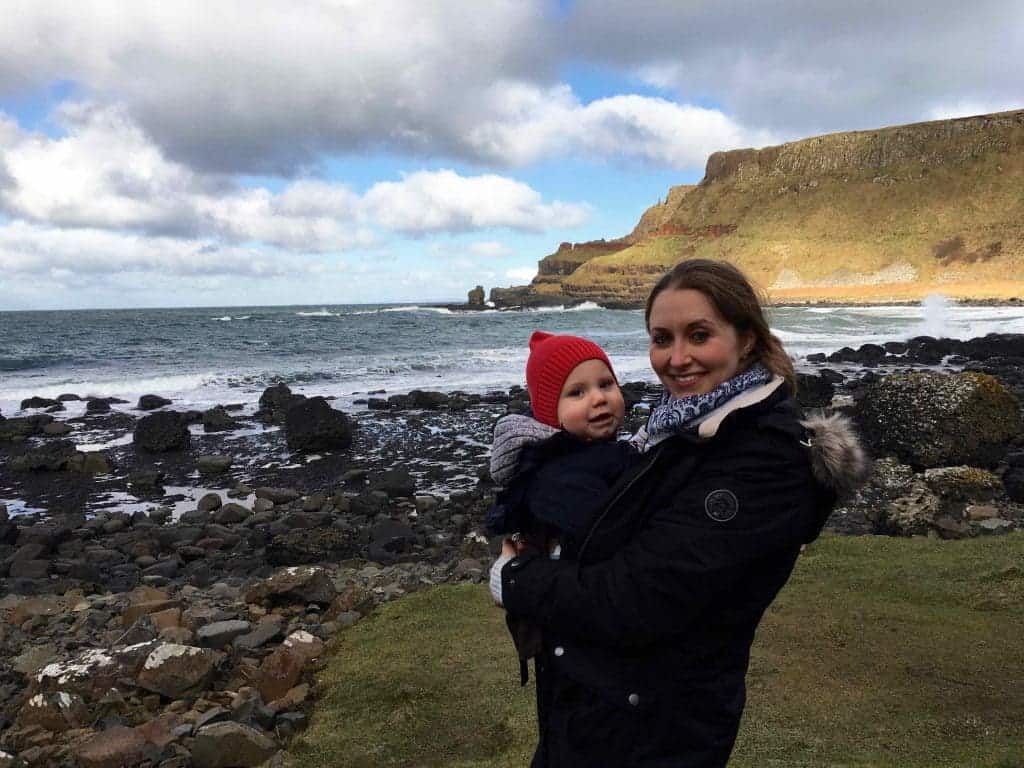 If you are driving yourself, I found that the perfect thing to do is to stop by the Nook pub for a warm lunch.
The Nook has fantastic views of the cliffs and the ocean, AND it has even better Guinness stew, apple pie, and sticky toffee pudding.
Priorities, priorities…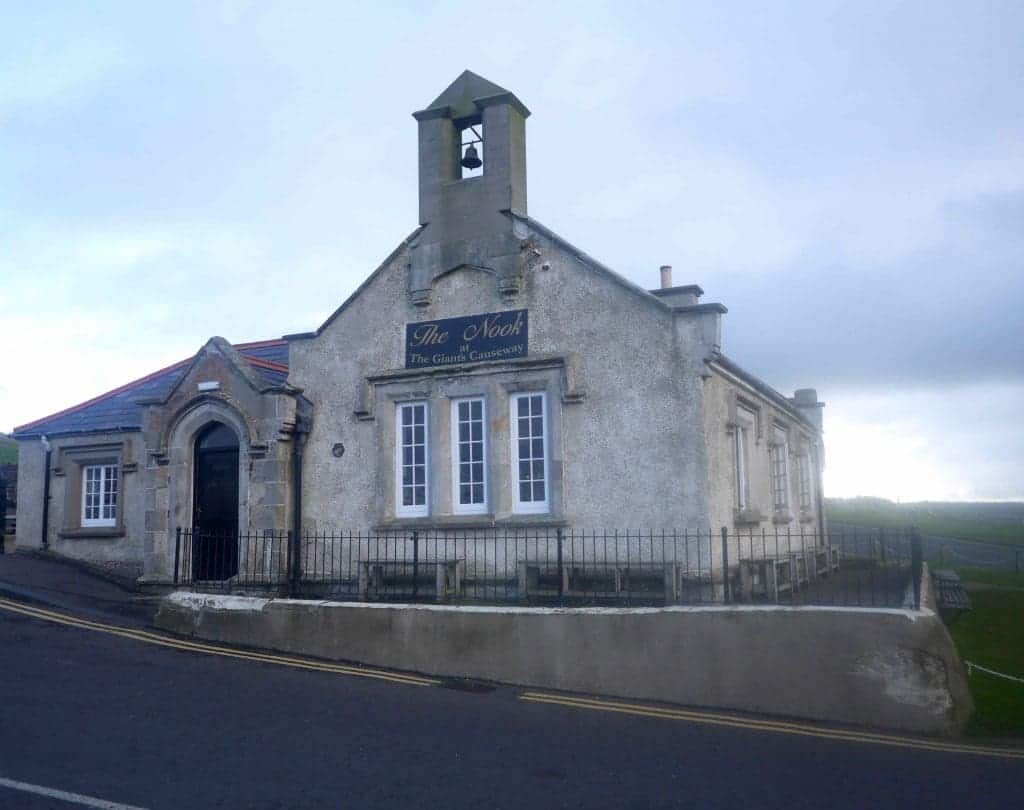 In all honestly, the Nook had one of the best apple pies that I have ever had in my life. It had a thick sugar cookie pie crust, with warm tart apples, and was served with a side of ice-cream, and warm custard.
They even told me that they made it with the apples from their neighbor's tree. This was in the Fall when I went with my fiancé and we gobbled this apple pie up in minutes. In February, they had a similar pie made with peaches, which was also very very good.
When I went to the Nook with my sister and her husband, our table could not decide what was better, the peach pie or the sticky toffee pudding.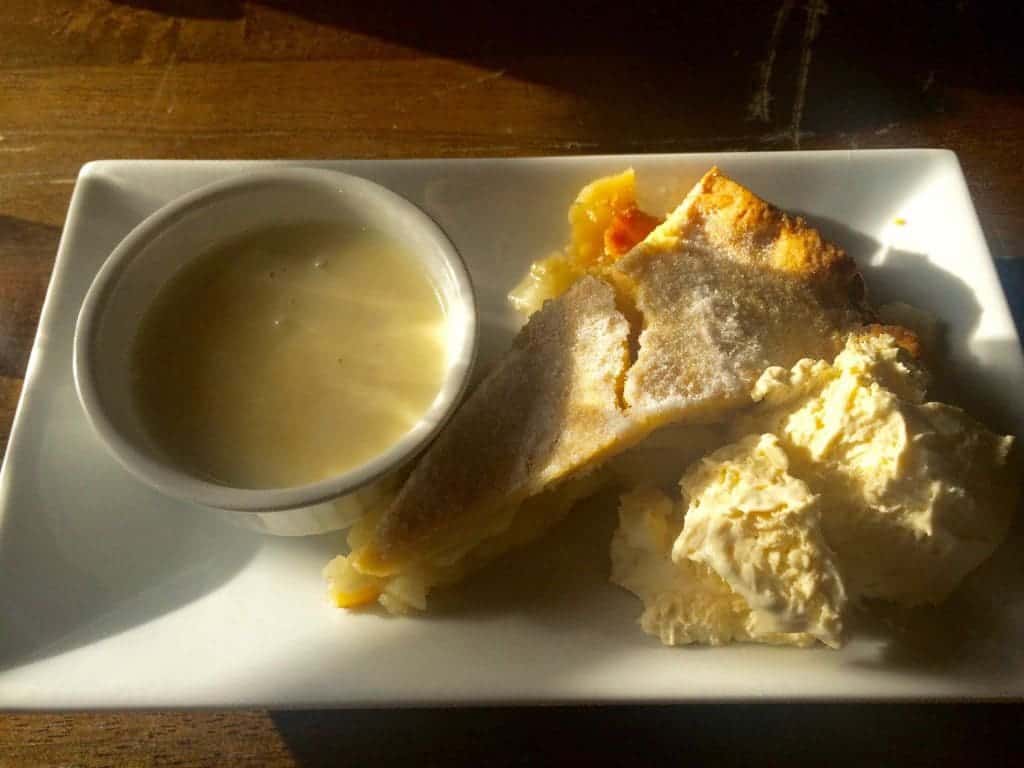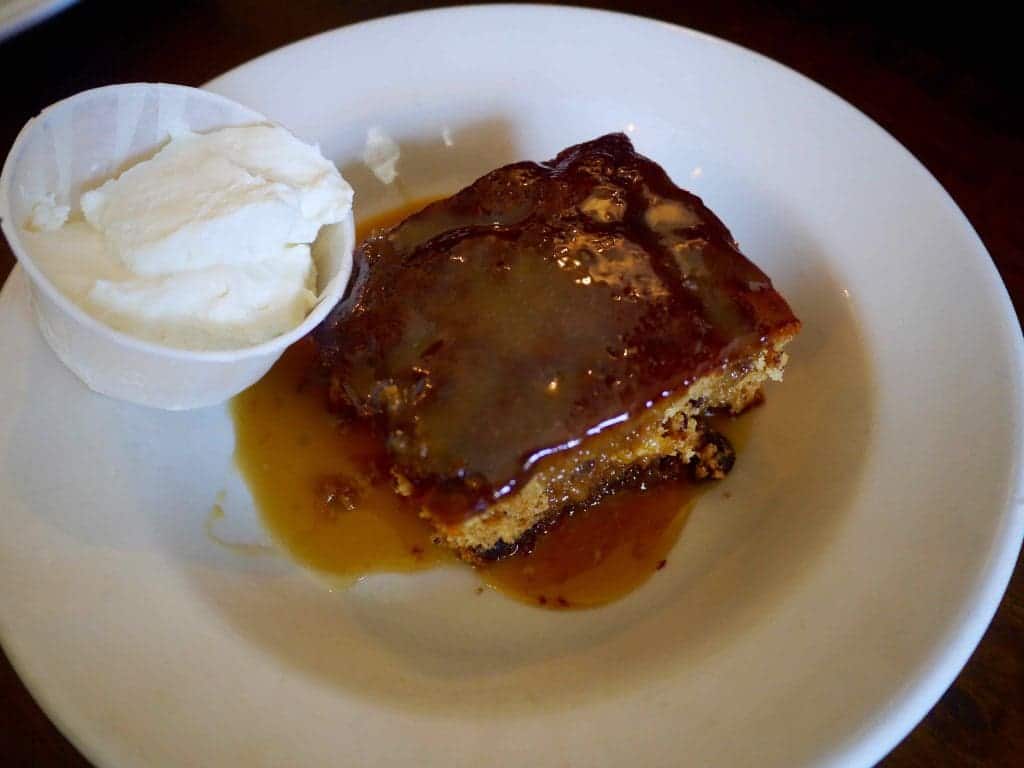 We ended up mixing the two desserts, and found ourselves in heaven. 🙂
But back to the whole parking situation… when we were at the Nook, we were told that we could leave our car parked there while we visited the Giants Causeway, which was so helpful with a baby! Their parking lot is a 2 minute walk from the paid parking lot for the Giant's Causeway site. Which is rather pricey. So buying a delicious lunch here is totally worth it on so many levels…
Apple pie being the biggest level 🙂
I would actually drive up to the Nook just for the food.
If you keep going down the coast, you will reach the Carrick-a-Rede Rope Bridge.
If you catch it on a sunny day, the green/blue waters will make you think that you may very well be somewhere tropical. But then you'll feel the rain or a gust of cold wind and you will be reminded that you are indeed in Ireland.
One thing to note is that if it is too windy, they may not allow you to cross the bridge. But it has to get REALLY windy for that because I was able to cross it while the bridge rocked back and forth from the wind. Which was kind of scary but so awesome to do!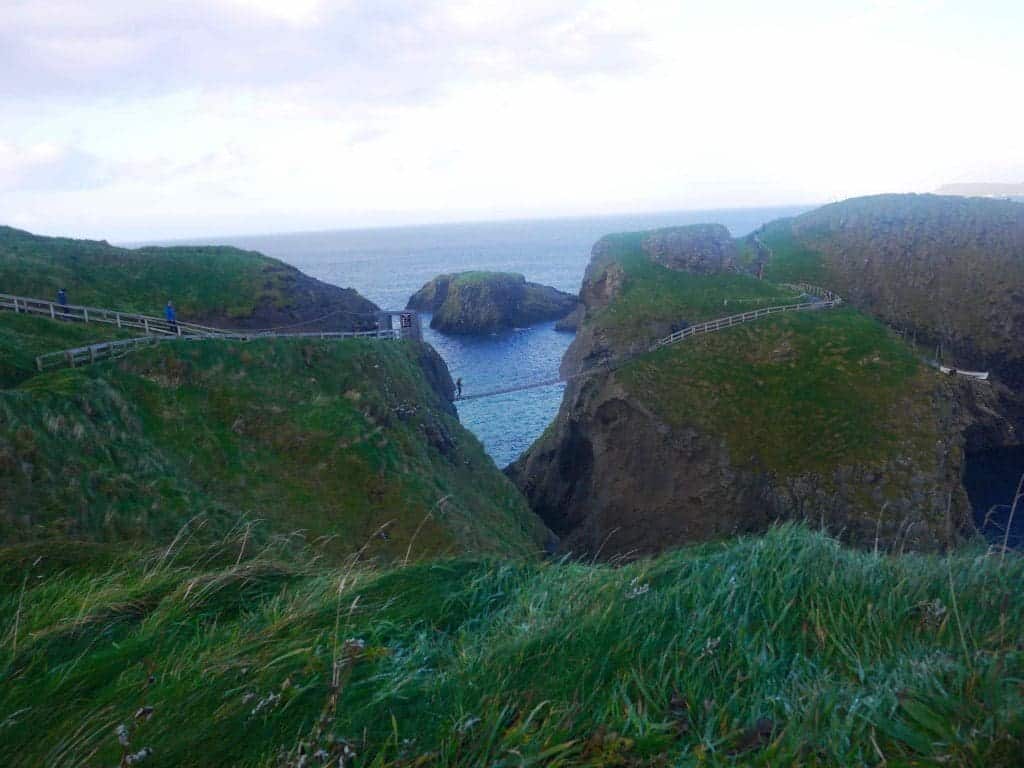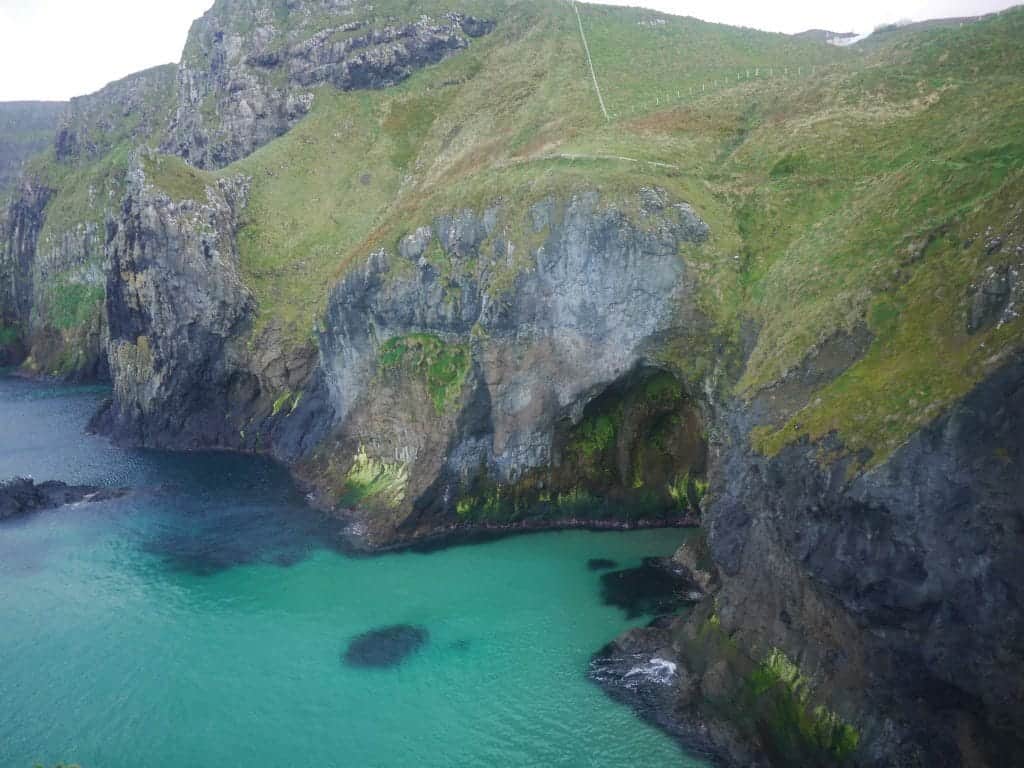 If you have it in you, and time is not an issue, I highly recommend going back down the coast towards Belfast or Dublin while hitting all the small coastal towns on the way.
You won't only see towns on this route, you will drive through forests, hills, barren land, and coastal seaside. The only time that I've experienced such change in scenery in such a short time was on the road to Hana in Hawaii.
Carnlough and Glenarm are two really cute towns worth driving through. In one of these towns (I want to say Glenarm), everyone was eating icecream despite it being really cold outside. We were so intrigued that we actually looked for icecream shops in town but couldn't find where it was coming from. haha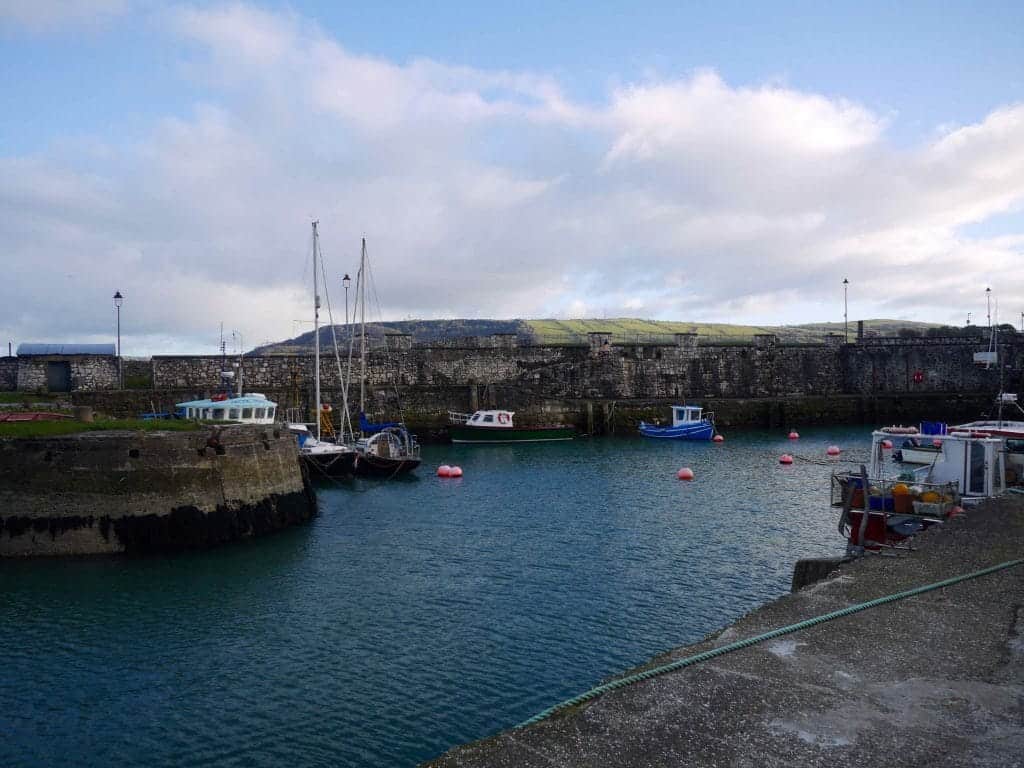 About 20 minutes north of Belfast, on the coast, is Carrickfergus Castle, a medieval castle that transports you back in time.
When you visit a place with so much history, it is surreal to think of all that the walls have seen. I mean, this castle was built in the 1100s and has been through multiple sieges and wars… it even has/had a murder hole in the front entrance where people would be trapped after going through the front doors.
I may or may not think, though, that the cute coffee shop across the street from the castle, was the best part of that day trip. I mean… homemade white chocolate, cinnamon, and strawberry scones… Drool.
Food and history seem to be a winning combination when it comes to travel. And I'm happy that I finally got to writing some of these Ireland travel post updates.
I'd love to hear any and all Antrim coast recommendations. And if you are ever in Belfast or even Dublin, it really is worth the trip to check out the Antrim coast; it is a feat of nature.
Disclosure: This post contains Amazon affiliate links. This means that if you click on a link and make a purchase, I will receive a small commission at no cost to you.