Lemony Turmeric & Pepper Egg Yolk Dressing (paleo, GF)
This Lemony Turmeric & Pepper Egg Yolk Dressing reminds me of summers in France and artichokes… well, it reminds me of eating artichokes in France in the summer. 🙂
This dressing tastes exactly like the sauce my mother makes and my grandmother used to make for dipping artichoke leaves into, and it is wonderful on salads or on any cooked veggie.
Have you tried eating boiled/steamed artichokes and then dunking the leaves into a lemony creamy dressing? It's really quite nice, and light.
To be honest, I didn't even mean to make a dressing that tasted like this. I was actually inspired by a Marks and Spencer salad dressing that I ate, which was made of egg yolk, cream, lemon and turmeric inside.
I was intrigued about making a mayonnaise based dressing (with the egg yolk) and decided to try to recreate a Paleo version of it… and found myself with this Lemony Turmeric & Pepper Egg Yolk Dressing.
I was pleasantly surprised because I had not tasted this flavor in years! I practically forgot about it until I made this.
I love when a smell or taste reminds you of good memories. 🙂
And for me, this dressing jogged up fond memories of visiting my grandparents in France… and the smell of their garden… their 7 cherry trees… their raspberry bushes…their bee hives and gardens… and how we would move the dinner table outside and eat in the garden.
I distinctly remember eating artichokes outside in the fresh summer air and loving the dressing more than the artichoke itself… I heavily coated each artichoke leaf so that I could reeeaaaally taste the dressing! haha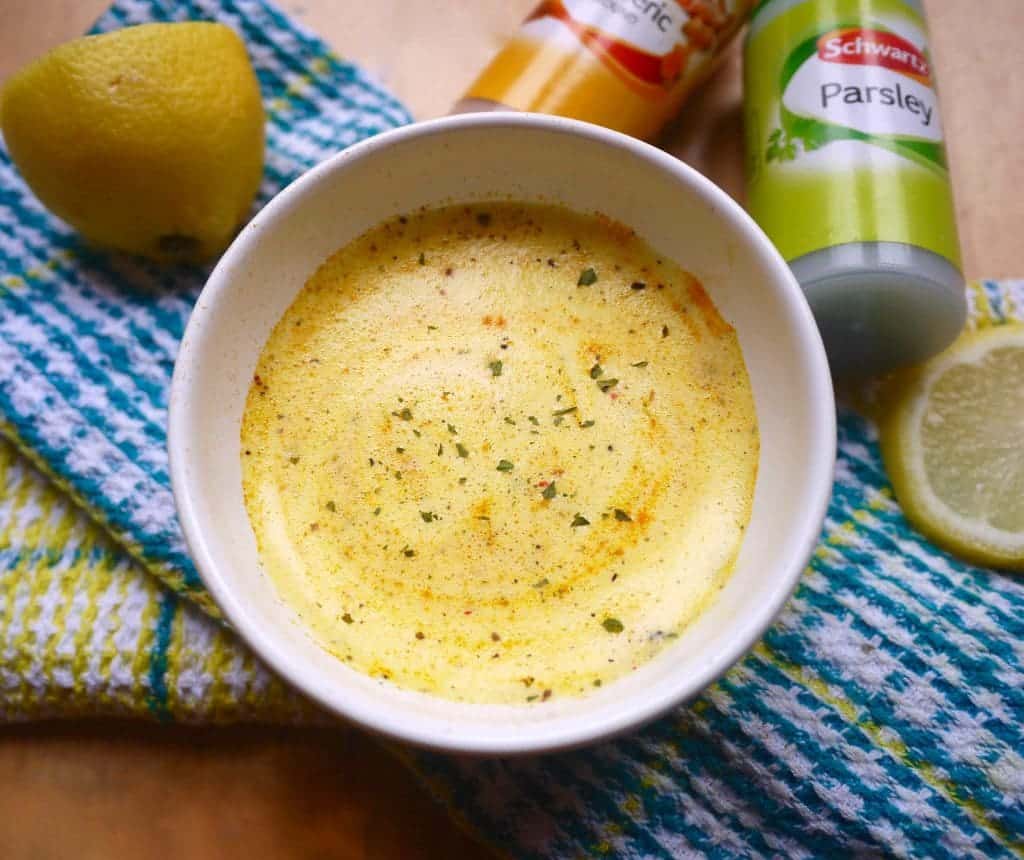 Well this Lemony Turmeric & Pepper Egg Yolk Dressing has me doing much of the same. I have used it on countless salads, covered boiled carrots in it, and dunked tomatoes, cucumbers, and peppers into it.
I love that it has turmeric in it, as I have been using any excuse to incorporate it into my diet. And I also love that the texture of this dressing is moussy yet creamy.
The flavor is tangy from the lemon, mustard, and apple cider vinegar, yet creamy from it's base of homemade mayo and the added coconut milk.
It's really quite delicious and multipurpose, and the recipe is right in time for summer. 🙂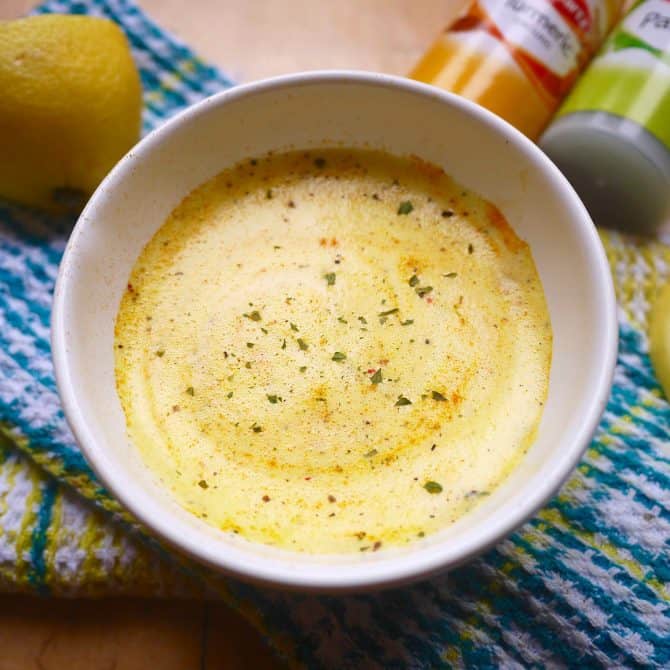 Lemony Turmeric & Pepper Egg Yolk Dressing (paleo, GF)
This Lemony Turmeric & Pepper Egg Yolk Dressing reminds me of summers in France and artichokes… well, it reminds me of eating artichokes in France in the summer.
Ingredients
1 egg yolk
1/4 tsp mustard (hot english or dijon)
2 Tbs olive oil
1 Tbs coconut milk (Goldenstar is my favorite because it has no preservatives and is thicker)
1 Tbs lemon juice
2 tsp apple cider vinegar
1/2 tsp ground mixed peppercorn pepper
1/4 tsp ground turmeric
1/4 tsp salt
1/4 tsp dried parsley
Instructions
Put the egg yolk, mustard, and a pinch of salt in a bowl and mix with a hand-held mixer for about 45 seconds, until everything has mixed and thickened a little.

Then turn the mixer back on and slowly pour 1 Tbs of of olive oil into the bowl, while continuously mixing. This should take about 15-20 seconds. Repeat this step for the second Tbs of olive oil.

Then add the coconut milk, lemon juice, apple cider vinegar, ground pepper, ground turmeric, salt and dried parsley to the bowl and mix.

Yields 1/2 cup of dressing
Nutrition
Calories: 87kcalCarbohydrates: 1gProtein: 1gFat: 9gSaturated Fat: 2gPolyunsaturated Fat: 1gMonounsaturated Fat: 6gCholesterol: 49mgSodium: 152mgPotassium: 30mgFiber: 0.2gSugar: 0.1gVitamin A: 68IUVitamin C: 2mgCalcium: 10mgIron: 0.4mg
Disclosure: This post contains Amazon affiliate links. This means that if you click on a link and make a purchase, I will receive a small commission at no cost to you.