Healthy Copycat Love Dip (GF, Grain Free)
Have you heard of Love Dip? If you aren't from Texas, chances are you haven't. But if you are from Texas, you'll know that Central Market's Love Dip is like crack. It's a creamy, tomatoey, tangy dip with a cayenne pepper kick. And I've never had anything like it.
Since I have the ability to eat the whole tub in one sitting, I decided to make a homemade healthier version made with Chobani Greek Yogurt.
Prior to living in Texas, I had never heard of Love Dip. I happened to try it at a party when I first moved here and my immediate thought was "WHAT IS THIS GLORIOUS DIP!". One of the guests at the party explained that it was called Love Dip and kind of looked at me like I was crazy for not knowing what it was. Or maybe it was because of how enthusiastic I was over a dip. haha
I was instantly obsessed. And I had to know more.
After some Love Dip research, I found out that you can buy it at Central Market. Which is my favorite grocery store in Houston. And I also found that making it involves lots of cream cheese aka lots of fat. Whyyy?!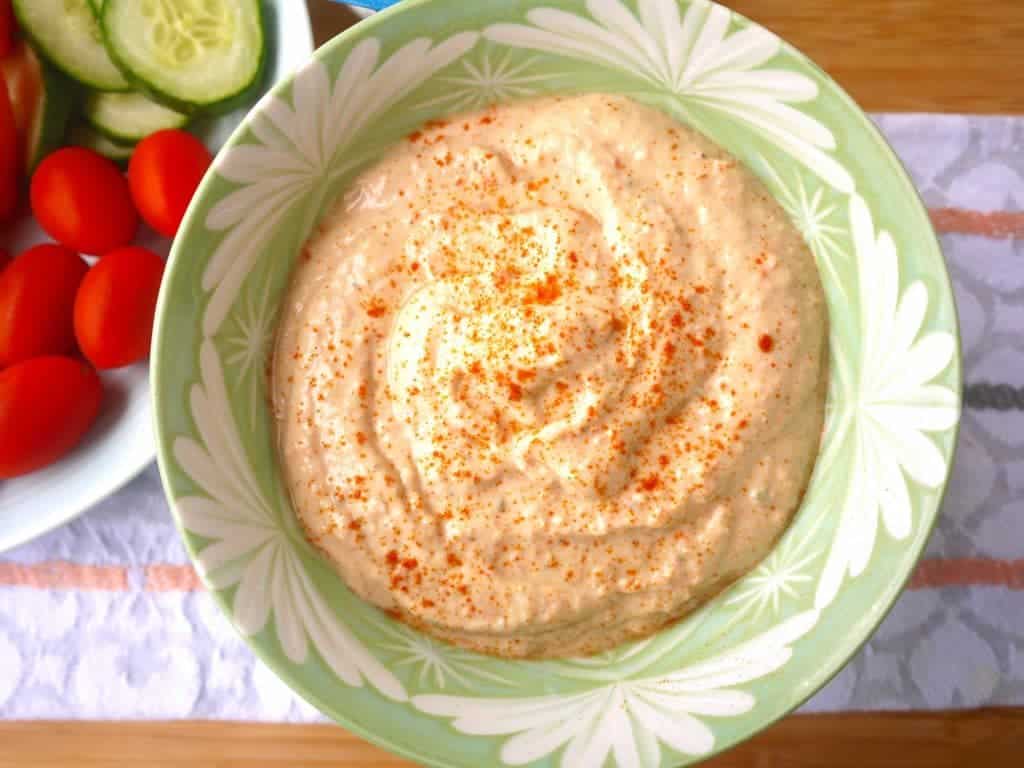 So I decided that a healthier version of this dip, with the same great flavor, needed to happen.
To make this Healthy Copycat Love Dip, I used fresh tomatoes, avocado, and garlic. And then I mixed those veggies with salt, tarragon, lemon juice, cayenne pepper, black pepper, onion powder… and greek yogurt.
The greek yogurt here is key to why this Healthy Copycat Love Dip is healthier than the original.
Normally Love Dip is made with cream cheese. 10 ounces of cream cheese has 970 calories and 100 grams of fat in it. Here, 10.6 ounces of Chobani Greek Yogurt ( 2 containers) is only 180 calories and 0 grams fat. This is a huuuge difference.
A huge difference that means you can eat way more of this Healthy Copycat Love Dip! Which tastes wonderful. It even tastes healthier than the original.
And in keeping with the healthy theme, I like dunking carrots, tomatoes, broccoli, cucumber, and plantain chips into this dip instead of chips.
I think the only thing that has to change is that this dip shouldn't just be a Texas thing. It's too good to be regional.
Check out Chobani for more Greek yogurt recipe inspiration. 🙂
Now I know that I normally post Paleo recipes, but I want this blog to reflect my real life. I eat Paleo 70-80% of the time, and more if my fiancé is having an auto-immune flare. The other 20-30 % of the time, I try to incorporate healthy foods like oatmeal, greek yogurt, hummus, and quinoa. I've noticed that my body can easily tolerate those foods and I enjoy eating them from time to time.The key for me is to make sure that what I am eating is non-processed.
On that note, I'm currently testing a Paleo version of this Dip and if successful, I'll be posting it soon. 🙂
Copycat Love Dip (GF, Grain Free)
A healthy dip with tomatoes, avocado, and greek yogurt with hints of lemon, garlic, and tarragon.
Ingredients
2 (5.3 oz.) containers of Chobani plain greek yogurt
1 cup cherry tomatoes
1 Tbs minced garlic ( use less if you aren't a garlic lover)
1 tsp tomato paste
1/8 tsp salt
1 tsp tarragon
1/2 tsp lemon juice
1/4 tsp cayenne pepper
1/8 tsp ground black pepper
1 tsp onion powder
1 whole avocado (this was 6 Tbs of mashed avocado for me)
Instructions
Put all of the ingredients into a blender ( I used a Ninja).

Blend for about 20 seconds, or until everything is fully mixed.

Pour into a bowl, and enjoy!
Nutrition
Calories: 71kcalCarbohydrates: 5gProtein: 5gFat: 4gSaturated Fat: 1gPolyunsaturated Fat: 0.5gMonounsaturated Fat: 2gTrans Fat: 0.003gCholesterol: 2mgSodium: 60mgPotassium: 239mgFiber: 2gSugar: 2gVitamin A: 177IUVitamin C: 8mgCalcium: 53mgIron: 0.4mg
Disclosure: This post contains Amazon affiliate links. This means that if you click on a link and make a purchase, I will receive a small commission at no cost to you.