Baked Dutch Oven Pork Loin with Jam and Spices
This Dutch Oven Pork Loin recipe is topped in jam and lots of spices and then baked to perfection. It is baked with fruit and veggies for a delicious complete meal.
I have been making a version of this pork loin in the dutch oven for months now!
Not only does it come out great every time… tender, sweet and perfectly spiced. But it is incredibly versatile and can be made with various sides. It's also naturally Paleo, Whole30, Gluten-free, and Dairy-free!
Table of Contents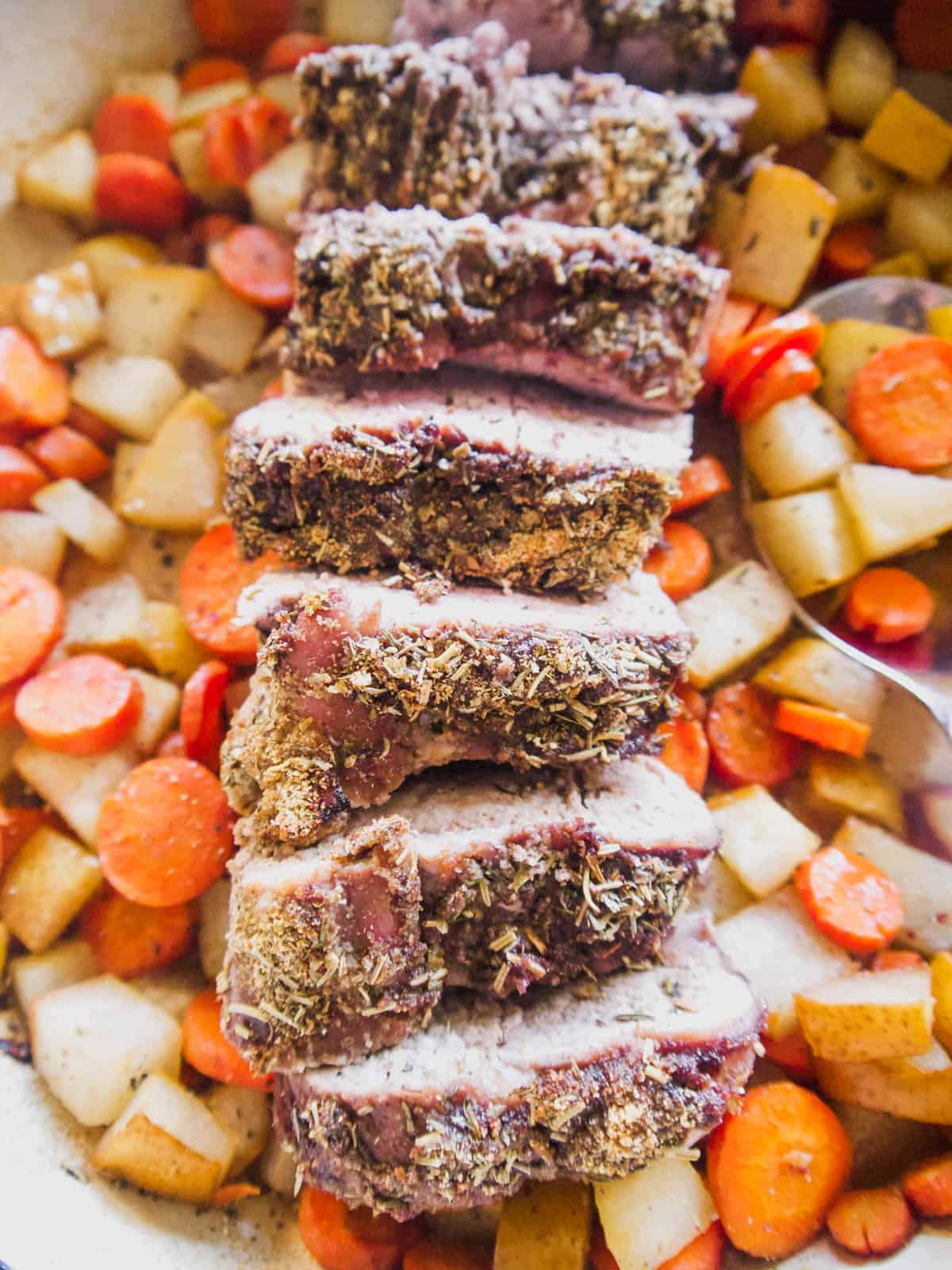 Why this recipe works:
It is versatile. You can change the base based on what you have in hand or the season. For example, you can make this with apples or pears. With mushrooms or carrots. Whatever works for you. You can also change up the jam flavor.
It is a healthy dinner recipe. It's Paleo, Whole30 and allergy-friendly.
This paleo pork loin comes together quickly and is done in 40 minutes!
This whole30 pork loin recipe is flavorful and delicious.
Recipe Ingredients:
pork loin- a good quality pork loin or two pork loins works here.
mushrooms or carrots ( or both )– both of these taste great here.
pears or apples– these are crunchy but cook well and add sweetness.
sugar-free jam– any flavor! I like berry, peach and apricot.
onion powder, garlic powder, rubbed sage, thyme, oregano, rosemary– this makes up the herb crust that goes on top of the pork loin.
See recipe card below for a full list of ingredients and measurements
Step by Step Instructions:
Step 1: To start off, you'll need to mix all of the spices together in a bowl. This includes the onion powder, garlic powder, rubbed sage, dried thyme, dried oregano, dried rosemary, salt and pepper.
Step 2: Then, you put your pork loin in the middle of the dutch oven. Surround it by diced pears or apples and sliced carrots or mushrooms.
Step 3: Cover the pork loin in a layer of jam.
I personally like the St. Dalfour brand because it doesn't have added sugar in it.
Step 4: Cover the jam in the mixed spices and pat it down with the back of a spoon. If you can, try to cover the sides of the pork with it as well.
Step 5: Sprinkle some olive oil on top of the fruit and veggies surrounding the pork loin and mix.
Step 6: Bake! Then once it's done, mix all of the fruits and veggies together to get them nice in coated in the juice. Feel free to cover the pork in the juices. It is delicious!
Expert Tips:
I have an either/ or situation listed in the ingredient list. You can use apples or pears. ( Or 1 of each). You can use mushrooms or carrots ( or 1/2 and 1/2 ). This recipe really works with so many different options. It's delicious each way that I have made it.
If the pork loin is done, and you are cooking carrots and they aren't as cooked through as you want, remove the baked pork loin from the pan and continue cooking the carrots until they are cooked through.
Make sure to use a dutch oven so it cooks correctly.
Make sure to cut the fruit and veggies small enough so that they cook through in time.
Other healthy pork recipes you may enjoy:
Did you try this recipe? Please leave me a ⭐ review below!
Baked Dutch Oven Pork Loin with Jam and Spices
Pork loin topped in jam and lots of spices and then baked to perfection while surrounded by baked fruit and veggies.
Ingredients
1.5 lbs pork loin
10 ounces sliced baby bella mushrooms or 2 cups carrots sliced thin
2 ripe pears or apples diced
2 Tbs sugar-free jam ( I like using berry jams here )
1 tsp onion powder
1 tsp garlic powder
1 tsp rubbed sage
1 tsp dried thyme
1 tsp dried oregano
1 tsp dried rosemary
1 tsp salt
1/2 tsp black pepper
3 tbs olive oil
Instructions
Preheat oven to 425 degrees F.

Mix all spices together in a small bowl.

Grease bottom of a dutch oven, put pork loin in it. Put mushrooms or carrots and pears or apples around the pork loin. Cover the pork loin in jam ( evenly spread it), and then top the pork loin in the spice mixture, press the spices into the jam with back of a spoon.

Sprinkle the mushrooms/ carrots and pears with 3 Tbs of olive oil and mix.

Bake for 30-35 minutes, mix fruit and veggies half way through cooking. Spoon juices on top of pork loin.
Notes
*You can use apples or pears. ( or 1 of each ) *You can use mushrooms or carrots ( or 1/2 and 1/2 ). *Note: if carrots and pear/ apple aren't cooked, take the pork loin out of the pan, and put the fruits and veggies back into oven until desired texture.
Nutrition
Calories: 493kcalCarbohydrates: 22.5gProtein: 39.1gFat: 27.7g
Disclosure: This post contains Amazon affiliate links. This means that if you click on a link and make a purchase, I will receive a small commission at no cost to you.