Creamy Roasted Red Pepper Sauce Chicken and Zoodles (paleo, GF)
I mentioned in my last post about how I just got back from visiting my sister and my new nephew (he's one month old and so so cute!!). I tried to make myself useful during my stay… and so I baked lots of lactation cookies (which I couldn't help eating myself… what? they are so good!) and helped out with dinner.
I was standing in the kitchen one night, trying to figure out what to make for dinner, when my brother-in-law, Garry, suggested a roasted red pepper cream sauce with ravioli. I told him that that sounded delicious, but I had never had that before, so I would need some directions as I cooked. He gasped in disbelief. "You've never had roasted red pepper cream sauce!? You HAVE to try it!"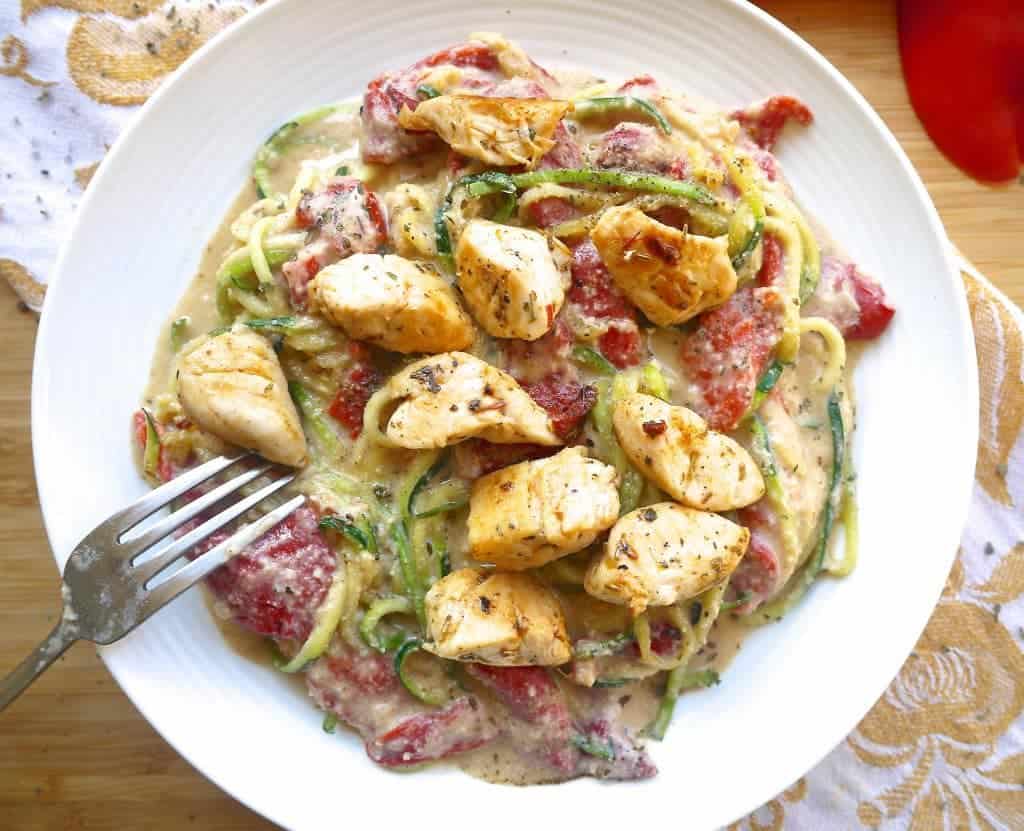 And so unfolded my first deliciously wonderful experience with creamy roasted red pepper sauce. With some helpful instructions from my sister and my brother-in-law, I put a jar of roasted red peppers into a pan and let them heat up until they became fragrant, and the liquid evaporated.
Then, I made a simple Alfredo sauce. I mixed the peppers into the Alfredo sauce, and added some ravioli.
I. Was. In. Heaven! Garry was right, how had I never had this before?!
I knew that I had to make a Paleo version. And as soon as I got home, I tested it out.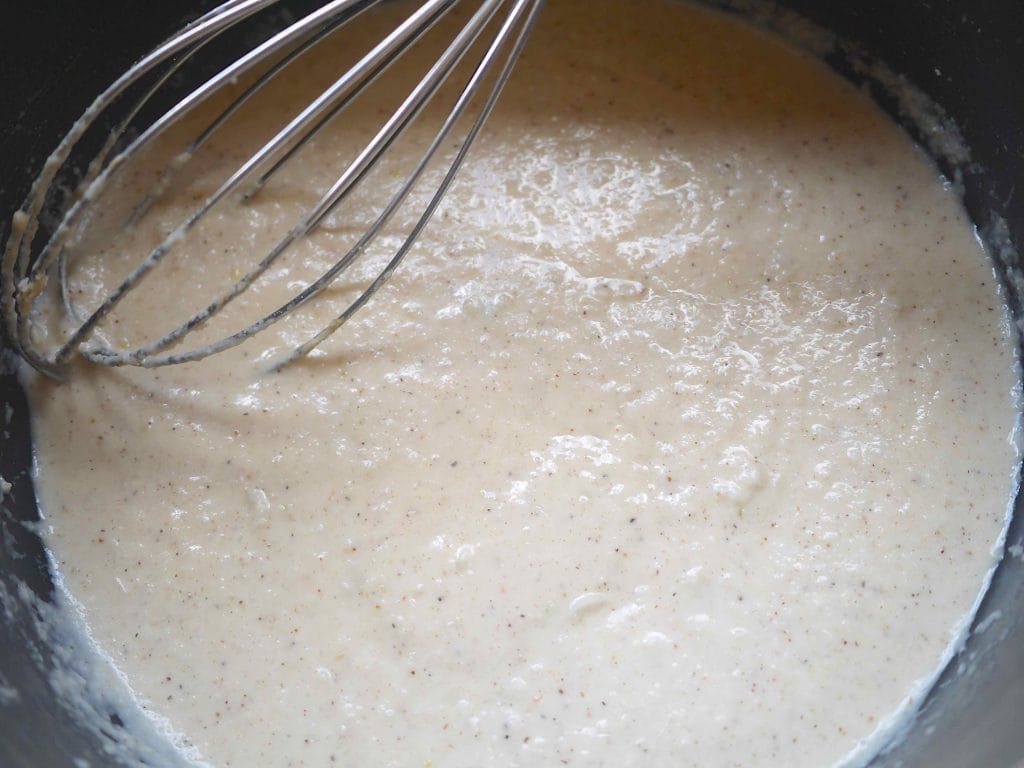 Luckily I have my go-to paleo cream sauce that I love… and I started off by making that sauce.
At the same time, I heated up the roasted red peppers in a large frying pan. I ended up buying them from a jar, because I wanted to replicate the recipe that I had tried at their house.
I've also never roasted my own peppers, but that on my to-do list now.
I was a bit worried that the sauce wouldn't taste right, because the peppers I used at my sister and brother-in-law's house were a special pepper from the region in France where they live.
But I found that the Cento roasted peppers that I bought tasted amazing.
I put the roasted red peppers into the paleo cream sauce (it tastes better than it looks!), and then I made the chicken in the same pan that the peppers were in.
This really made the chicken soak up some great flavor. I then added the chicken to the sauce.
Theeeeen, I heated up the zucchini noodles in the same pan that the chicken was in, which gave them a rich taste.
I added the roasted red pepper cream sauce and chicken to the pan. And a yummy Paleo dinner was served.
This is a quick tasty meal. I'll be working on other non-processed versions of roasted red pepper foods and sauces, but wanted to share this one now 🙂
Creamy Roasted Red Pepper Sauce with Chicken and Zoodles (paleo, GF)
Ingredients
Two medium zucchini
12 ounces roasted red peppers, (mine were from a jar, the Cento brand) (make sure there is no sugar in the ingredient list)
1 Tbs minced garlic, (this was 4 cloves for me)
1 tsp onion powder
3/4 cup canned coconut cream, (make sure there are no preservatives inside)
1/2 cup chicken stock
1/4 tsp ground nutmeg
1/4 tsp ground black pepper
1/2 tsp salt
3 Tbs coconut flour, ( I always use Nutiva)
1 lb chicken cutlets, , cut into bite sized pieces
thyme to taste
herbes de provence, to taste
6 tsp olive oil, , divided
Instructions
Spiralize the zucchini with a spiralizer. I used the Chipper Blade from my

Paderno Spiral Vegetable Slicer

. Place the spiralized zucchini into a colander/strainer. Put a large pinch of salt onto the zucchini, toss it around and then let the zucchini sit so that the liquid can drain from it.

While the zucchini sits, drain the roasted red peppers, and put them into a large frying pan. There will still be some liquid on them. (If you want the pieces of pepper to be smaller, cut them before putting them into the pan) Heat them over medium-high heat until the liquid has evaporated and the peppers become fragrant. I cooked mine for about 10 minutes. Make sure to mix often, so that they don't stick to the bottom of the pan.

At the same time, make the cream sauce. Put the 1 Tbs of minced garlic, 1 tsp of onion powder, and 2 tsp of olive oil into a pan. Mix it all together with a spatula and then set the heat of the stove-top to medium. Cook for 4 minutes, mixing every so often. Add ¾ cup of coconut milk or cream and ½ cup of chicken stock to the pan and whisk. Add the 1/4 tsp of nutmeg, 1/4 tsp of black pepper, and 1/2 tsp of salt and whisk again. Let everything boil for 5 minutes. Then, add the 3 Tbs of coconut flour to the mixture, one Tbs at a time, whisking well in between each addition. Turn the heat off.

Add the red peppers to the cream sauce.

Then, using the same frying pan that the red peppers were in, add 2 tsp of olive oil, the pieces of chicken, and heat the pan over medium heat. Add salt and pepper to taste, as well as thyme and herbs de provence to taste. Cook until the chicken is golden and no longer pink in the middle, about 10 minutes. Put the cooked chicken into the cream sauce.

Using the same pan that the chicken was just in, heat up 2 tsp of olive oil over medium-high heat. Put the zucchini noodles on top of paper towels. With another paper towel, press down on top of the zucchini noodles, getting all the excess moisture out. Then put the noodles into the frying pan and cook for 1 minute while stirring. Remove from heat.

Add the roasted red pepper sauce and chicken to the zoodles. Mix and serve.
Disclosure: This post contains Amazon affiliate links. This means that if you click on a link and make a purchase, I will receive a small commission at no cost to you.