Clean Ground Turkey Roasted Stuffed Peppers (Paleo, Gluten-free)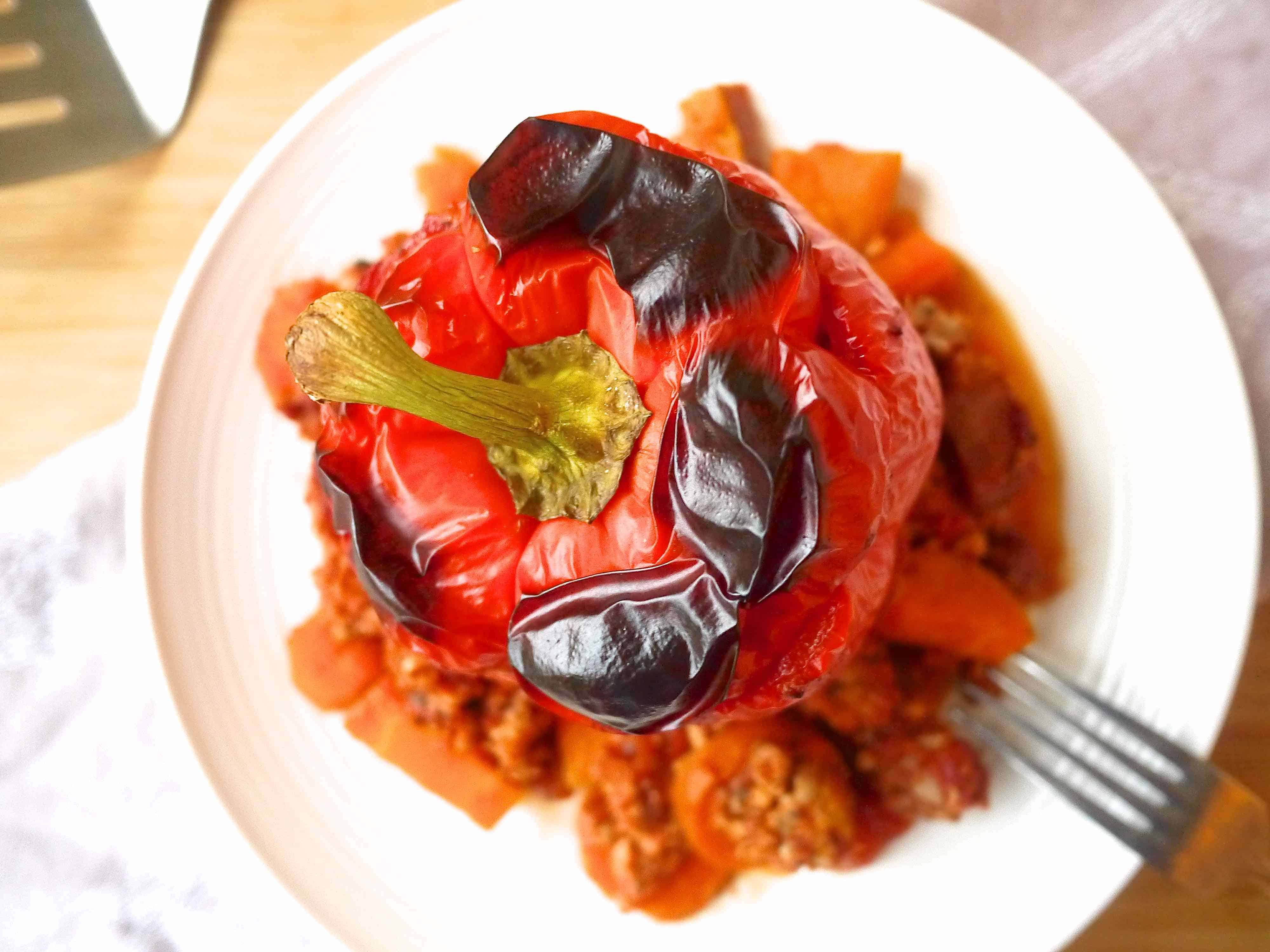 I've got an answer to the age old question of, "what should I make for dinner tonight?". These ground turkey roasted stuffed peppers are what you should be making for dinner tonight!
This recipe only requires 15-20 minutes of prep work. Then, you put the stuffed peppers into the oven for an hour, and that's all it takes to get this gourmet delicious meal on your table. Which is nice because you can use that hour to get some things done around the house, to relax or watch a show, or even to work out. It's a great use of your time.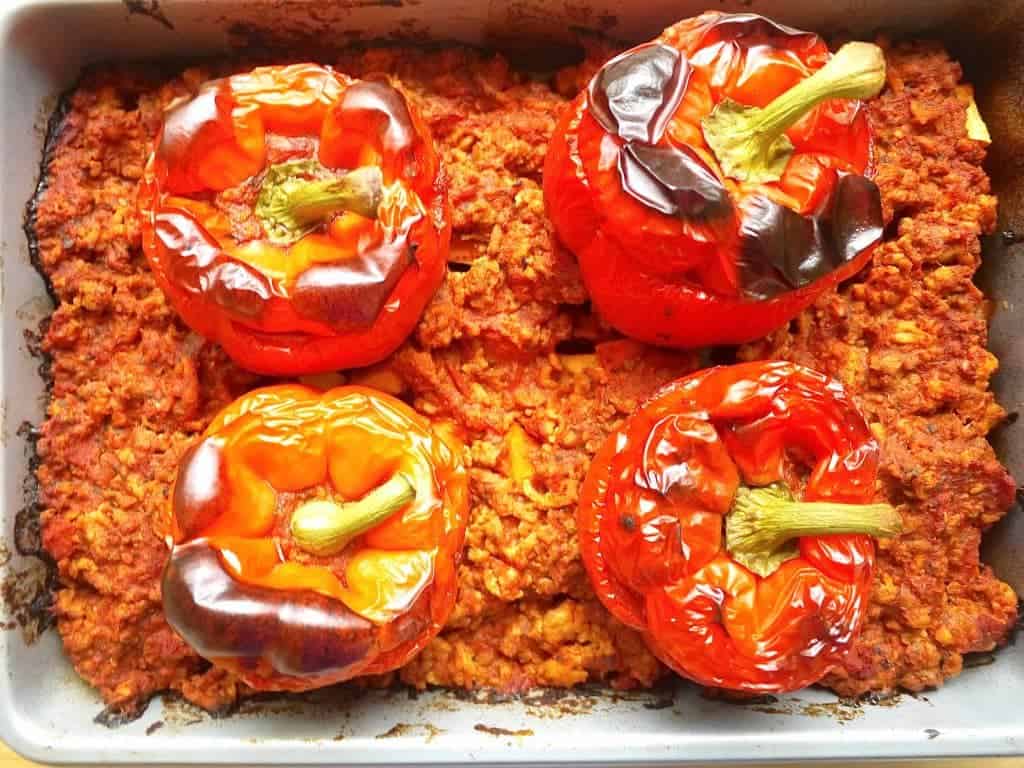 I've made stuffed peppers on the blog before, but I wanted a better recipe. And I've got to say, these Clean Ground Turkey Roasted Stuffed Peppers blow my previous stuffed pepper recipe away!
The flavors here are just soooo satisfying.
The ground turkey absorbs the tomato, basil, and oregano flavors better than I think ground beef does. It's hard to put into words, but I find that ground beef adds it's own flavor to meat sauce, a hearty element, while ground turkey absorbs other flavors.
It could be just me, but I find ground turkey to be lighter and to allow for a sweeter sauce that doesn't overpower the roasted red pepper flavor.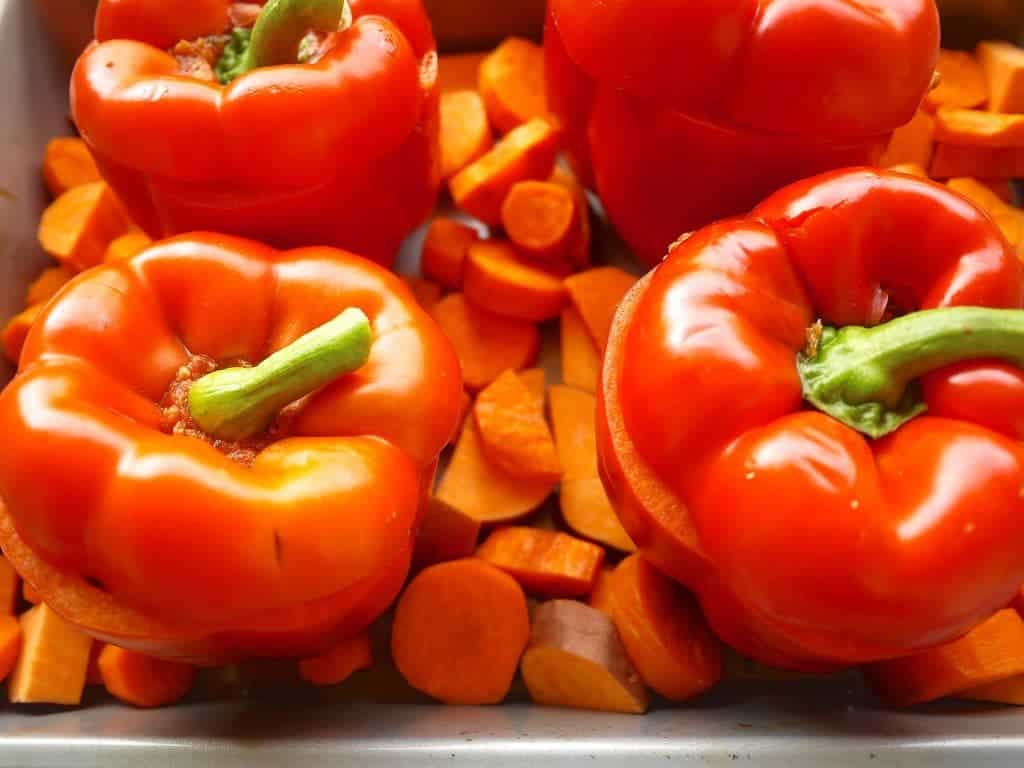 I love the sweet potatoes and carrots in this dish. Having them as a side works so well with the ground turkey and tomato meat sauce because they add an earthy complimentary sweetness.
I've always thought that stuffed peppers taste good with some sweetness added. Growing up, we would sprinkle a little bit of brown sugar on top. I swear, once you do it, it's hard to go back to eating them "plain". My family told me that adding brown sugar is the Hungarian way to eat stuffed peppers, so maybe it's in my DNA to like them that way.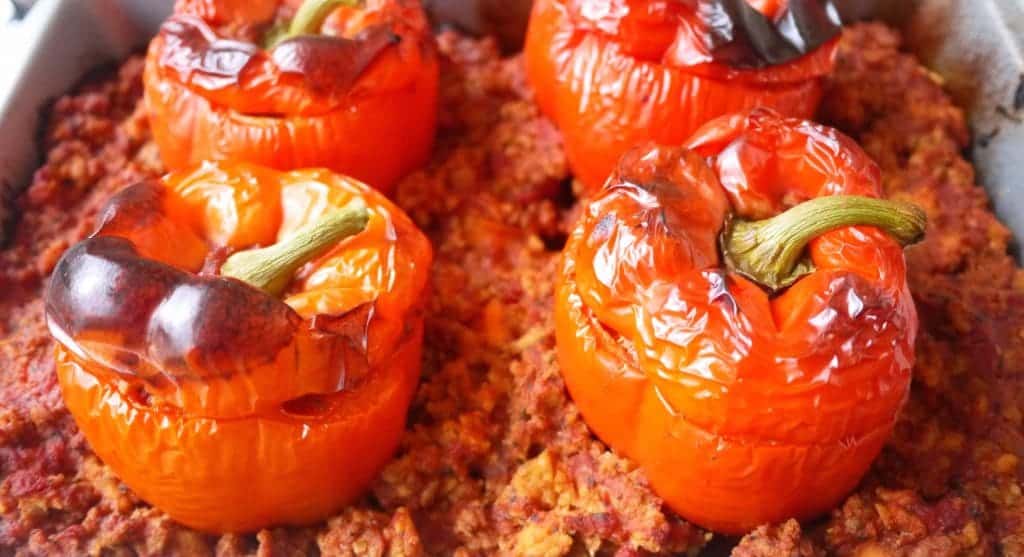 Instead of brown sugar, I used honey here, to keep the recipe paleo and clean, and it is delicious!! I actually think I prefer using honey to brown sugar. All you have to do is sprinkle some honey on top, and mix it into the stuffed pepper.
Or, you can cut the pepper in half and top each half with honey (which is my preferred method). I also like to sprinkle a bit of salt on top to really add to the opposing sweet flavor.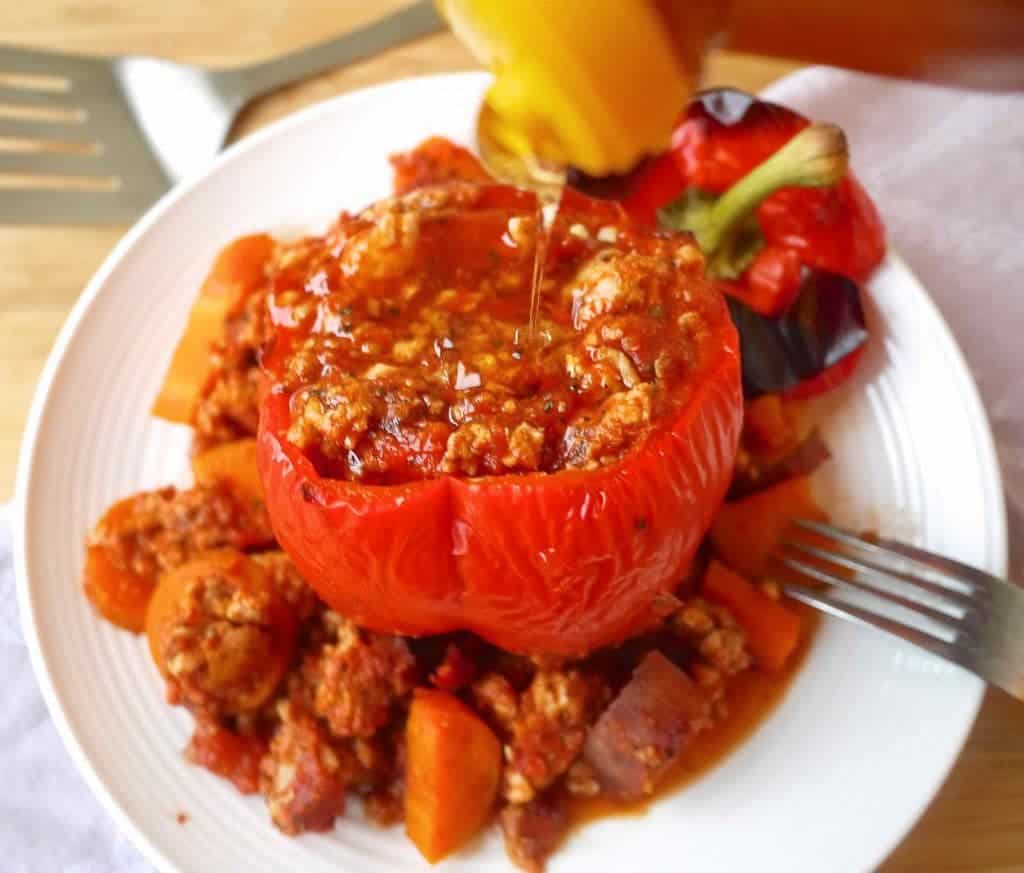 What's great about this recipe, besides it being delicious, is that it is so filling! All you need is one pepper, and the rest make wonderful leftovers.
Really wonderful leftovers, actually. I think this dish is one of the better recipes for leftovers because the peppers reheat and save so well.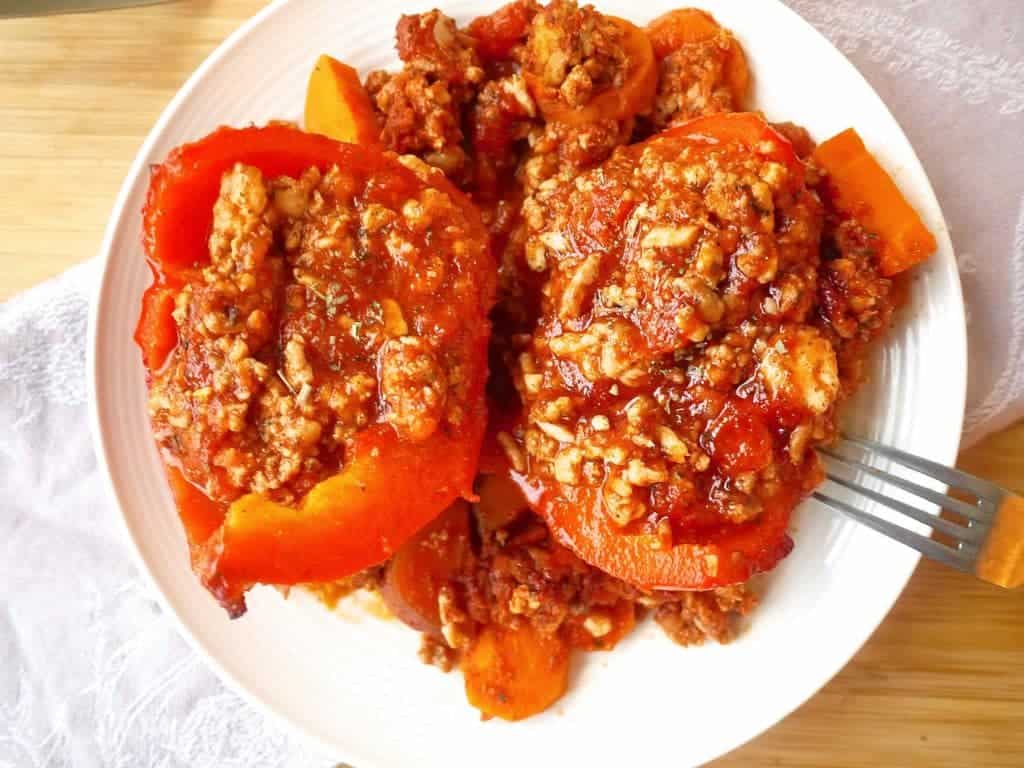 Note: you don't have to use red peppers here. You can use yellow or green peppers… you can even use tomatoes. I prefer red peppers because I like the flavor of them when they roast. Since they are sweeter and all. 🙂 I also just love how red peppers and tomato sauce taste together. Too good!
Clean Ground Turkey Roasted Stuffed Peppers (paleo, GF)
A healthy grain-free stuffed peppers recipe that is Paleo and Whole30.
Ingredients
1/2 cup of minced red onion
2 Tbs of minced garlic (this was 4 large cloves for me)
2 tsp of olive oil
2 lbs of ground turkey ( I used 1 pound of 99% lean ground turkey and 1 pound of 93% lean ground turkey)
2 tsp salt
1 tsp ground black pepper
1/8 tsp crushed red pepper
4 Tbs tomato paste
3 cups strained tomatoes
1 1/2 cups chopped tomatoes
2 tsp dried basil
1 1/2 tsp dried oregano
4 red peppers
3 large carrots , peeled and sliced
1 sweet potato , sliced and quartered
optional- a sprinkle of honey
Instructions
Preheat the oven to 400 degrees.

Put the diced red onion and minced garlic into a large pot. Top with 2 tsp of olive oil, mix oil into the onion and garlic with a spatula and heat the pot over medium high heat. Let the onions and garlic cook for 2 1/2 minutes.

Then, add the ground turkey to the pot. Using a rubber spatula, push down into the turkey, trying to break it up into pieces. Add 2 tsp of salt, 1 tsp of ground black pepper, and 1/8 tsp crushed red pepper to the meat. Let the meat cook for 5 minutes, mixing every so often, and making sure the meat breaks up into small pieces.

Add the 4 Tbs of tomato paste to the ground turkey and mix. Let the meat cook for 2 minutes.

Reduce the heat to medium, then add the strained and chopped tomatoes to the pot and stir. Add 2 tsp of basil and 1 1/2 tsp of oregano, mix, and let the mixture cook for another 5 minutes.

Reduce the heat to a simmer and cook for 2 minutes, and set aside.

Cut the tops off of 4 red peppers, empty out the inside seeds and extra skin.

Fill each red pepper with 1/2-3/4 cup of the ground turkey meat sauce, and place into a rectangular pan.

Put the sliced carrots and sweet potatoes in the empty space surrounding the peppers in the pan.

Top the carrots and sweet potatoes with the remaining ground turkey meat sauce.

Put the pan into the oven for 60 minutes. You'll want the peppers to soften and have a little bit of a burn on top.

Note: try eating your stuffed peppers with some honey, delicious!
Nutrition
Calories: 474kcalCarbohydrates: 47gProtein: 61gFat: 8gSaturated Fat: 2gPolyunsaturated Fat: 2gMonounsaturated Fat: 3gTrans Fat: 0.04gCholesterol: 125mgSodium: 1838mgPotassium: 2184mgFiber: 11gSugar: 22gVitamin A: 20211IUVitamin C: 187mgCalcium: 179mgIron: 7mg
Disclosure: This post contains Amazon affiliate links. This means that if you click on a link and make a purchase, I will receive a small commission at no cost to you.