Chocolate Chip Cinnamon Cookies (Paleo, GF)
An interesting cookie chain of events occured recently, which resulted in these wonderfuly fluffy paleo, gluten-free, and non-processed Chocolate Chip Cinnamon Cookies.
I baked some cookies for my friend that reminded me of my favorite oatmeal cookies…. which resulted in my making said favorite oatmeal cookies, that night.
I had not made these cookies in a long time (the amount of time that I had been following the Paleo diet), so I was loving every baking and eating second of it.
I became inspired by the ingredients, the technique and the flavor behind my favorite oatmeal cookies and was eager to test out making Paleo cookies in a similar fashion.
So I begun experimenting… Instead of using my go-to coconut oil, I used olive oil. And instead of multiple mixing steps, I mixed two separate bowls together.
I tested the idea for this new cookie batter on top of some baked diced apples, creating a cobbler of sorts.
The topping to this cobbler was so amazing and soft and cookie-like that I knew that my next step had to be tweaking the cobbler batter to create cookies.
(The recipe for the cobbler will be posted soon, so stay tuned 🙂 )
Have I lost you on the chain of events yet?
Making cookies for my friend lead to making my favorite oatmeal cookies, which lead to making a Paleo apple cobbler, which then lead to these Chocolate Chip Cinnamon Cookies. 🙂
These fabulous cookies.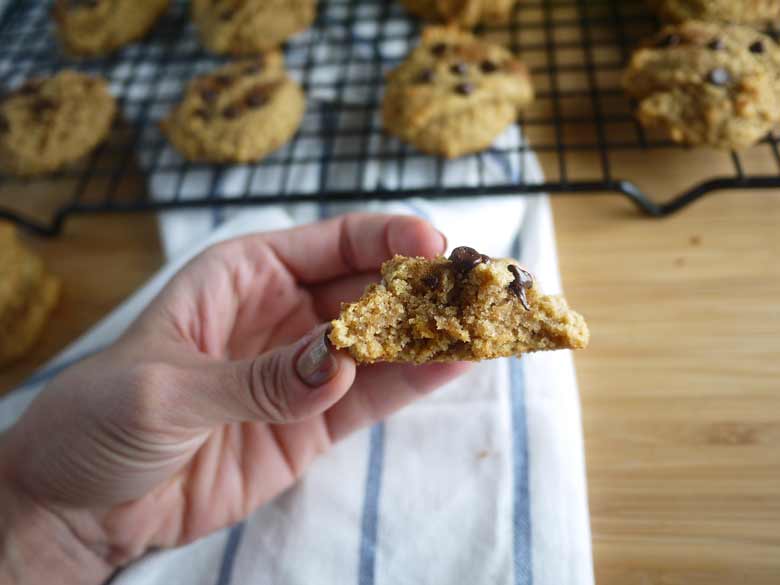 They do not taste like olive oil, if you were worried about that.
These pillows of sweet cinnamony goodness taste like a soft baked cookie should.
I tried making many versions of these cookies… cinnamon, raisin, chocolate chip…and loved all of them!
But as you can tell, I ended up deciding on cinnamon chocolate chip. Delicious!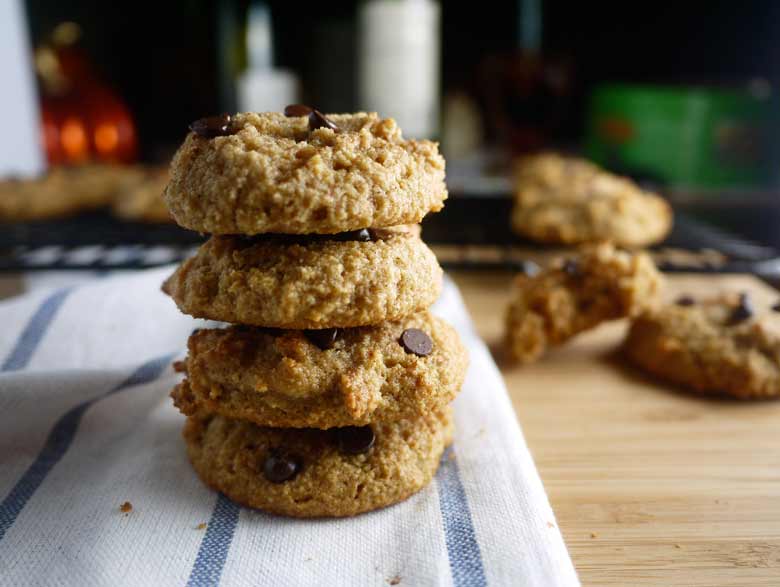 Note: For those of you who are long-time Paleo or dairy-free followers, I'm sure you already know about Enjoy Life Chocolate Chips.
But if you don't, you should check them out. They are amazing dairy-free, nut-free, and soy-free chocolate chips which have really changed my baking life. They may be a tad more expensive than other chocolate chips, but they are totally worth it!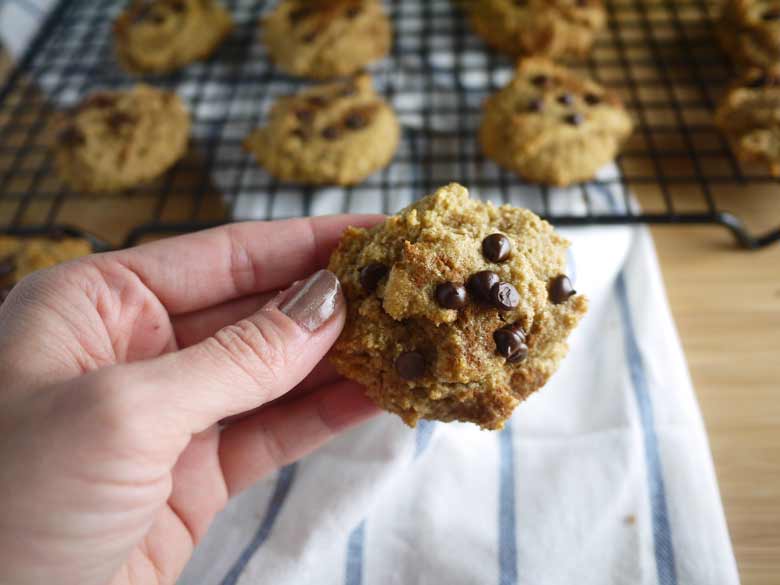 Chocolate Chip Cinnamon Cookies (paleo, GF)
A delicious almond flour cookie made with cinnamon and chocolate chips.
Instructions
Preheat the oven to 350 degrees.

In bowl 1, mix the almond flour, coconut flour, salt, baking soda, and cinnamon with a fork until well mixed.

In bowl 2, whisk the egg, vanilla, maple syrup, and olive oil together until well blended and the mixture thickens.

Pour bowl 2 into bowl 1 and whisk until everything is blended.

The way you add the toppings to these cookies can be done two ways. 1) You can either fold in the chocolate chips (or raisins..etc) into the batter OR 2) You can add them to the top of the cookies once they are on the cookie sheet (which is what I did because I wanted the fluffy cookie part to dominate)

Put the mixture into the refrigerator for 30 minutes.

Scoop out 1 Tbs sized balls of the dough (I used a 1 Tbs spoon) and place on a lined baking sheet.

Top each cookie with a pinch of cinnamon. (This is where I topped each cookie with chocolate chips, but if you already folded it into the batter then just add a pinch of cinnamon on top)

Bake the cookies for 10-12 minutes, until the edges turn a light golden brown, but the middles still look soft. Remove from the oven and immediately use a cookie spatula to put the cookies on a wire rack to cool. You don't have to let these cookies cool completely because these taste amazing warm. Makes around 20 cookies.
Nutrition
Calories: 101kcalCarbohydrates: 8gProtein: 2gFat: 7gSaturated Fat: 1gPolyunsaturated Fat: 0.3gMonounsaturated Fat: 2gTrans Fat: 0.001gCholesterol: 8mgSodium: 91mgPotassium: 22mgFiber: 1gSugar: 5gVitamin A: 12IUVitamin C: 0.002mgCalcium: 28mgIron: 0.4mg
Disclosure: This post contains Amazon affiliate links. This means that if you click on a link and make a purchase, I will receive a small commission at no cost to you.