Chia Matcha Pancakes with Strawberry Maple Coulis (Paleo, Gluten-free)
Pancakes and the weekend have always been a good pair. But, Chia Matcha Pancakes with Strawberry Maple Coulis plus the weekend is the ultimate match (or matcha) made in heaven. 🙂
I've been on a matcha tea kick lately… for the past 6 months really.
One of my friends texted me a while back to ask if I had heard of it, and when I hadn't, I decided to do some research.
The more I found out how great matcha tea was for you, the more I realized that this was right up my ally and I needed to try it ASAP.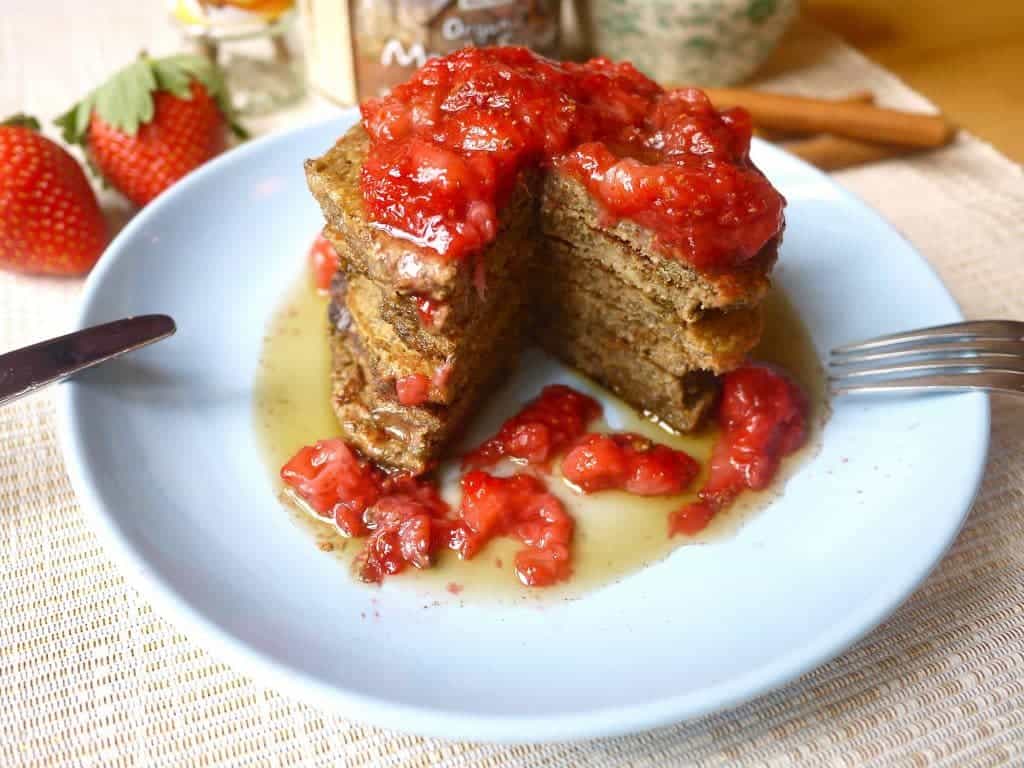 Matcha tea is an antioxidant powerhouse. In one cup of matcha tea, it has as many antioxidants as in 10 cups of green tea. 10! And I don't know if it's just me, but my body can really feel how healthy it is.
Plus it gives me such a great consistent boost of energy, without any crashes. I just love it!
But matcha tea isn't the only healthy part of these pancakes. There's banana, strawberries, and chia seeds in there too, which are a good source of antioxidants, omega 3s and protein.
Now that I think about it, these delicious pancakes are actually quite good for you! 🙂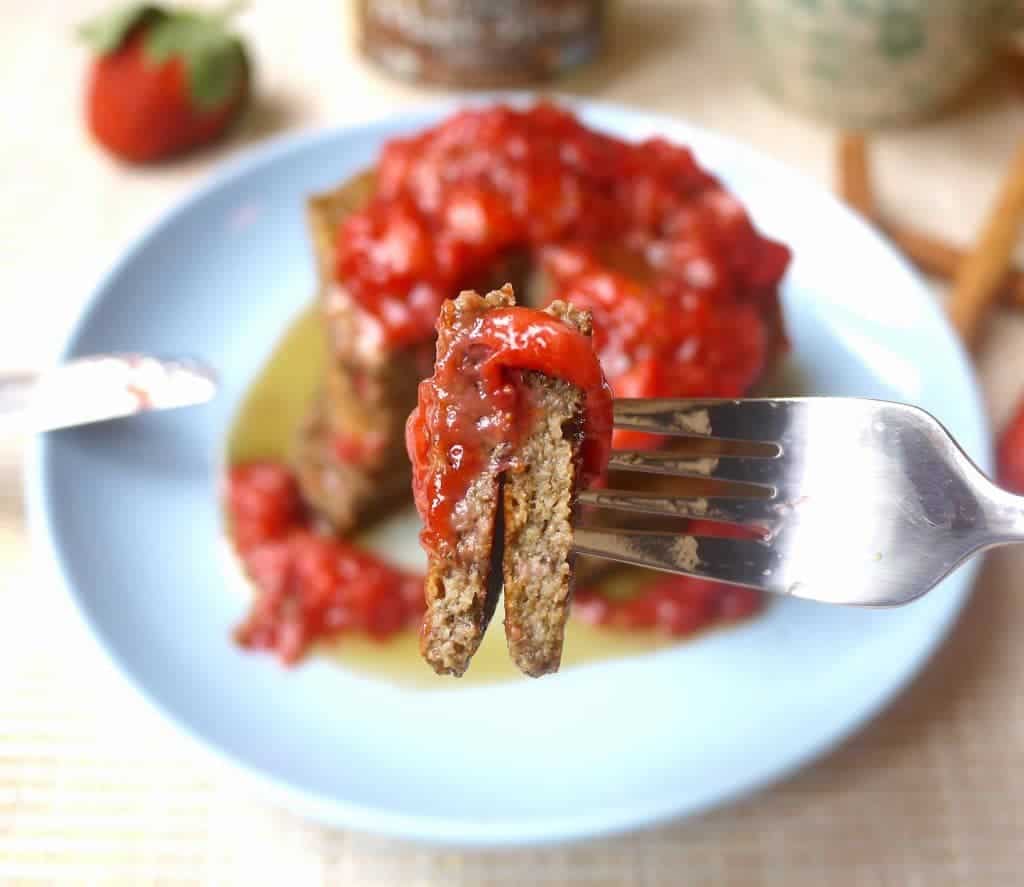 I expected them to be a bit "greener" from the matcha, but I think that they aren't because of the chia seeds in the recipe, and because this batch of matcha tea that I currently have is not as bright green as prior ones that I have had.
I'd be curious to see how using a brighter colored matcha would affect the color here, as well as in baking.
Note: after some research I found that using an acid, like vinegar, would enhance the color in baking.
Which, by the way, I can't wait to do. I seriously can't wait to bake muffins and cakes with matcha tea powder!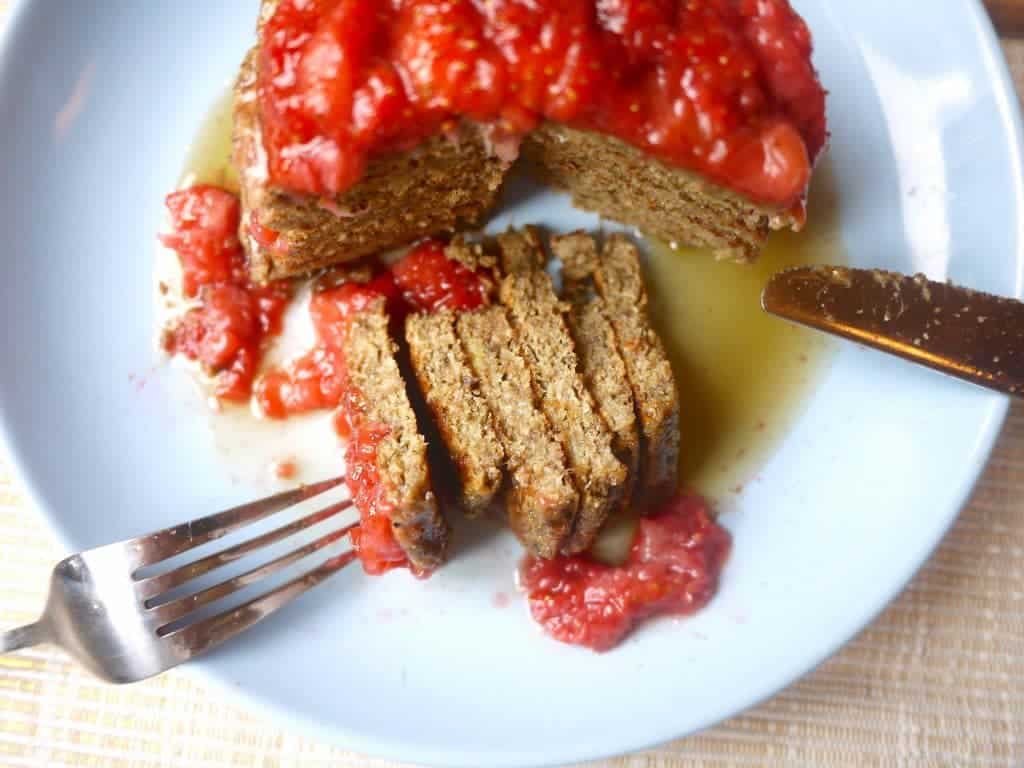 Originally I had planned on making a matcha muffin recipe, BUT on a recent Saturday morning I wanted pancakes… and then I saw my pack of matcha tea on the counter and thought, ehhh why not.
So instead of drinking 1 tsp of matcha tea, I ate it in these Chia Matcha Pancakes with Strawberry Maple Coulis pancakes!
And, as you can see, I loved it!!
I chose to make a strawberry coulis because there is a slight bitterness to matcha tea that reminds me of the bitterness in strawberries. Plus strawberry coulis and pancakes is always a good idea.
I can't wait until the weekend now to make these again! 🙂
Chia Matcha Pancakes with Strawberry Maple Coulis (paleo, GF)
This Chia Matcha Pancakes with Strawberry Maple Coulis recipe is an antioxidant packed Paleo pancake recipe made with almond flour, coconut flour, and bananas.
Instructions
Mix all the ingredients together in a large bowl and whisk until everything is blended. OR Blend all the ingredients together in a blender.

If you are using a blender, scrape the sides of the blender down with a spatula and blend everything together one more time.

Before cooking the pancakes, put 1 tbs maple syrup and 1 cup of strawberries into a pan and heat over medium heat. Stir often for 8-10 minutes, then remove from heat and let your coulis cool a bit.

Heat a large pan over medium heat. Put a little olive oil onto the pan and spread it around.

Put small amounts of the batter onto the pan. I used 2 Tbs worth of batter to make each pancake (yields about 6 pancakes total). You probably will have to make these in two batches.

Wait until the batter starts bubbling a bit (2-3 minutes) before flipping. Cook for about 30 seconds- 1 minute on the other side, or until golden brown.

Note: depending on your stove top or your pan, these may cook more or less quickly, so just keep an eye on them.

Top your pancakes in the strawberry coulis.

Should yield about 6 pancakes, this serves 1 or 2.
Nutrition
Calories: 82kcalCarbohydrates: 10gProtein: 4gFat: 3gSaturated Fat: 1gPolyunsaturated Fat: 1gMonounsaturated Fat: 1gTrans Fat: 0.01gCholesterol: 55mgSodium: 70mgPotassium: 111mgFiber: 3gSugar: 5gVitamin A: 123IUVitamin C: 15mgCalcium: 45mgIron: 1mg
Disclosure: This post contains Amazon affiliate links. This means that if you click on a link and make a purchase, I will receive a small commission at no cost to you.