Cauliflower and Bacon Au Gratin (paleo, GF)
I couldn't get Cauliflower Au Gratin out of my mind. You see, I've been on a creamy winter food kick. A satisfying delicious creamy winter food kick. And there really isn't anything that quite soothes the winter soul, like a Cauliflower and Bacon Au Gratin.
Especially when it's Paleo!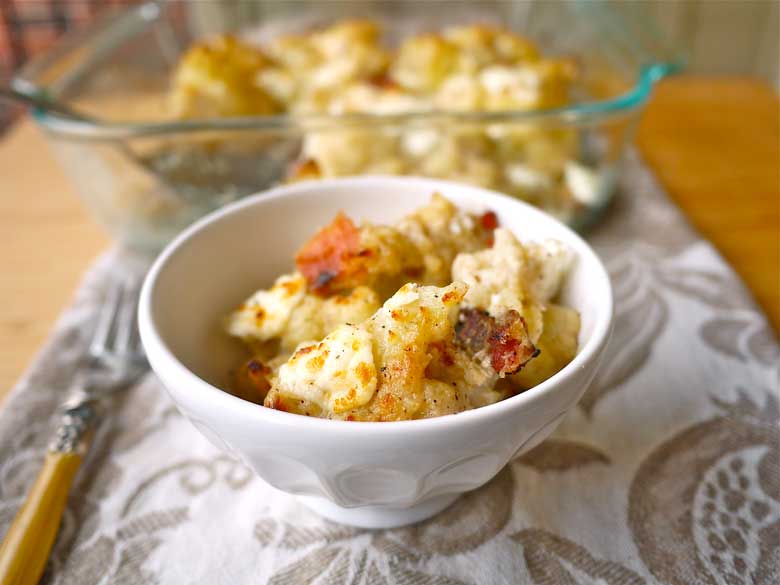 One thing that I have found to be key to making creamy Paleo comfort food is coconut cream.
And the key to not having the whole dish have a sweet or light coconut flavor is garlic and onion!
I sautéed minced garlic and shallots here, to add a French touch.
I also added some nitrate-free bacon to the recipe… because, well, I had tartiflette on the brain too.
You know, that delicious French dish made with potatoes, reblochon cheese, lardons and onions. Yuuuummm!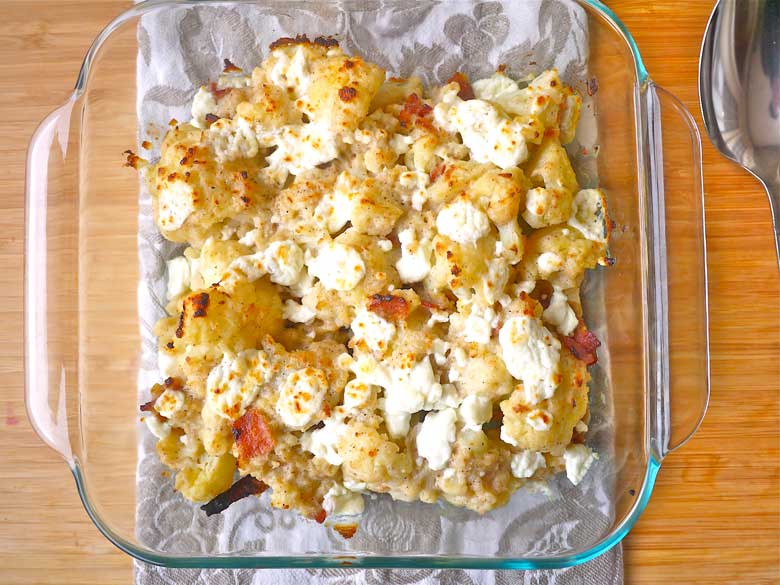 Tartiflette brings back great memories for me.
My fiancé and I had the BEST tartiflette in Annecy, France.
And raclette, for that matter.
We may have eaten a bit too much of it, and ended up needing to nap in the park. 🙂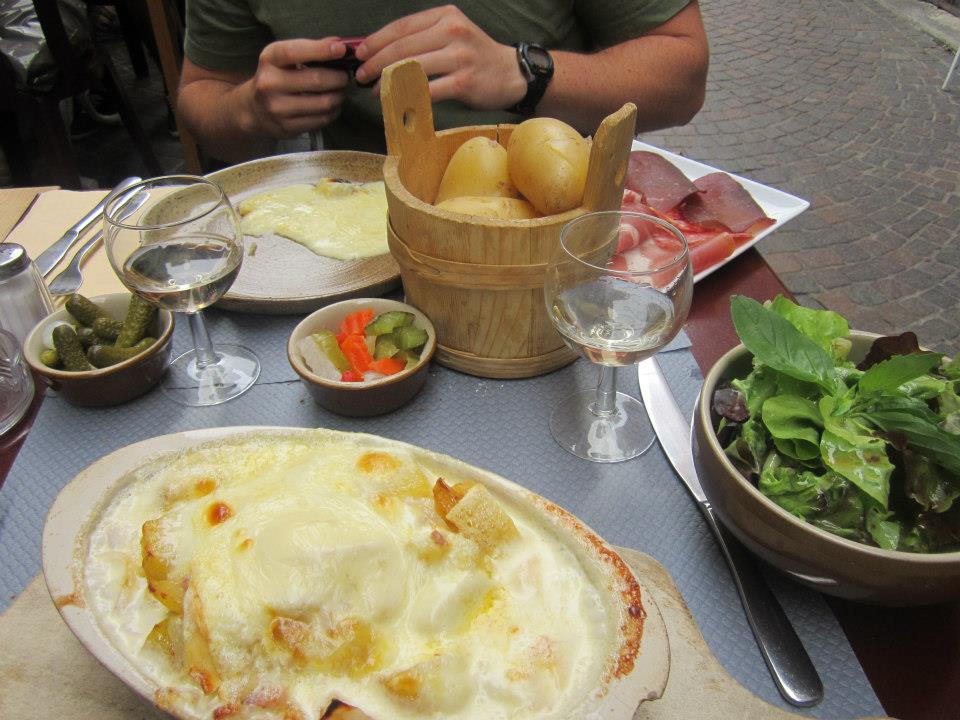 I love happy food memories! And this Cauliflower and Bacon Au Gratin is such a creamy, delicious dish… it's bound to create a happy food memory.
My fiancé absolutely loved this gratin, he licked his plate clean! And we may or may not have finished the whole dish. Which should serve 4. Cough.
At least the main ingredient in this dish is cauliflower!
Enjoy!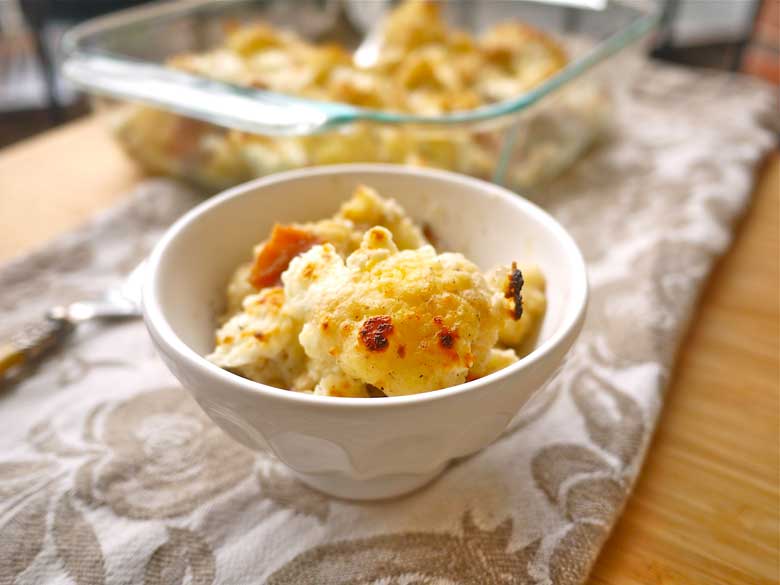 Cauliflower and Bacon Au Gratin (paleo, GF, dairy-free)
A delicious cauliflower au gratin recipe made with bacon and non-dairy milk.
Ingredients
1 head of cauliflower
1 Tbs minced garlic
a scant 1/2 cup of minced shallots (This was 2 large shallots for me)
2 tsp olive oil
1 cup canned coconut cream (I like the Savoy brand)
1/2 cup organic chicken stock (make sure there is no sugar in the ingredient list)
1/2 tsp salt
1/4 tsp pepper
1/4 tsp ground nutmeg
2 tsp coconut flour (I like the Nutiva brand)
4-5 strips of nitrate-free bacon , crumbled
optional-1/2 cup of crumbled goat cheese (skip to make strictly Paleo)
Instructions
Preheat the oven to 350 degrees.

Cut the cauliflower head into smaller cauliflower florets.

Fill a big pot of water, put a dash of salt it in, and heat over high heat until the water boils. Put the cauliflower florets into the boiling water and cook for 5 minutes. Drain the cauliflower and set aside.

Put 2 tsp of olive oil into a saute pan and heat over medium heat. Put the minced shallots and garlic into the pan, mix into the olive oil with a spatula, and cook for 4 minutes.

Add the coconut cream, chicken stock, salt, pepper, and ground nutmeg to the pan.

Whisk the coconut flour into the mixture.

Increase the heat to medium/high heat and let the mixture boil for 5 minutes, while mixing often. Remove from heat and set the saute pan aside.

Cover a plate in paper towels, put 4-5 strips of bacon onto the paper towels, and cover with another paper towel. Cook the bacon in the microwave for 4 minutes. The bacon should be cooked to the point where it crumbles easily.

Crumble the bacon and put into the white sauce. Put the cauliflower into the sauce, mix with a spatula and then pour everything into an 8 X 8 inch pan.

Put the pan into the oven, and cook the cauliflower for 20 minutes.

Then, set the oven to broil.

If you are adding goat cheese, remove the cauliflower from the oven and top with the crumbled goat cheese.

Then broil the cauliflower (with or without goat cheese) for 5 minutes. Make sure to check on it regularly to make sure it doesn't burn.

Allow the cauliflower to cool for a bit, serve, and Enjoy!
Nutrition
Calories: 374kcalCarbohydrates: 19gProtein: 12gFat: 30gSaturated Fat: 24gPolyunsaturated Fat: 1gMonounsaturated Fat: 4gCholesterol: 14mgSodium: 513mgPotassium: 773mgFiber: 6gSugar: 6gVitamin A: 296IUVitamin C: 74mgCalcium: 94mgIron: 3mg
Disclosure: This post contains Amazon affiliate links. This means that if you click on a link and make a purchase, I will receive a small commission at no cost to you.