Baked Paprika Garlic Plantain Chips (Paleo, GF)
I had never made my own plantain chips before doing this Whole30. I always bought Paleo plantain chips at the grocery store. But in order to keep these crunchy, sweet, delicious chips in my life, oh and to stick with my Whole30 plans, I took a stab at making my own.
This proved to be a bit more difficult than I expected. I think I made them about 5-6 times before figuring out juuuuust how I like them. Crunchy with a hint of spice, like this Baked Paprika Garlic Plantain Chips recipe.
When I said I made them 5-6 times… it's true! And this was all in the last 3 weeks!
Some batches turned out mushy, some were fluffy, and some were kind of burnt.
I just didn't realize all the factors that could affect baked plantain chips!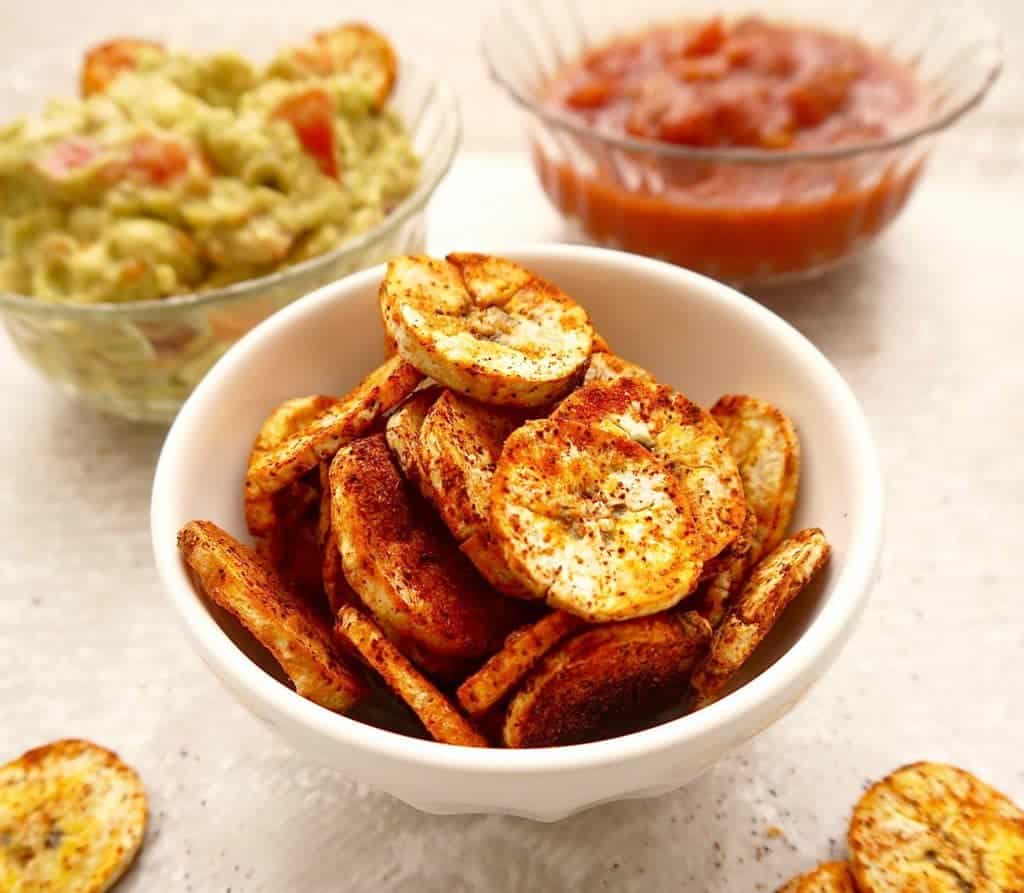 For example, there's green plantains and yellow plantains.
Yellow plantains result in more of a fluffy baked plantain chip, they also taste sweeter.
These are delicious and I would definitely make them again, but when you want crispier, harder plantain chips, using a green plantain is the way to go.
Crispier plantain chips are perfect to dunk into guacamole. 🙂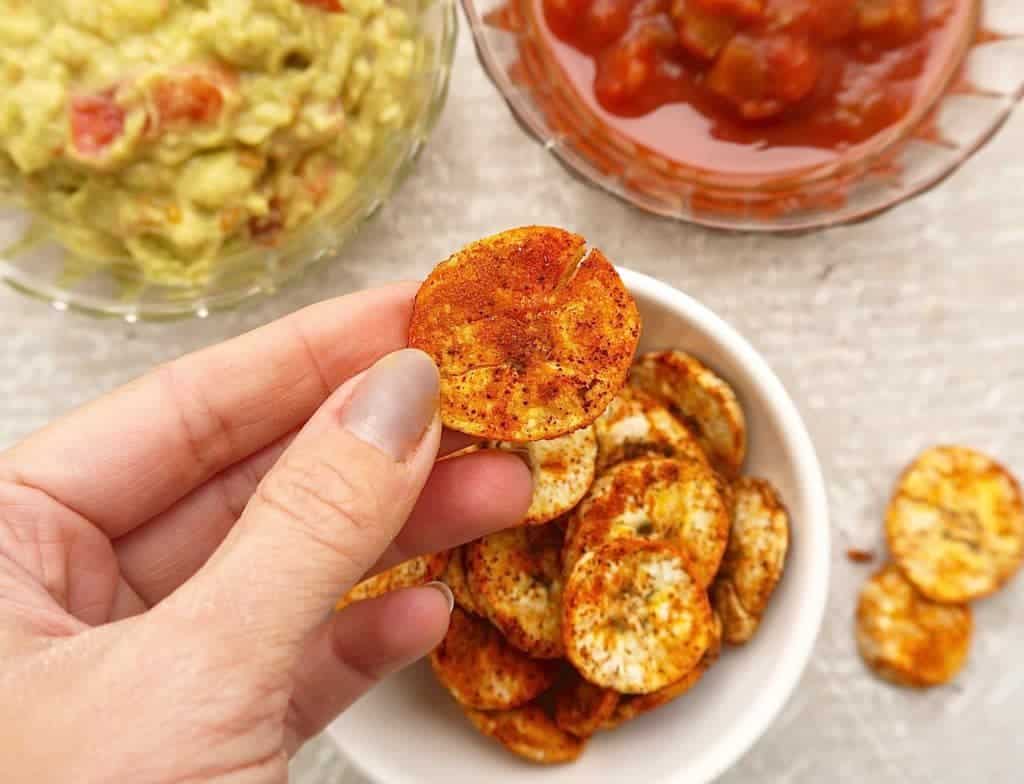 Also, the thickness of how you slice the plantains affects how crispy they get. Too thin and they will burn more easily, but too thick and they won't crisp.
I found the perfect thickness to be a bit less than 1/8 of an inch.
Though I have to admit, my slicing skills aren't the best and I was not able to make alllll the slices that thin… my slices for this recipe were all between 1/8 – 1/4 of an inch thick.
It's actually fun to test out plantain chip cooking methods. Just remember to keep an eye on them in case your oven is more/less hot.
Also, you may prefer them to be less crispy, or sweeter. Honestly, plantain chips are always delicious to me. 🙂
It's even more fun to dip these Baked Paprika Garlic Plantain Chips into all sorts of goodies… like homemade guacamole and salsa… and eating them with taco flavored ground turkey.
Now that's good! The opportunities are really endless!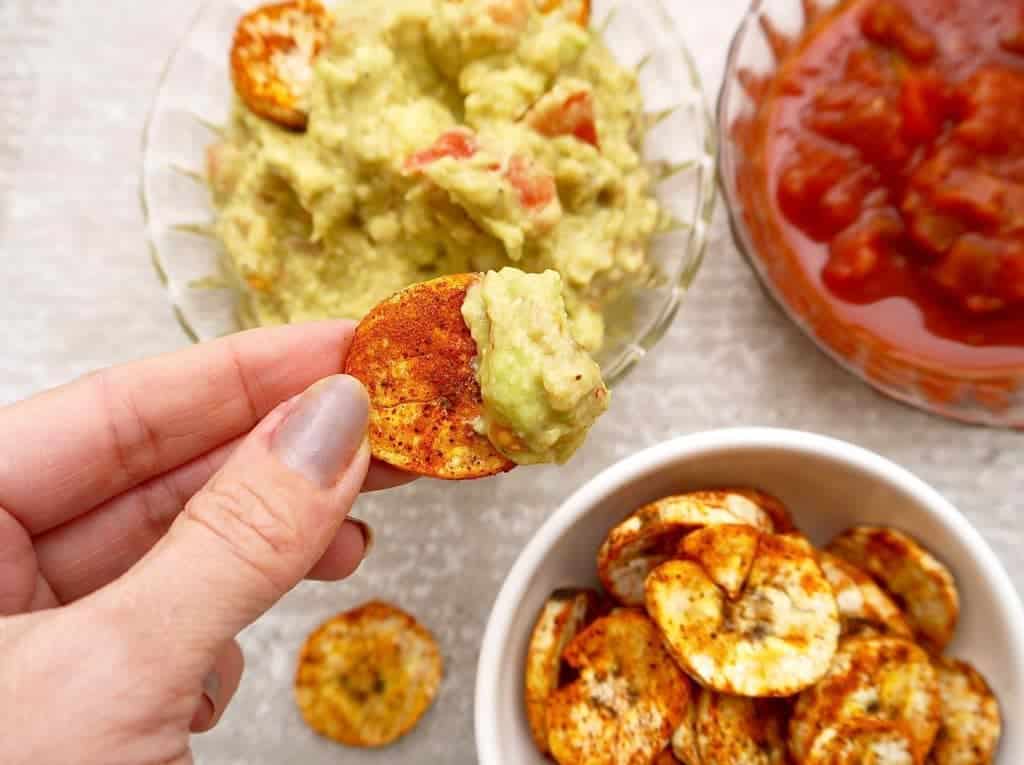 I think these would be PERFECT for the Super Bowl. And I can't wait to test out different flavor combinations.
Paleo Paprika Garlic Plantain Chips (GF)
A grain-free, gluten-free, clean plantain chip recipe that is a great fried chip replacement, and is perfect to dip into sauces!
Ingredients
1 green plantain
2 tsp olive oil
1/4 tsp garlic powder
1/2 tsp paprika
a pinch of chili powder
a pinch of sea salt
Instructions
Preheat the oven to 350 degrees F. Cover a cookie sheet in parchment paper.

Cut the ends off of the green plantain. Then cut the plantain into 3 larger pieces (this makes it easier to remove the skin). Score the skin of the plantain until you reach the plantain flesh, then remove the outer skin.

Slice the plantain into slices that are about 1/8 inch thick.

Put the plantain slices into a large bowl. Cover the plantains with 2 tsp olive oil, and mix. Add 1/4 tsp garlic powder, 1/2 tsp paprika, a pinch of chili powder, and a pinch of sea salt to the bowl and mix.

Spread the sliced plantains onto the cookie sheet.

Bake for 25 minutes. Increase the oven heat to 450 degrees F and cook for another 5 minutes. Check your plantain chips now and if you want them crispier, keep them in a few minutes longer but keep an eye on them.

(Note: Throughout baking, keep an eye on your plantain chips because your oven may be more/less powerful.)

This recipe should yield about 35-45 chips (depending on the size of your plantains).
Disclosure: This post contains Amazon affiliate links. This means that if you click on a link and make a purchase, I will receive a small commission at no cost to you.