Healthy Buffalo Turkey Meatballs (Paleo, Whole30, Gluten-free)
Healthy Buffalo Turkey Meatballs recipe. A lighter buffalo baked meatball recipe made with ground turkey, almond flour, spices, and hot sauce. Naturally Paleo, Gluten-free, dairy-free, and Whole30.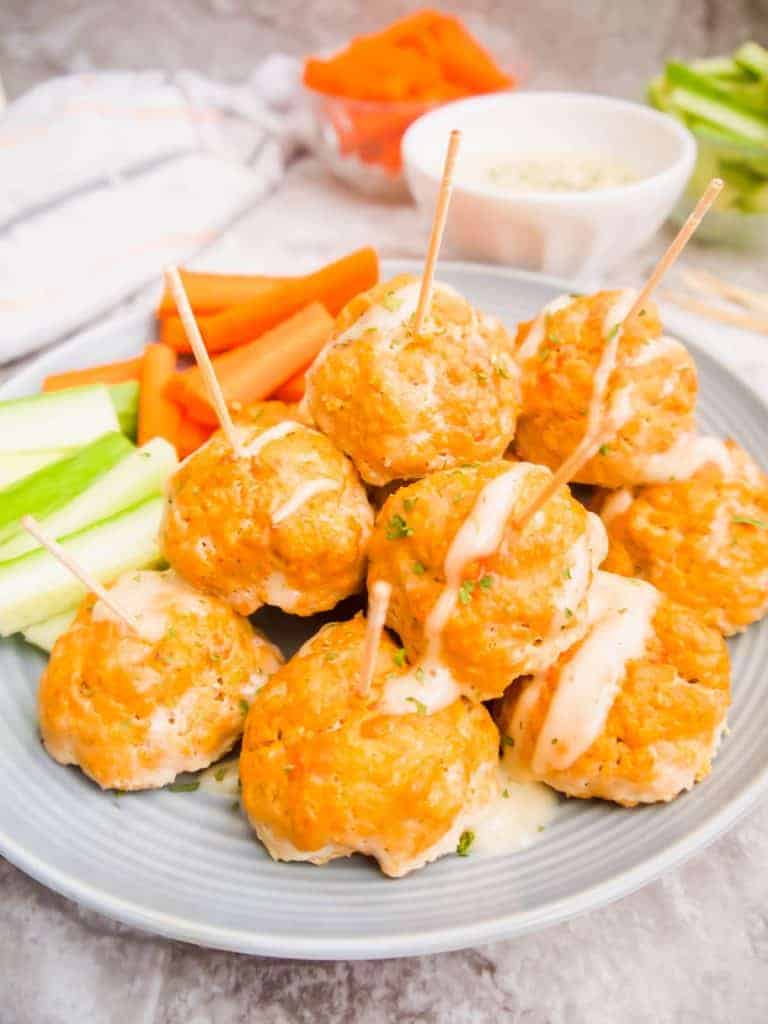 I had another recipe planned for today's post, but I got so excited about these Healthy Buffalo Turkey Meatballs that I just couldn't wait to post the recipe.
I'm a huge buffalo sauce lover, so I may be biased…buuuut, these meatballs are one of the best things that I have eaten in a long time!
Seriously, these are so addicting.
They've got a great buffalo hot sauce flavor, which the ground turkey absorbs so well.
They are a healthier version of meatballs, and a healthier way to get your buffalo chicken or turkey fix.
These paleo buffalo meatballs are a healthier option because they are baked and not fried AND they are made with real food ingredients.
Ingredients in these Healthy Buffalo Turkey Meatballs:
ground turkey
almond flour
hot sauce
garlic powder
onion powder
salt and pepper
chili powder
egg
That is it!
Ground turkey naturally has less fat than ground beef.
And using almond flour instead of breadcrumbs makes these delicious balls of Paleo, Whole30, and Gluten Free joy.
When I make these, I use Frank's hot sauce. It is my all time favorite hot sauce because it doesn't have added sugar or random chemicals inside of it.
It really hits the spot when looking to get that buffalo flavor fix, but without the extra crap.
Using a healthier hot sauce makes these meatballs taste light. Light but full of great flavor!
How to make these Paleo Buffalo Meatballs:
These healthy buffalo turkey meatballs are sooo easy to make, so there's no excuse to not to make them.
All you have to do is mix everything together in one bowl, roll them up, put them onto a cookie sheet and bake them!
Note: you will notice some of the fat melting off of the meatball while it cooks. I wiped the bottoms of the meatballs with a paper towel before serving; this only takes a minute. 🙂
Delicious, light, and easy buffalo turkey meatballs = LOVE.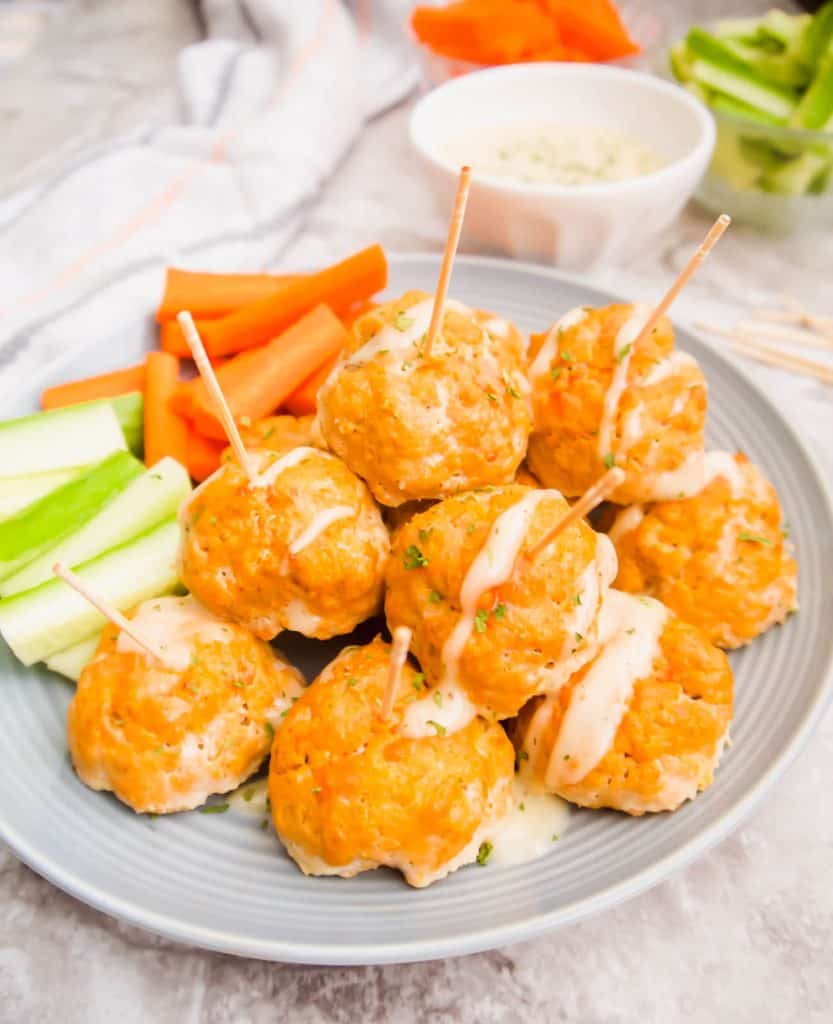 I brought them to a party recently and people kept going out of their way to tell me how much they loved them.
And no one knew they were grain-free and Paleo. 🙂
"These meatballs are KILLER!", was my favorite compliment.
These meatballs are great for meal prep, parties, and football Sundays.
Tips for making these Healthy Buffalo Turkey Meatballs:
Using ground turkey with a little bit of fat in it works best.
I noticed that using 99% lean turkey in this recipe results in the meatballs being a bit more dry, but they have less fat and are lighter. If you use 94% fat ground turkey, these meatballs are more juicy.
Don't be alarmed with the extra fat that melts off while they bake, if you use 94% ground turkey, just remove them from the pan, and wipe off any excess liquid.
2. You can use more or less hot sauce here.
I originally used 1/3 cup of hot sauce in the recipe. My husband made these and accidentally put 1/2 cup of hot sauce and they tasted great!
3. Add dipping sauces!
Lastly, these Healthy Buffalo Turkey Meatballs taste amazing with Sir Kensington's Ranch dressing ( which is Whole30 approved! )
Other buffalo inspired recipes you may enjoy:
This Buffalo Wing Sauce recipe from Evolving Table. It's made with a few real food ingredients and looks like a fantastic companion to wings.
This Healthy Buffalo Meatloaf. It's great buffalo flavor in meatloaf form!
Healthy Buffalo Turkey Meatballs (Paleo, Whole30, GF)
A lighter buffalo meatball recipe that is baked and made with ground turkey, almond flour, spices, and Frank's RedHot Original hot sauce.
Ingredients
1 lb of lean ground turkey, (note: lean turkey results in meatballs that area bit more dry, but with less fat. If you use 94% fat ground turkey, it's more juicy)
1/2 cup almond flour
1/3- 1/2 cup hot sauce, (Frank's RedHot Original hot sauce is all natural and Paleo!) ( My original recipe used 1/3 cup, but if you want more hot sauce flavor, use 1/2 cup)
1/2 tsp salt
1/2 tsp garlic powder
1/4 tsp ground black pepper
1/4 tsp onion powder
1/4 tsp chili powder
1 egg
Instructions
Preheat the oven to 400 degrees. Cover a cookie sheet in aluminum paper.

Put all of the ingredients into a large bowl and mix with a fork until everything is completely mixed.

Roll the meatballs into tablespoon-golf ball sized balls. Depending on size, you'll end up with 20-24 meatballs.

Cook for 20-25 minutes. I like to cook them for 20, then broil them for a few for added crisp.

Brush off some of the excess liquid/fat off the bottom of the meatballs with paper towels.
Serving: 1meatball, Calories: 43kcal, Carbohydrates: 0.5g, Protein: 4.4g, Fat: 2.7g, Fiber: 0.3g, Sugar: 0.1g, Vitamin A: 15IU, Calcium: 6mg, Iron: 0.4mg
Disclosure: This post contains Amazon affiliate links. This means that if you click on a link and make a purchase, I will receive a small commission at no cost to you.