Almond Flour Egg Yolk Chocolate Chip Cookie Bars
These Almond Flour Egg Yolk Chocolate Chip Cookie Bars are gooey, chewy cookie bars made with only egg yolks! They are the perfect way to use up any extra egg yolks that you have.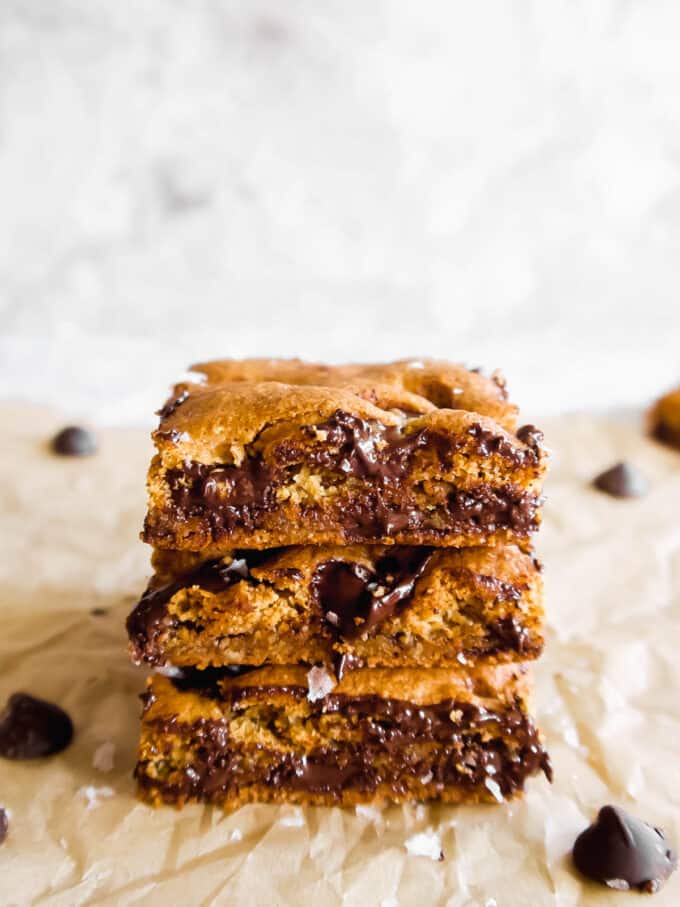 Looking for a way to use up your extra egg yolks? Give this Almond Flour Egg Yolk Cookie Bars recipe a try!
They are rich and chewy gluten-free and dairy-free cookie bars that hit the spot when you are craving a gooey chocolate chip cookie.
And they are the perfect way to not waste extra egg yolks. Especially if you needed egg whites for a quiche, omelette or other recipe.
This is a 5 egg yolk cookie bar recipe. So if you need 5 egg whites to make something like egg muffins, then you know what to do with the yolks! Make these.
(Though if you are like me, and like using the whole egg to make egg muffins, like in my zucchini muffin cups, then you may just have to crack 5 eggs just to make these).
It's worth it though because these cookie bars are SO good. They almost have a caramel-like taste. They are very chewy ( thanks to the egg yolks).
Oh and they have extra protein in them thanks to the almond flour.
Great cookie bar flavor in a healthier form? Yes please.
Ingredients:
Olive oil– I like using extra virgin olive oil. You can also use avocado oil as well.
Brown sugar– you can use light or dark brown sugar. My favorite is dark because of the extra molasses flavor.
White sugar– also called granulated sugar. I like using organic cane sugar instead.
Egg yolks– these help make these cookies chewy.
Vanilla extract– this adds a nice flavor to the cookie bars over all.
Baking soda
Baking powder
Salt– I like using sea-salt
Almond flour– blanched almond flour is best because it is smoother in texture.
Tapioca flour or arrowroot starch/flour– both work just as well as the other
Chocolate chips– you can use regular semi-sweet chocolate chips or dairy-free chocolate chips
Pro Tips:
Use blanched almond flour. Almond meal is too thick and heavy and can change the texture of this recipe.
Make sure to pack your brown sugar. This involves scooping the measuring cup into the bag and packing the sugar into the cup in order to measure it.
Line the baking pan with parchment paper. This ensures you can take the bars out of the pan and cut them however you choose.
Add a sprinkle of flaked sea salt on top after the cookie bars bake to create a delicious salty/sweet flavor combo.
Don't over bake. It's better for these to be a little under baked and then over baked.
Other almond flour cookie bars recipes you may enjoy:
Gluten-free Dairy-free Chocolate Candy Cookie Bars
Paleo Gluten-Free Chocolate Chip Cherry Cookie Bars
Paleo Chocolate Chip Cookie Bars (Gluten-Free, Dairy-free)
Paleo Brookies (Brownie/Cookies Bars)
Almond Flour Egg Yolk Cookie Bars
Ingredients
3/4 cup olive oil
1 cup brown sugar, packed
1/4 cup white granulated sugar
5 large egg yolks
2 tsp vanilla extract
3/4 tsp baking soda
3/4 tsp baking powder
1 tsp salt
2 cups almond flour
1/4 cup tapioca flour or arrowroot starch/flour
1.5 cups chocolate chips, divided
Instructions
Preheat oven to 350°F. Grease a 9×13" baking pan with non-stick spray and line with parchment paper.

In a large bowl, whisk together the olive oil, brown sugar and white sugar. Whisk in the egg yolks and vanilla extract. Then whisk in the baking soda, baking powder, and salt.

Add the almond flour and tapioca flour ( or arrowroot starch) to the bowl and mix until the dough forms. Then fold in 1 1/4 cup of the chocolate chips. (The other 1/4 cup of the chocolate chips will go on top).

Pour the dough into the pan. Use the back of a spoon or freshly washed hands to to evenly spread and flatten the dough. Sprinkle the rest of the chocolate chips on top and lightly press them into the dough.

Bake for 25-30 minutes, until lightly golden. Check your bars at the 20 minute mark, if they are already browned but the inside needs to cook more, cover the pan with aluminum foil for the rest of the cooking time.

Let the bars cool in the pan, on a cooling rack.

Lift the bars out of the pan by lifting the sides of the parchment paper. Slice and sprinkle with a flakey sea salt.
Disclosure: This post contains Amazon affiliate links. This means that if you click on a link and make a purchase, I will receive a small commission at no cost to you.