Toasted Coconut Cream Muffins (paleo, GF)
It has been a while since I posted a muffin recipe, don't you think? Friday seems like the perfect day to post a coconut muffin recipe. And not just any coconut recipe, a toasted coconut recipe! Toasted coconut is probably my absolute favorite way to eat coconut. I could probably eat it by the spoonful. When I say probably, I mean that I do eat it by the spoonful. Which could be a problem now that I know how to toast it myself.
Learning how to toast coconut lead me to make these Toasted Coconut Cream Muffins, which are a coconut lovers dream! They are moist, sweet, fresh and full of toasted coconut both inside and on top of the muffin. Coconut whipped cream and toasted coconut have never had a better match if I do say so myself.
Toasting coconut was surprisingly easier than I anticipated.
You merely put some shredded or flaked coconut in a pan over medium heat with a teeny bit of maple syrup. Then you wait and stir until the coconut browns.
And voila wonderfully roasted toasted coconut at your fingertips. You can put some in yogurt, on desserts, on granola, or on anything you want.
It's great toasting it yourself because you can monitor the amount of sweetness added, if any.
Mmmm! Toasted coconut reminds me of this delicious candied coconut that I had in Hawaii.
It was made by the locals there and it tasted like they covered it in maple syrup or brown sugar and roasted it until it turned into these coconut crystals from heaven.
I noticed it being sold all over the place on Maui, but I do have to admit that I have a strong coconut radar. If you get the chance to buy some, do it!
Now, I know that coconut is a flavor that many have strong opinions about.
But, I've found that toasted coconut appeals to non-coconut lovers and I think (and hope) that this will be the case for these muffins.
I mean look at how moist and tasty!
Not only are they moist but they are made of completely all natural, non-processed ingredients.
I could go on and on about how great this is for you, but if you are reading this you are probably on the same page as me when it comes to eating clean.
I still get amazed sometimes when an awesome cake or muffin can come to life without sugar or flour.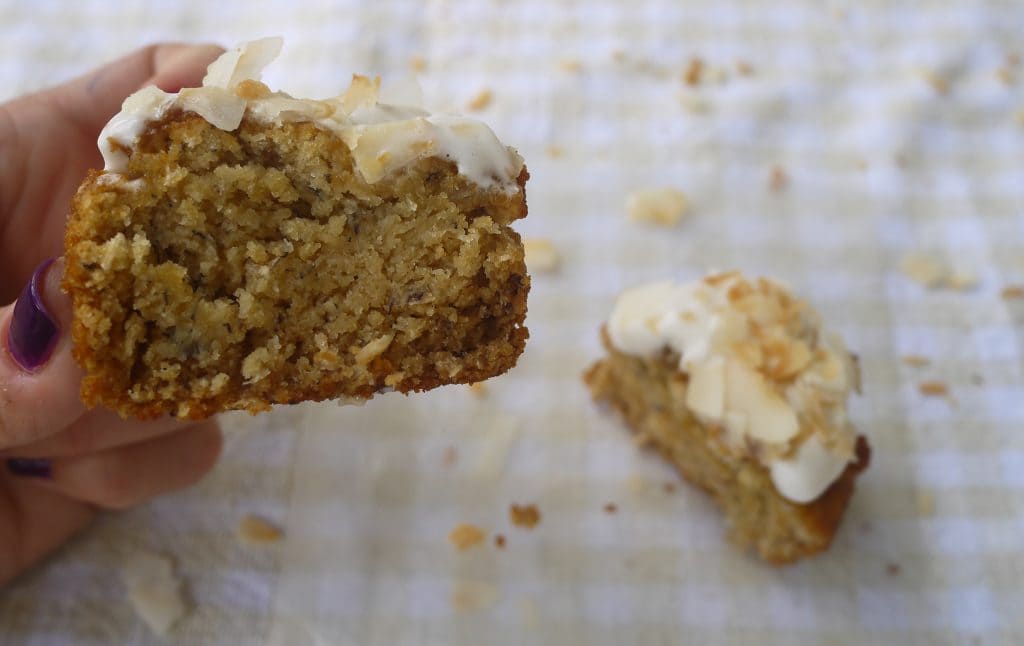 Aren't these Toasted Coconut Cream Muffins just calling your name?
Toasted Coconut Cream Muffins (paleo, GF)
Paleo muffins with toasted coconut on the inside and outside.
Ingredients
To make the toasted coconut:
To make the coconut muffins:
To make the whipped coconut cream:
Instructions
Put a can of coconut cream in the fridge (should be there for 2 hours at least).

To toast the flaked coconut, start by taking out a large frying pan and heating it over medium heat. (You don't need to use oil or anything). Then, put the 1 cup of flaked unsweetened coconut into the pan. Add 1 tsp of maple syrup and mix the coconut with a rubber spatula regularly for about 8.5 minutes, until the coconut has browned. I stirred less at the beginning and constantly at the end. Turn the heat off and put the toasted coconut aside. You will use 1/4 cup of it for the muffin batter and the rest for the tops of the muffins.

Preheat the oven to 350 degrees.

Line a 12 cupcake pan with muffin tins.

In bowl 1, mix the almond flour, coconut flour, baking soda, baking powder, and salt. Set the bowl aside.

In bowl 2, mix the eggs, honey, vanilla, and coconut milk with an electric mixer until well mixed. Add the melted coconut oil to the bowl and mix with the electric mixer until well blended. Add the mashed banana to the bowl and mix with the electric mixer until well blended.

Put bowl 1 into bowl 2 and mix with an electric mixer.

Fold in the shredded coconut and the toasted coconut.

Evenly divide the batter into all 12 muffin tins. I usually start by putting 1-2 tbs of batter into each one and add more from there.

Bake for 30 minutes- switching the direction of the tray half way through.

Let the muffins cool.

While the muffins cool, make the whipped cream.

Put the cream, 1 tbs honey, 1 tbs maple syrup, 1 tbs vanilla in a bowl and whip with an electric mixer until the mixture thickens and turns into whipped cream. Place the whipped cream in the fridge until ready to be used. If the cream isn't whipping into a thick enough texture, I find that putting the bowl into the freezer for 10 minutes and whipping it again works.

Once the muffins are cool, cover them in whipped cream, and top with the remaining toasted coconut.

Enjoy!
Nutrition
Calories: 355kcalCarbohydrates: 26gProtein: 5gFat: 27gSaturated Fat: 21gPolyunsaturated Fat: 0.4gMonounsaturated Fat: 1gTrans Fat: 0.003gCholesterol: 27mgSodium: 186mgPotassium: 242mgFiber: 5gSugar: 17gVitamin A: 45IUVitamin C: 2mgCalcium: 41mgIron: 2mg
Disclosure: This post contains Amazon affiliate links. This means that if you click on a link and make a purchase, I will receive a small commission at no cost to you.