The BEST Paleo Blueberry Pancakes (GF)
The BEST Paleo Blueberry Pancakes recipe. Healthy, grain-free, Gluten-free, dairy-free Paleo pancakes with the perfect texture and taste.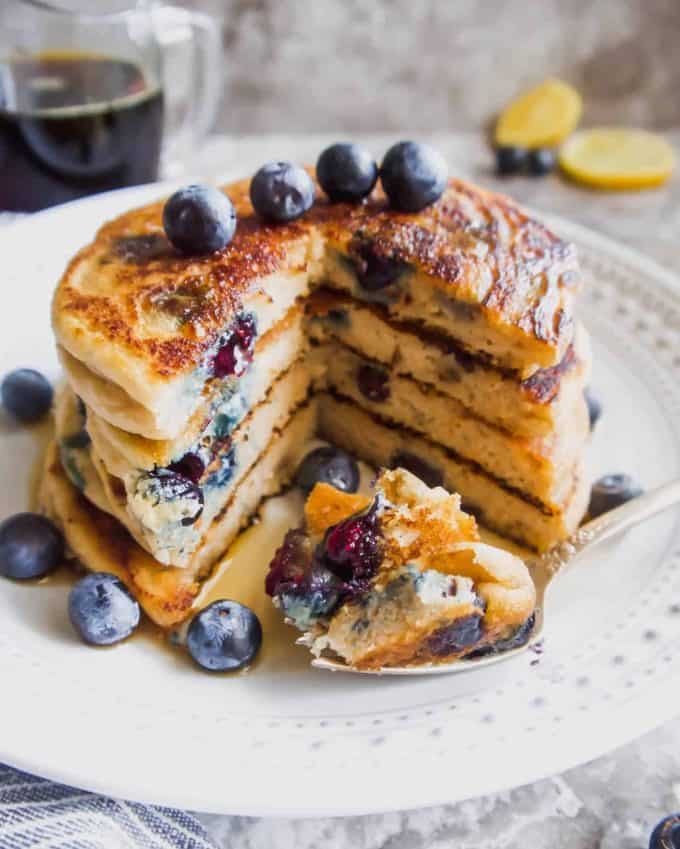 WOW. Honestly that's all I can say about these Paleo Blueberry Pancakes. They are seriously the BEST.
Not only is the texture just thick and perfect, but the taste is too. These pancakes are just bursting with blueberries! You would honestly never know that these pancakes are Paleo, and I am absolutely in love with them.
Made with almond flour, tapioca flour, and coconut flour.
I do have to warn you, that you will need several flours to make these, but they are all commonly used Paleo flours, and it's SO worth it to make these pancakes.
I also use these flours all the time for Paleo baking so I tend to have them in my pantry. 🙂
Ingredients needed for The BEST Paleo Blueberry Pancakes:
cream of tartar
arrowroot powder
baking soda
almond flour
tapioca flour
coconut flour
coconut sugar
egg
almond milk
vanilla
olive oil
water
lemon juice
blueberries
Almond flour, tapioca flour and coconut flour are the main flours used for the batter here. I find that using all three results in a texture more similar to regular flour.
But the real key here is making your own Paleo baking powder. Which requires cream of tartar, baking soda, and arrowroot flour.
I've actually been really loving making my own Paleo baking powder because I've found that it adds such a great texture to pancakes or baked goods.
It adds a lightness and fluffiness that really transforms these recipes… in the way that only baking powder can.
I used to love using baking powder in recipes, until I realized that it was not made of the cleanest of ingredients.
But making your own is so easy that I now always have cream of tartar and arrowroot flour on hand.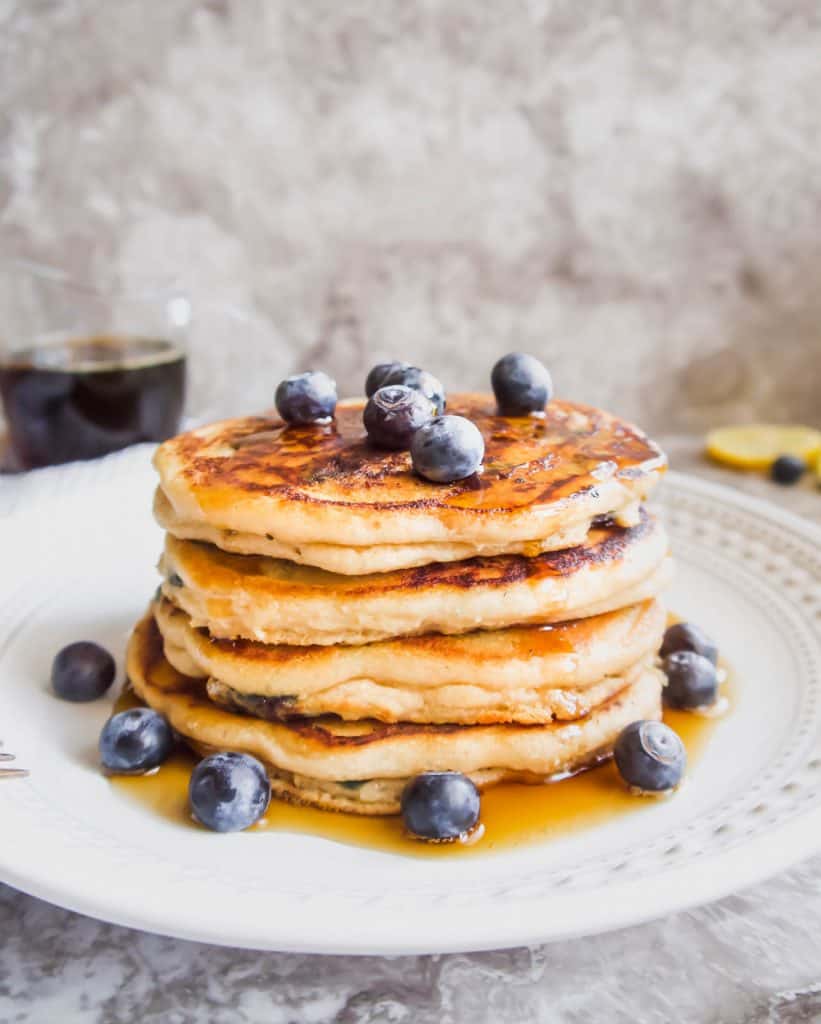 How to make them:
As I mentioned, you need to make your own paleo baking powder. So step 1 is to do so. You mix the arrowroot powder, baking powder and cream of tartar together.
Then, you mix all the dry ingredients together in a bowl…the almond flour, tapioca flour, coconut flour, salt, paleo baking powder mixture and coconut sugar.
After that you mix the the egg, almond milk, and vanilla together and add it to the flour mixutre. Then you add the olive oil, water and lemon juice to the batter.
Lastly you fold in the blueberries!
The batter here is thick, and filled with fresh blueberries. Then, after some of the batter is put onto the pancake griddle or pan, add more fresh blueberries on top. NOM.
These pancakes cook really well because the batter stays thick, and so flipping them is really no problem.
I've now made these twice since coming up with the recipe…to recipe test and make sure the recipe wasn't a fluke….and I love them just as much each time.
They honestly taste good naked, but my favorite is with fresh maple syrup and extra berries on top.
Give me all of these BEST Paleo Blueberry Pancakes on a weekend morning.
Other healthy pancake recipes you may like:
Check out these amazing looking Low Carb Pancakes from That's Low Carb?! for more almond flour healthy pancake inspiration!
These Paleo Chocolate Chip Banana Pancakes (GF) are ridiculously good! It's like chocolate chip banana bread in pancake form.
These Spinach Pancakes from Running to the Kitchen have great color but without any dye! They are naturally gluten-free and Vegan too!
The BEST Paleo Blueberry Pancakes (GF)
Instructions
In a small bowl, mix the cream of tartar, baking soda and arrowroot powder. This creates a paleo baking powder that is needed to make the texture of these pancakes.

In a large bowl, mix together the almond flour, tapioca flour, coconut flour, salt, paleo baking powder mixture ( made in prior step) and coconut sugar.

In another small bowl, beat together the egg, almond milk, and vanilla. Stir the egg/milk mixture into the flour mixture. Mix in the olive oil, water, lemon juice. Fold in the blueberries.

Heat a lightly oiled griddle or frying pan over medium-high heat, then lower the heat to medium. Pour 1/4 cup of the batter onto the griddle/pan for each pancake. Brown on both sides, this was about 2 minutes per side for me.

Yields 7 pancakes.
Disclosure: This post contains Amazon affiliate links. This means that if you click on a link and make a purchase, I will receive a small commission at no cost to you.