Stuffed Peppers with Cauliflower Rice (Paleo, GF)
I hate those nights when you don't know what to make for dinner, you don't really want to put much effort into it and yet you still want something savory. Well that was me the other day…I kept opening the fridge wishing that something delicious would magically appear.
I finally noticed 5 red peppers tucked away and some extra meat sauce in a tupperware and decided right then and there to make stuffed peppers! Stuffed peppers are the perfect dinner meal.
The peppers add a smokey sweetness to the meat that is so delicious. Plus, they cook themselves and leave you feeling full and satisfied.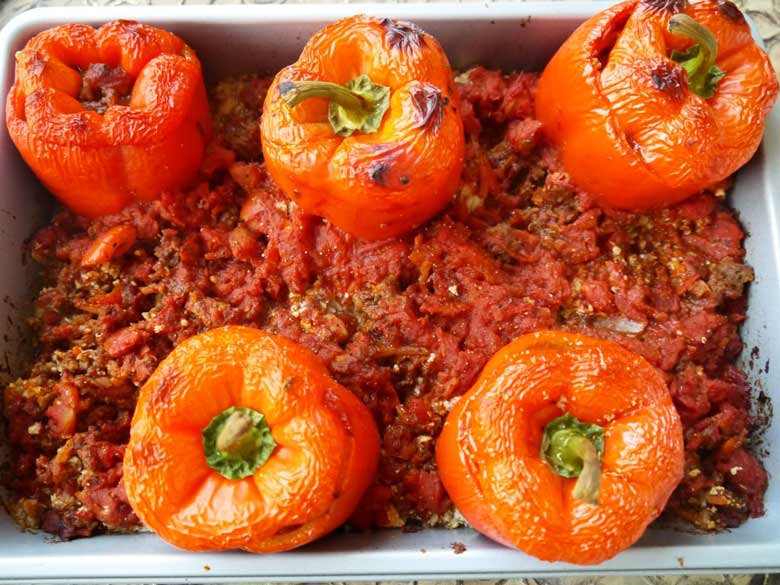 Since the Paleo diet requires lots of planning, I would recommend making these after having already made a meat sauce for a prior meal in the week.
Otherwise it could be more work to make the meat sauce from scratch and then make these, but if your up for it– why not?
Luckily for me, I had doubled my paleo carrot meat sauce recipe for a dinner that I had made two days earlier. It was the perfect use for my leftovers because I was able to have another great meal with little work. 🙂
You may be wondering why I had 5 red peppers in my fridge…
Long story short, I asked my boyfriend to pick up some peppers on his way home from work. I thought he would bring back 2 or 3. He brought home 8!
I also asked him to pick up some paprika and he spent about 10 minutes searching for it in the fruit and vegetables section…hahaha I had a good laugh hearing about his grocery store trip— and it really did work out for the best in the end.
I cut the top off of each pepper and stuffed each with 1/2 cup of meat sauce.
Normally I make stuffed peppers with rice, but since I wanted to make this Paleo, I decided to use cauliflower rice instead. It worked fabulously!
I put about 3 cups of cauliflower rice in the pan surrounding the peppers and then covered the cauliflower with chopped tomatoes and 1 1/2 cup of meat sauce.
Its important to find a brand that offers chopped or strained tomatoes with nothing extra. The only company that I have found that does this is Pomi.
I have looked at "organic" tomato sauces, as well as nonorganic ones, and have found that all of them have other ingredients besides tomatoes. Pomi, however, consists ONLY of organic tomatoes. The Pomi sauces/tomatoes are in the regular tomato sauce section at my grocery store and not in the healthy organic section, so look there if you are having trouble finding it.
I also love Pomi because it is packaged in a carboard box of sorts instead of a can. I try to stay away from canned tomatoes after reading several articles and news reports about chemicals and bugs involved in canned vegetables— I'll spare you the details–ew!
After pouring the chopped tomatoes and meat sauce on top of the cauliflower rice, I put the pan in the oven for 60-70 minutes (I lost track of time) at 350 degrees. I then set the oven to broiler and let it cook for 2-3 minutes until the tops burnt a little.
Whats great about this recipe is that it is very adaptable.
You can use ground turkey, chicken or beef. You can make it with green peppers or tomatoes or a mixture of red peppers, green peppers and tomatoes. All of them turn out great…. and the leftovers are great for lunch the next day. Happy Monday!
Update: I've come up with an even better stuffed pepper recipe! Clean Ground Turkey Roasted Stuffed Peppers.
Stuffed Peppers with Cauliflower Rice (Paleo)
A simple paleo dinner recipe with a simple meat sauce and cauliflower rice served up stuffed into peppers.
Ingredients
5 peppers
3 cups cauliflower "rice" (put cauliflower florets into a food processor until minced into rice-like pieces)
4 cups meat sauce (1/2 cup per pepper and 1 1/2 cup in the pan)
1 cup strained tomatoes (I recommend the Pomi brand)
Instructions
Preheat the oven to 350 degrees.

Cut the tops off of each red pepper.

Fill each pepper with 1/2 cup of meat sauce and then put the top back on each pepper.

Place the red peppers in a large pan (I used a 13×9 pan).

Chop cauliflower in a food processor to create cauliflower "rice"…. I filled it 3 times to get the 3 cups of cauliflower rice. But this could be different based on the size of the cauliflower rice. I would just do a little at a time until you get the right amount.

Evenly spread the chopped cauliflower in the pan surrounding the peppers.

Evenly pour 1 cup of strained tomatoes on top of the cauliflower and lightly fluff/mix the cauliflower mixture with a fork.

Put the pan in the oven and bake the stuffed peppers for 60- 70 minutes.

Once the peppers look a bit "wrinkled" and the dish becomes fragrant, set the oven on broil and let the peppers broil for 2-3 minutes and remove from the oven.

Let cool and enjoy 🙂
Nutrition
Calories: 137kcalCarbohydrates: 30gProtein: 7gFat: 1gSaturated Fat: 0.4gPolyunsaturated Fat: 0.5gMonounsaturated Fat: 0.2gSodium: 1280mgPotassium: 1520mgFiber: 10gSugar: 17gVitamin A: 1738IUVitamin C: 200mgCalcium: 96mgIron: 4mg
Disclosure: This post contains Amazon affiliate links. This means that if you click on a link and make a purchase, I will receive a small commission at no cost to you.