Paleo Thai Red Coconut Curry (Gluten-Free)
This easy Paleo Thai Red Coconut Curry is a healthy vegetable filled recipe with the most amazing creamy, savory, sweet yet spicy, coconut red curry sauce. This dish is naturally, vegetarian, Paleo, dairy-free, grain-free and gluten-free.
I LOVE Thai red curry. I have loved it since the day I first tried it and I've loved it even more since discovering how easily it can be made healthy, dairy-free, and Paleo.
This red coconut curry recipe has become my go-to homemade version of the dish. I tested this recipe several times and even deleted an old recipe so that I would only have the best version on my blog.
My favorite healthy thai red curry recipe
I love this recipe for so many reasons!
For starters, the sauce is so amazing that I could just drink it.
(If you are big on sauces, you should try my Creamy Brussels Sprouts Casserole or my Tastiest Paleo Paprika Garlic Shrimp. Both of those have bomb sauces)
Also, this red coconut curry is very versatile! It's a vegetarian recipe and can be made with a wide variety of vegetable or it can even be tweaked to add chicken.
Lastly, this recipe is very allergy friendly. There isn't any dairy or gluten. It's also nut-free.
Since I have a peanut allergy, I tend to avoid restaurants that use a lot of peanuts in their cooking. And this includes Thai restaurants.
However Thai red coconut curry is naturally peanut-free.
Ingredients needed for this Paleo Thai Red Coconut Curry recipe:
onion
garlic
carrots
bell peppers
red curry paste
fresh ginger
coconut cream
lime juice
maple syrup
honey
basil
ground ginger
coconut aminos
bamboo shoots
snap peas
Make sure to use a coconut cream or milk without any preservatives in it! It makes such a big difference in the flavor.
My go-to is canned Savoy coconut cream. It's the best! Once you try this coconut cream, you'll have a hard time using anything else.
Also, make sure to use a good quality red curry paste. Thai Kitchen red curry paste is Paleo, Vegan, Gluten-free and non-GMO.
How to make healthy Thai red curry:
It's actually easier to make this recipe than expected. You only need one pot and you add all the ingredients to the pot at different times.
To start, you cook the garlic and onion until fragrant.
Then, you add the carrots and red pepper to the pan.
After that, you add the curry paste, fresh ginger, and coconut cream.
Then it's time to season everything! You add the lime juice, maple syrup, honey, water, salt, dried basil, ground ginger, and coconut aminos.
Lastly you add the bamboo shoots, and then let the mixture boil for 10 minutes. Then you add snap peas and boil got another 5-10 minutes.
Recipe variations
This recipe is easily customizable to your tastes.
You can add chicken. You can add it to the sauce or make it on the side and add it to your bowl.
You can add broccoli and cabbage to the sauce while it is cooking.
You can make rice on the side and add it to your bowl.
You can roast potatoes and add it to your bowl.
FAQs
Is this recipe Vegan?
No, but it can easily be made Vegan by removing the honey and replacing it with maple syrup.

Is red curry gluten-free?
As long as your red curry paste is gluten-free, it naturally is gluten-free.

Is Thai red curry good for you?
It depends what you mean by "bad" or "good". Because of the coconut cream, this recipe is high in fat. However, if you make red curry with real food ingredients that are not processed, as is the case in this recipe, then yes, it is a healthy option!
How to serve this vegetarian red curry sauce
Now the best part about this red curry sauce is everything that you can soak/ dunk in it. Like veggies!! My absolute favorite veggies to eat with this sauce is broccoli and cabbage. It soaks the sauce so well. NOM.
I'm also a huge fan of eating this coconut curry with cauliflower rice or regular rice.
My husband likes when we add diced grilled chicken and potatoes to the dish. SO I make it differently every time that I do.
Honestly, once you have this red curry sauce done, the sides to this dish are customizable to you.
Other healthy coconut cream sauce recipes you may enjoy:
Dairy-free Pan Seared Salmon in Cream Sauce
Creamy Black Pepper Paleo Mushrooms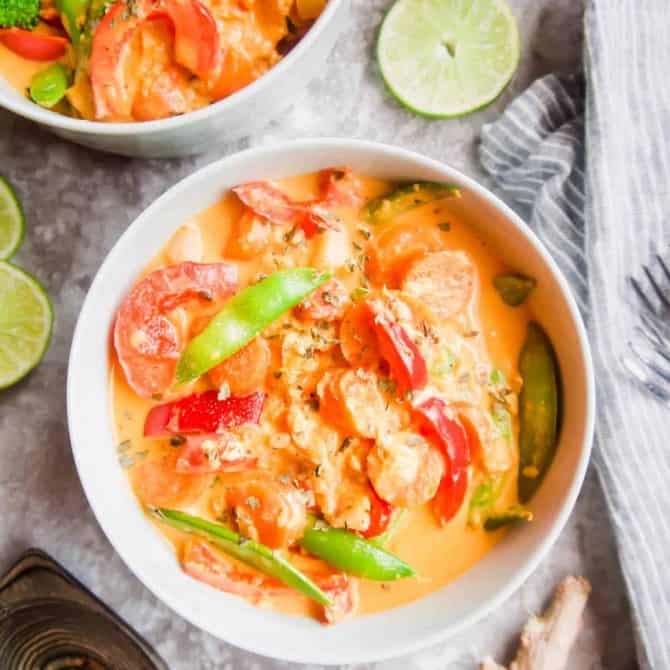 Paleo Thai Red Coconut Curry (GF)
My go-to creamy, savory, sweet yet spicy, coconutty red curry recipe that is naturally Paleo, dairy-free, and Gluten-free.
Ingredients
1 Tbs  olive oil
3/4 cup chopped onion (this was ½ of an onion for me)
4 cloves garlic minced
3 large carrots peeled and sliced
2 red bell peppers sliced into thin 2-inch long strips
3 Tbs red curry paste  ("Thai Kitchen" brand is Paleo, Vegan and Gluten-free)
1 Tbs freshly grated ginger
1 14 ounce can of coconut cream (without preservatives, Savoy brand is great)
2 Tbs  lime juice
2 Tbs  maple syrup
1 Tbs honey
½ cup water
1 tsp  salt
1 tsp  dried basil
¼ tsp ground ginger
1 Tbs coconut aminos
1 8 ounce can of bamboo shoots
1 ½ cups snap peas
Instructions
Put 1 tbs olive oil in a large sauce pan over medium-high heat. Add the minced garlic and chopped onion and cook for 2-3 minutes. Lower heat to medium.

Add the carrots and red pepper to the pan and cook for 5-6 mins.

Then, add the curry paste and freshly grated ginger to the pan, and mix. Add the coconut cream and mix.

Next, add the lime juice, maple syrup, honey, water, salt, dried basil, ground ginger, and coconut aminos. Mix. Add the bamboo shoots, and then cook for 10 minutes, letting the mixture bubble.

Add 1 1/2 cups of snap peas and cook for another 5-10 minutes.
Nutrition
Calories: 159kcalCarbohydrates: 27gProtein: 3gFat: 5gSaturated Fat: 1gPolyunsaturated Fat: 1gMonounsaturated Fat: 3gSodium: 603mgPotassium: 472mgFiber: 5gSugar: 17gVitamin A: 11691IUVitamin C: 107mgCalcium: 102mgIron: 3mg
Disclosure: This post contains Amazon affiliate links. This means that if you click on a link and make a purchase, I will receive a small commission at no cost to you.