Paleo Balsamic Tuna Dip/Salad (GF)
I recently went to an Italian restaurant here in Belfast where I discovered the inspiration for this Paleo Balsamic Tuna Dip/Salad. You see, instead of there being bread at the table, there was a bowl of creamy tuna dip and hard breadsticks (almost like croutons) that you were supposed to use to dunk into the dip.
At first my friends and I were like "ehhhh not sure what to think about this", but when we tried it, we were all very pleasantly surprised at how delicious it was! And we found that we couldn't stop eating it!
I was fascinated with the flavors and made an effort to really taste what could possibly be inside this fantastic tuna dip!
The red onions were easy to spot, and the flavor of balsamic vinegar as well. But the rest was a little more difficult… I tasted a bit of garlic, and a bit of cream.
The consistency of the dip was very creamy as well.
So I wrote down a note to test out a Paleo version at home.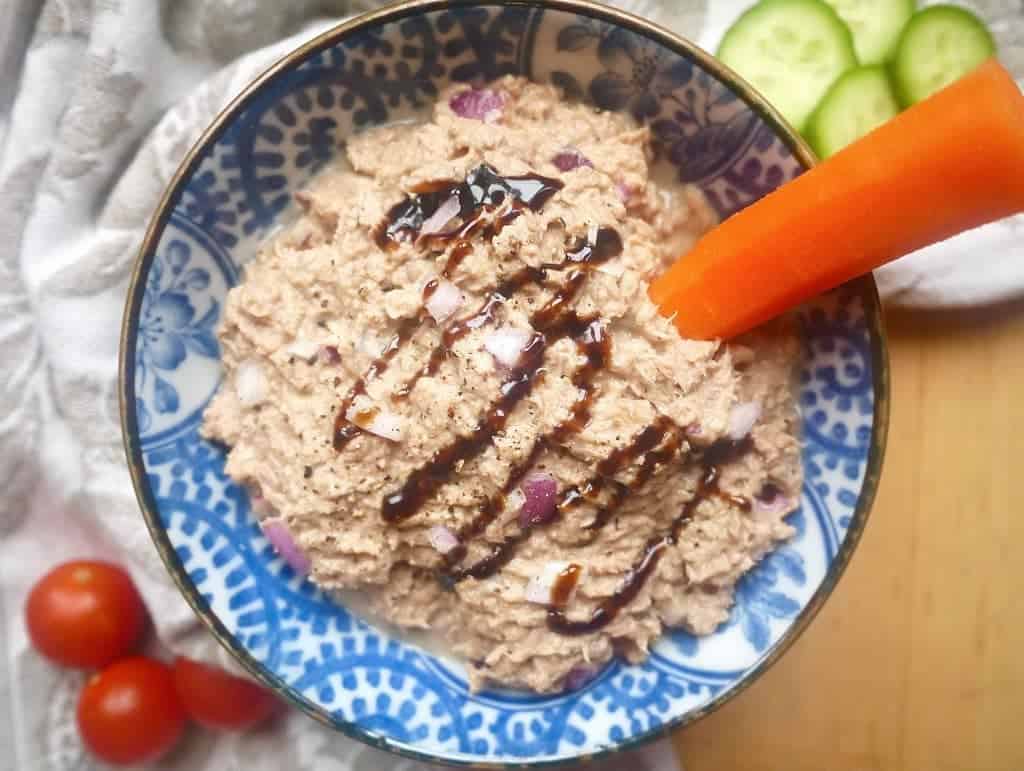 For the dip at the restaurant, a food processor was definitely used to thin out the chunks of the tuna, and you can do this as well. But I preferred it being more chunky, and left it as is.
I added coconut cream and balsamic vinegar to two cans of tuna. But I did this slowly, to really let the tuna absorb it. I added one Tbs of coconut cream and balsamic vinegar at a time, and mixed.
I eventually got to a consistency that I liked, which was much thicker than the dip at the restaurant. I figured for veggies, thicker would be better. And also, I was making my own version of it, so why not?!
Then I added garlic powder, salt, pepper and diced red onion to the tuna mixture. Pretty simple really, but the result is a protein packed dip that tastes great with cucumbers, tomatoes, carrots, and broccoli.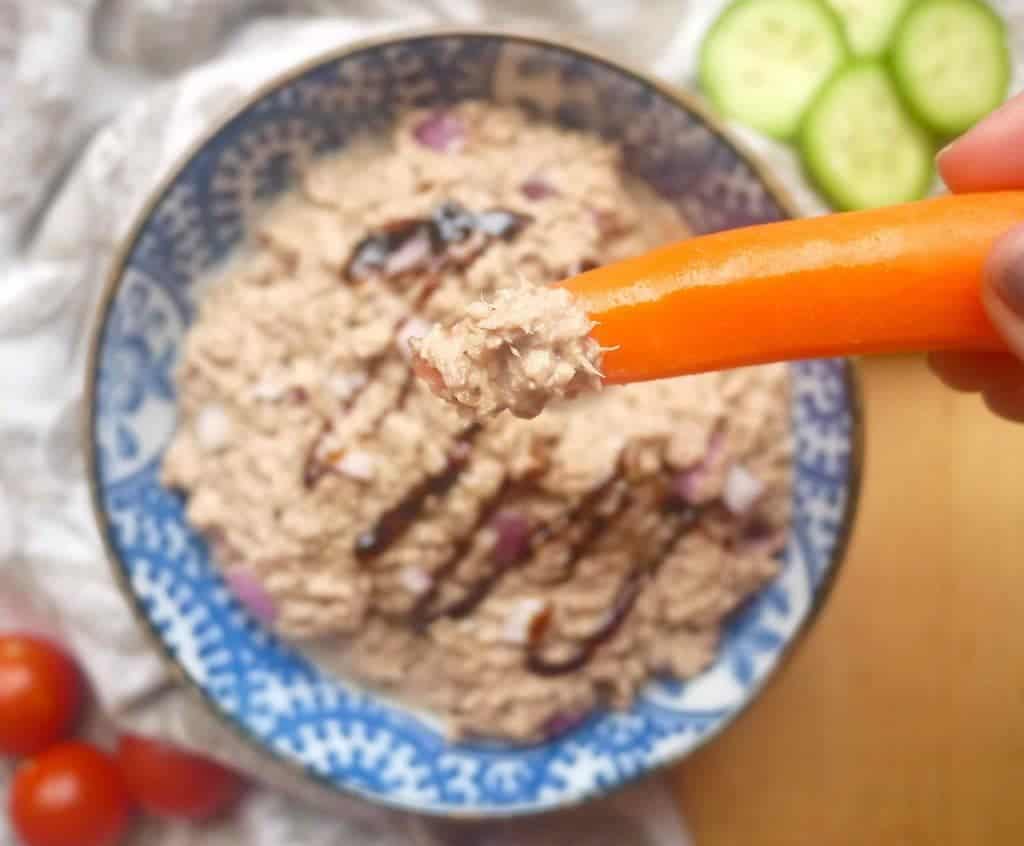 I found that this Paleo Balsamic Tuna Dip/Salad was pretty interchangeable as a tuna salad, which is why I added that to the title. It has a great flavor punch, which is really wonderful for salads.
And thus I have been adding this Paleo Balsamic Tuna Dip/Salad to all of my salads lately.
I'll actually be posting a recipe for one of these salads soon.
I've been making lots of great salads for work lately. They keep me really full and are perfect for my wedding diet 🙂 So stay tuned!
Check out my buffalo chicken dip if you love dips!
Paleo Balsamic Tuna Dip/Salad (GF, Dairy-free)
A tasty paleo tuna salad with balsamic, garlic and red onion.
Ingredients
1/3 cup of diced red onion
1 cup canned tuna fish ( this was two cans for me, about 130 grams or 8-10 ounces) (wild planet is my favorite)
5 Tbs canned coconut cream or canned coconut milk (make sure there are no preservatives for the best taste)
4 Tbs of balsamic vinegar
1/2 tsp garlic powder
salt to taste
ground black pepper to taste
Instructions
Put the tuna fish into a large bowl. Add the garlic powder to the bowl.

Then add 1 Tbs of coconut cream/milk and mix. Add 1 Tbs of balsamic vinegar and mix. Keep adding the coconut cream/milk and balsamic vinegar 1 Tbs at a time and mix it until you have it all in there.

Add the diced red onion to the mixture, and then add salt and pepper to taste. Mix and then serve.
Nutrition
Calories: 117kcalCarbohydrates: 6gProtein: 8gFat: 7gSaturated Fat: 6gPolyunsaturated Fat: 0.2gMonounsaturated Fat: 0.3gCholesterol: 14mgSodium: 90mgPotassium: 171mgFiber: 1gSugar: 3gVitamin A: 22IUVitamin C: 2mgCalcium: 17mgIron: 1mg
Disclosure: This post contains Amazon affiliate links. This means that if you click on a link and make a purchase, I will receive a small commission at no cost to you.