Moose (Mousse) Balls
Everyone needs moose balls in their lives! Especially during the holidays. They are basically Nilla Wafer covered chocolate mousse balls and they are ridiculously good. To be honest, they are more than good— these bad boys are legendary. I can't even begin to explain how many times that I have been asked for this recipe… so consider this recipe an early Christmas present and bring these to any and all holiday events—- you will be happy that you did!
This recipe is super easy because there are only 3 ingredients– Hershey's chocolate, Cool Whip, and Nilla Wafers.
Normally I wouldn't choose Hershey's chocolate as my go-to baking chocolate, but here (along with s'mores) is a recipe where its perfect.
The hardest part of making these is patience! You have to make sure the Cool Whip is thawed and the melted chocolate is cooled to room temperature… thats the only way to achieve the "mouse" texture!
To start off, you have to melt 16 ounces of Hershey's chocolate.
You can microwave it, but microwaving chocolate is always a little complicated because you have to watch out that it doesn't burn. I prefer to put a bowl over a pot of boiling water and let the chocolate melt that way. It also doesn't get as hot, which means you don't have to wait as long for it to cool!
Once the chocolate is melted make sure it is completely cooled to room temperature… this is very important because if it is still warm or hot, it will harden in the Cool Whip and the mousse texture will be lost.
Next, you mix one 8 ounce tub of Cool Whip into the room temperature melted chocolate until totally mixed.
The mixture should be thick and smooth. Then, you have to put this mixture in the refrigerator for 30 minutes— the mixture needs to harden so that it will be easier to roll it into balls.
While the mousse hardens, chop 1/2 of the Nilla Wafers from an 11 ounce box in a food processor until it creates 1 cup of crumbs.
(you can also put the wafers in a plastic bag and use a hammer to crush them).
Once the mousse has hardened, take 1 tbs of the mousse and roll it in between your hands until a ball is formed.
Then dunk it in the Nilla Wafer crumbs until fully covered and then put it on a plate.
Repeat until the mousse is done.
This recipe should yield about 60 moose balls.  Refrigerate the moose balls for 30 min or more…. and enjoy! 🙂
Note: rolling the moose balls can be messy. I washed my hands about 3 times while making them. The chocolate mousse melts in between your hands because of your body heat and I find that washing your hands a few times helps with rolling them (it could just be me though).
I couldn't resist trying them….perfect 🙂
I brought these to a holiday party and they didn't make it through the night!  I recommend doubling the recipe if you know a lot of people will be there.
I'm so happy that I got to share this recipe!
I can't take the credit for it though; it comes from my old babysitter Mrs. Marge. I loved making them as a child and I loved that it was something that could be done in an assembly line fashion. I hope you love them too!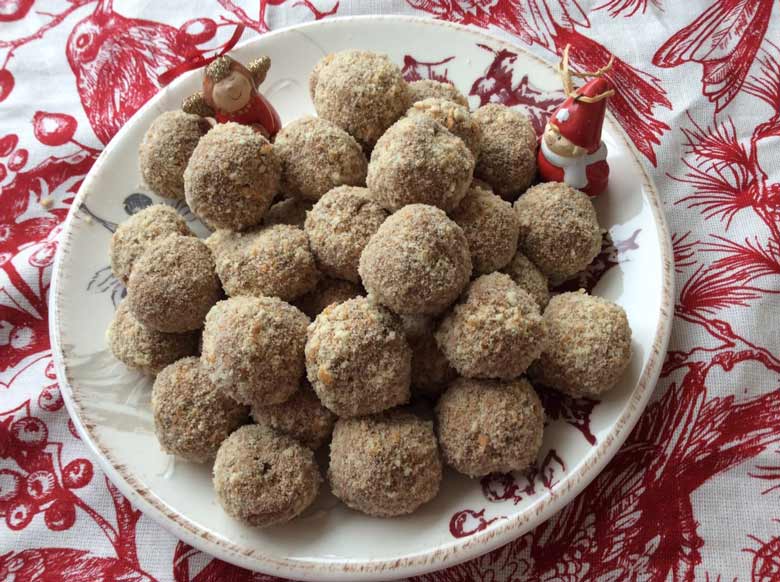 Moose (Mousse) Balls
Ingredients
one 8 ounce tub of Cool Whip
1 cup crushed Nilla Wafers, (1/2 of an 11 ounce box)
16 ounces Hershey's Chocolate
Instructions
Thaw Cool Whip

Melt 16 ounces of chocolate in a bowl over a pot of boiling water.

Cool the melted chocolate until cooled to room temperature(the outside of the bowl should be fully cooled as well).

Mix the Cool Whip and the melted chocolate until fully mixed.

Refrigerate the Cool Whip and melted chocolate mixture for 30 minutes.

Chop 1/2 of the wafers in an 11 ounce box of Nilla Wafers in a food processor (should be 1 cup)

Take 1 tbs of the mousse and roll in between your hands until a ball shape is formed.

Dunk the ball into the crumbs until fully covered.

Place on a plate and repeat until all the mousse is used up.

Refrigerate for at least 30 minutes and serve.

Yields 60 moose balls.
Disclosure: This post contains Amazon affiliate links. This means that if you click on a link and make a purchase, I will receive a small commission at no cost to you.