Kale and Lemon Pesto Zoodles (paleo, GF)
I think it's becoming clear how obsessed with zoodles I have become. As much as I genuinely like spaghetti squash, I much prefer zucchini noodles because they have a more neutral taste and a crunchier, more satisfying texture than spaghetti squash does. Plus, zoodles cook so much more quickly. ( 1 minute for zoodles vs. 30 minutes for spaghetti squash).
Just as my pasta replacement has gotten better, so has my paleo pesto recipe! This Kale and Lemon Pesto Zoodle recipe is refreshing, creamy, and delicious. All while being dairy-free!
My previous pesto recipe called for goat cheddar. Which, to me, is paleo-friendly.
But I wanted a true paleo recipe… one without dairy.
Which was much easier to do than I thought.
All you really need is basil, lemon, garlic, pine nuts, and olive oil.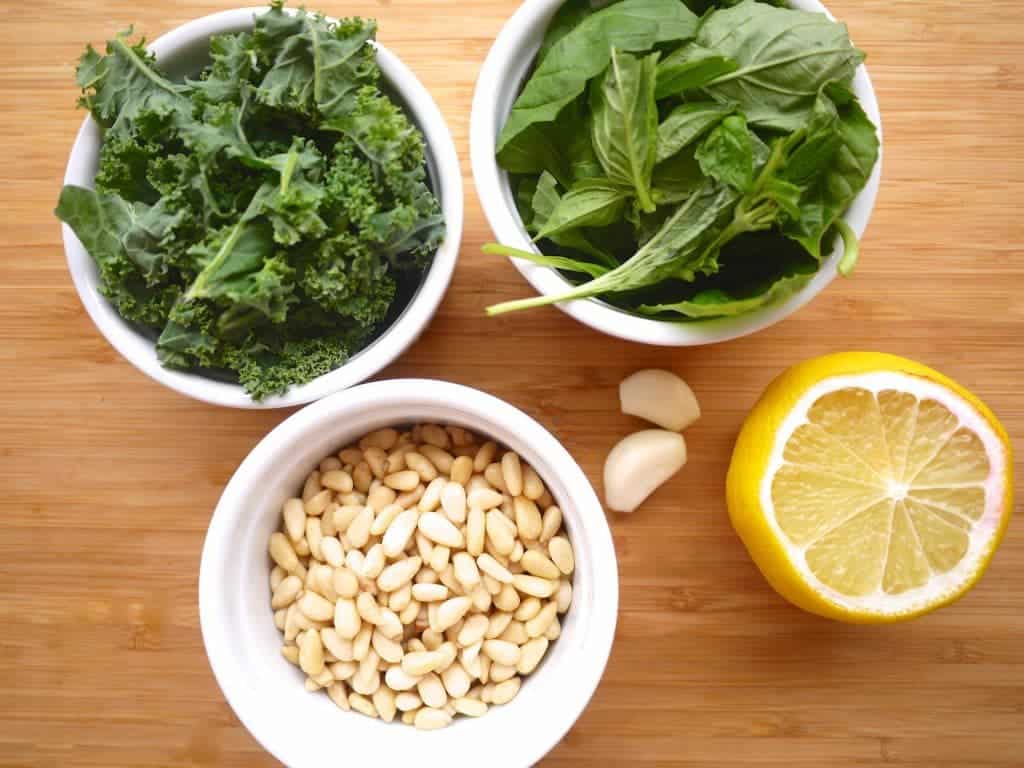 I threw in some kale for good measure too. 🙂
My doctor told me to eat cruciferous vegetables every single day to maximize their cancer-fighting and antioxidant properties.
So, why not add it to this pesto?
Easy peasy.
To make this recipe, all you have to do is mince the garlic and the pine nuts together.
Then add the kale, basil, lemon juice, salt, pepper, and olive oil to the food processor.
Simple as that.
This pesto is really as creamy as it looks!
I was blown away ( in a good way) with how creamy this sauce was without any dairy at all!
I think the pinenuts make it creamy.
I could eat a bowl of this Kale and Lemon Pesto Zoodle in like 30 seconds.
The lemon adds a wonderful freshness to the sauce. So summery.
But you don't have to stop there. You can add any protein to this dish!
Which I ended up doing because after I cooked the zoodles and mixed the pesto sauce into it, my fiancé asked, "what protein are we having with it?" … I wasn't planning on adding protein (woops), so I quickly added some chicken for him.
I cut 1 lb of chicken cutlets into bite sized pieces and grilled them in a pan with garlic powder, onion powder, red chili flakes and a little lemon, until the chicken was golden.
Then I put the pesto zoodles into the chicken pan and tossed it all together. It turned out to be a great addition.
Note: I labeled this as a recipe for 2 people, because I normally consider 1 zucchini per person to be a good serving size (especially to keep you full).
Feel free to add a third zucchini to this recipe, there is more than enough pesto. I think that 3 zucchini could feed 4 people, unless you are feeding hungry men.
Kale and Lemon Pesto Zoodles (paleo, GF)
Ingredients
1/2 cup pine nuts
1 cup of fresh basil leaves
1 Tbs + 1 tsp of olive oil
1.5 tsp minced garlic (2 small cloves of garlic for me)
1 cup of chopped kale (this was 1 large leaf for me)
1/4 tsp salt
1/8 tsp ground black pepper
3 Tbs lemon juice
2 medium zucchini
Instructions
Spiralize the zucchini. (I used the shredder blade from my

Paderno Spiral Vegetable Slicer

for thinner zoodles). Place the zoodles in a colander/strainer and put a large pinch of salt into them. Toss the zoodles around to spread the salt around. Let the zucchini sit for 10 minutes so that the liquid can drain from it. Set the colander/strainer into the sink.

Mince the garlic in a food processor. Add the pine nuts to the food processor and mince again until the pine nuts turn into crumbles.

Add the kale, basil, 3 Tbs of lemon, 1 Tbs of olive oil, 1/4 tsp of salt and 1/8 tsp of black pepper to the food processor and grind it all together. You may need to stop the food processor and press the sides of it down with a rubber spatula.

Add the last 1 tsp of olive oil to the food processor and mix everything again until the final pesto paste has formed.

Take out a plate, cover it in paper towels and place the zoodles onto it. Cover with a paper towel and press down to get all the remaining liquid off of the zoodles.

Heat a large pan with some olive oil over medium-high heat. Once the oil is hot, put the zoodles into the pan and top with the pesto sauce. Mix everything around for 30 seconds to a minute (until everything is hot and you have your desired zoodle consistency).

Salt and pepper to taste. Enjoy!
Disclosure: This post contains Amazon affiliate links. This means that if you click on a link and make a purchase, I will receive a small commission at no cost to you.