Zucchini Noodles with Pesto and Kale
This zucchini noodles with pesto and kale recipe is a healthy pesto noodle alternative filled with pine nuts, kale, basil, and lemon. It all comes together in less than 20 minutes!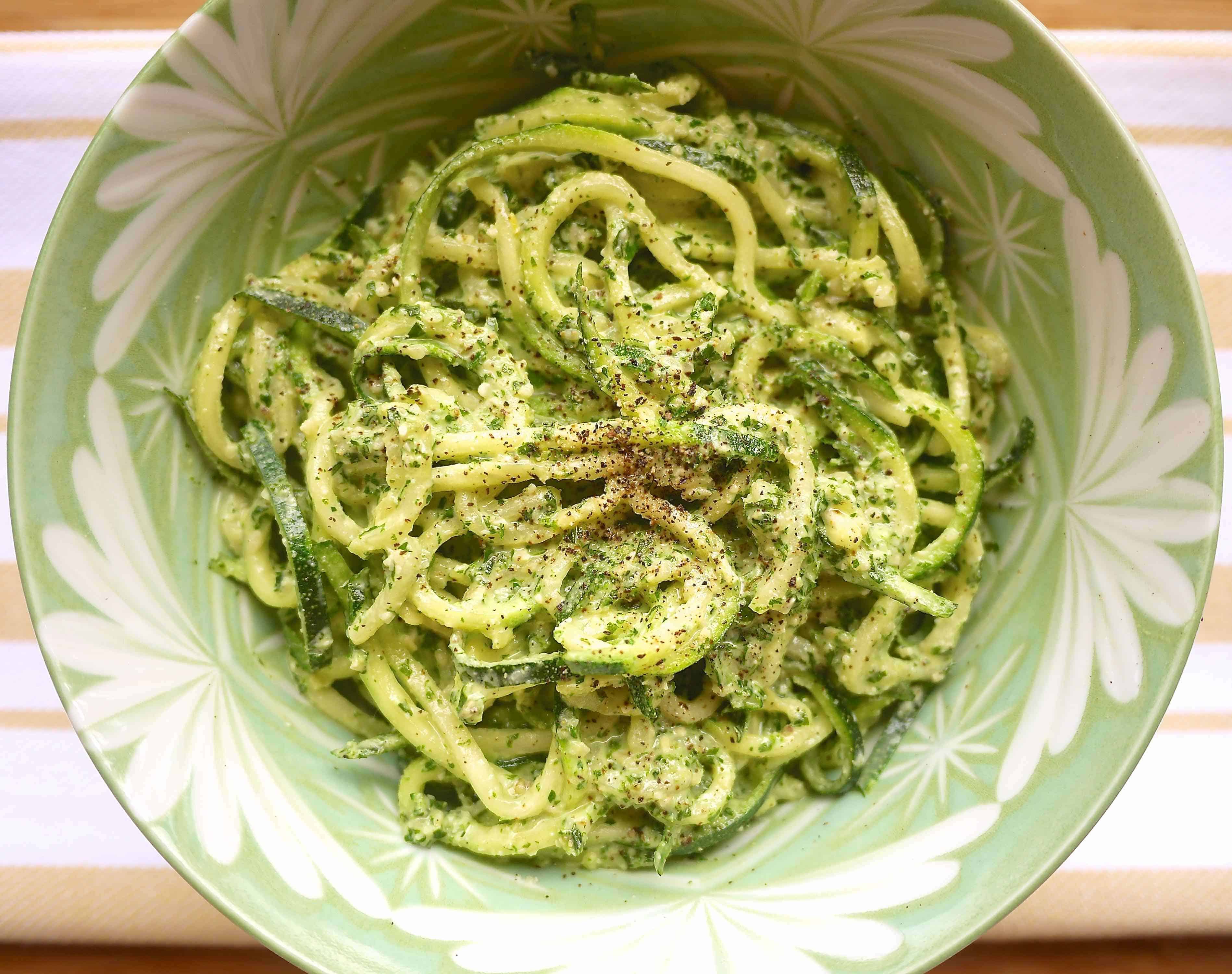 I have been loving this pesto zoodles recipe. It is refreshing, creamy, and delicious. All while being dairy-free!
It is always fun to play around with zucchini in recipes. I have made zucchini lasagna, zucchini egg cups, and of course lots and lots of zoodles.
Table of Contents
Why this recipe works
You only need a handful of real ingredients.
It cooks so quickly! Zoodles cook in about 1 minute.
This recipe is full of flavor!
It is allergy friendly. It is dairy-free, gluten-free, grain-free.
It is diet friendly. It is Paleo and Whole30 compliant.
Recipe Ingredients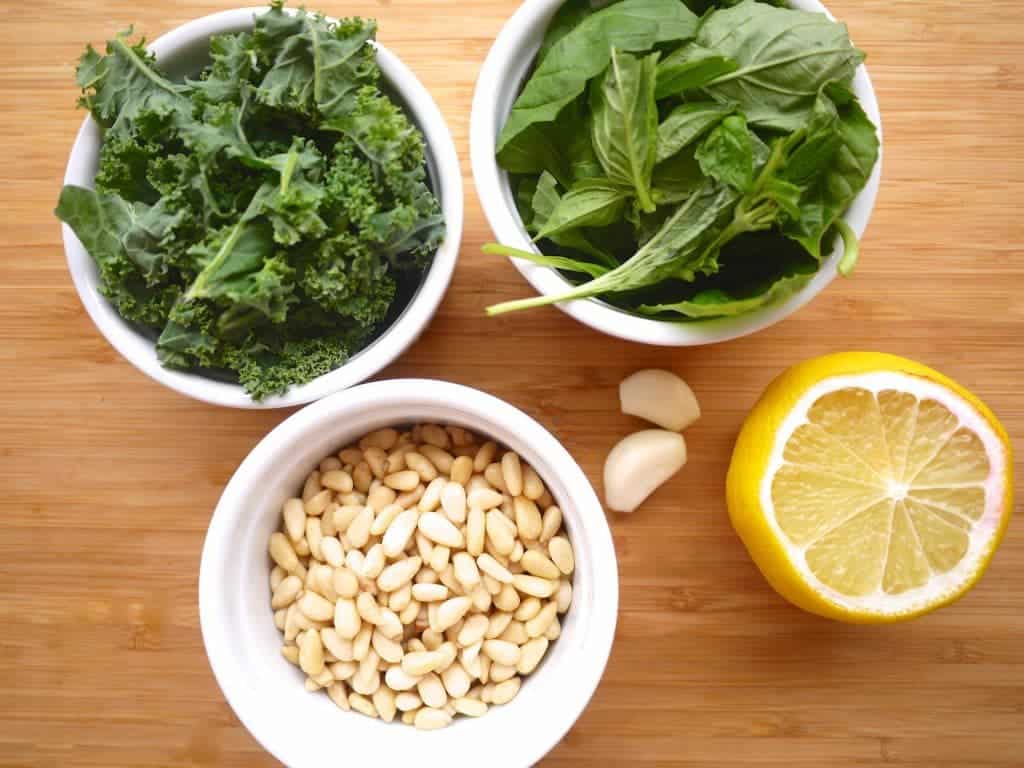 pine nuts– plain pine nuts are best here.
basil leaves– fresh basil leaves.
olive oil– a good quality extra virgin olive oil
garlic– fresh garlic.
chopped kale– you can buy it chopped or buy large kale leaves and chop them.
lemon juice– fresh squeezed.
zucchini – medium or large ones.
See recipe card below for a full list of ingredients and measurements.
Step by step instructions
Step 1: use a spiralizer to turn the zucchini into zoodles. Then add salt to the zoodles and let them sit for 10 minutes.
I like the paderno spiralizer.
Step 2: Mince the garlic and the pine nuts together in a food processor.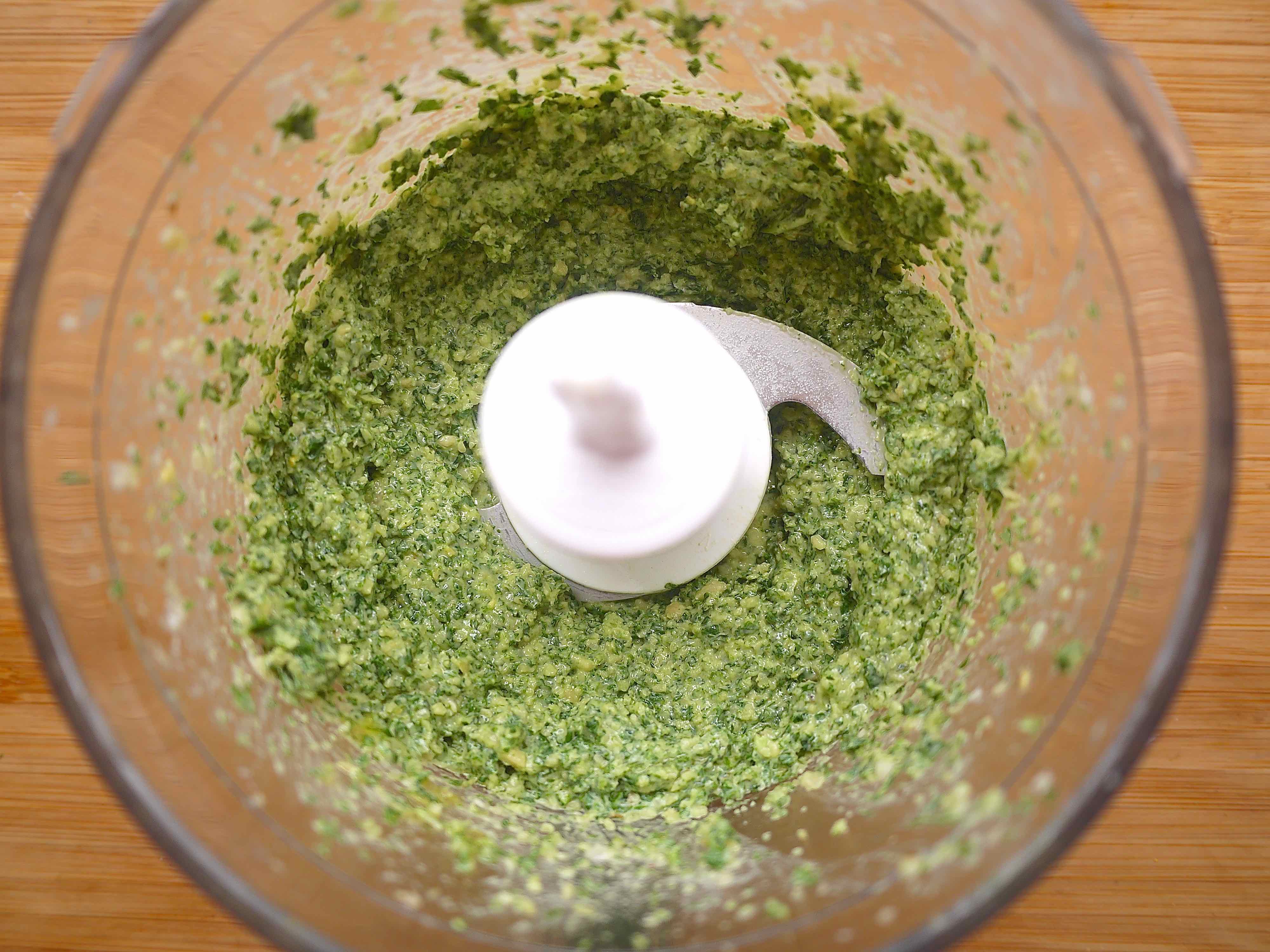 Step 3: Then add the kale, basil, lemon juice, salt, pepper, and olive oil to the food processor and mix.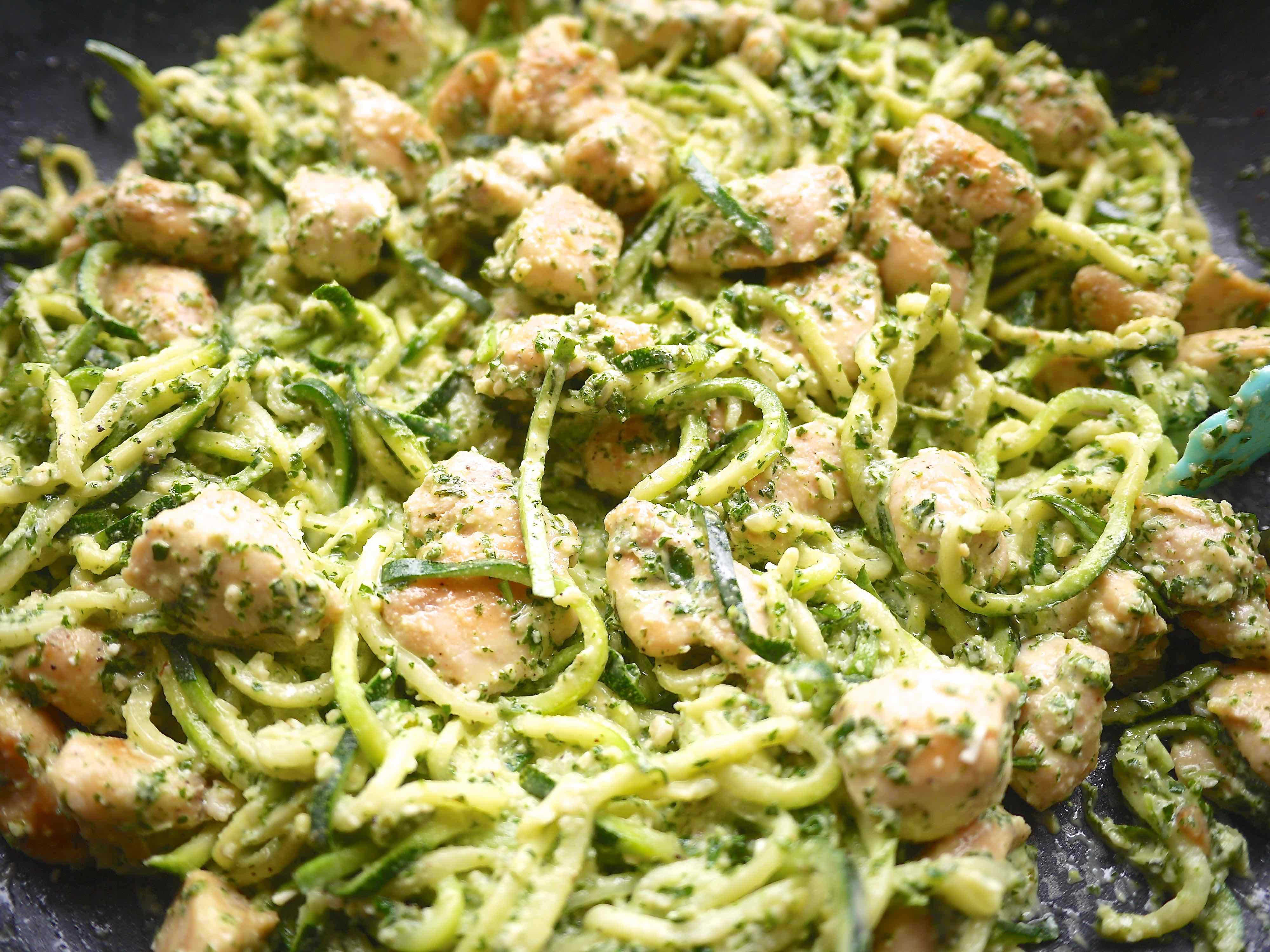 Step 4: Dry the zoodles off with a towel and cook in a pan over medium high heat for 1 minute. Mix the pesto into it. You can also add chicken.
Recipe FAQs
How do you store this recipe?
In an airtight container in the fridge for 3 days.
What can I use instead of basil?
You can use spinach!
What protein can I serve with these zoodles?
You can serve chicken, fish or beef.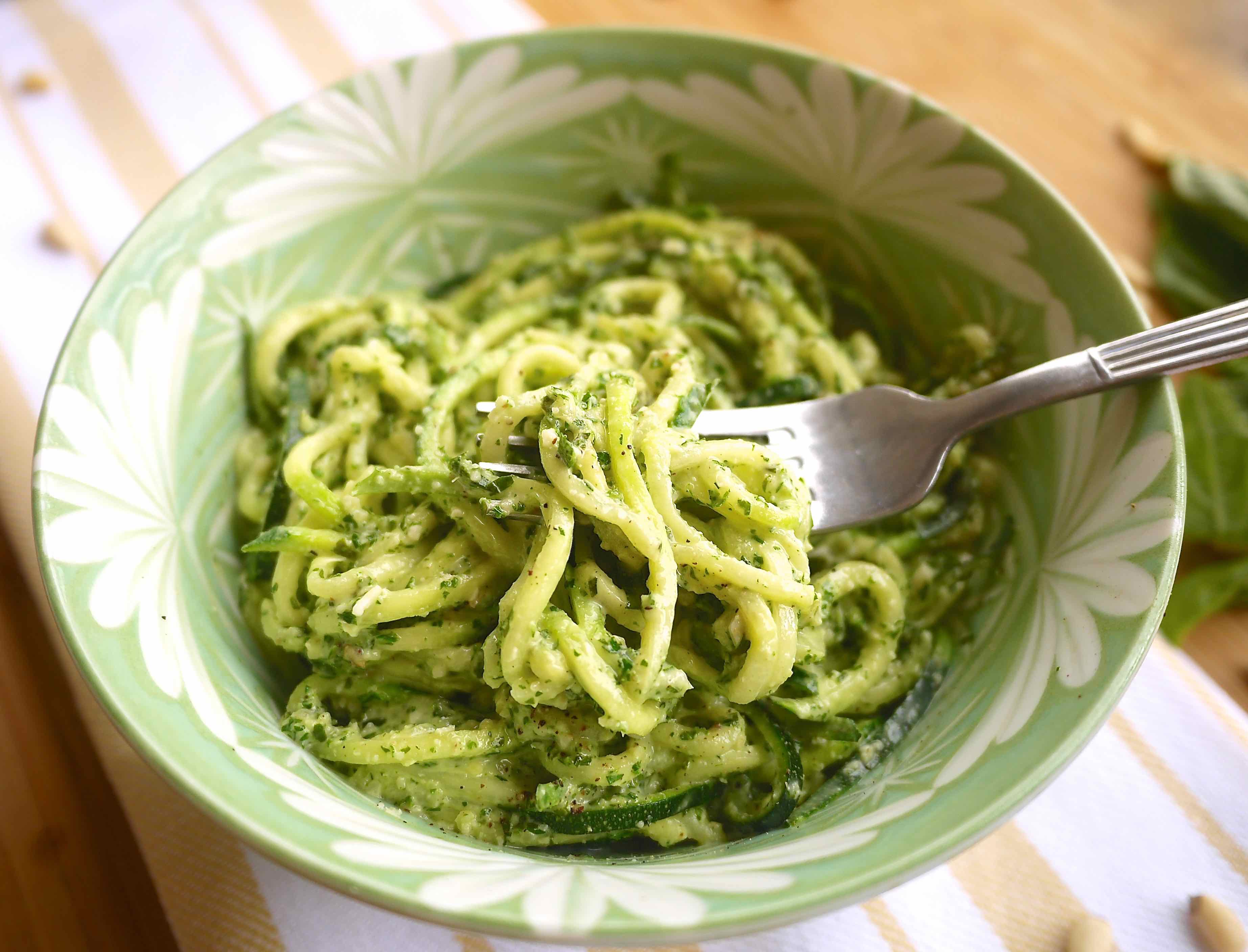 Other zucchini recipes you'll love
Ground Turkey, Bell Pepper, Zucchini, and Eggplant Casserole
Carrot and Zucchini Meat Sauce
Creamy Garlic and Tuna Zucchini Noodles
Did you try this recipe? Please leave me a ⭐ review below!
Kale and Lemon Pesto Zoodles (paleo, GF)
This zucchini noodles with pesto and kale recipe is a healthy pesto noodle alternative filled with pine nuts, kale, basil, and lemon. It all comes together in less than 20 minutes!
Ingredients
1/2 cup pine nuts
1 cup of fresh basil leaves
1 Tbs + 1 tsp of olive oil
1.5 tsp minced garlic (2 small cloves of garlic for me)
1 cup of chopped kale (this was 1 large leaf for me)
1/4 tsp salt
1/8 tsp ground black pepper
3 Tbs lemon juice
2 medium zucchini
Instructions
Spiralize the zucchini. (I used the shredder blade from my

Paderno Spiral Vegetable Slicer

for thinner zoodles). Place the zoodles in a colander/strainer and put a large pinch of salt into them. Toss the zoodles around to spread the salt around. Let the zucchini sit for 10 minutes so that the liquid can drain from it. Set the colander/strainer into the sink.

Mince the garlic in a food processor. Add the pine nuts to the food processor and mince again until the pine nuts turn into crumbles.

Add the kale, basil, 3 Tbs of lemon, 1 Tbs of olive oil, 1/4 tsp of salt and 1/8 tsp of black pepper to the food processor and grind it all together. You may need to stop the food processor and press the sides of it down with a rubber spatula.

Add the last 1 tsp of olive oil to the food processor and mix everything again until the final pesto paste has formed.

Take out a plate, cover it in paper towels and place the zoodles onto it. Cover with a paper towel and press down to get all the remaining liquid off of the zoodles.

Heat a large pan with some olive oil over medium-high heat. Once the oil is hot, put the zoodles into the pan and top with the pesto sauce. Mix everything around for 30 seconds to a minute (until everything is hot and you have your desired zoodle consistency).

Salt and pepper to taste. Enjoy!
Nutrition
Calories: 345kcalCarbohydrates: 15gProtein: 9gFat: 31gSaturated Fat: 3gPolyunsaturated Fat: 13gMonounsaturated Fat: 12gSodium: 326mgPotassium: 899mgFiber: 5gSugar: 7gVitamin A: 4384IUVitamin C: 78mgCalcium: 149mgIron: 4mg
Disclosure: This post contains Amazon affiliate links. This means that if you click on a link and make a purchase, I will receive a small commission at no cost to you.