Caramel Chocolate Fondant (Paleo, GF)
Now this is what my Halloween dreams are made of. Caramel Chocolate Fondant.
The ultimate paleo, gluten-free, clean Halloween treat. Who needs candy, when you have a warm ooey gooey melted chocolate fondant full of oozing caramel at your fingertips?
Every year around Halloween I get a craving for candy! For chocolate bars, sour gummies, red hots… you name it! This year, I tried to come up with some alternative Halloween options.
A Strawberry Citrus Granita, for when I'm in a fruit mood.
Some kid-friendly Clean "Dirt" for my Halloween gummy worm Oreo spirit.
And now this Caramel Chocolate Fondant for my indulgent frame of mind.
And let me tell you… you won't know that this Caramel Fondant is non-processed.
In fact, you may even dispute this fact because it's that good. A decadent chocoalte dessert without flour, sugar, or butter in it…. yes, please!
I previously posted a Paleo Fondant au Chocolat et Cerises recipe.
Which I loved so much, that I knew I had to make another version of it soon. One with Paleo Caramel in it.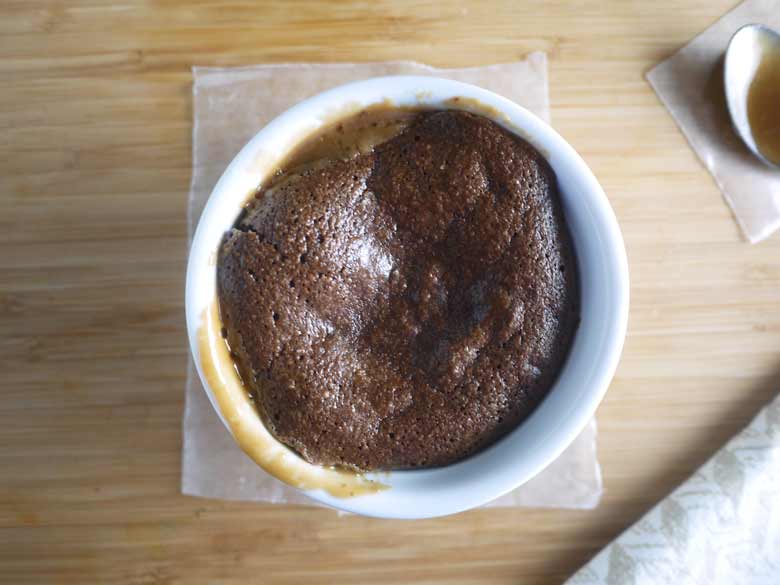 Since I recently made a batch of my Paleo caramel sauce, there was no better time to try it out.
Is it bad that I've made 4-5 batches of this caramel sauce since I came up with the recipe? Woops.
I made my regular fondant recipe and put half of the batter into each ramekin.
Then I put 2 tsp of caramel sauce inside and topped each ramekin with the other half of the fondant batter.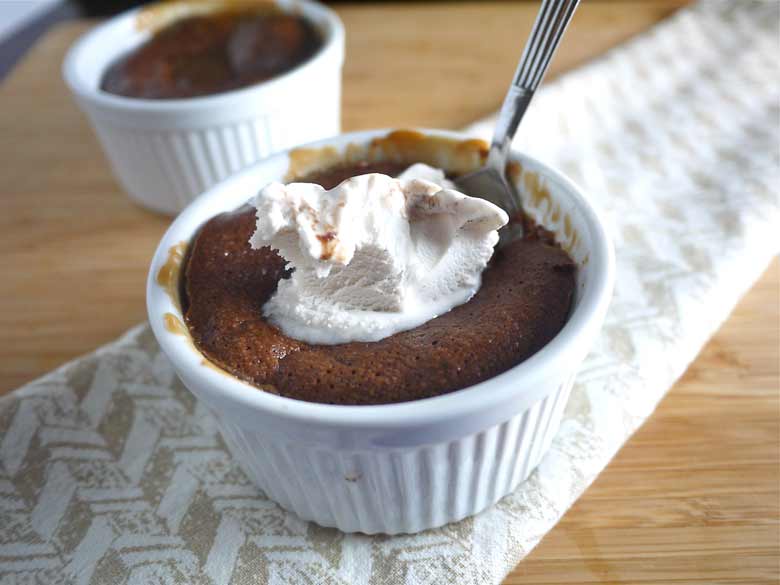 Once the fondant was cooked, I topped it with MORE caramel sauce. I tried it with some coconut ice-cream and blissfully gobbled it up.
This is my Halloween gift to you.
When all the hustle and bustle of Halloween is over, or if you just want an indulgent clean dessert, make yourself this treat…sit back and enjoy.
Happy Halloween!
I Can't Believe It's Not Processed! Caramel Fondant (Paleo, GF)
A melty chocolate dessert mixed with caramel.
Instructions
Preheat the oven to 350 degrees.

Set a pot of water on the stove and heat on high until it boils and then lower the heat to medium.

Put the coconut oil and chocolate chips in a plastic bowl. Put the plastic bowl of chocolate and coconut oil on top of the water in the pot and let the mixture melt. Remove the bowl from the hot water as soon as the chocolate has just melted. Whisk the melted ingredients together.

In a separate bowl, whisk together the egg and maple syrup until it thickens a bit (about one minute).

Whisk the chocolate mixture into the egg mixture until thick (shouldn't take long).

Add the salt, vanilla, and almond flour to the chocolate mixture and whisk.

Put 2 Tbs of the mixture into each

ramekin

.

Add 2 tsp of Paleo Caramel Sauce into each ramekin.

Top each ramekin with the remaining batter, divided evenly.

Bake for 30 minutes. The outside should look hard near the edges of the ramekin. It should puff out and crack a bit.

Let cool for 10 minutes.

Enjoy!
Nutrition
Calories: 556kcalCarbohydrates: 61gProtein: 3gFat: 37gSaturated Fat: 27gPolyunsaturated Fat: 1gMonounsaturated Fat: 2gTrans Fat: 0.01gCholesterol: 82mgSodium: 197mgPotassium: 124mgFiber: 3gSugar: 24gVitamin A: 119IUCalcium: 57mgIron: 3mg
Disclosure: This post contains Amazon affiliate links. This means that if you click on a link and make a purchase, I will receive a small commission at no cost to you.