Clean "Dirt" (paleo, GF)
This Clean "Dirt" is a wonderful kid-friendly (and very adult-friendly) recipe that can be a fun and healthy Halloween Activity. It has layers of Chia Chocolate Pudding, Coconut Whipped Cream, and crumbled up Paleo Chocolate Crumble Cookies on top. Oh, and organic gummy worms!
As much as I love Halloween and Halloween candy, it's nice to have a Halloween treat that isn't full of sugar, food coloring and chemicals… and that can be part of a fun Halloween memory!
Many of my Halloween childhood memories include "dirt".
Every year around Halloween, one of the classroom mothers would bring all the tools needed to make this fun dessert (pudding, crushed Oreos, gummy worms) and we would just have a blast making our own individual cups of "dirt".
I've never stopped loving it, actually. I mean, what isn't good with crushed Oreos on top? haha
Well ever since I came up with my Chia Chocolate Pudding recipe, I've had my mind set on using it to make a clean version of "dirt" dessert.

I already knew how to make the pudding and the coconut whipped cream, the only thing that I needed to figure out was a good paleo/glutenfree/nonprocessed chocolate cookie that crumbled easily.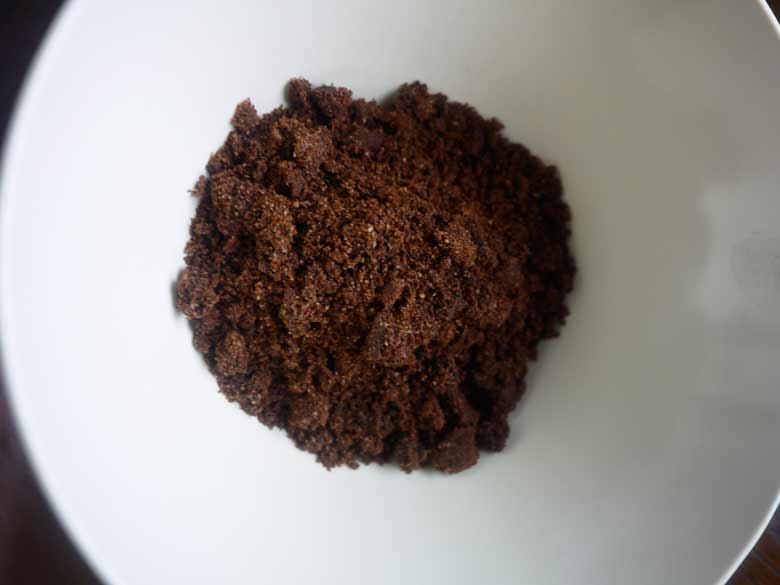 Which is how these Chocolate Crumble Cookies came to be.
I've kind of been obsessed with them.
Not so much as dessert cookies but as chocolate crumbles. I've topped oatmeal, yogurt, and coconut ice-cream with these cookies crumbled up.
It is SO good.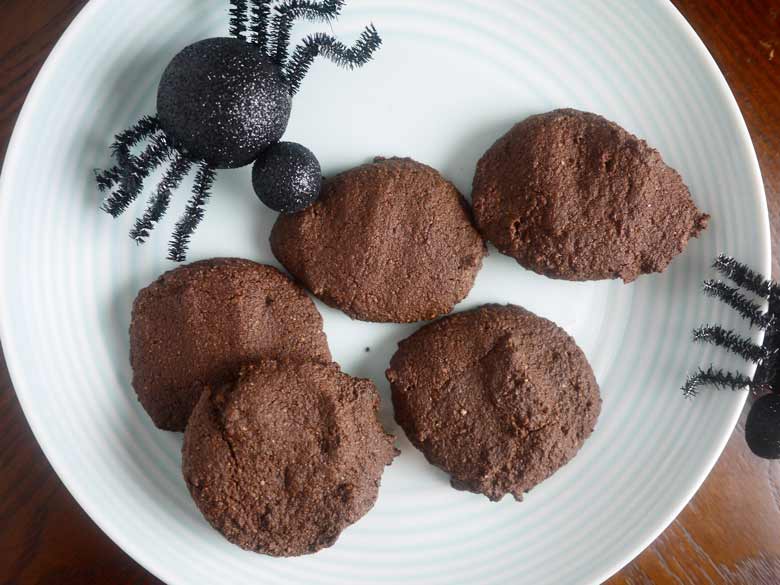 I know, I know… oatmeal and yogurt aren't Paleo.
But I still like to eat gluten-free steel cut oats and Siggi's Icelandic yogurt from time to time.
They are great sources of fiber and probiotics… and taste great.
Ah, I'm off on a tangent, back to this Halloween dessert!
I made all the preparations for this Clean Dirt the night before and then put everything together the next day.
First, I made the Chia Chocolate Pudding and left it in the fridge over night. I also left a can of Savoy coconut cream in the fridge overnight.
Then, I made the Chocolate Crumble Cookies.
The next day, I made the Coconut Whipped Cream, crumbled up some of the Chocolate Crumble Cookies and layered everything to make "dirt".
I topped it all off with my favorite organic gummy worms, which I got from Nuts.com (my favorite place to get almond flour, dried fruit, and goodies). And then happily scarfed it all down. Enjoy!
Clean "Dirt" (paleo, GF)
A healthy take on pudding covered in cookie crumble dirt.
Ingredients
For the Chia Chocolate Pudding:
For the Chocolate Crumble Cookies:
For the Coconut Whipped Cream
Organic gummy worms (optional)
Instructions
To make the Chia Chocolate Pudding:
Put the coconut milk, honey, salt, and vanilla into a medium saucepan and heat over medium-high heat until it starts to boil.

Lower the heat to low and whisk in the cocoa powder until there are no more clumps left.

Turn the heat off and whisk in the ground chia seeds.

Divide the liquid into

4 ramekins

or parfait glasses and then put them into the refrigerator for 3+ hours. I left mine in over night.
To make the Chocolate Crumble Cookies:
Preheat the oven to 350 degrees.

Cover a cookie sheet in wax paper.

In a medium bowl, mix the almond flour, coconut flour, cocoa powder, salt, and baking soda together with a fork.

In a small bowl, whisk together the maple syrup and coconut oil until the mixture thickens a bit.

Pour the maple syrup/coconut butter mixture into the dry ingredients and whisk until everything is well blended.

Using a TBS sized spoon, scoop out spoonfuls of the batter onto the lined cookie sheets and press down on the batter to flatten it.

Put them into the oven for 6 minutes, then rotate the pan and leave them in for another 6 minutes.

Remove the pan from the oven and let the cookies cool.

This should yield about 7 cookies. ( 7 cookies is plenty to make Clean Dirt for 4 people, you may want to double the recipe if you are planning on making Clean Dirt for more than 4 people)
To make the Coconut Whipped Cream:
Put a can of coconut cream in the refrigerator overnight.

Remove the can from the fridge and open it. Take out the hardened cream part that is on the top part of the can and put that into a small bowl. Make sure to leave the watery liquid in the can.

Put the maple syrup and vanilla into the coconut cream and whip with a handheld electric mixer until peaks form.
To put everything together:
Take out the ramekins or parfait glasses full of the Chia Chocolate Pudding.

Put some Coconut Whipped Cream on top of each glass/cup of the chocolate pudding. I used up all of the coconut whipped cream and divided it equally among each glass.

Crumble up 4 of the Chocolate Crumble Cookies into a bowl. Top each ramekin or parfait glass with the crumbles.

( It could also be good to make layers of the cookie crumbles in between the pudding and whipped cream too!)

Enjoy!
Disclosure: This post contains Amazon affiliate links. This means that if you click on a link and make a purchase, I will receive a small commission at no cost to you.