Honey Avocado Mango Smoothie Bowls (Paleo)
I've been on a mission lately to come up with smoothie recipes without bananas in them. It's not because I don't like them; I actually love frozen bananas in smoothies BUT my husband is allergic to them. And I feel guilty sometimes that he can't enjoy smoothies with me.
So, after some recipe testing, and falling in love with these Honey Avocado Mango Smoothie Bowls… I realized that avocados were a great banana replacement!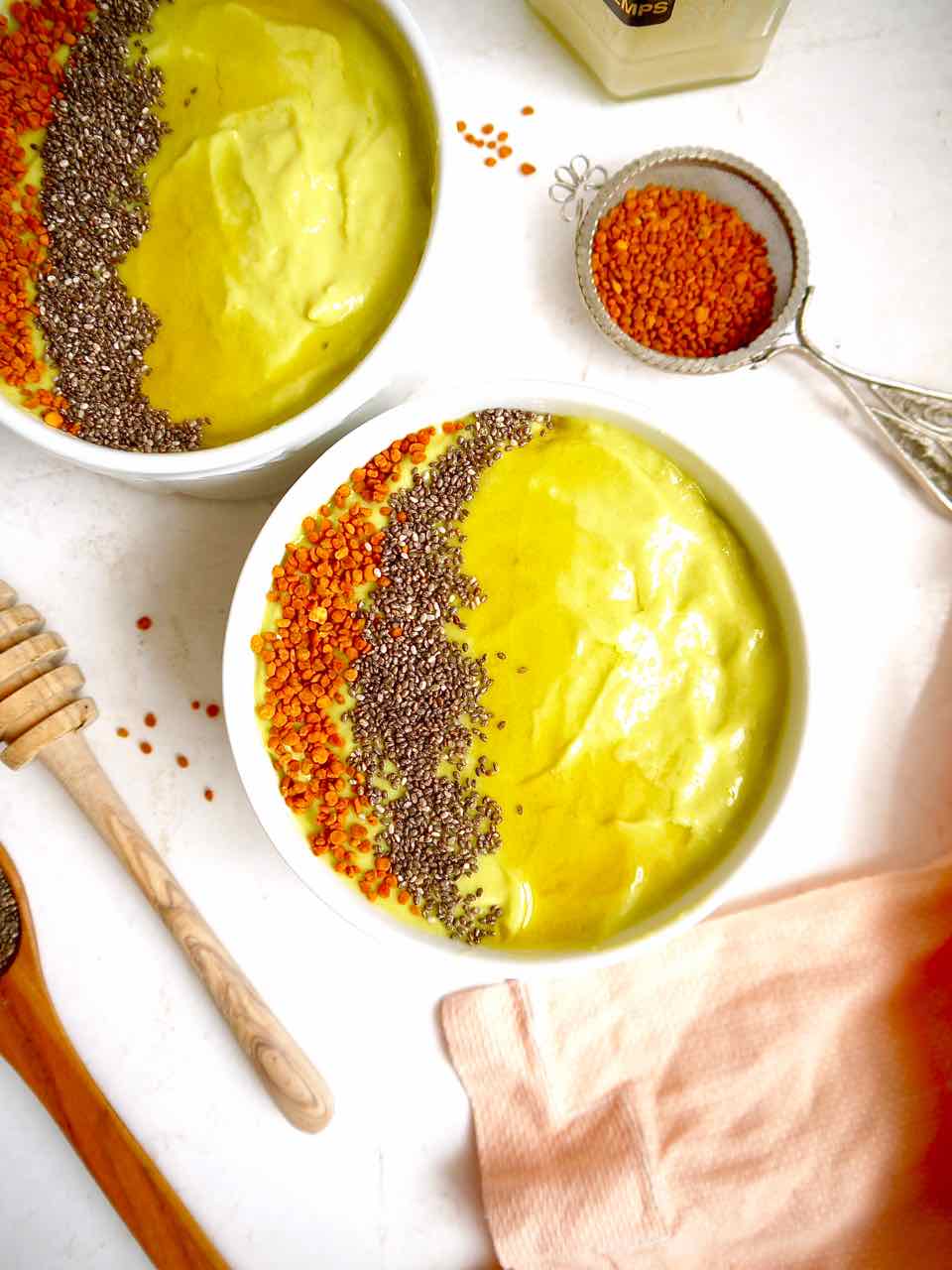 Avocados really are wonderful in smoothies because they add a creamy texture and give the smoothie extra volume, in a similar way that bananas do.
And when I say avocado, I'm speaking about frozen avocados. 🙂
Once your avocado is ripe, all you have to do is remove the pit and outer shell, chop up the avocado and put the pieces into a plastic bag and freeze it.
I like to have several bags of frozen avocado ready in the freezer so I can make smoothies when the urge strikes me.
And trust me, the urge to make these Honey Avocado Mango Smoothie Bowls has been strong! They are so good!
Even my mother, we doesn't like smoothies at all, loved them… and that is saying something!
These smoothies have a nice sweetness and slight mango and honey flavor to them. They are also SUPER creamy thanks to the avocado… which you can taste, but in a refreshing way. If that makes sense. haha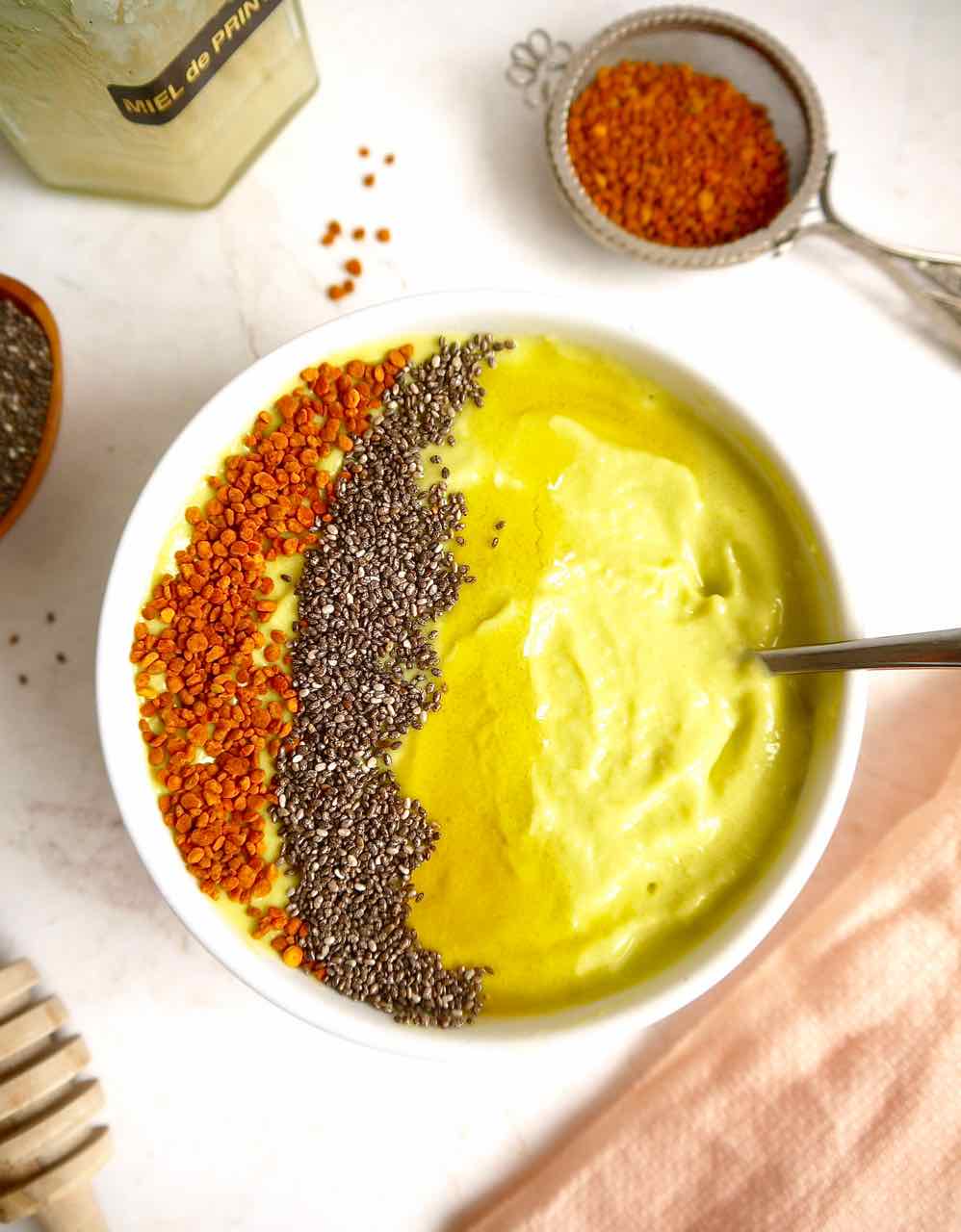 Anyways, these Honey Avocado Mango Smoothie Bowls have so much goodness in them, that your body will be thanking you for all the nutrients. ( while your taste buds will be thanking you for for the tasty goodness)
For starters, avocados are a nutrient dense food with nearly 20 vitamins and minerals inside! Plus they are full of healthy fats. They are actually the only fruit, yes avocado is a fruit, that contains heart-healthy monounsaturated fat.
As for the mango, 1 cup of mango has 100% of your daily recommended intake of vitamin C.. and there are 3 cups in here!
I used manuka honey in this smoothie, which is a honey I recently discovered and really enjoy. Basically it's a type of honey from New Zealand that has 4x the nutrients as regular honey. It can help kill bacteria and reduces inflammation. It's really quite interesting to learn about the benefits and uses of mauka honey.
Manuka honey can be expensive, but I found one that was a bit more reasonable in price and that tastes great from a company called Wedderspoon.
I topped my Honey Avocado Mango Smoothie Bowl with manuka honey as well. So yum!
I also topped it with organic bee pollen and chia seeds.
Organic bee pollen is a really interesting health food. It is the food given to young bees and it is comprised of almost all of the nutrients required by the human body to thrive. Bee pollen is used to relieve allergies, boost the immune system, lower cholesterol naturally, and reduce inflammation.
I noticed on the nutrition label that bee pollen had protein in it, and after some research, I found that, "bee pollen contains more protein than any animal source and more amino acids than equal weight of eggs or beef." It is actually almost 40% protein.
The last thing that I like to top this smoothie with is chia seeds, which I love eating as much as possible. These little guys pack quite the healthy antioxidant punch and are full of fiber, iron, calcium, and omega-3s.
The moral of the story here is that these Honey Avocado Mango Smoothie Bowls are SUPER good for you. Which is kind of awesome because you are basically a superfood ice-cream. Yes please.
Honey Avocado Mango Smoothie Bowls (Paleo)
A delicious and healthy smoothie bowl made with avocado, mango and honey.
Ingredients
Smoothie ingredients:
1 frozen avocado
3 cups diced frozen mango
1 cup almond milk
2 tsp honey ( I used Manuka honey)
To sprinkle on top:
Instructions
Put the frozen avocado, frozen mango, almond milk and honey into a blender and mix until well blended. You will need to push down on the sides of the blender several times until everything mixes.

Pour the smoothie into bowls and top with chia seeds, organic bee pollen, and honey.

Makes 4 cups of smoothie.

Nutrition
Serving: 1bowlCalories: 337kcalCarbohydrates: 55gProtein: 3.5gFat: 15.2gPotassium: 909mgVitamin A: 2270IUVitamin C: 104mgCalcium: 260mgIron: 1.2mg
Disclosure: This post contains Amazon affiliate links. This means that if you click on a link and make a purchase, I will receive a small commission at no cost to you.