Grain-Free Morning Matcha Loaf (Paleo, GF)
Grain-Free Morning Matcha Loaf (Paleo, Gluten-free) recipe. An antioxidant-full morning loaf made with almond flour, coconut flour, and coconut cream.
It has been quite a while since I have posted a Paleo loaf on this blog (I blame my crazy old oven!). But now that I have a fully functioning reliable oven, I have found my desire to bake come back in full force.
Well, it did until I got sick. I have had a cold for over a week now… a lingering, heavy, head cold that has taken my desire of food away. Now, you know it's bad when I do not want to eat! haha I have been basically surviving on chicken soup and tea all week long.
And now that I am finally feeling better, I decided to bake something with my favorite tea. This Grain-Free Morning Matcha Loaf.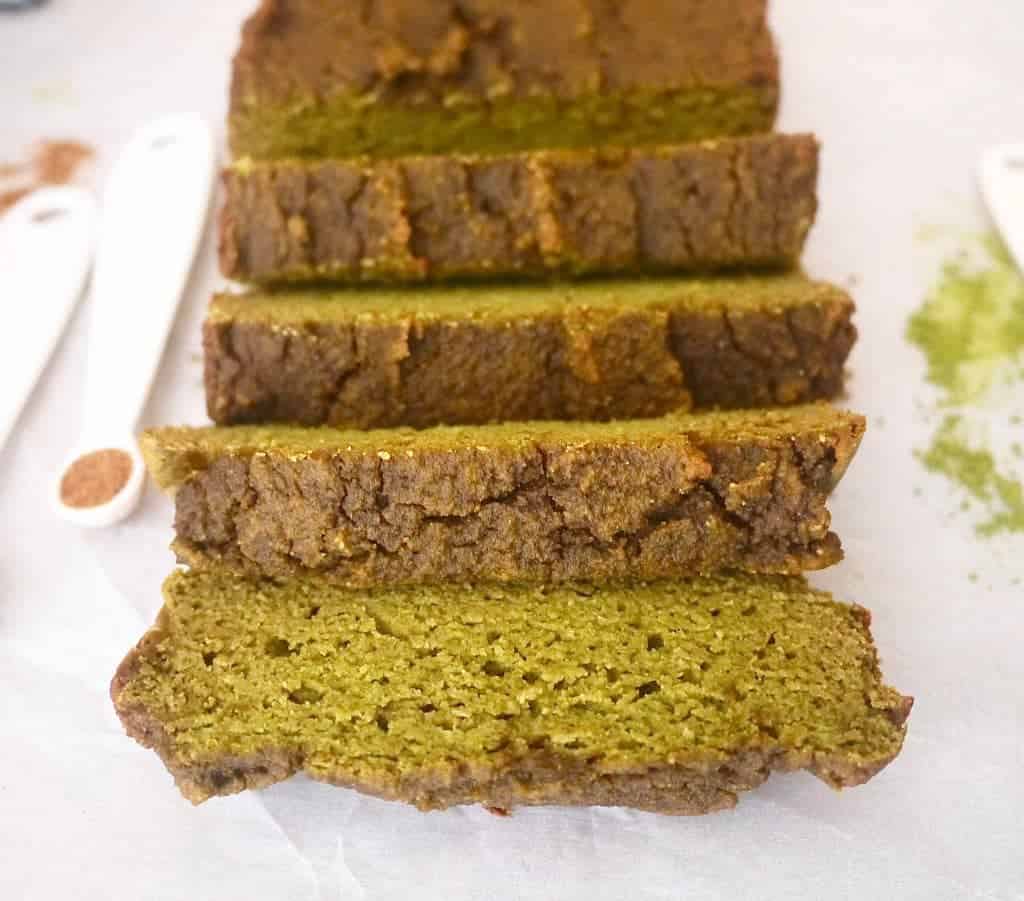 Of course I bake something when I feel better. It's just what I do! So I played around with a prior recipe that I had been testing out and this beautiful cinnamon-full, green tea matcha fueled loaf is the result.
It is delicious. I don't know if it would be matcha over-kill, but I think it would taste great with a cup of matcha tea… or any beverage for that matter, at any time of day.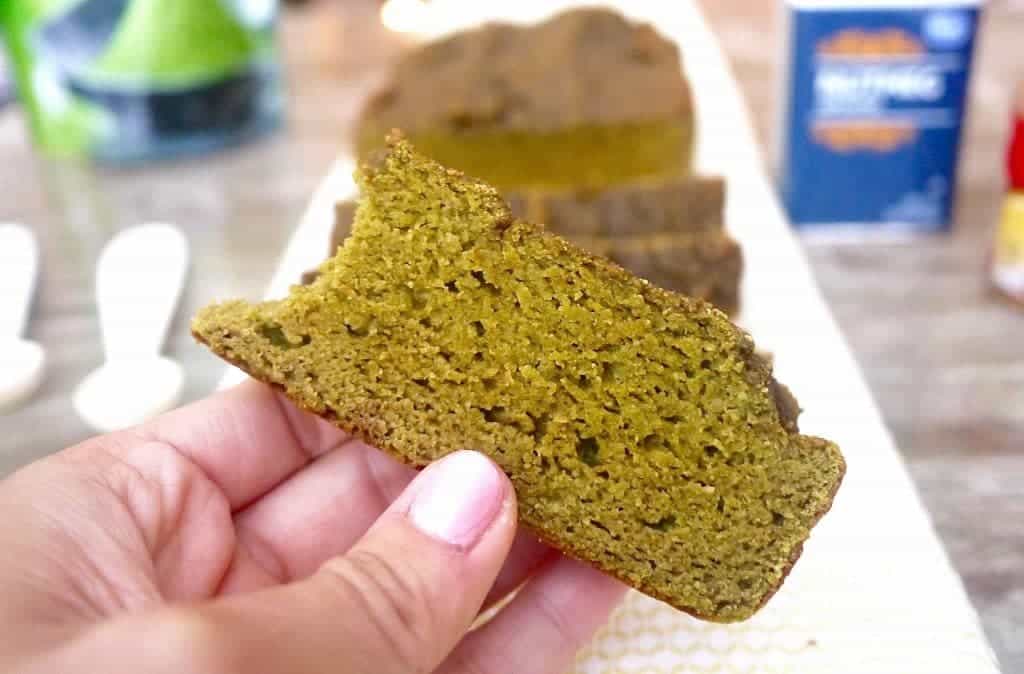 As you can probably tell already, I can not get enough matcha in my life! What could have been a fad, has become a permanent staple in my house.
Why? Well I feel better when I drink matcha tea than when I drink coffee. When I drink coffee, I get an instant rush then a crash; I also feel jittery and dehydrated. But when I drink matcha tea, I feel calm, focused, and healthy. I swear, my body loves and craves all of the antioxidants in matcha.
One cup of matcha tea has as many antioxidants as 10 cups of green tea!
I also just really love the taste of matcha tea. I have heard some people find it to be bitter, but I have really grown to love the flavor. Plus, I've found that if you add a little honey and almond milk or coconut milk to your cup, it is just divine!
Since my body asks for it, I feel like I need to listen to it. So obviously, that means make a Grain-Free Morning Matcha Loaf.
My personal favorite kind of matcha is from Kiss Me Organics. I like to buy the Culinary Grade Green Tea Powder, so that I can do lots of baking with it. 🙂
One thing that I noticed, is that my baked goods are green for only about 2 hours after baking them, then they kind of turn a dark greenish brownish color. Has anyone else encountered this? I did some research and realized that to keep the color from the matcha tea powder, an acid needs to be added to the batter, such as lemon or apple cider vinegar, so I'll play around with that and let everyone know how that goes.
Grain-Free Morning Matcha Loaf (Paleo, GF)
Grain-Free Morning Matcha Loaf (Paleo, GF) recipe. An antioxidant-full morning loaf made with almond flour, coconut flour, and coconut cream.
Instructions
Preheat the oven to 350 degrees. Line a 9 in x 5 in loaf tin with parchment paper or wax paper.

In a medium bowl, whisk together the maple syrup and coconut cream together. Add the apple sauce to the bowl and whisk. Add the 4 eggs to the bowl and whisk again, until well blended.

In a separate bowl, mix together the almond flour, coconut flour, matcha green tea powder, baking soda, cinnamon, and nutmeg.

Pour the dry ingredients into the bowl of wet ingredients and mix well.

Pour the batter into the lined loaf tin and pat down the top of the batter with a spatula to even it out.

Bake for 37-40 minutes, until the center has hardened and the loaf has cooked through.
Nutrition
Calories: 165kcalCarbohydrates: 13gProtein: 6gFat: 10gSaturated Fat: 4gPolyunsaturated Fat: 0.4gMonounsaturated Fat: 1gTrans Fat: 0.01gCholesterol: 65mgSodium: 94mgPotassium: 72mgFiber: 4gSugar: 7gVitamin A: 174IUVitamin C: 0.3mgCalcium: 44mgIron: 1mg
Disclosure: This post contains Amazon affiliate links. This means that if you click on a link and make a purchase, I will receive a small commission at no cost to you.