Gingerbread Roasted Almonds (Paleo, GF)
It's been gingerbread season in my house this month, and I don't see that stopping any time soon. Gingerbread is such a satisfying and festive flavor this time of year and I've been enjoying incorporating it into different recipes… as you can see.
These Gingerbread Roasted Almonds take roasted almonds to a whole other level! The almonds are roasted in a maple and blackstrap molasses sauce that turns into a crisp spiced candy coating. NOM. These roasted almonds make for a delicious gluten-free, paleo, grain-free, dairy-free snack OR would be a wonderful hostess gift. 🙂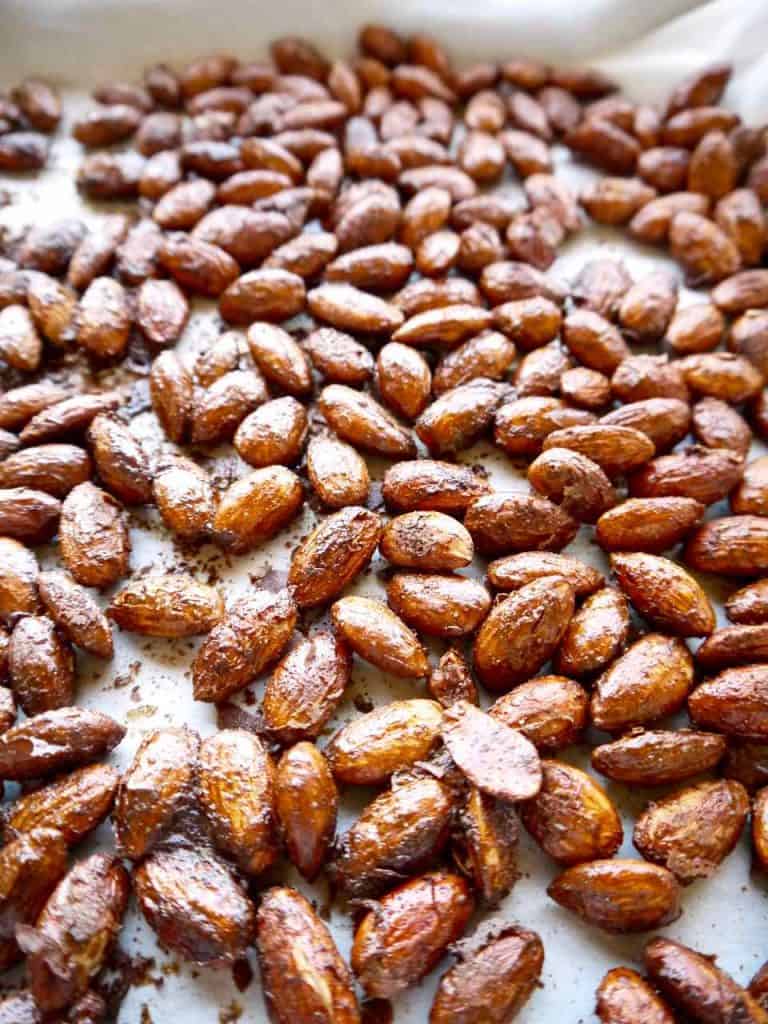 I got the idea to make these Gingerbread Roasted Almonds at a recent trip to Disney World. Which, I have to say, as magical and festive as it is this time of year, it's a bit too crowded for me.
My father pointed out a bag of gingerbread popcorn in one of the Disney stores, and mentioned how delicious that sounded. However, I thought that it was a bag of gingerbread roasted almonds and I thought that that did indeed sound delicious! The popcorn was covered in a coating that turned it dark in color, which made it look like almonds.
When I realized it was popcorn, I did think that it sounded delicious, but my mind became focused on how this would be a great idea for roasted almonds.
So as soon as I got home, I decided to Gingerbread Roasted Almonds needed to happen.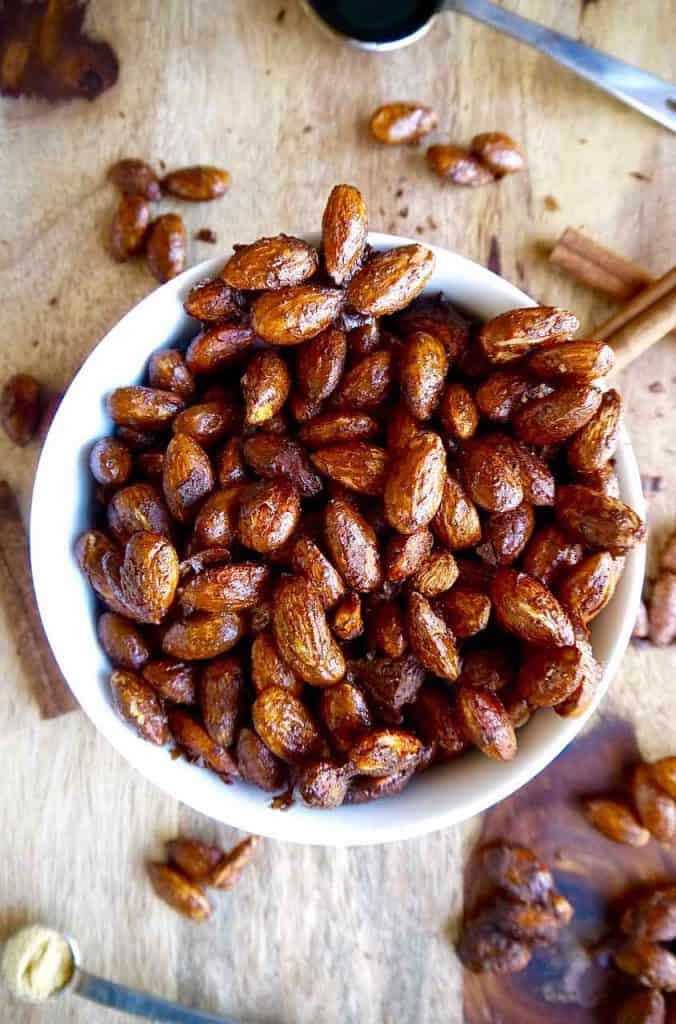 They are actually really easy to make, which is perfect when you don't have much time during the mad rush of the holidays.
All you have to do is roast 2 cups of almonds at 350 degrees F for about 5 minutes.
Then, in a small bowl, mix together some blackstrap molasses, maple syrup, ginger, cinnamon, cloves, and nutmeg. This turns into a thick molasses gingerbread sauce that smells SOOO good.
Pour the the thick molasses gingerbread sauce on top of the almonds and toss, then roast for about 15 minutes.
Boom. All done. The house smells amazing while these roast and you have Gingerbread Roasted Almonds at your fingertips!
I love how the thick molasses gingerbread sauce hardens while the almonds roast, creating a thick crisp spiced candy coating on top.
This results in lots of wonderful Gingerbread Roasted Almond chunks…. which is my favorite part of this recipe!!
Enjoy!
Gingerbread Roasted Almonds ( Paleo, GF)
Almonds are roasted in a maple and blackstrap molasses sauce that turns into a crisp spiced candy coating
Instructions
Preheat your oven to 350 degrees F.

Cover a cookie sheet with parchment paper. Evenly spread out 2 cups of almonds onto the cookie sheet and bake them for about 5 minutes.

Remove the almonds from the oven, but keep the oven on.

In a small bowl, mix the maple syrup, blackstrap molasses, cinnamon, ginger, cloves and nutmeg.

Put the almonds into a larger bowl and top with the maple/molasses liquid and mix until the almonds are coated.

Evenly spread out the almonds onto the lined cookie sheet again and bake for 15 minutes.

Let the almonds cool on the pan for several minutes.
Disclosure: This post contains Amazon affiliate links. This means that if you click on a link and make a purchase, I will receive a small commission at no cost to you.