Fall Chocolate Bark with Dried Apples and Roasted Pepitas
This Fall Chocolate Bark with dried apples and roasted pepitas is the ultimate homemade Fall chocolate bark recipe. It is full of Fall spices like nutmeg and cinnamon and lots of sweet yet salty flavors.
If you were looking for a chocolate dessert that screams FALL, then look no further!
This Fall Chocolate Bark is full of the best Fall flavors like apple, toasted pumpkin seeds, maple syrup, cinnamon, nutmeg, and cranberries.
The chocolate has a crisp texture and each bite is filled with salty, sweet, and Fall spice flavors. It is delicious!
It's also easy to make and a great dessert to bring to a party, make as a gift, or make for yourself.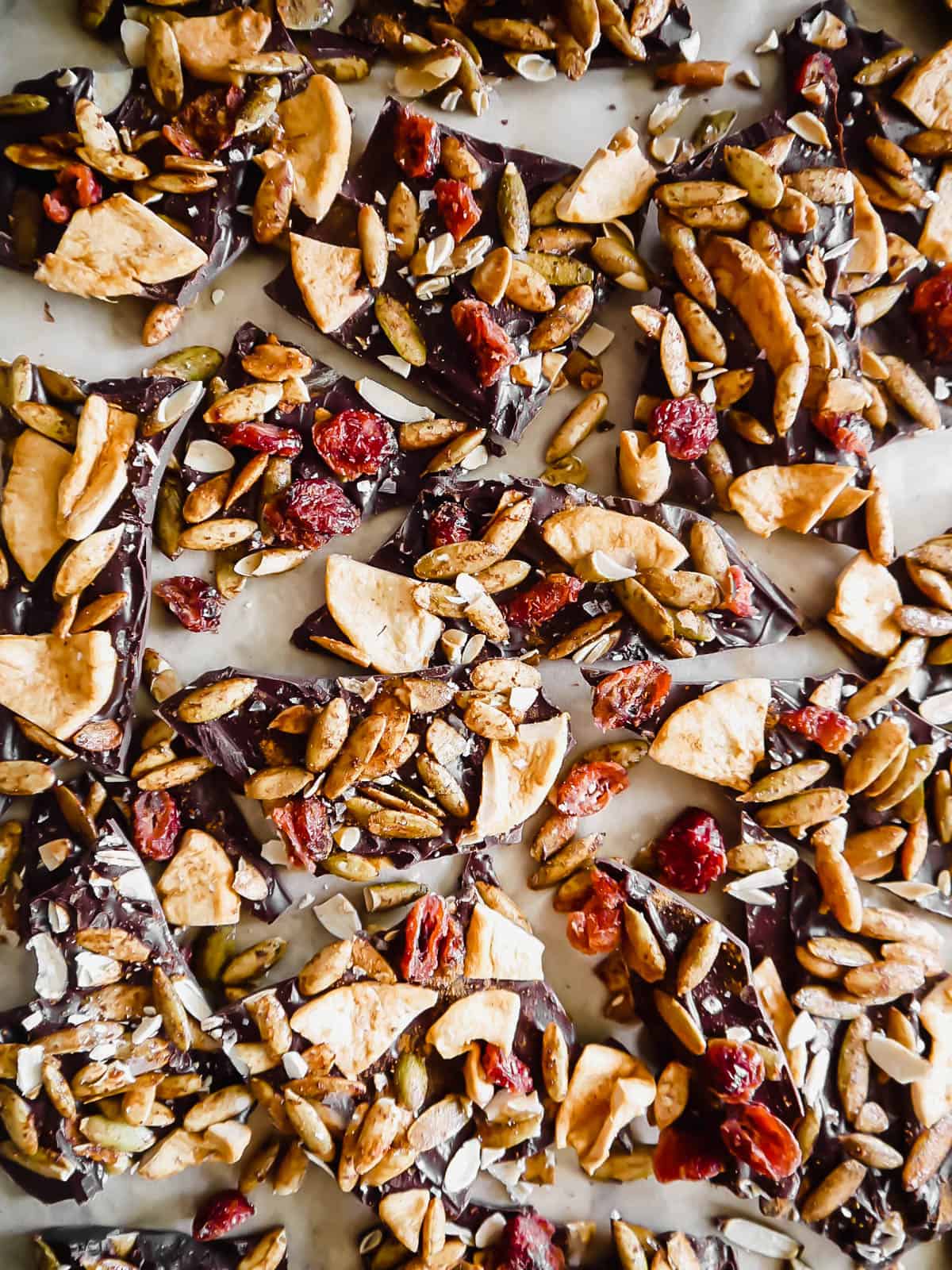 Why I love this Fall Chocolate bark:
It is allergy friendly! This recipe is nut-free, dairy-free, and gluten-free. It is also naturally Vegan.
The pepitas are roasted and have the most wonderful toasted nutty flavor because of it. They also have a hint of maple sweet flavor!
You get all the health benefits of pepitas in every bite. They are full of nutrients, healthy fats, antioxidants, magnesium, zinc, iron and copper.
This bark makes for a great snack, dessert or gift!
Roasting the pepitas with maple syrup and cinnamon makes your house smell amazing.
Ingredients needed
dried soft apples– make sure that the apples are the soft dried type and not the hard chip-like apples.
pepitas/ pumpkin seeds– these are the type of pumpkin seeds that are green and without a shell.
dried cranberries– without added sugar is best.
maple syrup– pure maple syrup and not a type of melted sugar is what should be used.
cinnamon– Ceylon cinnamon is best.
nutmeg– it can be ground yourself or purchased pre-ground.
cloves– ground cloves adds to the mixture of Fall spices.
ginger– ground ginger adds a nice warm spice.
semi-sweet chocolate– use any kind that you like or that suits your dietary needs.
sea salt– I like the chunky Maladon sea salt flakes for desserts like this.
How to make it
(1) Roast the pumpkin seeds.
(2) Melt the chocolate.
(3) Spread out the melted chocolate on a cookie sheet.
(4) Sprinkle with the toppings (dried apples, roasted pumpkin seeds, dried cranberries, spices, and salt).
(5) Refrigerate or let cool to room temperature.
Tips and Tricks
Let the pepitas cool before putting on top of the chocolate. They harden and develop a bit of a sweet crisp layer over them once they have cooled a bit.
Use high quality chocolate. This affects the taste of your whole dessert, so choose a chocolate that you like the taste of and that fits your dietary needs.
Have all toppings prepped in advance. Once you have your chocolate melted and spread out on the pan, it is best to quickly sprinkle all of the toppings on top so that it doesn't start to harden before you have the chance to. So you should roast the pepitas first, cut the dried apples and have all the other toppings measured out and ready.
Chocolate bark variations
If you have the desire to make this chocolate bark differently, here are some add-ins you could try.
nuts– sliced almonds, walnuts, or peanuts could work.
seeds– sunflower seeds, hemp seeds, or chia seeds.
dried fruit– raisins, dried apricots or any other dried fruit.
coconut– shredded or flaked coconut.
pretzels- crushed up.
pumpkin spice– this can add an extra Fall flavor element to the bark.
Dietary tweaks
How to store it
In an airtight container in the fridge. It should last 2-3 weeks in the refrigerator.
At room temperature, in an airtight container. It should last 1 week this way.
Other Fall festive treats you may enjoy:
Paleo Pumpkin Pie Chocolate Chip Cookies
Pear and Blueberry Pumpkin Cookie Cobbler
❤️ Don't forget to check out my favorite Thanksgiving recipes here! ❤️
Fall Chocolate Bark with Dried Apples and Roasted Pepitas
This Fall Chocolate Bark with dried apples and roasted pepitas is the ultimate homemade Fall chocolate bark recipe. It is full of Fall spices like nutmeg and cinnamon and lots of sweet yet salty flavors.
Instructions
Preheat oven to 350 degrees F. Cover a cookie sheet in aluminum foil.

Put the pepitas into a medium bowl and cover in maple syrup. Mix. Add the cinnamon, nutmeg, ginger, and cloves, and mix. Pour the pepitas onto an aluminum foil lined baking sheet, and spread them out. Bake for 12-15 minutes. Remove the roasted pepitas from the oven and let cool.

Melt the chocolate. You can do this by putting the chocolate into a microwave safe bowl and microwaving it in 30 second increments, mixing in between each increment. You can also melt the chocolate on the stovetop.

Put parchment paper on a cookie sheet, pour the melted chocolate on top and spread it out with a spatula. It should be about 1/4 inch thick ( it won't fill the whole cookie sheet, but a large portion of it).

Sprinkle the dried apples, roasted pepitas, dried cranberries and salt on top of the melted chocolate. ( Optional- add a pinch of cinnamon, nutmeg, ginger, and cloves on top as well)

Refrigerate the bark for an hour before cutting into pieces. Then place in an airtight container and store in the fridge for 2 weeks. If you don't want to refrigerate it, you can let the bark cool to room temperature for 2-4 hours, then cut it and and store in an airtight container at room temperature for 1 week.
Disclosure: This post contains Amazon affiliate links. This means that if you click on a link and make a purchase, I will receive a small commission at no cost to you.