Dried Lemon Crusted Baked Chicken (Paleo, Whole30)
Dried Lemon Crusted Baked Chicken recipe. A twist on the classic baked breaded chicken recipe, made with almond flour and ground dried lemon slices. Whole30, Paleo, Grain-free, Gluten-free, Dairy-free, Clean.
For all you lemon lovers out there, this recipe is for you! This Dried Lemon Crusted Baked Chicken is a twist on the classic baked breaded chicken recipe. It's made with a coating of almond flour and ground dried lemon slices. Yes, dried lemon slices!
By using dried lemons, the lemon flavor is extra potent and it is part of the outer coating/ breading that surrounds the chicken in a way that regular fresh lemons can't be.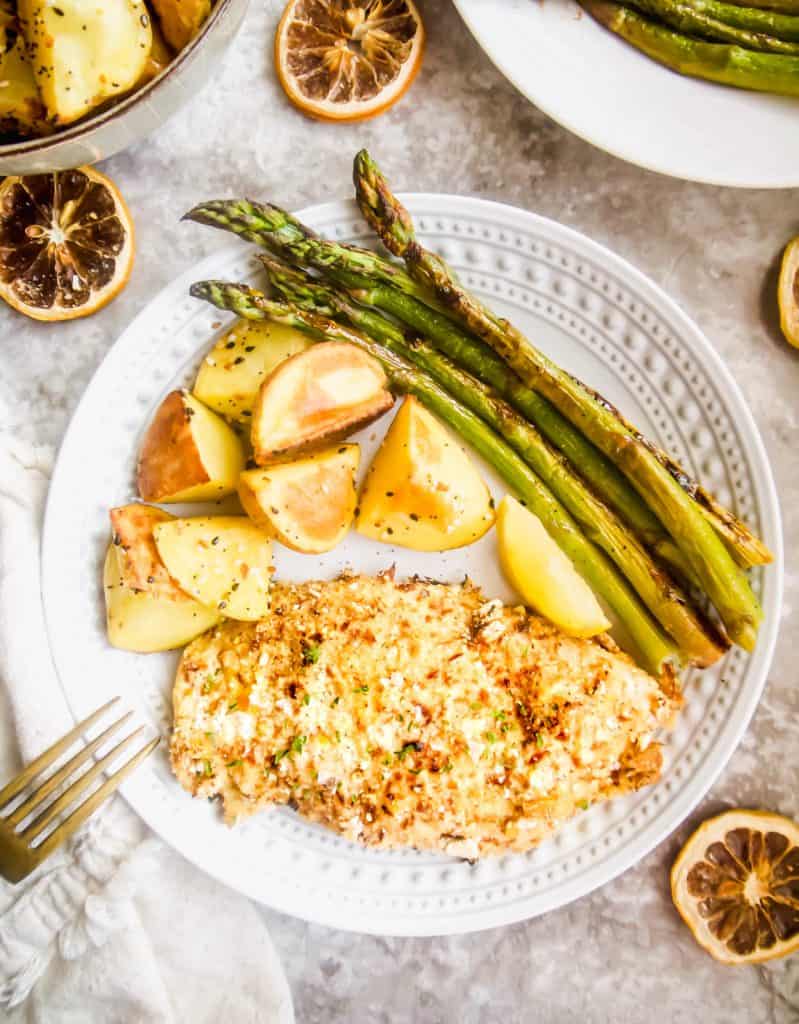 To be totally honest, I had no idea that dried lemons existed until recently.
And I feel a little embarrassed about it because my husband and I are the King and Queen of dried fruit. We always have a bunch in the house and fridge because they make the best Paleo snacks.
At any given time, we have the following in our house:
Raisins
Dried figs
Dates
Dried pineapple
Dried mango
Dried cherries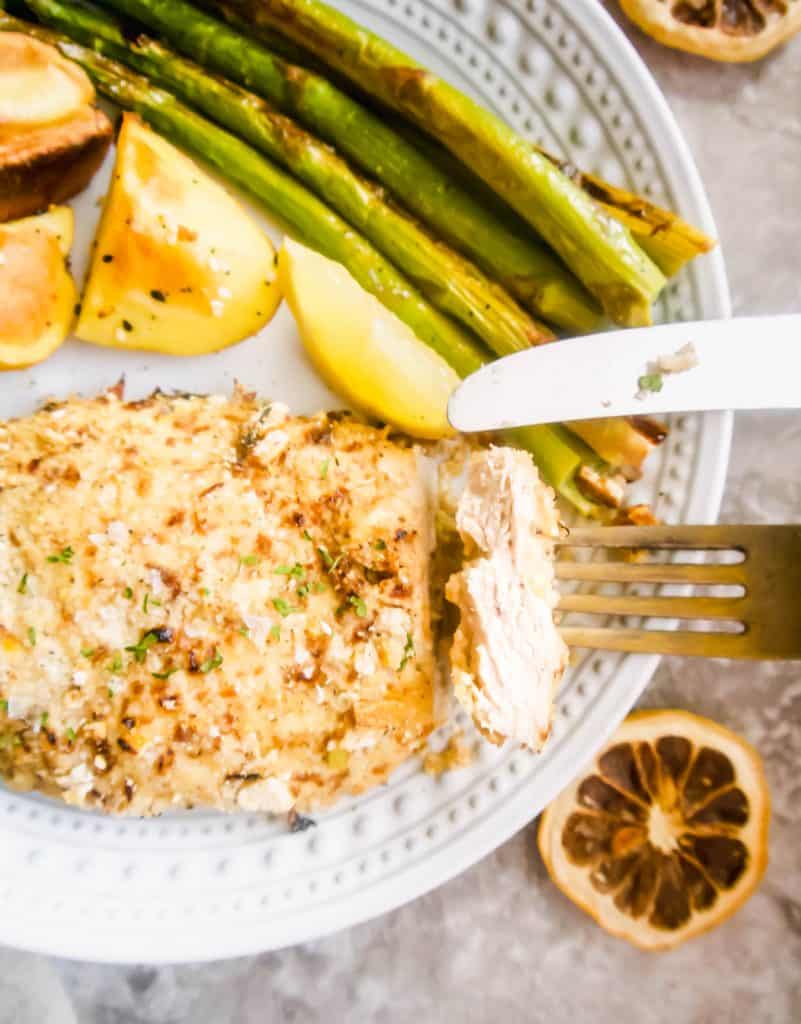 Anytime we go on a road trip, or even leave the house, one of us has a bag of almonds and dried fruit on us… in case hunger strikes.
However, I just never knew that dried lemons were a thing.
Until I tried them out from Nuts.com. I became intrigued on how else to use them and found that you can use dried lemons in tea, and in lots of Persian recipes.
Dried lemons smell absolutely amazing, and would also be really pretty as decor. I'm thinking they'd be great for making your own potpourri.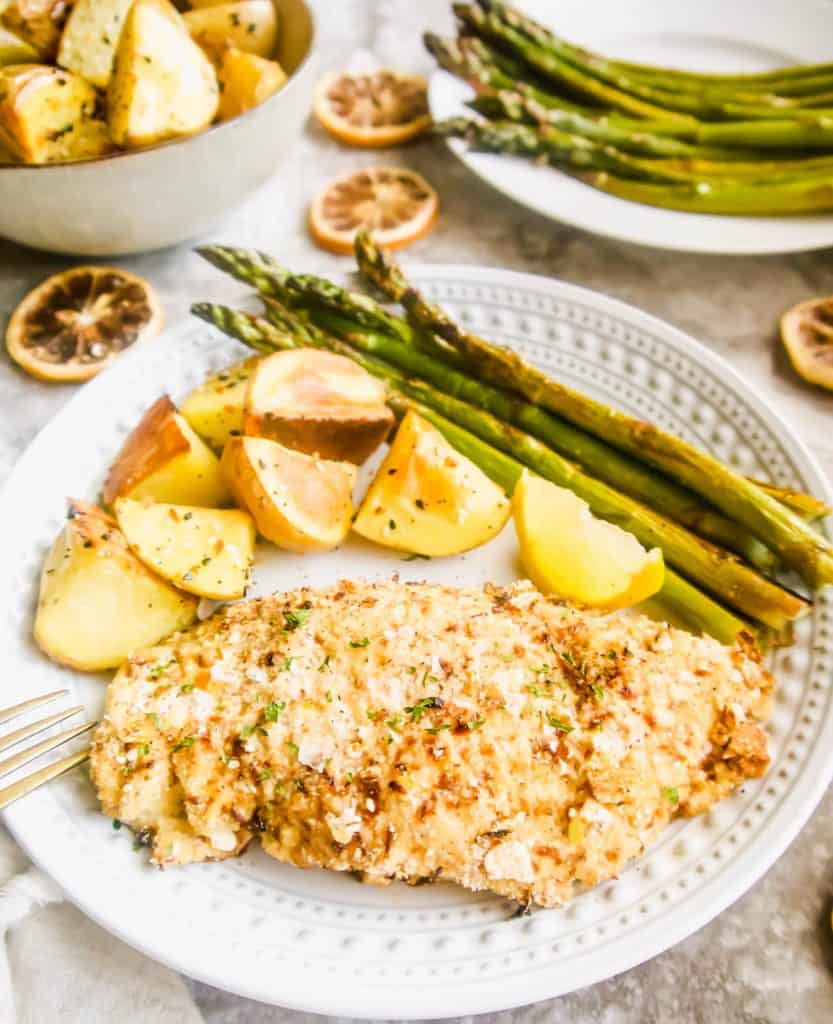 They also work really well with chicken! As this Dried Lemon Crusted Baked Chicken can attest to.
As I said before, if you love lemons and you love lemon and chicken, then you have got to try this recipe.
It's really simple, you just mix almond flour and ground up dried lemon slices together. ( I used my food processor to grind them up… the texture was a bit thicker than almond meal with larger chunks throughout).
Then you dunk your chicken into whisked egg, then into the dried lemon mixture and that is it.
You bake it, and wait for the baked breaded chicken deliciousness to be ready for you.
I love a good breaded baked chicken recipe, and I especially love making new culinary discoveries and using them to make a good breaded baked chicken recipe. ( Bonus points that this recipe is healthy, paleo, whole30, gluten-free and dairy-free!!)
Enjoy!
Dried Lemon Crusted Baked Chicken (Paleo, Whole30)
Ingredients
1.5 pounds  thinly sliced boneless skinless chicken breasts, (4 pieces)
1/2 cup  almond flour
½ cup ground dried lemons, (this was 9-10 dried lemon slices for me)
1/2 tsp salt
¼ tsp pepper
1 egg, , whisked
lemon juice to taste
Instructions
Preheat the oven to 375 degrees. Cover a cookie sheet in aluminum foil and grease it with olive oil.

Put dried lemon slices into a food processor and grind until desired texture. I ground mine until it was almost almond flour- like in texture with some larger pieces throughout.

Whisk one egg in a bowl and set aside.

Mix the almond meal, ground dried lemons, salt, and pepper in a bowl and then pour onto a plate.

Take one piece of chicken and dunk it in the whisked egg bowl, then dunk it into the dried lemon mixture, making sure it is fully coated, and place it on the cookie sheet. Repeat with the rest of the chicken.

Bake for 25 minutes-30 minutes or until the chicken looks golden brown and crispy/dry. Top the chicken with a little lemon juice before serving.
Disclosure: This post contains Amazon affiliate links. This means that if you click on a link and make a purchase, I will receive a small commission at no cost to you.