Creamy Beef Stew with Kale and Tomato (Paleo, Gluten-Free)
Creamy Beef Stew with Kale and Tomato. A delicious slow cooker crockpot recipe full of beef, kale, red peppers, and carrots and seasoned with paprika, tomato, nutmeg, and thyme.
I'm a HUGE fan of beef stew. I make it often as part of my Sunday meal-prep ritual. This past week, however, I decided to switch things up by adding coconut cream, rutabaga, kale, and red pepper to my stew. The result was a delicious, filling and comforting healthy beef stew made in the slow cooker. It has a creamy tomato flavor with a kick.
This recipe is naturally Gluten-free, Dairy-free, and Paleo. It also has an easy Whole30 option.
Table of Contents
Why this recipe works
its a great meal prepping meal.

If you make it on Sunday, you'll have Paleo beef stew for lunch or dinner for several days in the upcoming week. I also love this Hungarian beef stew recipe.

its got great flavor.

It is FULL of melt-in your mouth beef seasoned with paprika and rosemary, cooked carrots and rutabagas, flavorful kale and red pepper, and a tomato-cream sauce spiced with thyme and nutmeg.
The heat from the paprika and diced red pepper here is wonderful. It isn't too hot because it is softened by the coconut cream and the result is amazing deliciousness.

it cooks itself!

as soon as you have all the ingredients in your crockpot, it cooks itself for hours
Ingredients needed:
beef
garlic
onion
paprika
salt
pepper
tomato paste
dried rosemary
coconut flour
coconut cream
chicken stock
strained tomatoes
maple syrup ( omit for Whole30)
carrots
rutabaga
kale
red pepper
nutmeg
dried thyme
See recipe card below for a full list of ingredients and measurements.
Additions/Substitutions
Instead of onion: you can make this recipe with shallots. You can also use 2 tsp of onion powder instead of onion as well.
Instead of coconut cream: you can use coconut milk. You can also use a dairy-free creamer ( I have used nutpods creamer before and it worked great).
Omit the maple syrup here to keep this dish Whole30 compliant.
Instead of baby carrots: you can use regular carrots and cut them into 1.5-2 inch pieces. I like using 6 carrots because I like a lot of carrots in my stew.
Instead of rutabaga: you can use parsnips or potatoes ( sweet or regular). I can't always find rutabaga at the store so instead, I use parsnip.
Step by step stew instructions: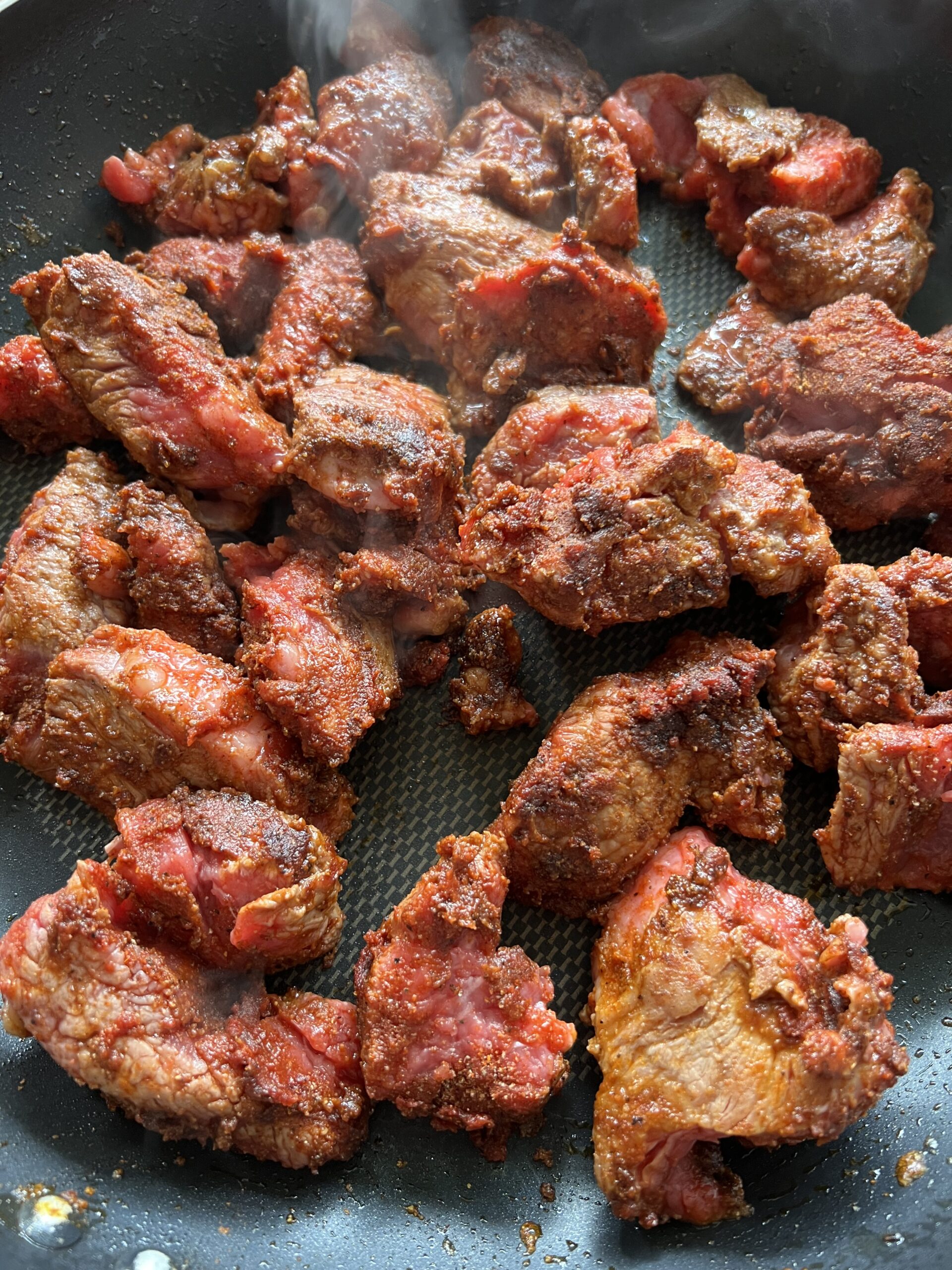 Step 1: Sear the meat.
Cook the onion, garlic, and tomato paste in a pan. Then add the stew meat, paprika, salt, pepper and rosemary and sear for a few minutes.
Step 3: Add the rest of the ingredients to the slow cooker and cook on high for 6 hours or low for 9 hours.
Step 2: Add the meat to the slow cooker then add some coconut flour to the meat and mix.
How to serve it:
on its own! It tastes amazing as is.
with other roasted veggies. I like to add roasted sweet potatoes or eggplant to a bowl and then add this stew on top of them.
on top of pasta! It gives the whole meal a stroganoff-esque vibe. You can use regular pasta, quinoa pasta, gluten-free pasta.
with a side of garlic bread or toast.
Storage:
In the refrigerator: in an airtight container for 3-4 days.
In the freezer: in a freezer safe container for up to 3 months.
FAQs
(1) How do I add more protein to beef stew?
Use bone broth instead of chicken broth. This adds a protein punch to the dish.

(2) What green vegetables are good for beef stew?
I like kale, as you can tell. But other options are green beans, swiss chard or collard greens.
(3) When should I add Kale to my soup?
Add it to the slow cooker along with the rest of the ingredients. It is a heartier green that can withstand the cooking. If you are worried just keep it on top of the slow cooker.
(4) What can I add to beef stew for flavor?
Here there is onion, garlic, rosemary, paprika, nutmeg and thyme seasoning the soup. But if you are looking for even more flavor add more or less maple syrup. You can also try some coconut aminos or chili powder for another flavor boost.
(5) How do I thicken Paleo stew?
Coconut flour, arrowroot powder or tapioca flour.
Other healthy slow cooker recipes you may enjoy:
Did you try this recipe? Please leave me a ⭐ review below!
Creamy Beef, Kale, and Tomato Stew (Paleo, Gluten-free)
A delicious slow cooker crockpot recipe full of beef, kale, red peppers, and carrots and seasoned with paprika, tomato, nutmeg, and thyme.
Ingredients
2 Tbs olive oil
2.5 pounds beef cubes ( steak tips, stew meat)
4 tsp minced garlic (This was 6 smaller cloves of garlic for me)
1 cup minced yellow onion ( this was one onion for me)
2 Tbs tomato paste
2 tsp salt
1 tsp ground black pepper
2 tsp paprika
1 tsp dried rosemary
1 Tbs coconut flour
1/2 cup canned coconut cream ( or coconut milk)
2 cups strained tomatoes ( Pomi is my favorite brand, made with only tomatoes)
2 cups chicken stock ( 1-2 cups)
1 Tbs maple syrup
2 cups baby carrots ( or 4-6 regular sized carrots cut into 1.5 inch pieces)
1 medium-large rutabaga peeled and diced ( or 2 parsnips)
4-6 cups chopped kale
1 cup diced red pepper
1/4 tsp ground nutmeg
1/2 tsp dried thyme
Instructions
In a small bowl, add the salt, pepper, paprika and rosemary and mix it all together.

Then, put the garlic and onion in the frying pan, along with the olive oil and heat over medium-high heat.

Mix the garlic and onion into the oil with a spatula and cook for 1-2 minutes. Add the tomato paste to the pan and mix and cook for 1 minute. Put the meat into the pan and pour the spices on top. Let the meat cook for 2 minutes, flip and cook for another 1-2 minutes.

Then, put the meat into the slow cooker. Scrape the pan with a spatula, putting everything into the slow cooker.

Put 1 Tbs of coconut flour on top of the meat in the slow cooker, mix with a spatula.

Then, put the coconut cream, strained tomatoes, chicken stock, and maple syrup into the slow cooker on top of the meat. Mix with a spatula.

Then put the carrots, diced rutabaga ( or parsnip), chopped kale, diced red pepper, nutmeg and thyme into the slow cooker. Mix one last time with a rubber spatula to evenly distribute everything in the slow cooker.

Cook on a high setting for 6-6.5 hours or on a low setting for 9 hours.

Mix the stew before serving and enjoy!
Notes
Note: my original recipe only called for 1 cup of chicken stock, but I find 2 cups results in a better liquid ratio.
Nutrition
Calories: 522kcalCarbohydrates: 30gProtein: 50gFat: 23gSaturated Fat: 11gPolyunsaturated Fat: 2gMonounsaturated Fat: 8gCholesterol: 120mgSodium: 1213mgPotassium: 1659mgFiber: 9gSugar: 15gVitamin A: 11713IUVitamin C: 102mgCalcium: 245mgIron: 8mg
Disclosure: This post contains Amazon affiliate links. This means that if you click on a link and make a purchase, I will receive a small commission at no cost to you.