Carrot Cake Breakfast Muffins (Paleo, GF)
Nothing beats a good cup of coffee with a fresh baked muffin for breakfast. Well, nothing except for Paleo muffins because who wouldn't prefer putting all-natural non-processed ingredients in their body?
I've been on a mission to develop as many "non-processed only" baked goods recipes as possible lately. Which is how these Carrot Cake Breakfast Muffins came about. Moist, sweet, and full of warm spices, these muffins are a pleasantly delicious addition to any morning… or anytime for that matter.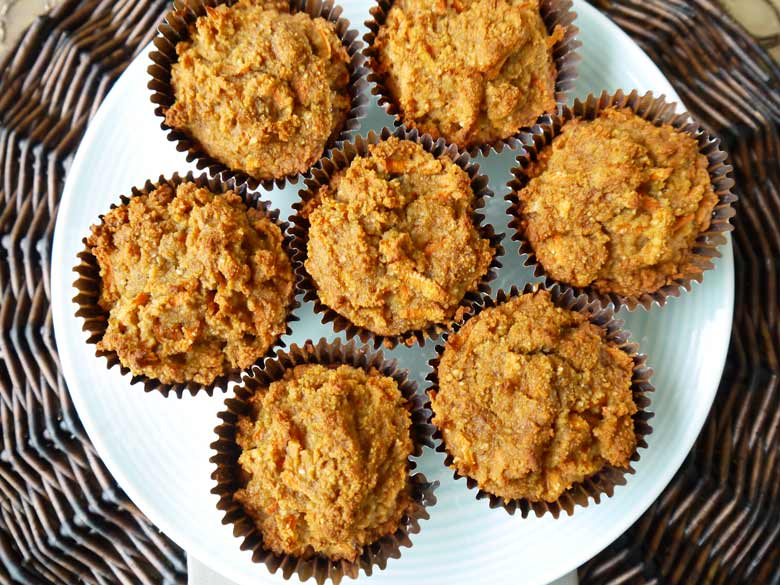 As per usual, I had some friends try these muffins out before posting the recipe to make sure that they were as good as I hoped… and they really loved them!
When it comes to Paleo recipes, I want to make sure that what I am making isn't just "good for Paleo", but that it's a genuinely good recipe that anyone would enjoy.
One of my friends recently asked me when I would be posting this recipe so that she could make them for breakfast, so here they are! 🙂
I just can't get over how refreshing, light, and delicious these are!
Sometimes carrot cake can be overly sweet, but these Carrot Cake Breakfast Muffins are perfect. Like little bites of airy cinnamon cake with carrots wonderfully immersed throughout.
Cinnamon + baked goods are truly a match made in heaven.
I bet raisins would be delicious in these muffins. Yum!!  And maybe walnuts too? I may not have mentioned this before, but I am allergic to all nuts except for almonds.
So, I don't really know what walnuts taste like, but since they are in many carrot cake recipes, I assume they must compliment the flavor nicely.
I like having lots of delicious breakfast options. I've already made my Honey Banana Cake like six times and I am happy to have another great breakfast option now. 🙂
It really does make a difference to have healthy non-processed baked goods for breakfast. Whether you are sitting down and enjoying the quietness of the day or are on the go, these Carrot Cake Breakfast Muffins are a delicious breakfast treat.
They also are perfect as snacks or dessert.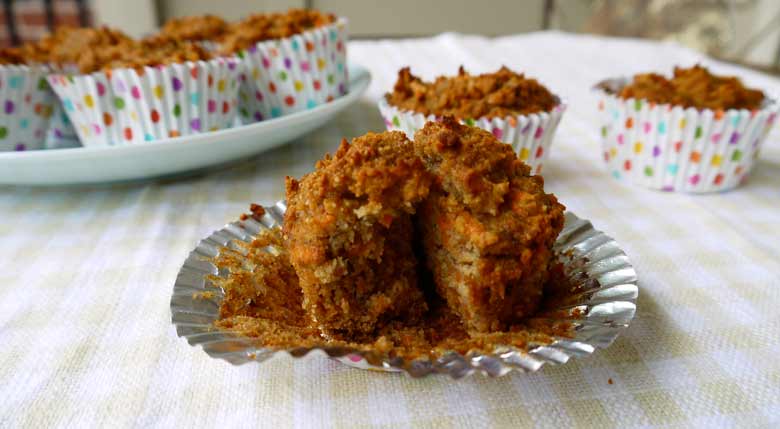 Let me know if there are any muffins, cakes or scone flavors that you want to see!
Carrot Cake Breakfast Muffins (Paleo, GF)
Instructions
Preheat the oven to 350 degrees.

Line a 12 cupcake pan with muffin tins.

Grate 5 large carrots. This should equal 1 1/2 cup of packed shredded carrots. Put this amount in a small bowl and set it aside.

In bowl 1, mix the almond flour, coconut flour, baking soda, baking powder, cinnamon, salt, cloves, and nutmeg with a fork. Set the bowl aside.

In bowl 2, mix the eggs, honey, vanilla, and coconut milk with an electric mixer until well mixed. Add the melted coconut oil to the bowl and mix with the electric mixer until well blended. Add the mashed banana to the bowl and mix with the electric mixer until well blended.

Put bowl 1 into bowl 2 and mix with an electric mixer.

Fold in the shredded carrots.

Bake for 30 minutes- switching the direction of the tray half way through.
Disclosure: This post contains Amazon affiliate links. This means that if you click on a link and make a purchase, I will receive a small commission at no cost to you.