Spirulina Guacamole (Paleo, Whole30)
Paleo Whole30 Spirulina Guacamole recipe. A delicious classic tasting guacamole made with avocado, onion, tomato, cilantro, spices and the superfood spirulina.
If you are looking for a way to add spirulina to your diet, but aren't sure how… this Spirulina Guacamole is a great option!
For starters, this recipe tastes just like delicious guacamole… its creamy, full of chunks of avocado, and it has a great boost of flavor thanks to the pieces of tomato, chopped cilantro, ground garlic powder and cumin inside.
You really wouldn't know that there is spirulina inside this guacamole… aside from looking at it!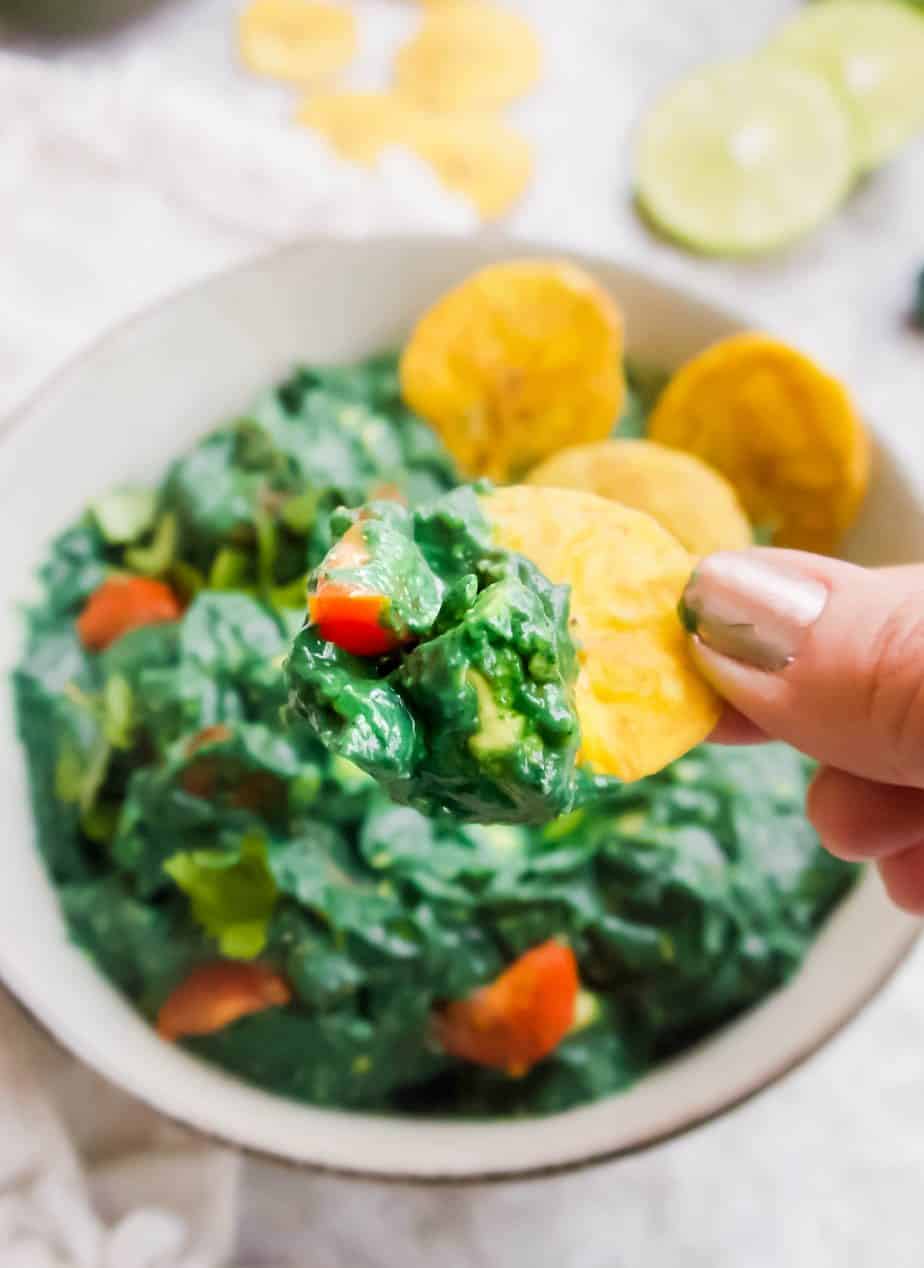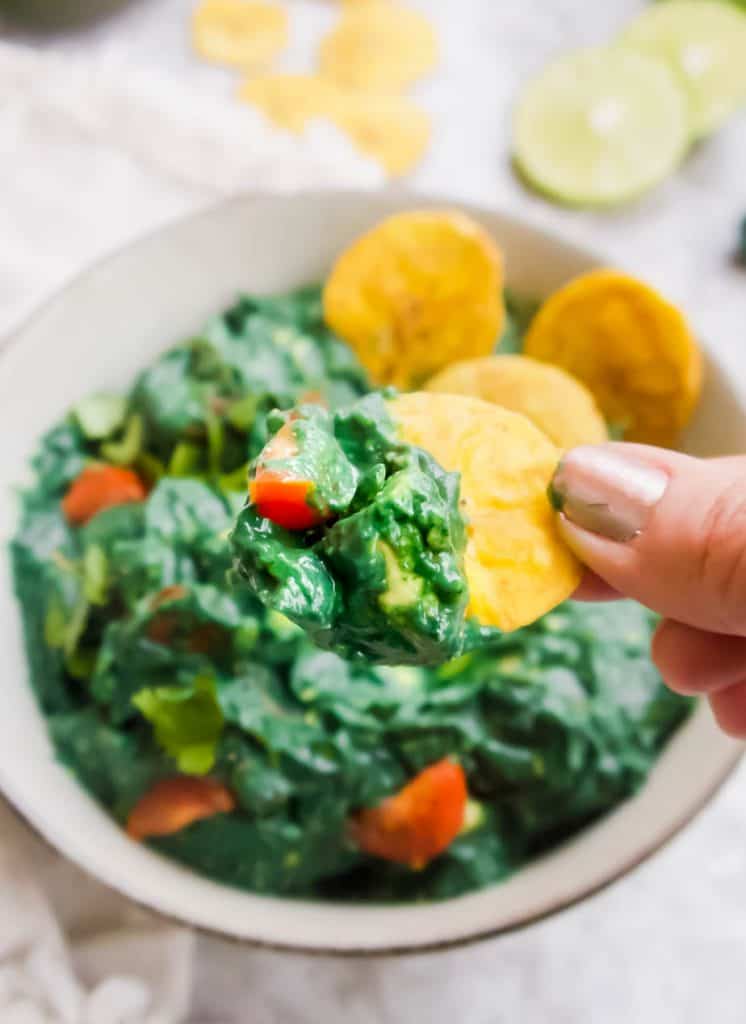 The spirulina does add a beautiful blue-green color to the guacamole… which I love. I feel like I could stare at the color all day!
And if you are feeling like adding extra spirulina to your guacamole, then you'll be able to taste the smokey, sea-weed-like, flavor of it… which tastes really yummy.
Don't worry… this Spirulina Guacamole does not taste like seaweed!
I didn't add enough for it to do so here, but if you want to add more to yours to get more of the health benefits of spirulina, then feel free. 🙂
What exactly is spirulina and what are it's health benefits, you may ask? According to Healthine, Spirulina is a blue-green algae that is full of vitamins A through E, iron, potassium, calcium, and antioxidants. It is a complete protein, and one serving of it ( 2 Tbs ) contains 16 grams of protein!
It is considered a superfood and antioxidant powerhouse! I have experimented adding it smoothies before and love it. Try this Spirulina Smoothie with Banana, Orange, and Mango if you want to add it to a delicious tropical smoothie.
I got this Spirulina from Nuts.com and on their website, they suggest ways in which to add it to your diet and one of their suggestions is guacamole… which sounded genius to me.
So I added it to my list of "recipes to make".
I have a Word document with a longstanding list of recipes that I want to either try to make at home for the blog OR that I have made and that I want to perfect for the blog.
"Make a spirulina guacamole" has been on my to-make list for sooo long.
I FINALLY decided to just do it and loved it. I can't believe it took me so long!
All in all, I love how this Spirulina Guacamole is a delicious classic tasting guacamole.
And I love how there is added spirulina and it can easily be customized to fit your flavor and spirulina needs. 🙂
Enjoy!
Spirulina Guacamole (Paleo, Whole30)
A delicious classic tasting guacamole made with avocado, onion, tomato, cilantro, spices and the superfood spirulina.
Ingredients
3 large ripe avocados
½- 1 lime juiced ( start with the juice of ½ of a lime , then add more to taste)
3/4 cup grape tomatoes quartered
1/3 cup diced white onion
1/2 cup chopped cilantro
1/2 tsp garlic powder
¼ tsp ground cumin
1/4 tsp salt
ground black pepper to taste
2 tsp spirulina powder
Instructions
Dice up the avocado and put it into a large bowl. Add the lime juice from 1/2 of a lime, quartered grape tomatoes, diced onion, chopped cilantro, garlic powder, cumin, salt and pepper and mix.

Then add the spirulina powder and mix again.

Season to taste. Add more lime to taste… (I used the juice from a full lime. )
Nutrition
Calories: 133kcalCarbohydrates: 9gProtein: 2gFat: 11gSaturated Fat: 2gPolyunsaturated Fat: 1gMonounsaturated Fat: 7gSodium: 88mgPotassium: 440mgFiber: 6gSugar: 1gVitamin A: 305IUVitamin C: 14mgCalcium: 18mgIron: 1mg
Disclosure: This post contains Amazon affiliate links. This means that if you click on a link and make a purchase, I will receive a small commission at no cost to you.