Simple Candied Rosemary Sweet Potatoes (paleo, GF)
Sweet potatoes are a pretty important staple in my diet (as you could probably tell by how often I cook with them). The reason for this isn't just because they are healthy and filling (and Paleo)… it's also because they are incredibly versatile.
Baked, roasted, boiled, sliced, diced, or whole, sweet potatoes can do no wrong. I honestly thought that I had my go-to ways to cook sweet potatoes figured out, until I made these Simple Candied Rosemary Sweet Potatoes.
The first time that I made them, I served them as a side with dinner.
Before I could even mention how I cooked them differently, my fiancé exclaimed, "What did you do to these sweet potatoes?!
They are AMAZING!" And then he proceeded to gobble them up.
The beauty of this recipe is how remarkably soft, juicy and full of flavor the sweet potatoes turn out.
Since they cook in aluminum foil, they don't dry out and they have this perfect softness that is just irresistible.
The natural sweetness of the sweet potatoes creates a "candied" effect without any added sugar or sweetener. Plus all of the garlic and rosemary flavor seeps into them, which is just so so delicious!
To make this recipe, slice and dice one large sweet potato and then divide the pieces into 4 sections.
Then, put each section onto a piece of aluminum foil, top the sweet potato with olive oil, and sprinkle them with the garlic and rosemary spices.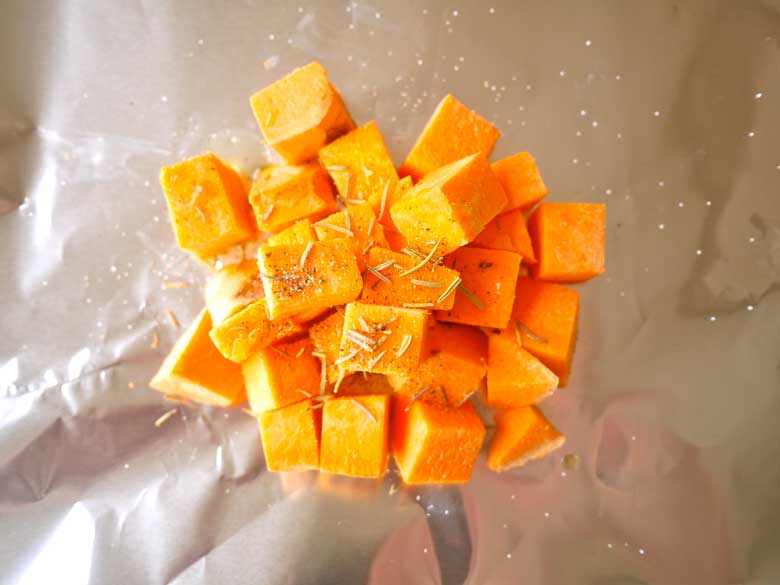 Wrap up each section of the potatoes in the foil, creating a pocket of sorts.
Then put all 4 aluminum pockets onto a cookie sheet and bake them at 400 degrees for 30 minutes.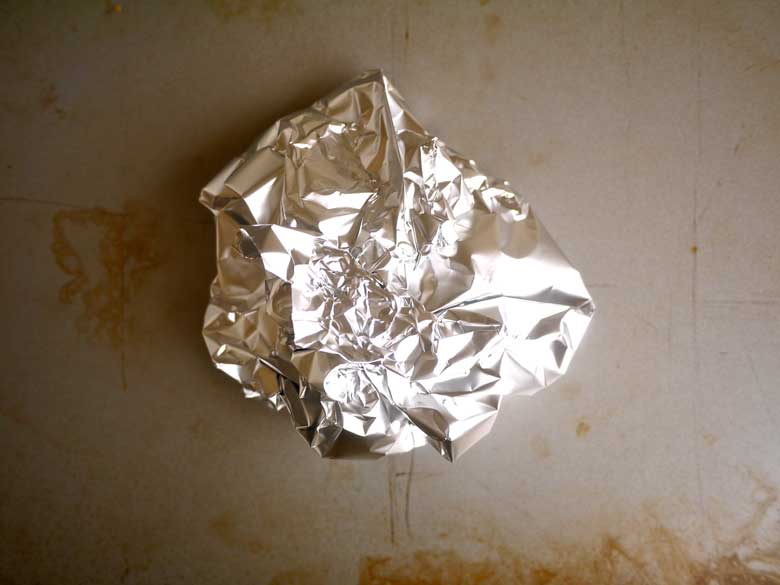 Once they are out of the oven, open up the aluminum foil and VOILA!
Some of nature's best candy (and vegetable) is ready to be devoured enjoyed. 🙂
This recipe was shared at the AIP recipe roundtable.
Simple Candied Rosemary Sweet Potatoes (paleo, GF)
A simple sweet potato recipe with rosemary and olive oil.
Ingredients
1 large sweet potato , peeled
4 tsp olive oil , divided
1/4 tsp salt
1/4 tsp ground black pepper (omit for AIP)
1/4 tsp garlic powder
1/2 tsp dried rosemary
Instructions
Preheat the oven to 400 degrees.

In a small bowl, mix all the spices together.

Rip off 4 sheets of aluminum foil, about 12 inches long each.

Slice and dice the sweet potato into smaller pieces. Divide the diced sweet potato into 4 sections.

Take one of the aluminum foil sheets, and put one section of the sweet potatoes onto the middle of it. Top the sweet potatoes with 1 tsp of olive oil and 1/4 of the spices. Fold up the sides of the aluminum foil and crumble the sides down on top, creating a closed pocket. (If my directions are confusing, the photos above could help).

Repeat this step with the other 3 sections of the sweet potatoes, putting 1 tsp of olive oil and 1/4 of the spices on the potatoes.

Put all 4 aluminum foil packets onto a cookie sheet and put them into the oven for 30 minutes. You'll know the potatoes are done when you can push a knife easily through the cubes of sweet potatoes.

Cook for 30 minutes. 30 minutes makes the sweet potatoes very soft, but if you want them to be harder, start checking them at around 25 minutes.
Nutrition
Calories: 109kcalCarbohydrates: 17gProtein: 1gFat: 4gSaturated Fat: 1gPolyunsaturated Fat: 0.4gMonounsaturated Fat: 3gSodium: 192mgPotassium: 291mgFiber: 3gSugar: 4gVitamin A: 12060IUVitamin C: 2mgCalcium: 26mgIron: 1mg
Disclosure: This post contains Amazon affiliate links. This means that if you click on a link and make a purchase, I will receive a small commission at no cost to you.