Seasoned Sweet Potato Fries (Paleo, Gluten-free)
Easy baked sweet potato fries seasoned with paprika, cayenne pepper and garlic powder. They make for a great side dish or snack!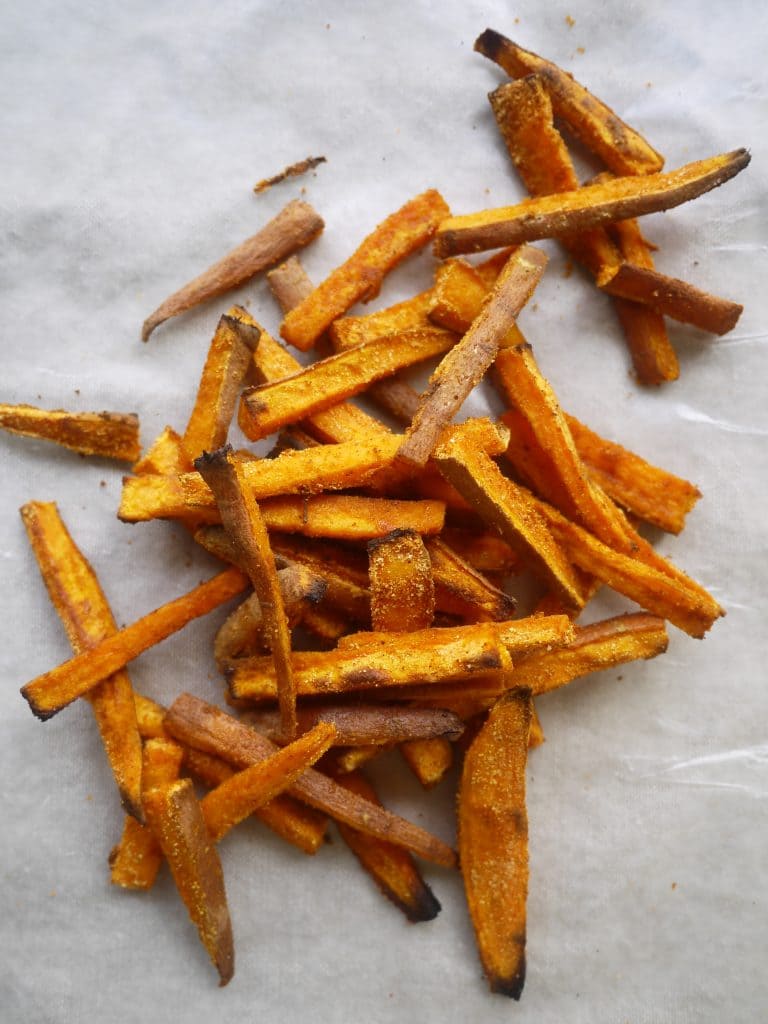 These baked sweet potato fries are naturally Paleo and Whole30.
They are also easy to make and pair easily and well with a wide variety of proteins and sauces.
You probably have all the ingredients to make these already in your home, which makes things even easier.
I love that these fries have the ideal balance between soft and crisp texture. I also like that the seasoning adds heat and flavor.
I'd say that my favorite part about these fries though, is that you just really feel like you are eating fries…instead of baked sweet potatoes.
Which tastes so good! Especially when you are in the mood for fries!
Ingredients needed:
sweet potatoes
cayenne pepper
paprika
garlic powder
salt
pepper
coconut flour
olive oil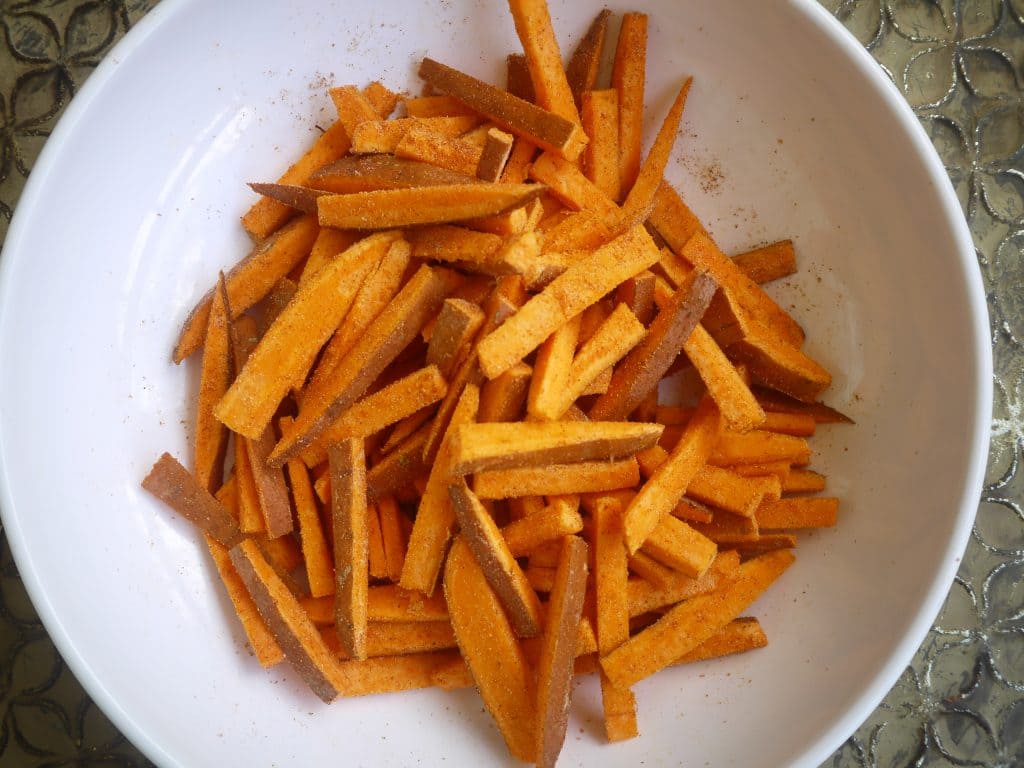 How to make these Paleo sweet potato fries
Step 1) season the uncooked fries
I have found the key to seasoning the pre-cooked fries is to toss them in coconut flour, paprika, cayenne pepper, garlic powder, salt and pepper, all while the sweet potatoes are in a large bowl.
Sprinkling the seasoning on top of the pan just doesn't work as well and the coconut flour doesn't work it's magic that way.
Coconut flour absorbs the natural liquid from the sweet potato, which makes crispier fries possible.
Step 2) lay them out on the pan
Once the sweet potatoes are covered in the seasoning, make sure to lay them all out on the pan so that each fry touches the bottom.
You may be tempted to just dump the fries onto the pan from the bowl but it's worth the extra minute it takes to arrange them on the pan. The fries cook more evenly that way.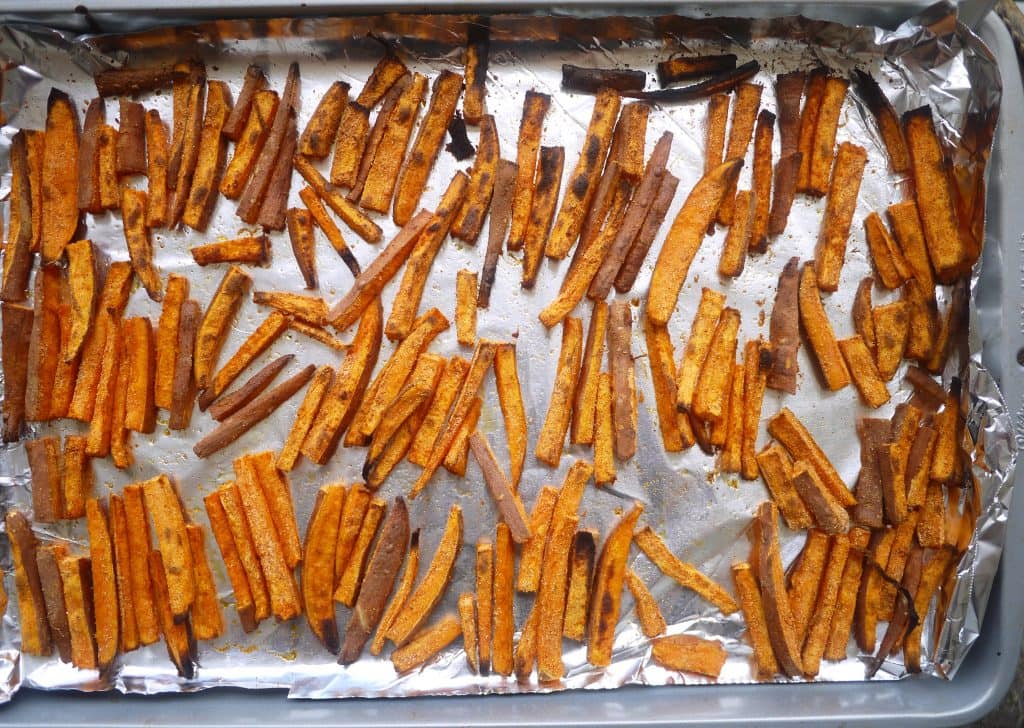 Step 3) Bake
Also, once you take the fries out of the oven, it is important to not leave them on the pan too long.
This should be no problem though because these bad boys never last long.
How to serve these Whole30 sweet potato fries:
I most often eat these fries with chicken, but you can eat them with whatever your heart (or stomach) desires! From burgers, to steak, to fish… these fries taste great with them all.
That's the beauty of these fries, they are so versatile!
Speaking of versatile, what other spices do you enjoy putting on your sweet potato fries? I'm curious to try new flavor combinations!
Recipes that would pair well with these fries:
Easy Bacon Wrapped Chicken Tenders (Paleo, Gluten-Free)
Seasoned sweet potato fries
Simple fry recipe for sweet potatoes.
Ingredients
1 Tbs olive oil
3 smaller sweet potatoes
1 tsp coconut flour ( I like Nutiva Organic for quality and price)
1/2 tsp paprika
1/4 tsp cayenne pepper
1/4 tsp garlic powder
1/4 tsp salt
pepper to taste
Instructions
Set oven to 400 degrees.

Cover a cookie sheet in aluminum foil.

Pour 1 tbs olive oil onto the foiled cookie sheet and use a

silicone basting brush

to brush it evenly onto the pan. (I used a silicone pastry brush).

Mix the coconut flour, paprika, cayenne pepper, garlic powder, salt and pepper in a small bowl and set aside.

Cut the sweet potatoes in fry shaped pieces and put into a large bowl.

Cover the potatoes in the spices and mix well in the bowl.

Place potatoes on the cookie sheet. Make sure each fry touches the bottom of the pan.

Cook for 30 minutes at 400 degrees.

Set the oven to broil mode and cook for 2 1/2 minutes. Check it every minute or so to make sure they don't burn.

Enjoy 🙂
Nutrition
Calories: 243kcalCarbohydrates: 41gProtein: 4gFat: 8gSaturated Fat: 1gPolyunsaturated Fat: 1gMonounsaturated Fat: 5gSodium: 404mgPotassium: 678mgFiber: 7gSugar: 8gVitamin A: 28015IUVitamin C: 5mgCalcium: 61mgIron: 1mg
Disclosure: This post contains Amazon affiliate links. This means that if you click on a link and make a purchase, I will receive a small commission at no cost to you.