Paleo Pumpkin Alfredo Sauce (GF)
Theres a restaurant in Rome called Spaghetteria L'Archetto, off of Via del Corso and down a windy cobbled stone street. I discovered it several years ago and have been back about a dozen times. Now, this is not because I have been to Rome that many times. Its because I have to go every single day that I am in Rome. I know it sounds crazy, but you'd understand if you tried their pumpkin alfredo! It is the best mac and cheese alfredo sauce that I have ever had! To be honest, I'd fly to Rome just to have it for dinner ( if I could afford it haha). They do have other good pasta sauces like their lemon alfredo and their "Rosa" meatsauce, but their pumpkin alfredo is my all time favorite.
I came across a delicious recipe two years ago that satisfied my Archetto's pumpkin alfredo craving. But I couldn't make that recipe anymore with the Paleo diet. Which made me sad. So, I decided to create a Paleo version… and it was a great success!
After my first bite of this Paleo Pumpkin Alfredo, my taste buds were rejoicing. The sauce is soooo good that I could drink it… seriously. Its a little slice of Italy, without the cream and thus without as many calories!
I ate this Paleo Pumpkin Alfredo Sauce on top of spaghetti squash and chicken; the combination was brilliant!
If your going to make this with chicken, I recommend cooking the chicken with rosemary and sage because those flavors tie into the sauce so well. I used 1 tsp of rosemary and 3 ripped up sage leaves for 2 pounds of chicken.
If you aren't in the mood for chicken though, its ok because this sauce is perfect for a big bowl of spaghetti. 🙂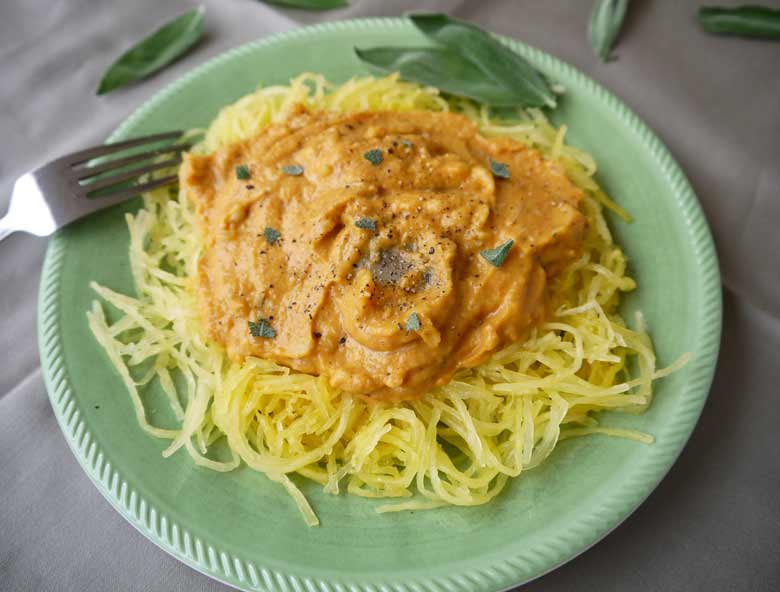 I do have to admit, spaghetti squash is no real spaghetti, BUT it is still really great with this Paleo Pumpkin Alfredo. Which is not surprising because this sauce would be great on a number of things… like sweet potatoes or cauliflower.
I had never cooked spaghetti squash before and found that it was much easier than I expected. I cut one in half and scooped the seeds out.
I then put 2 tsp of olive oil and some salt onto the outer skin of the squash and then placed it face down onto a foil covered pan. I cooked it for 45-50 minutes at 375 degrees.
It's crazy how the flesh of the squash magically turns into spaghetti. I will definitely be making spaghetti squash regularly.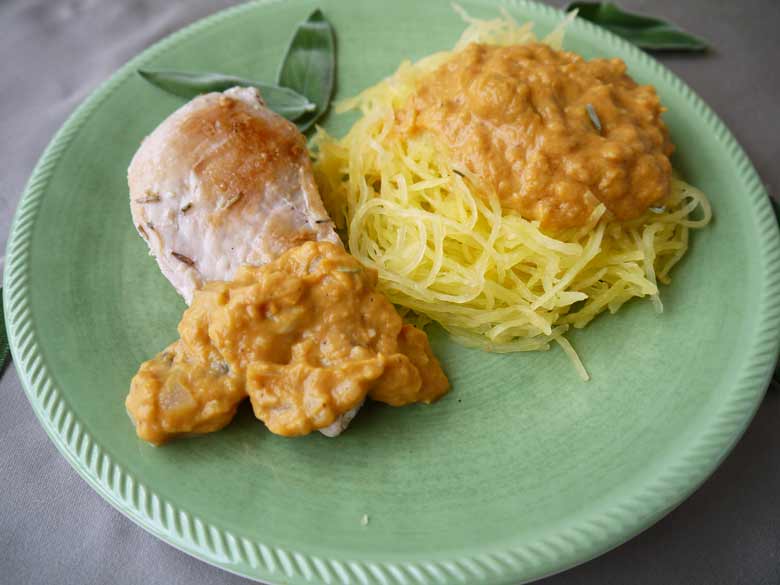 The non-paleo version of this recipe has heavy cream and parmesan in it. Since parmesan is salty, I was worried that I would need more salt in the recipe, but I didn't.
The original recipe called for 2 tsp of salt and that would truly be enough. I'd advise to start off with 1 tsp of salt and then taste it as it cooks to see how much more you want to add. I thought that 1.5 tsp of salt was perfect.
This recipe was shared at the Paleo AIP Recipe Roundtable.
Paleo Pumpkin Alfredo Sauce (GF)
A simple healthy paleo savory alfredo sauce with pumpkin puree.
Ingredients
1 Tbs olive oil
2 Tbs minced garlic (this was 5 cloves of garlic for me)
1 small yellow oniion
6 sliced mushrooms
1.5- 2 tsp salt
one 15 ounce can pumpkin puree (make sure the only ingredients is pumpkin)
1 cup coconut milk (this will have a heavy cream consistency)
1 cup all natural chicken stock
1/2 tsp nutmeg
pepper to taste
Instructions
Put 1 tbs of olive oil in a pan. Set the stove top to medium heat.

Mince 5 cloves of garlic and 1 small yellow onion in a food processor.

Put the garlic and onion in the pan and mix well into the olive oil, letting the mixture cook for 2 minutes.

Add the sliced mushrooms and mix well and let the mixture cook for 3 minutes, or until the onions are "clear".

Add 1 tsp of salt and pepper to taste.

Add one 15 ounce can of pure pumpkin puree and mix into the garlic, onion and mushrooms.

Immediately add 1 cup of pure coconut milk and 1 cup of natural chicken stock.

Add 1/2 tsp of nutmeg and mix the sauce thoroughly.

Increase the heat to medium/high until the sauce boils.

Then lower the sauce to a simmer and let it cook for 15 minutes.

After 15 minutes, the sauce will have thickened… taste to see if more salt is needed and add .5-1 more tsp of salt.

This recipe yields about 4 cups of sauce.

Enjoy 🙂
Nutrition
Calories: 221kcalCarbohydrates: 16gProtein: 5gFat: 17gSaturated Fat: 12gPolyunsaturated Fat: 1gMonounsaturated Fat: 3gCholesterol: 2mgSodium: 2136mgPotassium: 545mgFiber: 4gSugar: 6gVitamin A: 16548IUVitamin C: 8mgCalcium: 54mgIron: 4mg
Disclosure: This post contains Amazon affiliate links. This means that if you click on a link and make a purchase, I will receive a small commission at no cost to you.