Paleo Chocolate and Candied Orange Peel Freezer Fudge (GF)
You know how in my last post I opened up about my obsession with the flavor combo of chocolate and candied orange peel? Well, once I had the Paleo Candied Orange Peel recipe down, it was time to bring my idea for this Paleo Chocolate and Candied Orange Peel Freezer Fudge to fruition.
You see, during my wedding diet, I used to sneak a square or two (fine, or three) of Lindt's Intense Orange dark chocolate to keep my sweet cravings at bay.
And during this time, I would fantasize about making my own paleo candied orange peels and then using those to make a paleo chocolate freezer fudge.
So as soon as I got back from my honeymoon, I made this ASAP.
As in the second day back. 🙂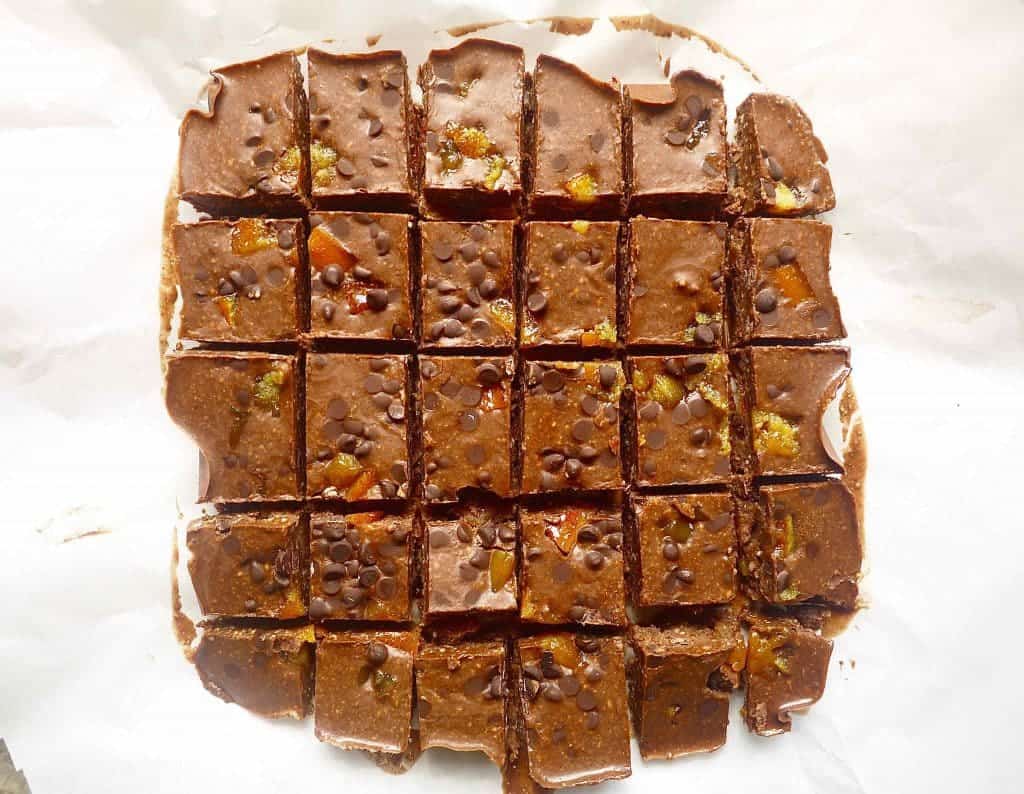 And with each bite of this Paleo Chocolate and Candied Orange Peel Freezer Fudge, it becomes all the more clear that chocolate + candied orange peels are the best!
I find it to be such a sophisticated flavor combination… one that I didn't fully appreciate until recently.
And the best part is that it is such a satisfying taste, that you are content with one or two pieces.
When I first had the idea to make this freezer fudge, I wasn't sure if the candied orange peels would become too hard when frozen, which wouldn't be pleasant to bite into.
But luckily, that did not happen at all. It remains soft and delicious.
I personally like freezing this fudge for an hour and a half, then letting it soften a bit in the fridge for 30 minutes.
Then, I like to store it in a tupperware in the freezer to have healthier cold treats ready and waiting for me.
And with the summer heat, frozen Paleo treats are much welcomed.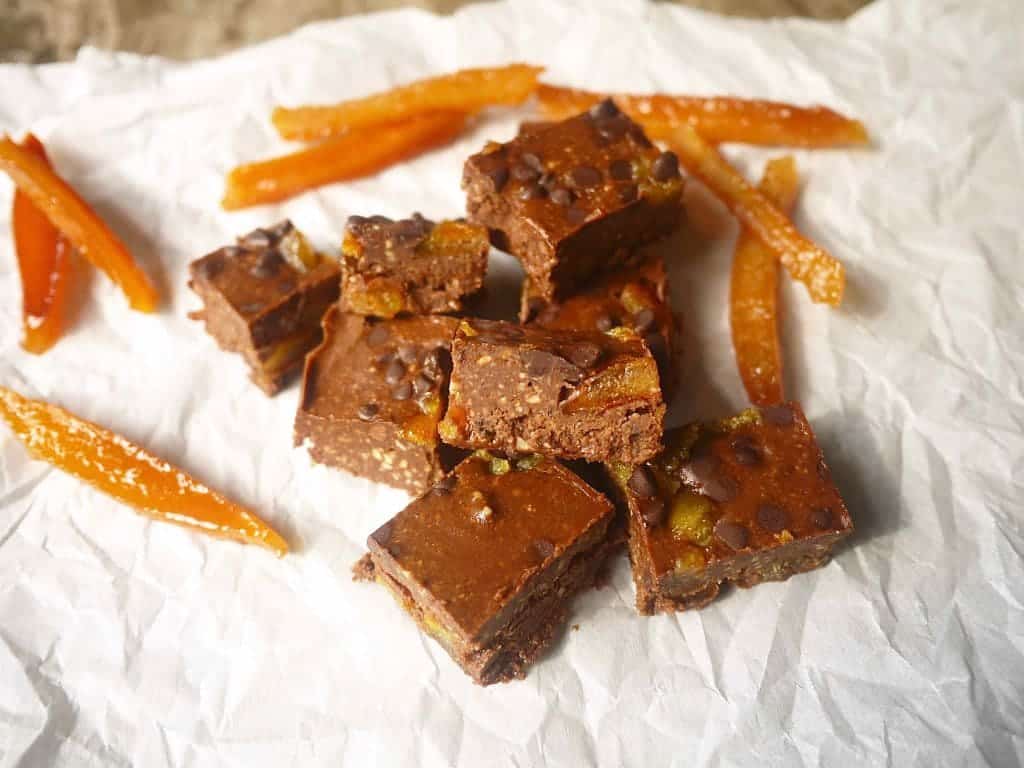 I used crunchy almond butter here for more texture, and really loved it, but feel free to use creamier almond butter if you prefer.
Note: if you plan on making paleo candied orange peels only for this freezer fudge recipe, then I highly recommend using the pan with the remaining caramelized honey sauce from the orange peels to melt the chocolate and almond butter in.
It will add an extra nice touch of flavor. 🙂
Paleo Chocolate and Candied Orange Peel Freezer Fudge (GF)
Paleo Chocolate and Candied Orange Peel Freezer Fudge (GF), made with almond butter, coconut oil, cocoa powder, chocolate and homemade candied orange peels.
Instructions
Line a loaf tin (8in x 4in) with wax paper.

Put ¼ cup of melted coconut oil, 1 cup of almond butter, 2 Tbs unsweetened cocoa powder, ¼ cup chocolate chips, and 1/2 cup of diced candied orange peels into a pot. Mix and heat over medium heat. Cook about 2-3 minutes, stirring regularly. Everything should be melted together and smooth.

Pour the mixture into the lined loaf tine, and sprinkle the top of the melted fudge with ¼ cup of chocolate chips and ¼ cup of diced candied orange peel.

Put the pan into the freezer for 1 hour 30 mins, or until the mixture has hardened and is set. The fudge will be ready to eat at this point and you can keep it in the freezer or let it soften for 20-30 minutes in the fridge before serving.

Store in a tupperware in the freezer.
Disclosure: This post contains Amazon affiliate links. This means that if you click on a link and make a purchase, I will receive a small commission at no cost to you.