Paleo Carob Pancakes (GF)
Paleo Carob Pancakes recipes. A grain-free, gluten-free, dairy-free pancake recipe made with carob powder instead of cocoa powder.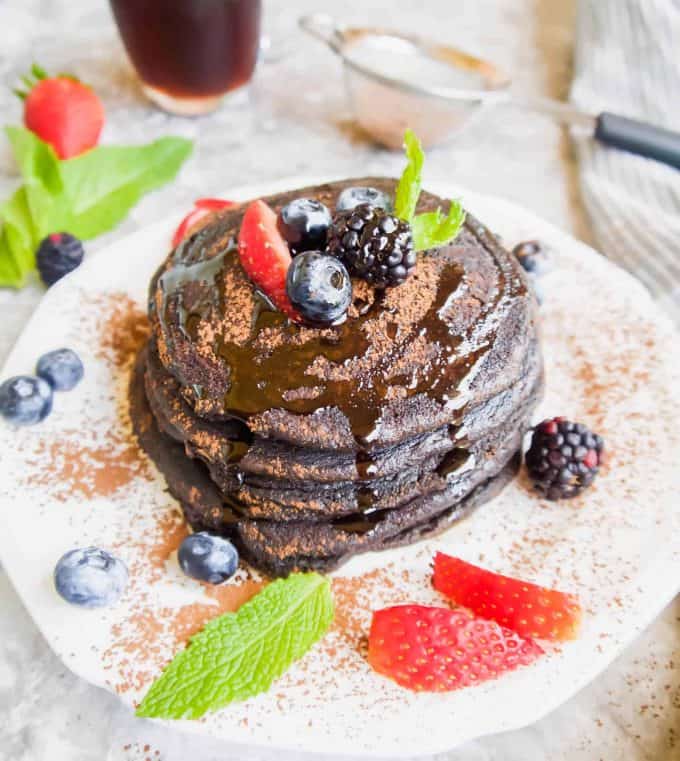 I've been experimenting a lot with alternative flours and ingredients in the kitchen lately and recently, I have been testing out recipes with carob powder.
Carob powder is made from a pod taken from a carob tree that is ground into powder. Many people eat carob chips instead of chocolate chips and use carob powder instead of cocoa powder.
So far my favorite way to consume carob powder is in pancake form. More specifically, these yummy Paleo Carob Pancakes.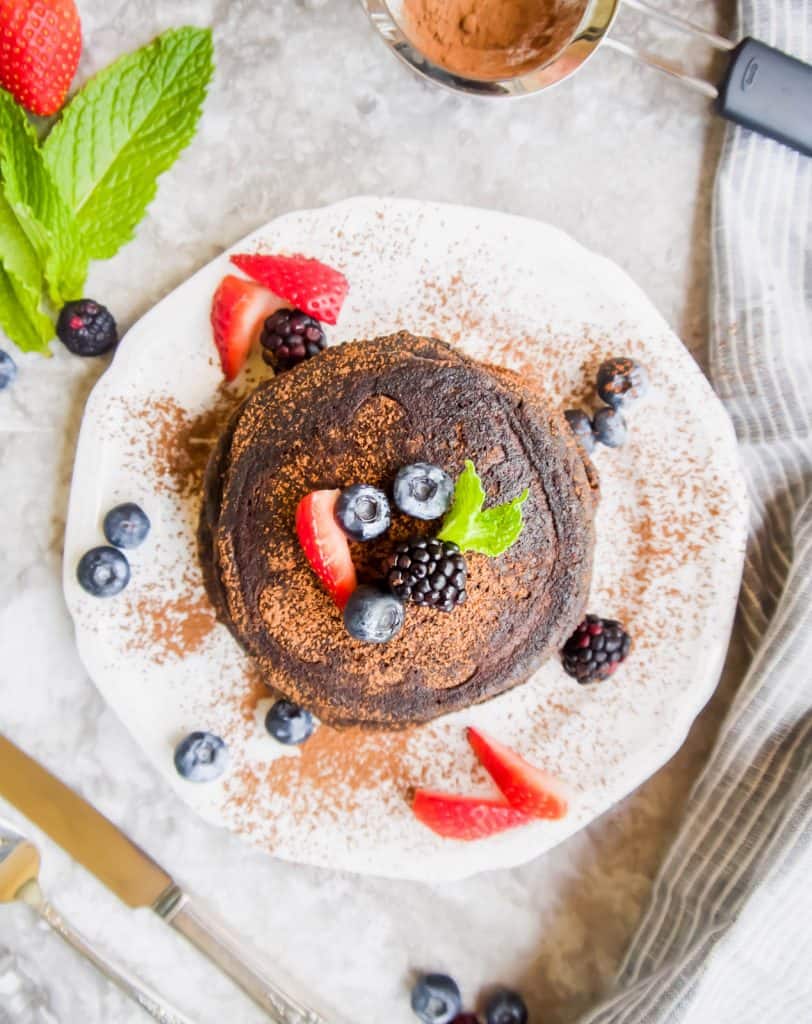 These Paleo Carob Pancakes have a rich, sweet, satisfying taste.
It's hard to describe the flavor of carob powder because it does not taste like cocoa powder to me. It has a much milder yet sweeter taste.
I see it as a totally separate product rather than a cocoa powder replacement, but I understand why it is used as one.
Carob powder has it's own unique sweet taste and unique health benefits and if you are curious about carob powder or already love it, then these pancakes are for you.
Carob powder is naturally low fat and gluten-free, but it does have more sugar and carbs than cocoa powder does. Carob powder is also high in fiber. 2 Tbs has 20% of your recommended daily amount of fiber. 🙂
There are two big reasons that carob powder has become so popular recently, though, and that is 1) it has no caffeine in it and 2) it's great for those with chocolate allergies.
I tried using carob powder to make brownies, but I honestly didn't like it. I want my brownies to taste like chocolate…
I didn't even realize this until I tried making carob brownies. Though I can see it working really well in muffins, so I can't wait to try that.
Next on my list to try is making hot chocolate using carob powder, because I tend to drink it at night, and no caffeine at night would be ideal.
However, I love carob powder in pancakes!
It basically provides a twist on pancakes with a yummy different flavor, and it works sooo well.
I found myself saying "yum" with every bite of these Paleo Carob Pancakes. And they really tasted great with fresh berries, fresh mint and maple syrup. NOM.
I'm curious what others use carob powder for. Let me know!
Paleo Carob Pancakes (GF)
A grain-free, gluten-free, dairy-free pancake recipe made with carob powder instead of cocoa powder.
Instructions
In a small bowl, combine the almond milk, egg and olive oil; whisk until blended.

In another bowl, combine the almond flour, tapioca flour, coconut flour, carob powder, coconut sugar, baking soda and salt; mix with a fork until blended.

Add the wet mixture to the dry mixture and whisk until everything is blended.

Heat a griddle or pan over medium heat. Add oil to the pan. Then, pour a scant 1/4 cup of batter per pancake onto the pan/griddle.

Cook for about 2 minutes, or until the batter is set around the edges.

Flip the pancakes and cook for 1-2 minutes more, or until pancakes are cooked through. Repeat with remaining batter.

This recipe should yield 7 pancakes.
Nutrition
Calories: 173kcalCarbohydrates: 17gProtein: 4gFat: 11gSaturated Fat: 2gPolyunsaturated Fat: 1gMonounsaturated Fat: 3gTrans Fat: 0.003gCholesterol: 23mgSodium: 316mgPotassium: 50mgFiber: 4gSugar: 7gVitamin A: 35IUVitamin C: 0.01mgCalcium: 86mgIron: 1mg
Disclosure: This post contains Amazon affiliate links. This means that if you click on a link and make a purchase, I will receive a small commission at no cost to you.