Paleo Baked Spanish Tortilla
I'm always on the lookout for new breakfast recipe ideas! So, I'm happily adding this Paleo Baked Spanish Tortilla recipe to the roster.
It's basically a Spanish baked potato omelette or a crustless quiche, filled with sliced sweet and regular potatoes… and seasoned with grilled garlic, scallions, fresh parsley and paprika. It's such a fresh, and yummy flavor combination. And if you are feeling up to it, a bit of goat cheese on top tastes fab.
I've never been one to be able to eat the same foods too often; I need variety in my life and especially in my breakfasts.
I especially love when recipes can be eaten for breakfast, lunch or dinner and this Paleo Baked Spanish Tortilla is great for breakfast… or for lunch or dinner served with a side salad.
The more variety the better, I say!
This recipe couldn't have come at a better time for me.
I recently had some left over cooked potatoes in the fridge and a whole lot of eggs. The idea to bake them together came to mind.
I once had a Spanish Torta or Spanish Tortilla and remember loving it so much. I also, love Paleo quiches in general and figured this would be up my alley.
My first try of this Paleo Baked Spanish Tortilla recipe was so yummy that I decided to make it again so that I could keep track of the proportions and share it with you guys.
NOM!
So, to make this Paleo Baked Spanish Tortilla, you've got to boil some potatoes. (Or have leftovers already ready in the fridge)
I mixed both sweet and regular potatoes, but feel free to use only sweet potatoes or only regular potatoes.
You've also got to grill your scallions and garlic together until golden brown and fragrant.
And lastly, you've got to mix your eggs with paprika, salt, pepper, fresh parsley… and goat cheese if you feel so inclined.
Note: Omit the goat cheese to keep this Baked Spanish Tortilla Whole30 compliant and Paleo.
My husband and I like adding goat cheese every once in a while, as this type of cheese is easier for both of us to digest.
However, this recipe is easy to adapt to your preferences and tastes.
Once you have your potatoes ready, your garlic and onions cooked, and your eggs mixed, it's time to layer!
Place half of your sliced potatoes into your baking dish. Then, top them with half of the garlic and scallions.
Then repeat with the other half of the potatoes and garlic/scallion mixture.
Lastly, pour the egg mixture on top, and bake everything until golden brown and a bit crispy. Easy enough! And definitely filling enough!
Serve with some hot sauce and avocado, and this Paleo Baked Spanish Tortilla will keep you full for hours!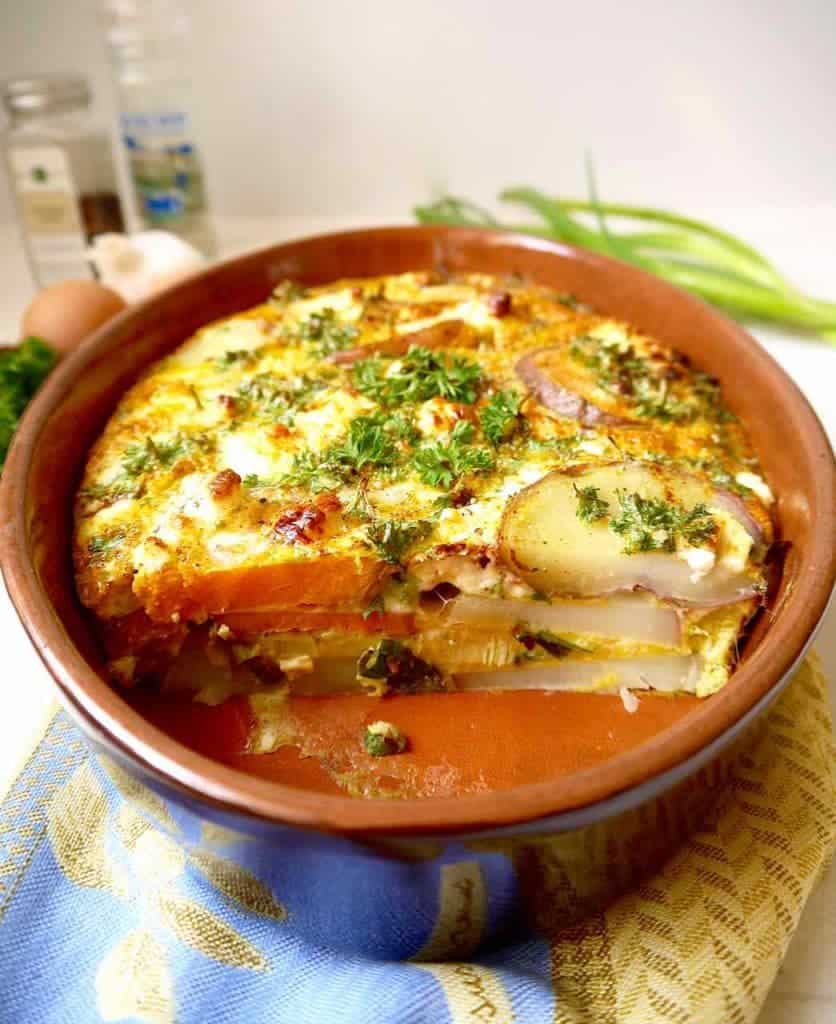 Paleo Baked Spanish Tortilla (GF)
A Spanish baked potato omelette filled with sliced sweet and regular potatoes and seasoned with grilled garlic, scallions, parsley and paprika.
Ingredients
3 scallions , sliced
3 cloves garlic , sliced
a pinch red pepper flakes
1- 1.5 lb potatoes , sliced into 1 cm thick pieces ( I did a mixture of red potatoes and sweet potatoes)
8 eggs
1/4 cup chopped fresh parsley
1/4 tsp paprika
salt and pepper to taste
2 ounces goat cheese ,crumbled (optional— omit for strict Paleo or Whole30)
Instructions
Put the sliced potatoes into boiling water and cook for 10 minutes, or until you can easily stab them with a knife.

Preheat the oven to 375 degrees. Grease a small- medium baking dish (mine was 11 in x 7.5 in x 2 in).

Cook the scallions, garlic and red pepper flakes in olive oil over medium heat, until fragrant, cooked through, and a bit golden…about 3 minutes.

Put half of the potatoes into the pan, then top with 1/2 of the grilled garlic and scallions, and repeat.

In a separate bowl, mix the eggs, parsley, salt, pepper, paprika and goat cheese (if you are adding it) together. If you are not adding goat cheese, add a splash of coconut milk or almond milk.

Pour the mixed eggs on top of the potatoes in the baking dish.

Bake for 30-35 minutes, until cooked through and golden on top.
Nutrition
Calories: 260kcalCarbohydrates: 35gProtein: 13gFat: 8gSaturated Fat: 3gPolyunsaturated Fat: 1gMonounsaturated Fat: 3gTrans Fat: 0.02gCholesterol: 223mgSodium: 132mgPotassium: 918mgFiber: 4gSugar: 2gVitamin A: 735IUVitamin C: 42mgCalcium: 79mgIron: 3mg
Disclosure: This post contains Amazon affiliate links. This means that if you click on a link and make a purchase, I will receive a small commission at no cost to you.