Paleo Apple Cookies (GF)
These Paleo Apple Cookies are the bomb.com! They taste like warm, buttery, apple pie cookies that just melt-in-your mouth. Ultimate. Fall. Cookies. And the best part is they are made without any butter, flour, or sugar. I'm in love. Seriously, they are my favorite new Fall cookie, you've got to try them!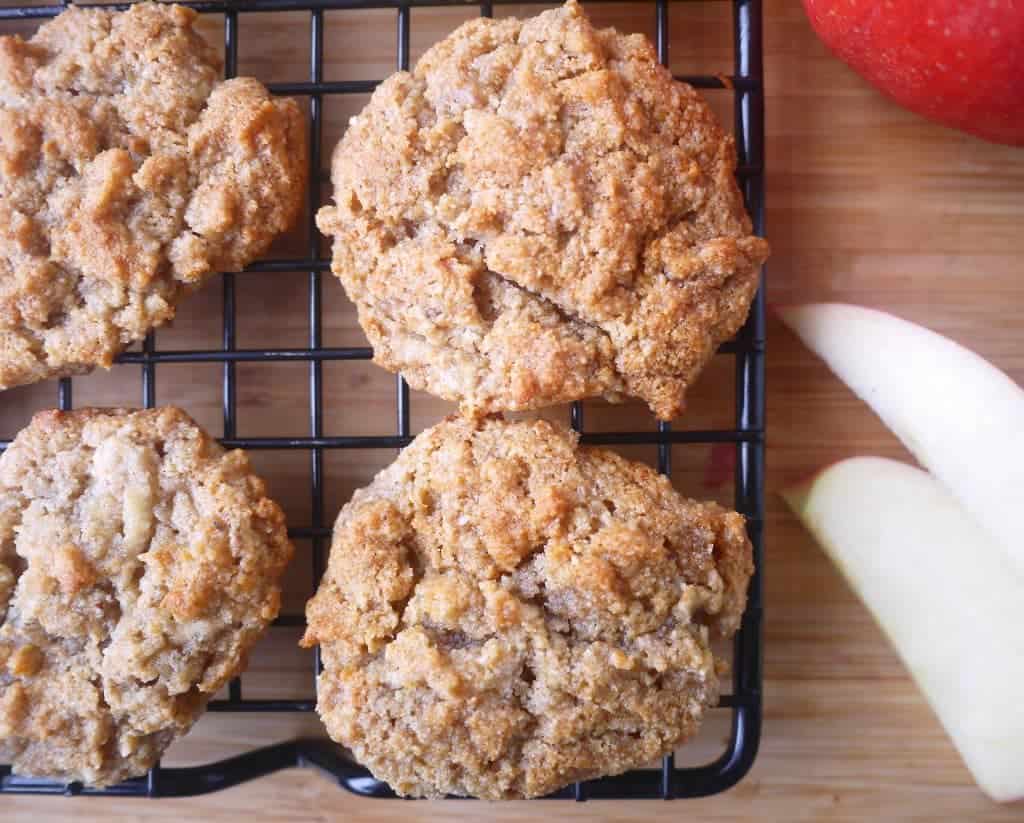 These cookies were inspired by and paleoized from this Fresh Apple Cookies recipe from Food.com.
There were so many great reviews that my mind was made up… a Paleo version was needed.
During the paleoizing process, I struggled with whether to make these cookies with eggs or not.
The food.com recipe didn't require any eggs, but I was still hesitant. Cookies without eggs?! I almost added an egg in at last minute!
But with all the rave reviews for these cookies, and with my experimental interest peaked, I decided it could be worth trying them without eggs.
And the egg-less version turned out to be really fantastic!
Buttery apple-pie cookie heaven, in a paleo, grain-free, gluten-free form, if you ask me.
I think that grating the apple really made all the difference taste-wise. I'm going to start baking with grated apples more often now, that's for sure.
One thing that is worth noting is that these cookies are very soft, light, and delicate. They stay soft and gooey long after coming out of the oven…. which is dangerous.
As in 4-cookies-will-disappear-before-your-eyes dangerous.
Please make these and let me know how you like them! 🙂
Paleo Apple Cookies (GF, grain-free)
A tasty gluten free cookie with apples, cinnamon, maple syrup and honey.
Instructions
Preheat the oven to 350 degrees. Cover a cookie sheet in a silicone cookie liner.

Put the maple syrup, honey, coconut oil, and vanilla into a bowl and mix together with a hand-held electric mixer until the mixture thickens, about 1 minute.

Add the grated apple to the bowl and mix with a fork. (I didn't peel the apple prior to grating it, but you can if you want to)

In another bowl, put the almond flour, salt, baking powder, baking soda, and cinnamon into it and mix everything together with a fork until everything is mixed. Pour the dry ingredients into the wet ones and mix with a fork until everything is mixed.

Take small spoonfuls of the dough and place onto the cookie sheet. These cookies spread while baking, so you may want to cook these in two batches. This recipe should yield 22-24 cookies.

Bake the cookies for 10-12 minutes (until slightly browned on top), remove from the oven and let the cookies cool on the cookie sheet for 4-5 minutes. Then, let the cookies cool some more on a cooling rack( if you can wait that long). These cookies are very soft and delicate and remain this way long after being removed from the oven.
Nutrition
Calories: 115kcalCarbohydrates: 8gProtein: 2gFat: 9gSaturated Fat: 4gPolyunsaturated Fat: 0.1gMonounsaturated Fat: 0.3gSodium: 161mgPotassium: 18mgFiber: 1gSugar: 6gVitamin A: 4IUVitamin C: 0.4mgCalcium: 34mgIron: 0.4mg
Disclosure: This post contains Amazon affiliate links. This means that if you click on a link and make a purchase, I will receive a small commission at no cost to you.