Key Lime Pie Pulled Chicken (Paleo, GF)
I've really been inspired by limes lately. I don't know if it's because they are so hard to come by these days or if it's because I have a slight obsession with my Key Lime Pie Chicken recipe. Maybe a mixture of the two? I've been wanting to use the same flavors from the Key Lime Pie Chicken but in another form and figured that I'd give a Key Lime Pie Pulled Chicken recipe a try.
It came out great! Lime, cinnamon, and paprika work their magic in the slow cooker and the result is a refreshing citrusy sweet pulled chicken that tastes awesome.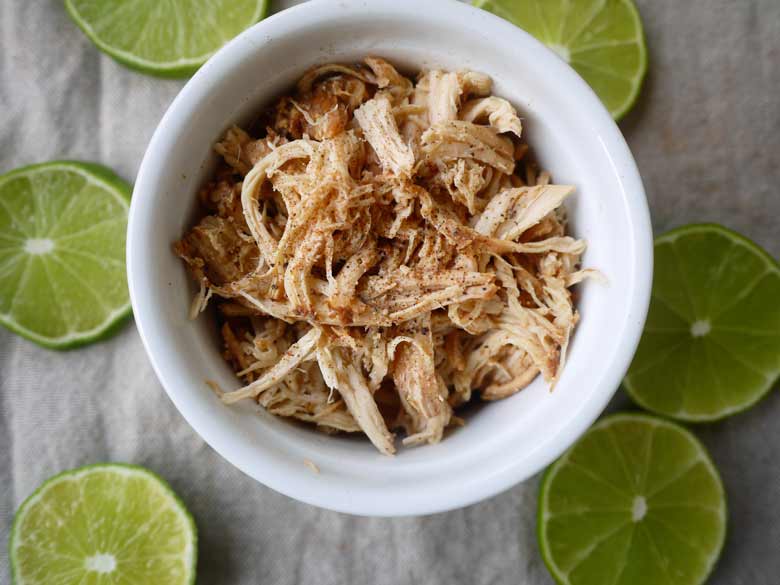 This may just be me, but the flavors here are so pronounced. It's like an everlasting gobstopper, or that candy in Willy Wonka that tastes like a three course meal.
The first taste is sweet, then as you chew, you taste the cinnamon, and then the lime, and then the smokey paprika.
I really enjoyed slowly eating and savoring every bite while noticing the different flavors.
Now, I'm not normally a lime person, which is why my recent lime recipes feel like fate. I'm a lemon person through and through.
I normally buy a bag of lemons at Costco, but they were out and they only had limes.
Normally I would just not buy them but for some reason I decided it would be a good idea.
And then the whole lime shortage happened. And then I made Key Lime Pie Chicken, and I became majorly hooked on limes!
This Key Lime Pie Slow Cooker Pulled Chicken is wonderful! It goods itself, thanks to the slow cooker, and it tastes great.
Perfect for a salad or to eat all on its own… and I'd have to say it's all thanks to the limes!
Key Lime Pie Slow Cooker Pulled Chicken
A delicious slow cooker recipe where chicken is seasoned with paprika and lime juice.
Ingredients
3.3 pounds chicken breast
1 tsp cinnamon
1/2 tsp nutmeg
1/2 tsp paprika
1 tsp salt
pepper to tase
4 limes juiced (with the skin)= 8 ounces of juice
1/2 cup of maple syrup
Instructions
Cover in cinnamon, nutmeg, paprika, salt and pepper. Move the chicken around so that the spices spread to each piece and on each side of the chicken.

Pour the lime juice and maple syrup on top of the chicken.

Cook over low heat for about 7 hours. (I put it in at midnight and woke up at 7).

Shred the chicken with two forks in a bowl. Add the remaining liquid in the slow cooker to the pulled chicken.

Enjoy 🙂
Nutrition
Calories: 372kcalCarbohydrates: 23gProtein: 53gFat: 7gSaturated Fat: 1gPolyunsaturated Fat: 1gMonounsaturated Fat: 2gTrans Fat: 0.03gCholesterol: 160mgSodium: 680mgPotassium: 1035mgFiber: 2gSugar: 17gVitamin A: 180IUVitamin C: 16mgCalcium: 61mgIron: 1mg
Disclosure: This post contains Amazon affiliate links. This means that if you click on a link and make a purchase, I will receive a small commission at no cost to you.