Frozen Dairy-free Matcha Latte (Paleo)
I have happily hopped back on the matcha green tea train and I am SO excited about it. Why was I ever off the matcha train? Well, I wasn't able to handle the taste until I was 17 weeks pregnant. I missed it terribly, but now that my morning sickness has ended, my taste buds are back to normal and my love for matcha is just as strong.
Which is where this Frozen Dairy-free Matcha Latte recipe comes in. 🙂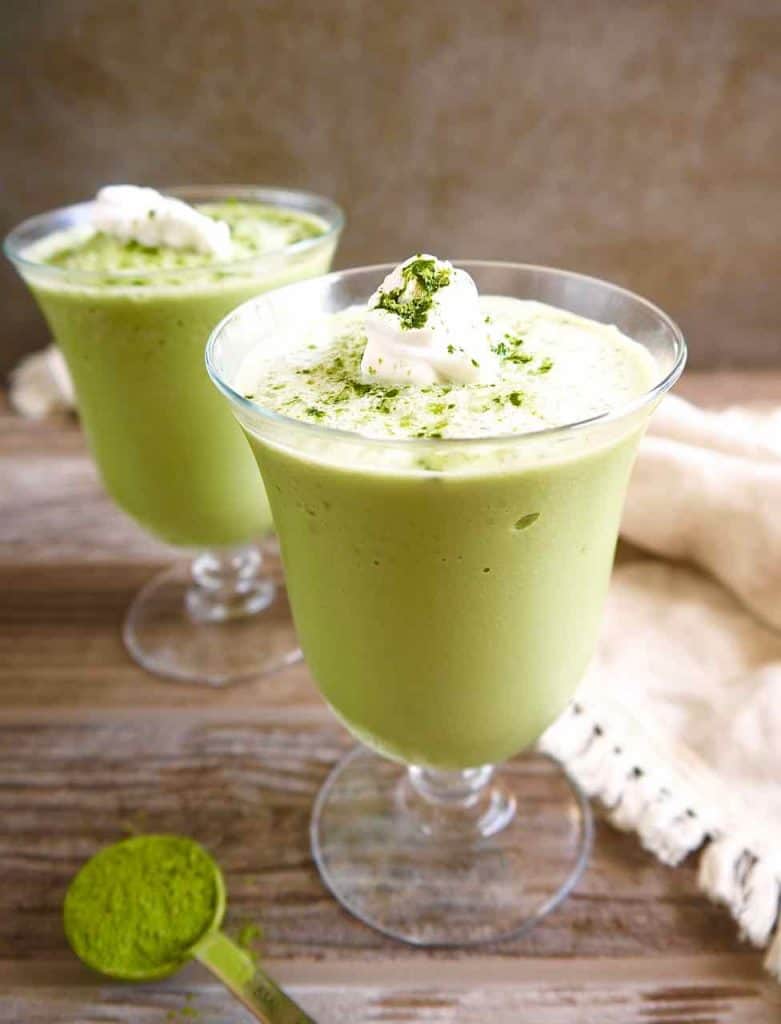 If you follow my stories on Instagram, or know me well, you'll know that back when I came up with this Iced Almond Milk Matcha Latte, I was making the recipe EVERY SINGLE DAY.
And then BOOM, I got pregnant and my taste buds went crazy and I couldn't handle matcha tea, coffee, honey, chocolate, fish… among a long list of other things.
I genuinely missed matcha tea, but I figured I should listen to my body and go with the flow.
Luckily that flow has come back full circle and I've been enjoying matcha again.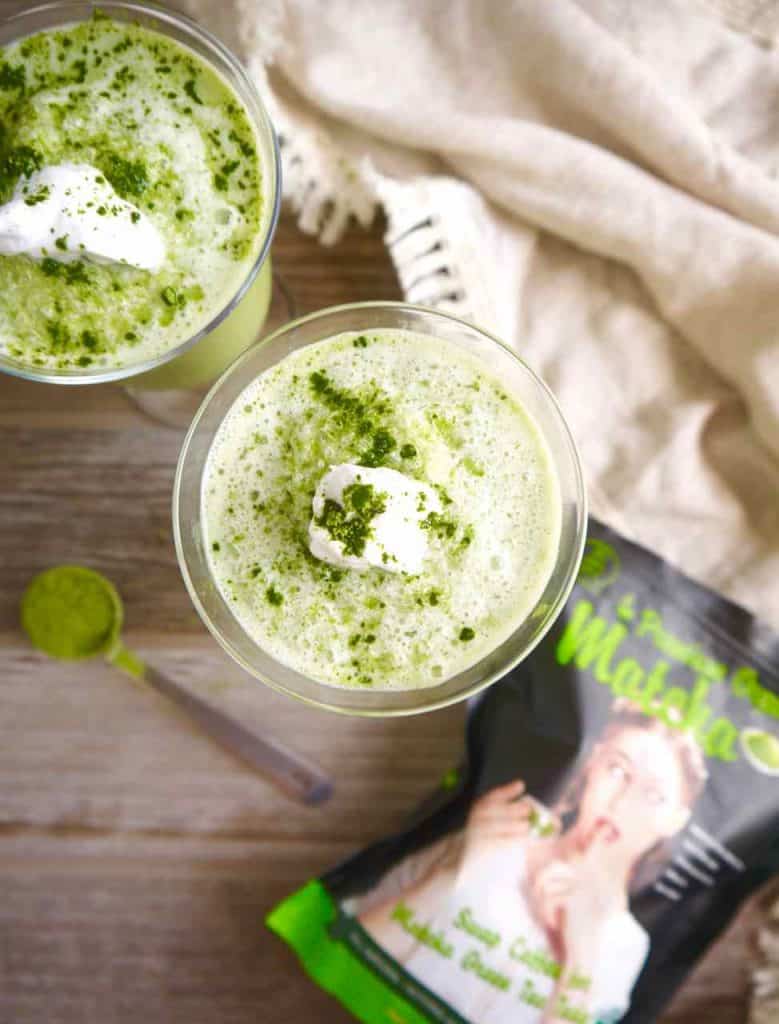 In the form of this Frozen Dairy-free Matcha Latte. It's creamy, with a hint of sweetness and lots of wonderful matcha green tea flavor. It's like the best breakfast slushy / frozen drink ever. It feels like I get to have dessert for breakfast and who doesn't love dessert for breakfast?!
Especially when it is an antioxidant filled powerhouse, that boosts your metabolism and is rich in fiber, chlorophyll and vitamins.
Speaking of matcha, it's really important to choose the right matcha green tea in your recipes because it makes such a big difference in the flavor!
I have always been very very picky when it comes to the matcha that I use. I have tried a countless amount of different brands and have only ever liked one up until this point.
However, I recently found a high quality new organic matcha green tea that I absolutely love. It's produced by a company called Mocha ChaDao and the taste of it is just so vibrant and fresh!
You can see, feel and taste the quality here. The matcha is very soft and delicate in texture, it is bright green in color, it smells amazing, and of course tastes delicious. Which makes me so happy!
Seriously, finding high quality delicious products is one of my favorite things. That and finding hidden gem restaurants. Both make me very happy. 🙂
And I guess so does this Frozen Dairy-free Matcha Latte.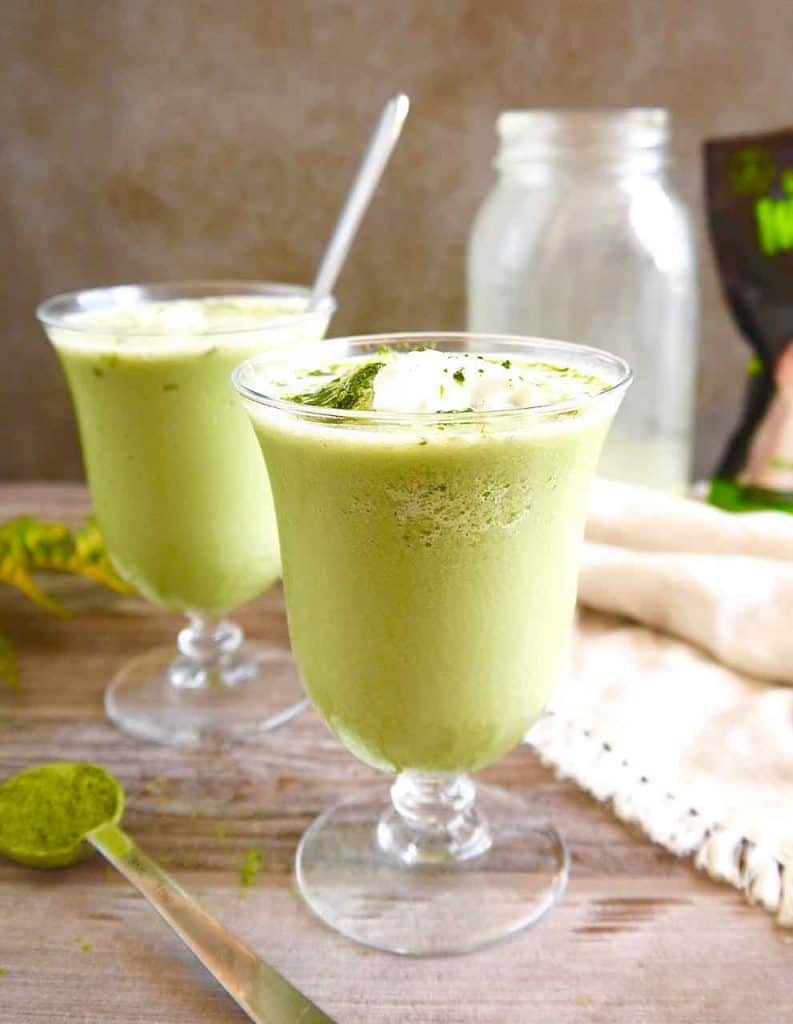 One pregnancy craving that I've had is really cold drinks. The colder the better.
This Frozen Dairy-free Matcha Latte has been clutch and I can't stop making it now.
Hope you guys like it too!
Frozen Dairy-free Matcha Latte (Paleo)
A delicious frozen matcha latte drink.
Instructions
In a medium bowl, add 3 Tbs of hot water, 2 tsp of honey and 1.5 tsp matcha green tea. Mix until the honey has melted and everything is well mixed. Pour into a blender.

Add almond milk and coconut cream to the blender and mix. Then, add 1.5 cups of ice to the blender and mix. Serve.

This serves one, but can be split for two smaller portions.
Nutrition
Calories: 195kcalCarbohydrates: 15gProtein: 5gFat: 13gSaturated Fat: 9gPolyunsaturated Fat: 2gMonounsaturated Fat: 2gSodium: 345mgPotassium: 105mgFiber: 1gSugar: 12gVitamin A: 300IUVitamin C: 1mgCalcium: 315mgIron: 2mg
Disclosure: This post contains Amazon affiliate links. This means that if you click on a link and make a purchase, I will receive a small commission at no cost to you.