Chocolate Raspberry Cauliflower Smoothie (Paleo, GF)
Fruit, veggies and chocolate in a smoothie?! Yes please!
This Chocolate Raspberry Cauliflower Smoothie is a scrumptious chocolate raspberry flavored smoothie that also has medjool dates, avocado and steamed frozen cauliflower inside. Basically, there's lots healthy goodness in this smoothie hidden in dessert form.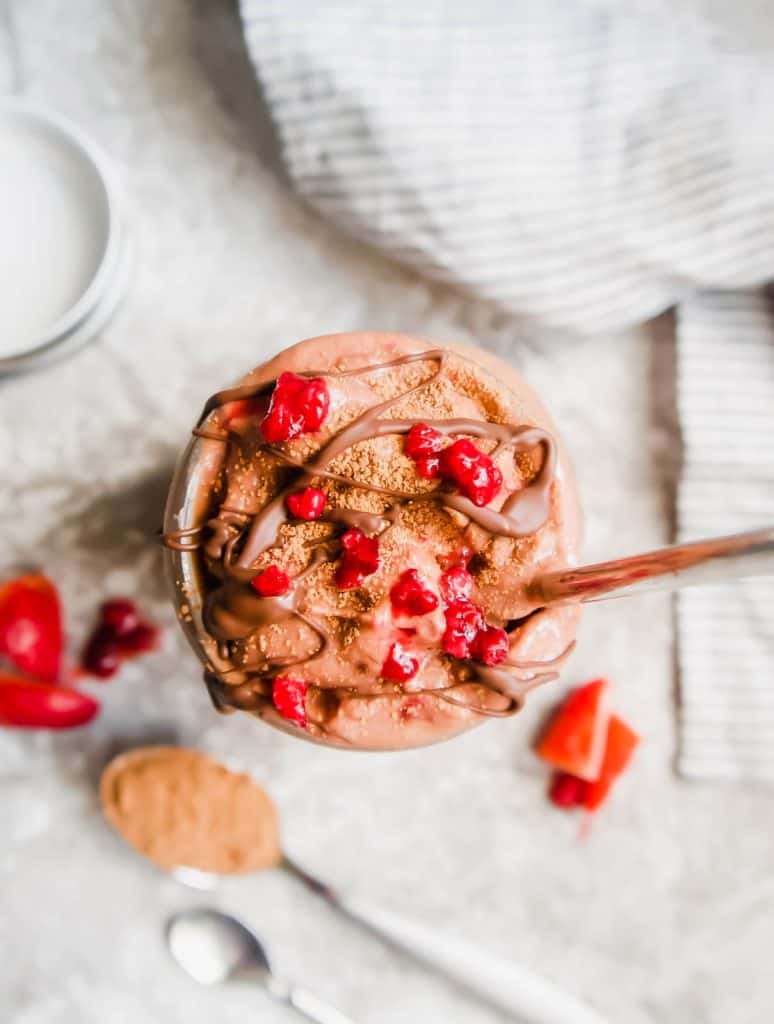 Seriously though, this smoothie is healthy! Just look at the ingredients…
Medjool dates are a great energy booster and are high in calcium.
Cocoa powder has a lot of antioxidants and is low in calories.
Almond milk has plenty of healthy fats, protein, magnesium and vitamin E.
Coconut cream helps with digestion and helps lower cholesterol.
Cauliflower is anti-inflammatory and also has a high amount of antioxidants. It also has many vitamins like vitamin C and K.
Avocados provide healthy fats and are incredibly nutrient-dense.
And lastly raspberries have lots of vitamins and antioxidants. They are said to increase your metabolism too.
I think it was only a matter of time before I tried using frozen steamed cauliflower in a smoothie because I kept seeing people add them to theirs on social media.
I was intrigued because… well, cauliflower is so good for you and yet it has such a strong flavor.
I have used cauliflower to make many a savory recipe, including creamy sauces… but in something sweet like a smoothie?? I just wasn't sure.
So I gave it a go. And I surprisingly liked it! ( Which is probably why so many people use frozen cauliflower in their smoothies haha)
I did end up having to recipe test multiple times because I didn't want the cauliflower flavor to be too overwhelming, which it easily can be.
I found the mixture of cocoa powder and raspberries worked perfectly to blend with all the other flavors in the smoothie.
Chocolate and raspberries taste great together. I think they go together even better than strawberries and chocolate…yup, I said it.
I loved trying out so many different smoothie variations here because I've been SUPER into smoothies during this pregnancy.
I feel like I can't get enough fruit. And so my freezer is just filled with different frozen fruits. 🙂
One thing you'll need to do in advance for this recipe is to freeze a small avocado and to freeze some steamed cauliflower.
You can find frozen steamed cauliflower at the grocery store, but I just made my own.
I also tried making this with various sweeteners and found that medjool dates work best… these are another food that I am super into while pregnant. Soooo good.
If you love healthy raspberry smoothies, check out this Raspberry Smoothie from Texanerin, it looks so creamy and has both vegan and Paleo options!
Chocolate Raspberry Cauliflower Smoothie ( Paleo, GF)
A scrumptious chocolate raspberry flavored smoothie that also has medjool dates, avocado and steamed frozen cauliflower inside
Instructions
Put the dates, cocoa powder, almond milk, coconut cream, and vanilla into a blender and mix until everything is well blended.

Add the frozen cauliflower, frozen avocado and frozen raspberries to the blender and mix until smooth.

This recipe should yield 4 cups of smoothie.
Nutrition
Calories: 565kcalCarbohydrates: 84gProtein: 14gFat: 31gSaturated Fat: 14gPolyunsaturated Fat: 3gMonounsaturated Fat: 12gSodium: 168mgPotassium: 1850mgFiber: 32gSugar: 41gVitamin A: 258IUVitamin C: 91mgCalcium: 249mgIron: 7mg
Disclosure: This post contains Amazon affiliate links. This means that if you click on a link and make a purchase, I will receive a small commission at no cost to you.