Blueberry Date Energy Balls (Paleo, Vegan)
We've had a snack problem in my house recently… as in there's been a lack of snacks in the house! I'm not talking about a lack of the usual snack culprits… fruit, nuts, etc. I'm talking about a lack of ready-made healthy treats; those that give you a boost of energy while also hitting-the-spot when it comes to flavor.
Luckily these Blueberry Date Energy Balls came to the rescue! They are made with only 6 ingredients: dates, almond butter, chia seeds, wild blueberry powder, unsweetened shredded coconut, and maple syrup. And they are naturally Paleo, Vegan, Grain-free, and Dairy-free.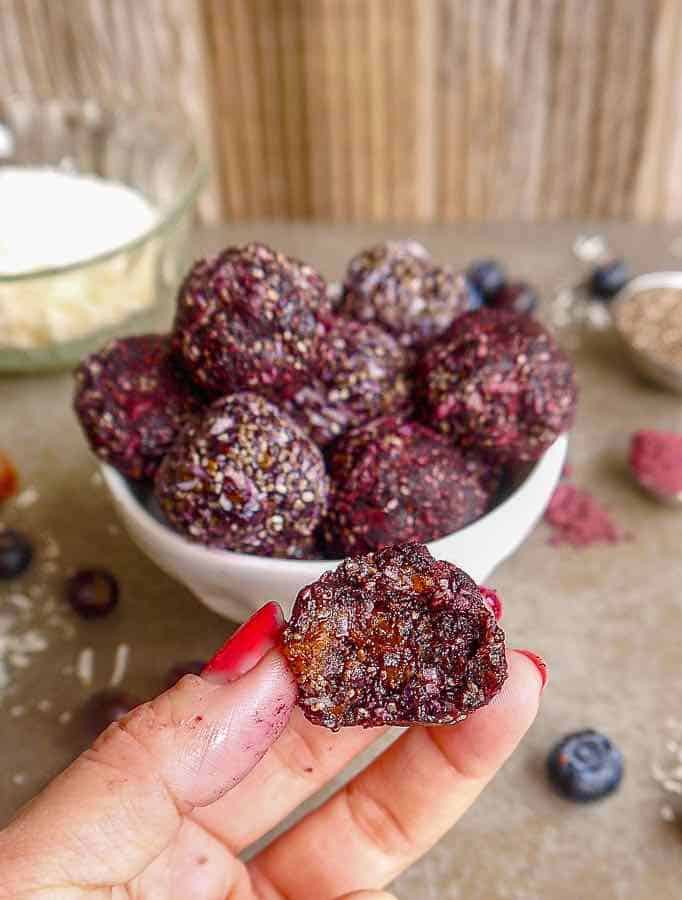 To backtrack a little, my husband recently said that he missed the days where I'd make my own granola bars because then there would always be a healthy, filling, fresh snack in the fridge. He continued saying he liked having them around because they were filled with nuts and seeds and they always gave him energy.
I agreed with him. Sure we had lots of fruits, dried fruits, nuts and even some unhealthier processed stuff in the pantry, but we didn't have fresh ready-made snacks in the fridge. ( Hence the snack problem ).
Energy Balls instantly came to mind.
They are basically like homemade granola bars or homemade snack bars, but in circular bite-sized form.
I've seen them all over Instagram, and the internet… but I had never actually made energy balls myself.
I'm not exactly sure why, but now that I've made them, I'm kind of kicking myself for waiting so long!
Energy balls are the easiest way to make fun, flavorful, healthy snacks!
Seriously, all you do is put your ingredients into a food processor. For these Blueberry Date Energy Balls, this includes dates, almond butter, water, chia seeds, wild blueberry powder, and unsweetened shredded coconut.
You mix all the ingredients up and roll them into balls.
Well for this recipe there is one extra step. You pour the ingredients from the food processor into a bowl. Add a bit of maple syrup, mix, and then roll the mixture into balls.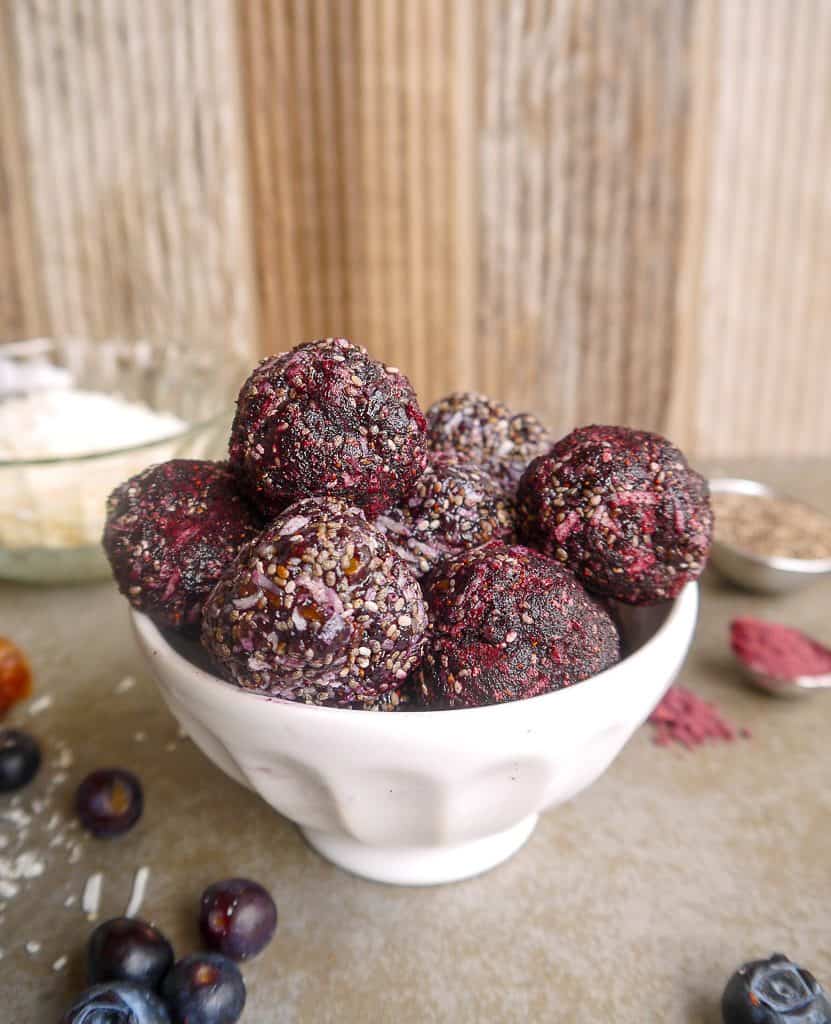 Then, you freeze or refrigerate these balls and that is all it takes to have ready-made Blueberry Date Energy Balls waiting for you as snacks all week long.
You probably already have almost every ingredient at your house already! All of them except for maybe the wild blueberry powder. I highly suggest buying some! It's basically freeze-dried fresh blueberries that have been ground up into powder form.
I get my blueberry powder from Nuts.com.
Blueberry powder is a really great way to get a concentrated sweet blueberry flavor, and a concentrated dose of the antioxidants, vitamins and nutrients that are found in blueberries.
Basically, 1 Tbs of blueberry powder is equivalent to 1/2 cup of blueberries. Blueberry powder packs some strong flavor, and the powder stays good for months and months.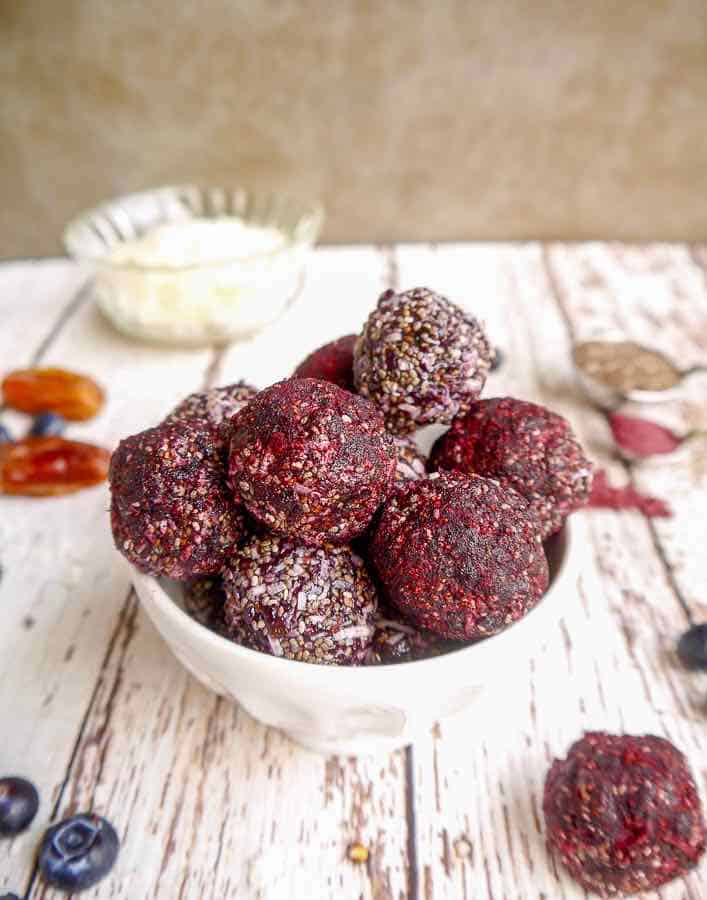 I personally love using blueberry powder to sprinkle on top of smoothies, to put into baked goods ( it will turn your baked goods soooo blue!), and in energy balls.
It's a healthy and fun way to get blueberries in your life, and to get these Blueberry Date Energy Balls in your life.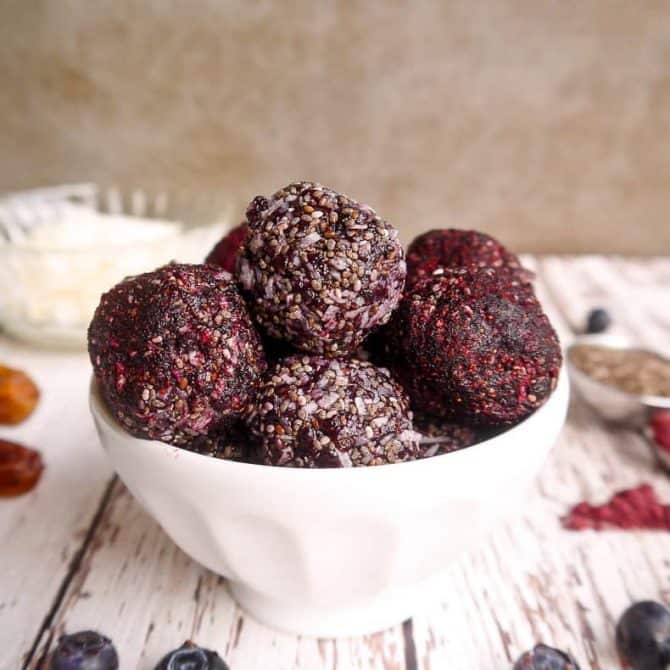 Blueberry Date Energy Balls (Paleo, Vegan)
Energy Balls made of dates, almond butter, chia seeds, wild blueberry powder, unsweetened shredded coconut, and maple syrup. Naturally Paleo, Vegan, Grain-free, and Dairy-free.
Instructions
Add dates, almond butter, and water to your food processor and mix until it turns into a paste. Add chia seeds, blueberry powder, and shredded coconut to the food processor and mix. Add the maple syrup and mix again. Put the mixture into a large bowl.

Roll the mixture into 1 inch balls with your hands. Place balls onto a cookie sheet lined with parchment paper. Then put the balls into the freezer for one hour or the refrigerator for two hours.

Store the balls in an airtight container in the fridge. These Blueberry Date Energy Balls will last for 5-7 days in the fridge.


This recipe makes around 15 balls.
Notes
Note: this recipe tastes great with a handful of oats mixed in at the end. I've added oats to the energy ball mixture after its been mixed in the food processor and then rolled everything together.
Nutrition
Serving: 1ballCalories: 96kcal
Disclosure: This post contains Amazon affiliate links. This means that if you click on a link and make a purchase, I will receive a small commission at no cost to you.