Banana Coffee Cake (Paleo, GF)
Cinnamon holds a special place in my heart. It is warm and inviting. It is uniquely sweet while strong in flavor. It can make many a food taste more delicious.  It also smells amazing! You know those cinnamon stick brooms that they sell during the holidays? Ya, I buy a very large one of those every year. The smell of cinnamon just makes me happy.
And so does the taste. Especially when it is in a baked good…like coffee cake… like this paleo banana coffee cake. It is so delicious that you would never know that it is made of 100% non-processed ingredients!
This recipe was inspired by a Cinnamon Swirl Banana Crumb Cake Recipe from The Baker Chick,  a baking blog that I really enjoy reading.
I wasn't exactly sure if I could Paleo-ize it or if I even wanted to attempt this because the recipe required so much flour.
Since almond flour is way more expensive than regular flour, I didn't want to potentially waste large quantities of it. Especially for a recipe involving a consistency that I was not used to experimenting with.
When it first came out of the oven, I thought….ok, this looks good… but what about the inside?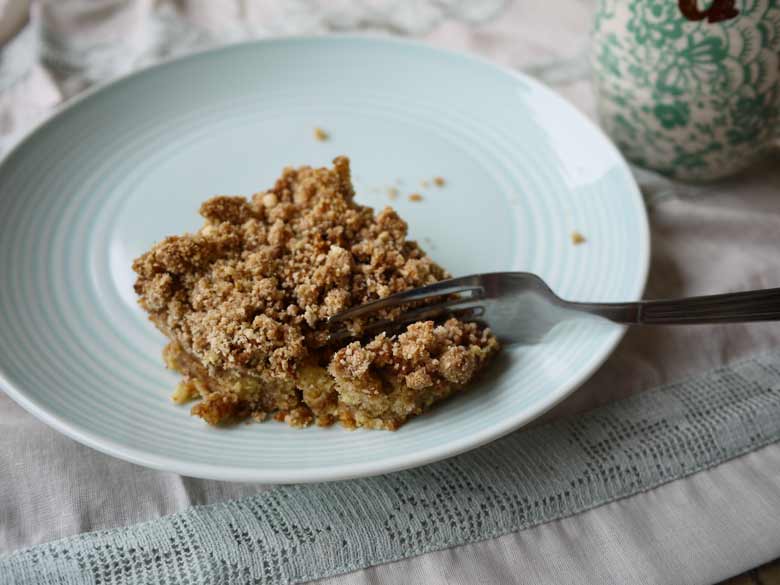 Then I cut it open… and was so excited to find a coffee cake texture.
You know, kind of like a cake, but with a bit more moisture, and a bit more crumble.
That type of texture that tastes perfect with a cup of coffee… and covered in cinnamon streusel.
So after seeing that it looked the part, I had to make sure that the taste measured up.
As you could probably guess (since it is being posted), it was fantastic!
I was so excited that a Paleo coffee cake was possible that I didn't know if I could wait to post this!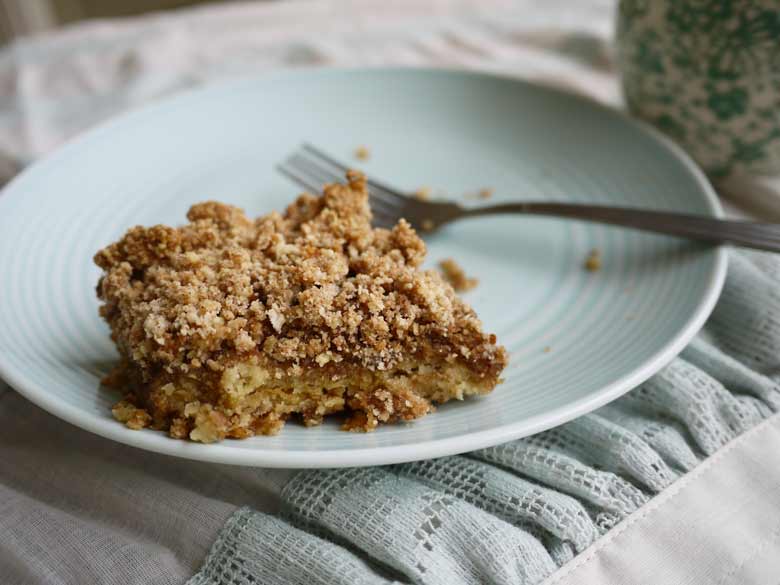 Paleo coffee cake + coffee?… yes please!
To store it, I recommend covering the pan with aluminum foil or putting individual pieces of coffee cake into a tupperware. The pan that I used came with a lid, so it was perfect for storing these in a manner that keeps the coffee cake moist.
I noticed that it was drier immediately after baking and became more moist as it got a chance to sit.
Here are some notes on the flavor. First, the banana taste is strong. I know it says banana in the title, so that is to be expected, but it just looks so much like regular coffee cake that you might forget (I did haha).
Second,  I cut a lot of the sweetness out, so you may want to add more honey or maple syrup. However, eating paleo has made me sensitive to sweeteners and I find that less can be more.
Be on the look out for other versions/variations of this paleo coffee cake…
I loved it so much that I know I will be making it again and again. 🙂
Banana Coffee Cake (Paleo, GF)
Ingredients
Crumb Topping ingredients:
Instructions
Preheat the oven to 350 degrees. Grease a 9 x 13 pan with some melted coconut oil and use a

silicone basting brush

to brush the bottom and all the sides with it.
Filling instructions:
In bowl 1, mix all the ingredients required for the filling: maple syrup, 1 Tbs cinnamon, and 1 tsp unsweetened cocoa powder together. Mix with a fork until the cinnamon and cocoa powder aren't dry anymore. Set the filling aside.
Crumble topping instructions:
In bowl 2, mix 2 cups almond flour and 1 Tbs cinnamon together for the crumble. Then add 2 Tbs melted coconut oil and 1/4 cup maple syrup. Mix until the mixture turns into a "crumble"-looking mixture and there are no visibly dry parts. Set the bowl aside.
Cake instructions:
In bowl 3, whisk 1 1/4 cup almond flour, 3/4 coconut flour, 1/2 tsp salt, 1/2 tsp baking soda, and 1 tsp baking powder together. Set aside.

In bowl 4, add 3 tbs of melted coconut oil and 1/2 cup honey to bowl 4 and mix on med-high with a hand-held electric mixer until it thickens. Add the eggs and vanilla and beat until everything is well-mixed.

Add the dry ingredients from bowl 3 to bowl 4 and mix on medium speed until combined. Add the mashed bananas and coconut milk and mix again until combined. Pour 1/2 of the batter into the 9x13 in pan. You'll have to use a spatula to make it thin out to form a thin layer. Don't worry if the dough rips and seem like it can't be stretched anymore. Just do your best to make it spread all across the pan.

Pour the filing bowl, bowl 1, onto the batter in the pan and use a pastry brush to evenly slather it all over.

Put the other 1/2 of the batter on top. Using a knife and a spatula, try to get this layer to thin out as much as possible on top. I started off using a spatula and then ended up using the knife to extend it across the pan. The liquid filling will mix into the batter here. This is fine and you'll end up just mixing the whole top layer into it a bit.

Evenly pour the crumble topping, bowl 2, on top of the batter in the pan. It was easier for me to use my hands and kind of throw it into the pan.

Bake for 35-40 minutes or until a toothpick comes out clean. I baked mine for 40 minutes and the edges were browned, but I think it could be ready sooner.
Disclosure: This post contains Amazon affiliate links. This means that if you click on a link and make a purchase, I will receive a small commission at no cost to you.