Amalfi Coast Honeymoon, Part 2: Ravello
Today's post is part two of my mini travel series on the Amalfi coast. It holds an especially special place in my memories and in my heart because Ravello is romantically amazing. It's a place that is so beautiful, that it's hard to believe that it's real.
To me, Ravello felt like a mixture of Tuscany and the Amalfi coast with ancient looking roads, views that are to-die-for, and gorgeous architecture. When you walk through the cobblestone streets, you can forget what century you are actually in. And this magic emanates a peaceful greatness that made me fall absolutely in love with the town.
Seriously, Ravello touched my soul.
Each town on the Amalfi coast has it's own charm and it's own personality and I have no doubt that different people would prefer different places, but my husband and I both agreed that Ravello was our favorite town that we visited on our honeymoon.
Ravello has an old world charm, where an almost Tuscan looking beauty can be seen everywhere you look. It felt less commercialized than other places on the Amalfi Coast.
And unlike most of the other popular towns on the Amalfi Coast, which are on the water, Ravello is in the hills.
Being in the hills, almost makes you feel like you are in the heavens… the air is crisper and cooler.
The views are just breathtaking… and it feels like you can see the Amalfi Coast from on top of it all.
Though, not ALL of Ravello is in the hills. There is still a small portion of it that is on the water.
How do I know? Well, we found our hotel on this small portion of Ravello on the water called Villa Scarpariello Relais.
It's considered a B&B or an Inn but really it's a massive fortress/ castle, in the cliffs of Ravello…literally built in the cliffs touching the ocean.
Seriously, of all the random discoveries that I made researching my honeymoon, this hotel was the BEST hidden gem.
I found it by accident while searching Ravello on Googlemaps. I was just looking at the town and where things were and I found this hotel on the water that didn't pop up in my other searches. When I clicked on the website, I was like what is this Monte Cristo-like place?!
After searching through the website, I found that this hotel only had 11 rooms and that the prices were quite reasonable… like 1/10th the price of the fancy hotels in town reasonable. We booked a room called Moresca, which overlooked the sea.
When I say it overlooked the sea, I mean it was literally over the ocean.
I don't think I've ever stayed or slept anywhere so directly over the ocean, or with such an amazing ocean view as this room.
See my husband below? He was on the balcony of our room. 🙂
How is this place even real?? I hesitate to even share this find because it's THAT much of a gem.
However, finding and sharing hidden gems from my travels is one of my favorite things ever, so I had to do it.
I didn't know how great it would be when I booked it, but from the second we walked through the gates of Villa Scarpariello Relais my husband and I had our mouths dropped open in awe.
We literally felt like we had discovered a hidden paradise, and that we had taken a step back in time.
Everywhere we looked were statues, art, lemons, and amazing PRIVATE views.
It felt like we were living in an Italian castle paradise by ourselves.
And we kept saying, "How did we get so lucky?"
The pictures don't do it justice! But one thing I know for sure is that we will be back.
Breathtaking!
The pool at Villa Scarpariello Relais is in the cliffs, on top of the ocean… There is also private access to the ocean, and several different areas throughout the castle garden grounds with beach chairs where you can lay out, yes I said it… castle garden grounds.
And I feel like I need to mention this again, the price is so reasonable, especially considering how amazing the location and the grounds are.
I know everyone has different budgets but of the prices we saw in the Amalfi Coast area, this was SO worth the value.
Our expectations were blown away when it came to the sea views and the property grounds.
My husband and I divided our honeymoon into three towns and into three different price categories. We did one splurge hotel, which I talked about in my Amalfi Coast Honeymoon, Part 1: Positano post. Then we did a more affordable hotel in Ravello.
It was great knowing that you can do the Amalfi Coast without breaking the bank…and that you can do it in such an amazing setting.
I mean, look at our view!
The owners of this villa are so so nice and it is important to them that you have a nice stay. You see them often and they are always making sure you are happy and have everything you need.
Since the hotel is on the water, and Ravello is up above in the hills, you have to figure out how you want to get into town. You could take a taxi or you could walk. We walked half the time and took a taxi half the time.
I have to warn you though, the walk is literally one hour of walking uphill and up stairs.
You literally are walking ALL the way up into town.
We did this once when I was hungry and tired, and I may or may not have almost given up. haha
It's quite the workout, but it makes you feel very deserving of a pizza from Mimi Bar Pizzeria.
Speaking of Mimi's pizza… YOU NEED TO GO HERE.
We ended up eating here every single day when we were in Ravello because it was just that goood.
I mean, ricotta stuffed pizza… need I say more? ( It's called the corniciotta pizza, and its 7.50 euros in case you ever go. 🙂 )
Pure heaven!
Since we came here so many times, we were able to try many things on their menu.
We tried the burrata, the mozzarella and cherry tomatoes ( the tomatoes grew on a volcano), one of their homemade pasta dishes, their corniciotta pizza, and their pepperoni pizza.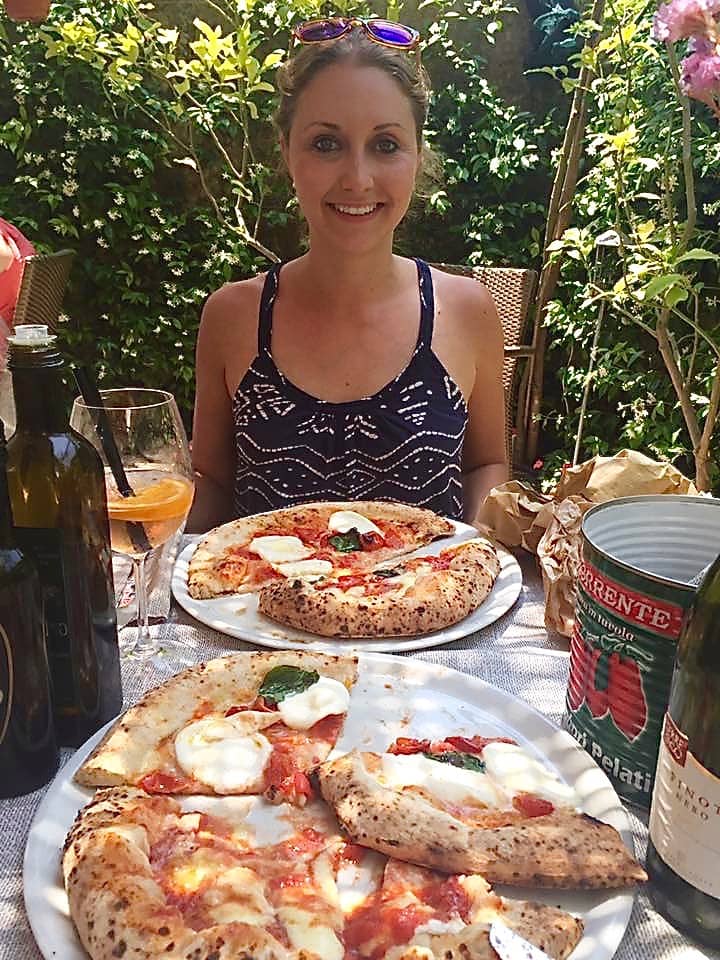 Everything was AMAZING.
I daydream about that ricotta stuffed pizza on the regular.
Since Mimi's pizzeria does get busy (for good reason), I highly recommend making a reservation in advance.
While we are on the topic of food, I had "eat a Sfogliatelle", on my honeymoon to-do list.
It's a flaky pastry that looks like a clam that is full of ricotta cheese and lemon.
It is UNREAL.
We got one from Caffe' Calce I Giardini, and enjoyed it overlooking the views of the town.
We didn't only eat in Ravello, though, we also shopped!
I mentioned in my previous Amalfi post how the Amalfi Coast is known for it's gorgeous pottery.
You can get beautiful pottery everywhere there, but I do have to say that we found the best collection to be in Ravello.
To me, the pottery we found in Ravello was more like art. It was less "mass produced" and more unique.
Our taxi driver recommended that we go to a store called Ceramiche Cosmolena. And when we walked in, I understood why.
We ended up buying three plates, a bowl and some tiles.
Side not: This store shipped to the USA and packaged it very well.
One of the salesmen started showing various pieces. He'd run around picking things up and I would say yes or no. He figured out my taste by the end and was amused at how quickly I would say "yes" or "no" to an item.
Next time we go back, I want to buy many more items!
Another thing that my husband and I shopped for in Ravello was wine. It was actually so fun because we got all of these impromptu wine tastings at the wine stores we popped into.
We went to one in particular called Wine and Drugs (what a name, right? haha), and we fell in love with this wine called Sisifo. We were told that the grapes in this wine are grown on vines which date back to biblical times and that these vines are on a volcano.
The history wasn't the best part though, it was the taste! I've never tasted wine like this before… ever. Upon first taste, it tastes like a delicious full-bodied red but then after you swallow it, you get hit with sweet cherry flavors. It's divine.
So we had 6 bottles shipped to the USA. 🙂
I did some research into the company before buying the wine and found that this place had TERRIBLE reviews, like scary terrible. A lot of them were because the shipping price they tell you normally doubles, so you are charged more.
But we liked the wine sooooo much, (and it's so rare) that we bought it anyways. We too did have a higher shipping price than they told us, but we got the wine safe and sound and it's amazingly delicious.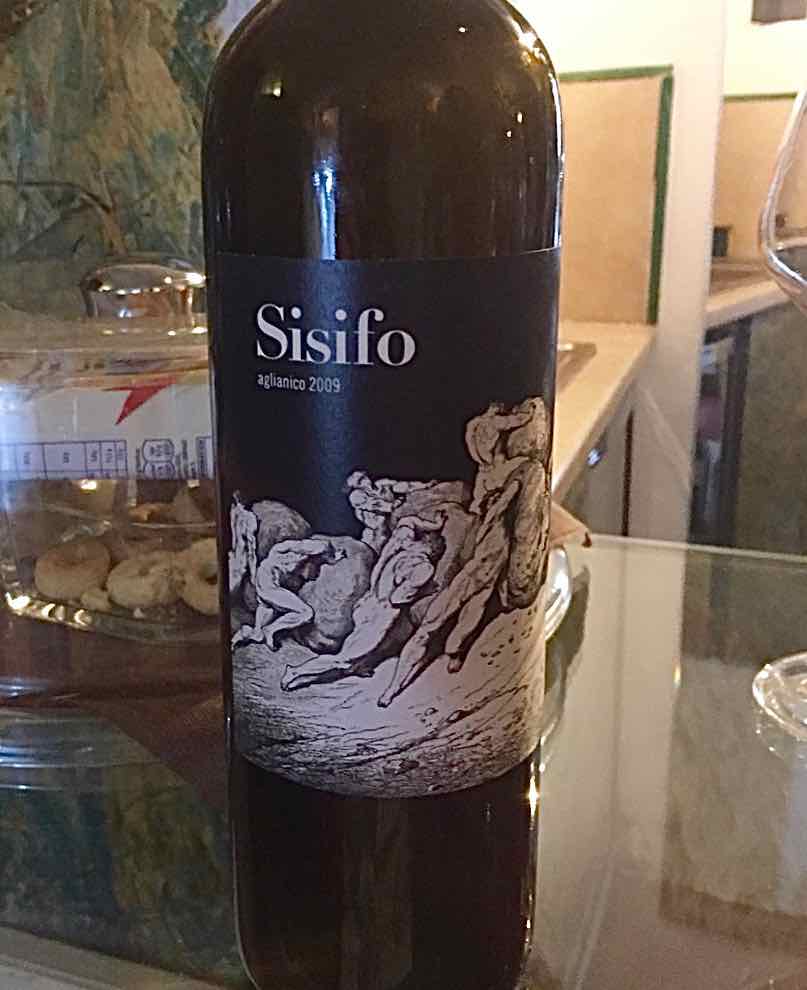 I do have to make a shout out to the company because they actually were super helpful when we needed it the most.
We didn't recognize the amount or company that charged us for the shipping (because it says it is from a California company), and they charged us way after we even got back from our honeymoon, so we flagged it as fraud. Turns out it was the wine shipping place!
So we got in touch with Wine and Drugs and they contacted the shipping place and fixed everything for us and we got our wine. Hooray!
And now, I saved the best for last… My favorite thing that I did in Ravello… was visit the Villa Cimbrone hotel and gardens.
Villa Cimbrone has some of the most beautiful gardens in the most romantic beautiful backdrop that I've ever seen.
I'm now trying to nudge (cough, force) my little brother to get married here one day!
It would be the perfect scenery for a wedding. Or a honeymoon. 🙂
Seriously, the views, the statues, and the gardens here are one of a kind.
We got here as soon as it opened to be able to see it without lots of tourists around. This lead us to being able to take pictures without anyone else in them. 🙂
If there is one piece of advice I can give, it would be to do this. Go as soon as it opens, even 5 minutes before it opens and the whole oasis paradise that is Villa Cimbrone Gardens will be all yours…
There's no way I'd be able to get all these photos with NO other tourists in them if we had gone later in the day.
I mean just look at these photos… though the photos don't even do it justice.
If that's even imaginable.
Writing this post has my traveler's soul feeling excited and in love with Ravello again.
I love how vibrant everything in and around the town is.
Whether it's the trees, the buildings, the views, the food… it all has this old romantic Italian feel to it, all while being on the Amalfi Coast.
Because Ravello was less crowded than other bigger towns on the Amalfi Coast, we felt like we were able to explore it a bit by ourselves (despite there being tourists and locals).
Basically we felt like this was a vacation from our vacation, and we loved EVERY second of it.
My husband and I have discovered that we prefer traveling somewhere full of hidden gems and where we feel like we can discover it on our own. AKA Ravello.
Hope you guys enjoyed a small virtual trip to Ravello.
Stay tuned for the last travel post of the Amalfi Coast mini-series… Capri! 🙂
Disclosure: This post contains Amazon affiliate links. This means that if you click on a link and make a purchase, I will receive a small commission at no cost to you.